Abstract
When estimating the magnitude of explosive eruptions from their deposits, individuals make three sets of critical choices with respect to input data: the spacing of sampling sites, the selection of contour intervals to constrain the field measurements, and the hand contouring of thickness/isomass data, respectively. Volcanologists make subjective calls, as there are no accepted published protocols and few accounts of how these choices will impact estimates of eruption magnitude. Here, for the first time, we took a set of unpublished thickness measurements from the 1959 Kīlauea Iki pyroclastic fall deposit and asked 101 volcanologists worldwide to hand contour the data. First, there were surprisingly consistent volume estimates across maps with three different sampling densities. Second, the variability in volume calculations imparted by individuals' choices of contours is also surprisingly low and lies between s = 5 and 8 %. Third, volume estimation is insensitive to the extent to which different individuals "smooth" the raw data in constructing contour lines. Finally, large uncertainty is associated with the construction of the thinnest isopachs, which is likely to underestimate the actual trend of deposit thinning. The net result is that researchers can have considerable confidence in using volume or dispersal data from multiple authors and different deposits for comparative studies. These insights should help volcanologists around the world to optimize design and execution of field-based studies to characterize accurately the volume of pyroclastic deposits.
This is a preview of subscription content, log in to check access.
Access options
Buy single article
Instant access to the full article PDF.
US$ 39.95
Price includes VAT for USA
Subscribe to journal
Immediate online access to all issues from 2019. Subscription will auto renew annually.
US$ 199
This is the net price. Taxes to be calculated in checkout.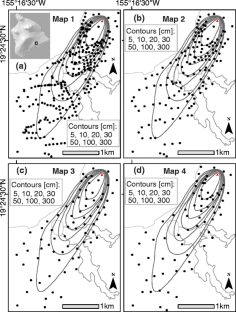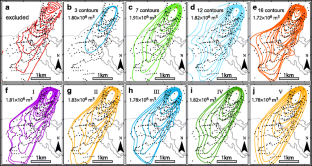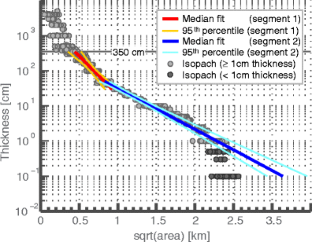 References
Bonadonna C, Costa A (2013) Modeling tephra sedimentation from volcanic plumes. In: Fagents SA, Gregg TKP, Lopes RMC (eds) Modelling volcanic processes. Cambridge University Press, Cambridge

Burden RE, Chen L, Phillips JC (2013) A statistical method for determining the volume of volcanic fall deposits. Bull Volcanol 75(6):1–10. doi:10.1007/s00445-013-0707-4

Cioni R, Bertagnini A, Andronico D, Cole PD, Mundula F (2011) The 512 AD eruption of Vesuvius; complex dynamics of a small scale subplinian event. Bull Volcanol 73:789–810. doi:10.1007/s00445-011-0454-3

Costa A, Macedonio G, Folch A (2006) A three-dimensional Eulerian model for transport and deposition of volcanic ashes. Earth Planet Sci Lett 241(3):634–647. doi:10.1016/j.epsl.2005.11.019

Eaton JP, Richter DH, Krivoy HL (1987) Cycling of magma between the summit reservoir and Kīlauea Iki lava lake during the 1959 eruption of Kīlauea Volcano. In: Decker RW, Wright TL, Stauffer PW (eds) Volcanism in Hawaii: U.S. Geological Survey Professional Paper 1350, v. 2, p. 1307–1335.

Fierstein JE, Nathenson M (1992) Another look at the calculation of fallout tephra volumes. Bull Volcanol 54:156–167

Folch A, Costa A, Macedonio G (2009) FALL3D: a computational model for transport and deposition of volcanic ash. Comput Geosci 35(6):1334–1342. doi:10.1016/j.cageo.2008.08.008

Houghton BF, Swanson DA, Carey RJ, Rausch J, Sutton AJ (2011) Pigeonholing pyroclasts: insights from the 19 March 2008 explosive eruption of Kīlauea volcano. Geology 39(3):263–266. doi:10.1130/G31509.1

Houghton BF, Swanson DA, Rausch J, Carey RJ, Fagents SA, Orr TR (2013) Pushing the Volcanic Explosivity Index to its limit and beyond: constraints from exceptionally weak explosive eruptions at Kīlauea in 2008. Geology 41(6):627–630. doi:10.1130/G34146.1

Mastin LG et al (2009) A multidisciplinary effort to assign realistic source parameters to models of volcanic ash-cloud transport and dispersion during eruptions. J Volcanol Geotherm Res 186:10–21. doi:10.1016/j.jvolgeores.2009.01.008

Newhall CG, Self S (1982) The Volcanic Explosivity Index (VEI) an estimate of explosive magnitude for historical volcanism. J Geophys Res Oceans (1978–2012) 87(C2):1231–1238. doi:10.1029/JC087iC02p01231

Pyle DM (1989) The thickness, volume and grain size of tephra fall deposits. Bull Volcanol 51:1–15

Swanson DA, Duffield DA, Jackson DB, Peterson DW (1979) Chronological narrative of the 1969-71 Mauna Ulu eruption of Kīlauea Volcano. USGS, Hawaii, p 1056

Richter DH, Eaton JP, Murata KJ, Ault WU, Krivoy HL (1970) Chronological narrative of the 1959–60 eruption of Kīlauea Volcano. Hawaii: U.S. Geological Survey Professional Paper 537-E, 73 p.

Taddeucci J, Alatorre-Ibargüengoitia MA, Moroni M, Tornetta L, Capponi A, Scarlato P, Dingwell DB, De Rita D (2012) Physical parameterization of Strombolian eruptions via experimentally-validated modeling of high-speed observations. Geophys Res Lett 39, L16306. doi:10.1029/2012GL052772

Walker GPL (1973) Explosive volcanic eruptions—a new classification scheme. Geol Rundschau 62:431–446. doi:10.1007/BF01840108

Wolfe EW, Garcia MO, Jackson DB, Koyanagi RY, Neal CA, Okamura AT (1987) The Puu Oo eruption of Kīlauea Volcano, episodes 1–20, January 3, 1983, to June 8, 1984, chap. 17. In: Decker RW, Wright TL, Stauffer PH (eds) Volcanism in Hawaii: U.S. Geological Survey Professional Paper 1350, v. 1, p. 471–508.
Acknowledgments
This work was supported by the Fred M. Bullard Fellowship and NSF awards EAR-0810332 and EAR-1145159. We are very grateful to all participants who took the time to produce isopach maps for this study. We also thank Wendy Cockshell and Isaac Ishihara for their invaluable help in digitizing the hand-drawn maps.
Additional information
Editorial responsibility: J. Taddeucci
Electronic supplementary material
Below is the link to the electronic supplementary material.
About this article
Cite this article
Klawonn, M., Houghton, B.F., Swanson, D.A. et al. Constraining explosive volcanism: subjective choices during estimates of eruption magnitude. Bull Volcanol 76, 793 (2014). https://doi.org/10.1007/s00445-013-0793-3
Received:

Accepted:

Published:
Keywords
Explosive volcanism

Pyroclastic deposit

Eruption size

Kīlauea Iki 1959