Abstract
We examine precursory signals of vulcanian eruptions at Suwanosejima volcano, southwest of Japan, by deploying seismic and tilt stations close to the active crater to understand the shallow conduit processes just before explosions. Vulcanian eruptions at Suwanosejima for the period from October 2009 to 2011 are often preceded by a sudden cessation of continuous tremor associated with continuous ash emissions. The amplitude of continuous tremor decreases within about 10 s, and tilt signal starts to show uplift of the active crater. Then, the pause of continuous tremor and uplift continue for about 1–2 min, and tilt amplitudes reach a few tens of nanoradians at a distance of 400 m from the active crater. As the pause time of continuous tremor before explosion becomes longer, the maximum amplitude of explosion earthquake and uplift signal become larger. Vulcanian eruptions are also observed during periods without continuous tremor. In these cases, tilt signals capture uplifts of the active crater for about 10 min before explosions and reach a few tens of nanoradians. Cessations of volcanic gas emissions are observed before some explosions during periods without continuous tremor (Mori et al. 2011). These observations suggest that pressurization in the shallow conduit is caused by an accumulation of volcanic gases and ash through the formation of 'cap' in the conduit, possibly composed of stiffened magma due to degassing, cooling, rheological changes, or other mechanisms.
This is a preview of subscription content, log in to check access.
Access options
Buy single article
Instant access to the full article PDF.
US$ 39.95
Price includes VAT for USA
Subscribe to journal
Immediate online access to all issues from 2019. Subscription will auto renew annually.
US$ 199
This is the net price. Taxes to be calculated in checkout.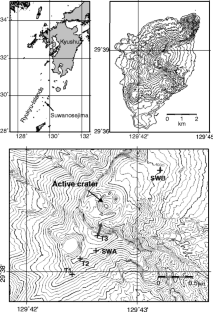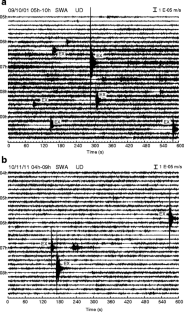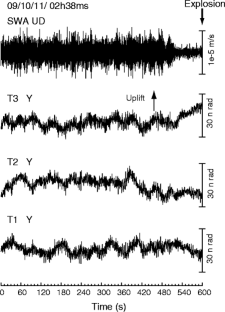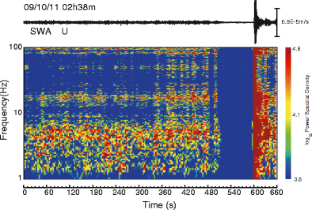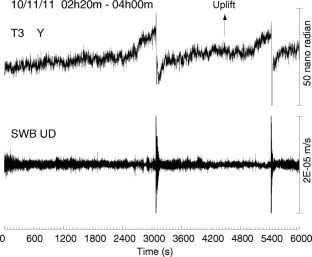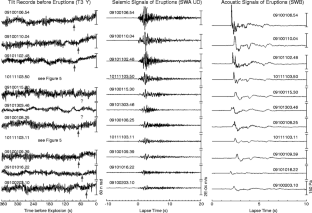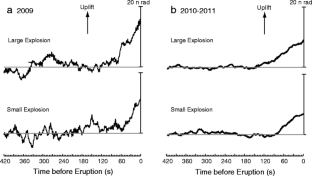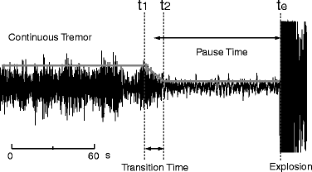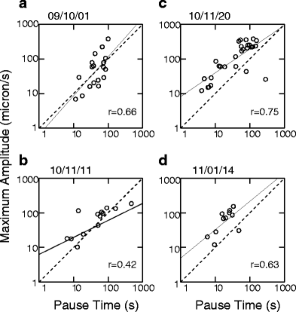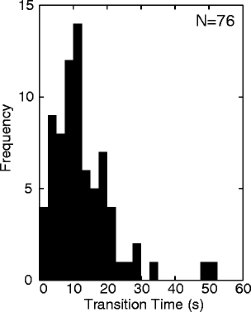 References
Aoyama H (2008) Simplified test on tilt response of CMG T seismometers. Bull Volcanol Soc Jpn 53:35–46

Aoyama H, Oshima H (2008) Tilt change recorded by broadband seismometer prior to small phreatic explosion of Meakan-dake volcano, Hokkaido, Japan. Geophys Res Lett 35: doi:10.1029/2007GL032988

Brodsky E, Kanamori H, Sturtevant B (1999) A seismically constrained mass discharge rate for the initiation of the May 18, 1980 Mount St. Helens eruption. J Geophys Res 104:29,387–29,400

Churei M, Katayama H (2006) Ground tilt change associated with the 2004 eruption at Asamayama volcano, Japan. Bull Volcanol Soc Jpn 51:91–101

Funasaki J, Naito H, Kan'no T, Miyasita M, Tikazawa S, Ueda Y, IIjima S (2006) Seismic activity and tilt change observed before the middle scale eruptions of Asama volcano in 2004. Bull Volcanol Soc Jpn 51:125–133

Genco R, Ripepe M (2010) Inflation–deflation cycles revealed by tilt and seismic records at Stromboli volcano. Geophys Res Lett 37, L12302. doi:10.1029/2010GL042925

Hirasawa K, Matsumoto H (1983) Volcanic geology of Suwanosejima, the Tokara islands, Kagoshima Prefecture. Bull Volcanol Soc Jpn 28:101–115 (in Japanese with English abstract)

Ichihara M, Takeo M, Yokoo A, Oikawa J, Ohminato T (2012) Monitoring volcanic activity using correlation patterns between infrasound and ground motion. Geophys Res Lett 39: doi:10.1029/2011GL050542

Iguchi M, Yakiwara H, Tameguri T, Hendrasto H, Hirabayashi J (2008) Mechanism of explosive eruption revealed by geophysical observations at the Sakurajima, Suwanosejima and Semeru volcanoes. J Volcanol Geotherm Res 178:1–9

Iguchi M, Surono, Nishimura T, Hendrasto M, Rosadi U, Ohkura T, Triastuty H, Basuki A, Loeqman A, Maryanto S, Ishihara K, Yoshimoto M, Nakada S, Hokanishi N (2012) Methods for eruption prediction and hazard evaluation at Indonesian volcanoes. J Disaster Res 7:26–36

Ishihara K (1990) Pressure sources and induced ground deformation associated with explosive eruptions at an andesitic volcano: Sakurajima volcano, Japan. In: Ryan M (ed) Magma transport and storage. Wiley, Chichester, pp 335–356

James MR, Lane SJ, Corder SB (2008) Modelling the rapid near-surface expansion of gas slugs in low-viscosity magmas. In: Lane, S. J., Gilbert, J. S. (Eds.), Fluid motions in volcanic conduits: a sourceof seismeic and acoustic signals. Geol. Soc. Spec. Publ. The Geological Society: 307, 147–167

Japan Meteorological Agency (2012) Bulletin on volcanic activity, Suwanosejima, http://www.seisvol.kishou.go.jp/tokyo/STOCK/monthly_v-act_doc/fukuoka/12m12/511_12m12.pdf, pp5 (in Japanese)

Johnson JB, Sanderson R, Lyons R, Escobar-Wolf, Waite G, Lees JM (2009) Dissection of a composite volcanic earthquake at Santianguito, Guatemala. Geophys Res Lett 36: doi:10.1029/2009GL039370

Kamo K, Ishihara K (1989) A preliminary experiment of automated judgment of the stages of eruptive activity using tiltmeter records. In: Latter JH (ed) Volcanic hazards: assessment methods and monitoring. Springer, Heidelberg, pp 585–598

Kanamori H, Given JW, Lay T (1984) Analysis of seismic body waves excited by the Mt. St. Helens eruption of May 18. J Geophys Res 89:1856–1866

Kawaguchi R, Nishimura T, Sato H (2011) Volcano deformation caused by gas slug ascent in an open conduit. Jpn Geosci Meet 2011, SVC047-05

Kawaguchi R, Nishimura T, Sato H (2013) Volcano inflation prior to an eruption: numerical simulations based on a 1-D magma flow model in an open conduit. Earth Planet Space. doi:10.5047/EPS.2013.05.005

Lyons JJ, Waite GP, Ichihara M, Lees JM (2012) Tilt prior to explosions and the effect of topography on ultra-long-period seismic records at Fuego volcano, Guatemala. Geophys Res Lett 39: doi:10.1029/2012GL051184

Mori T, Burton M (2006) The SO2 camera: a simple, fast and cheap method for ground-based imaging of SO2 in volcanic plumes. Geophys Res Lett 33: doi:10.1029/97JB01141

Mori T, Hirabayashi J, Kazahaya K, Mori T, Ohwada M, Miyashita M, Iino H, Nakahori Y (2007) A compact ultraviolet spectrometer system (COMPUSS) for monitoring volcanic SO2 emission: validation and preliminary observation. Bull Volcanol Soc Jpn 52:105–112

Mori T, Iguchi M, Nishimura T, Oikawa J (2011) Precursory gas flux change observed before eruptions at Suwanosejima volcano, Japan. IUGG 2011 General Assembly, Melbourne, Australia

Nadeau PA, Palama JL, Waite GP (2011) Linking volcanic tremor, degassing, and eruption dynamics via SO2 imaging. Geophys Res Lett 38: doi:10.1029/2010GL045820

Nakamichi H, Aoyama H, Nishimura T, Yakiwara H, Ohta Y, Yokoo A, Iguchi M (2012) Source process of explosive eruptions inferred from analysis of seismic array data recorded very close to the active crater of Suwanosejima volcano, Japan. AGU fall meeting, V31G-02

Nishi K, Hendrasto M, Rosadi U, Purbawinata MA (2007) Micro-tilt changes preceding summit explosions at Semeru volcano, Indonesia. Earth Planets Space 59:151–156

Nishimura T (2006) Ground deformation due to magma ascent with and without degassing. Geophys Res Lett 33, L23309. doi:10.1029/2006GL028101

Nishimura T (2009) Ground deformation caused by magma ascent in an open conduit. J Volcanol Geotherm Res 187(3–4):178–192. doi:10.1016/j.jvolgeores.2009.09.001

Nishimura T, Hamaguchi H (1993) Scaling law of volcanic explosion earthquake. Geophys Res Lett 20:2479–2482

Nishimura T, Iguchi M, Kawaguchi R, Surono, Hendrasto M, Rosadi U (2012) Inflations prior to vulcanian eruptions and gas bursts detected by tilt observations at Semeru Volcano, Indonesia. Bull Volcanol 74:903–911. doi:10.1007/s00445-012-0579-z

Ohminato T, Takeo M, Kumagai H, Yamashina T, Oikawa J, Koyama E, Tsuji H, Urabe T (2006) Vulcanian eruptions with dominant single force components observed during the Asama 2004 volcanic activity in Japan. Earth Planets Space 58:583–593

Otsuki S, Nakamura M (2012) Relaxation of melt foam: implications for Vulcanian explosions, AOGS-AGU (WPGM) Joint Assembly 2012, Shingapole

Shimano T, Koyaguchi T (2001) Eruption styles and degassing process of ascending magma of the 1813 eruption of Suwanosejima volcano, Southwest Japan. Bull Volcanol Soc Jpn 46:53–70 (in Japanese with English abstract)

Shimano T, Geshi, N, Kobayashi, T (2013) Geological map of Suwanosejima volcano. 1: 20,000, Geological map of volcanoes, 17, Geological Survey of Japan. (in Japanese with English abstract. English document is available at https://gbank.gsj.jp/volcano-AV/volcmap/17/index-e.html)

Takeo M, Maehara Y, Ohminato T, Ichihara M, Oikawa J (2012) Ground deformation cycles participating with sub-Plinian, Vulcanian eruptions, and a magma effusive stage at Kirishima volcanoes. Fall Meet Am Geophys Union 2012:V33D–V2904D

Tateo Y, Iguchi M (2009) Ground deformation associated with BL-type earthquake swarms at Sakurajima volcano. Bull Volcanol Soc Jpn 54:175–186 (in Japanese with English abstract)

Uhira K, Takeo M (1994) The source of explosive eruptions of Sakurajima volcano, Japan. J Geophys Res 99:17,775–17,789

Vergiolle S, Jaupart C (1986) Separated two-phase flow and basaltic eruptions. J Geophys Res 91:12842–12860

Wiens DA, Pozgay SH, Shore PJ, Sauter AW, White RA (2005) Tilt recorded by a portable broadband seismograph: the 2003 eruption of Anahatan Volcano, Mariana Islands. Geophys Res Lett 32, L18305. doi:10.1029/2005GL023369

Yokoo A, Iguchi M, Tameguri T, Yamamoto K (2013) Processes prior to outbursts of vulcanian eruption at Showa crater of Sakurajima volcano. Bull Volcanol Soc Jpn 58:163–181
Acknowledgments
We appreciate Toshima village office for the approval of our observation at Suwanosejima volcano. Real-time monitoring by staffs of Sakurajima Volcano Research Center, Kyoto University, helped us to have safe observations at the active volcano. We thank the staffs of Kyushu Electric Engineering Consults that dug boreholes for our tilt measurement on the steep flanks of the Suwanosejima volcano. Constructive and suggestive comments by associate editor, Michael Manga, Greg Waite, and John Lyons were very helpful to improve the manuscript. Taketo Shimano provided us useful information on the property of volcanic ejecta at Suwanosejima. This study is supported by the Ministry of Education, Culture, Sports, Science, and Technology (MEXT) of Japan, under its Observation and Research Program for Prediction of Earthquakes and Volcanic Eruptions.
Additional information
Editorial responsibility: M. Manga
About this article
Cite this article
Nishimura, T., Iguchi, M., Yakiwara, H. et al. Mechanism of small vulcanian eruptions at Suwanosejima volcano, Japan, as inferred from precursor inflations and tremor signals. Bull Volcanol 75, 779 (2013). https://doi.org/10.1007/s00445-013-0779-1
Received:

Accepted:

Published:
Keywords
Vulcanian eruption

Tilt

Tremor

Volcanic gas

Magma ascent

Explosion

Suwanosejima