Abstract
We develop an automatic system for the sampling of ash fall particles, to be used for continuous monitoring of magma ascent and eruptive dynamics at active volcanoes. The system consists of a sampling apparatus and cameras to monitor surface phenomena during eruptions. The Sampling Apparatus for Time Series Unmanned Monitoring of Ash (SATSUMA-I and SATSUMA-II) is less than 10 kg in weight and works automatically for more than a month with a 10-kg lead battery to obtain a total of 30 to 36 samples in one cycle of operation. The time range covered in one cycle varies from less than an hour to several months, depending on the aims of observation, allowing researchers to target minute-scale fluctuations in a single eruptive event, as well as daily to weekly trends in persistent volcanic activity. The latest version, SATSUMA-II, also enables control of sampling parameters remotely by e-mail commands. Durability of the apparatus is high: our prototypes worked for several months, in rainy and typhoon seasons, at windy and humid locations, and under strong sunlight. We have been successful in collecting ash samples emitted from Showa crater almost everyday for more than 4 years (2008–2012) at Sakurajima volcano in southwest Japan.
This is a preview of subscription content, log in to check access.
Access options
Buy single article
Instant access to the full article PDF.
US$ 39.95
Price includes VAT for USA
Subscribe to journal
Immediate online access to all issues from 2019. Subscription will auto renew annually.
US$ 199
This is the net price. Taxes to be calculated in checkout.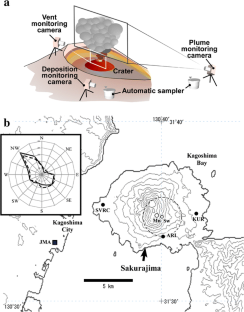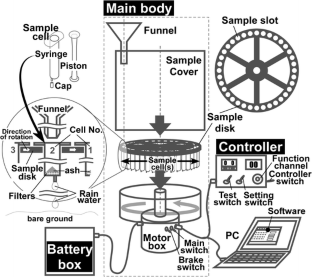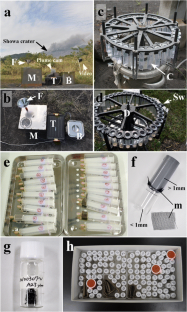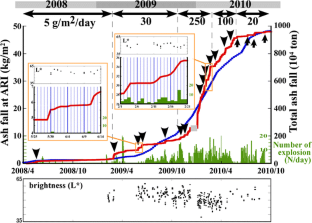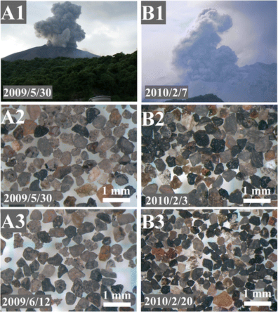 References
Aiuppa A, Moretti R, Federico C, Giudice G, Gurrieri S, Liusso M, Papale P, Shinohara H, Velenza M (2007) Forecasting Etna eruptions by real-time observation of volcanic gas composition. Geology 35:1115–1118

Anderson AT, Brown GG (1993) CO2 contents and formation pressures of some Kilauean melt inclusions. Am Mineral 78:794–803

Andronico D, Cristaldi A, Del Carlo P, Taddeucci J (2009) Shifting styles of basaltic explosive activity during the 2002–03 eruption of Mt. Etna, Italy. J Volcanol Geotherm Res 180:110–122. doi:10.1016/j.jvolgeores.2008.07.026

Bagnato E, Aiuppa A, Andronico D, Cristaldi A, Liotta M, Brusca L, Miraglia L (2011) Leachate analyses of volcanic ashes from Stromboli volcano: a proxy for the volcanic gas plume composition? J Geophys Res 116, D17204. doi:10.1029/2010JD015512

Barmin A, Melnik O, Sparks RSJ (2002) Periodic behavior in lava dome eruptions. Earth Planet Sci Lett 199:173–184

Decker RW (1986) Forecasting volcanic eruptions. Annu Rev Earth Planet Sci 14:267–291

Dellino P, Gudmundsson MT, Larsen G, Mele D, Stevenson JA, Thordarson T, Zimanowski B (2012) Ash from the Eyjafjallajökull eruption (Iceland): fragmentation processes and aerodynamic behavior. J Geophys Res 117, B00C04. doi:10.1029/2011JB008726

Eichelberger JE, Carrigan CR, Westrich HR, Price RH (1986) Non-explosive silicic volcanism. Nature 233:598–602

Hammer JE, Cashman KV, Hoblitt RP, Newman S (1999) Degassing and microlite crystallization during pre-climactic events of the 1991 eruption of Mt. Pinatubo, Philippines. Bull Volcanol 60:355–380

Iguchi M, Yakiwara H, Tameguri T, Hendrasto M, Hirabayashi J (2008) Mechanism of explosive eruption revealed by geophysical observation at the Sakurajima, Suwanosejima, and Semeru volcanoes. J Volcanol Geotherm Res 178:1–9

Imai A, Geshi N, Shimano T, Nakada S (2007) Implication of sulfur isotopic variation to 2000 eruptions of Miyake-jima volcano, Izu-Arc. Island Arc 16:83–92

Ishihara K (1990) Pressure sources and induced ground deformation associated with explosive eruptions at an andesitic volcano: Sakurajima volcano, Japan. In: Ryan MP (ed) Magma transport and storage. Wiley, New York 335–356

Jaupart C, Allegre C (1991) Gas content, eruption rate and instabilities of eruption in silicic volcanoes. Earth Planet Sci Lett 102:413–429

Kagoshima Local Meteorological Observatory (2012) Monthly weather report of Kagoshima Prefecture. (In Japanese)

Klug C, Cashman KV (1996) Permeability development in vesiculating magmas: implications for fragmentation. Bull Volcanol 58:87–100

Lautze NC, Taddeucci J, Andronico D, Cannata C, Tornetta L, Scarlato P, Houghton B, Lo Castro MD (2012) SEM-based methods for the analysis of basaltic ash from weak explosion activity at Etna in 2006 and the 2007 eruptive crisis at Stromboli. Phys Chem Earth 45–46:113–127

Lockwood JP, Hazlett RW (2010) Volcanoes: global perspectives. Wiley-Blackwell, New York, pp. 552

Miwa T, Toramaru A, Iguchi M (2009) Correlations of volcanic ash texture with explosion earthquakes from vulcanian eruptions at Sakurajima volcano, Japan. J Volcanol Geotherm Res 184:473–486

Nakamura M (1995) Residence time and crystallization history of nickeliferous olivine phenocrysts from the northern Yatsugatake volcanoes, Central Japan: application of a growth and diffusion model in the system Mg-Fe-Ni. J Volcanol Geotherm Res 66:81–100

Newhall C (2000) Volcano warnings. In: Sigurdsson H (ed) Encyclopedia of volcanoes. Academic, New York, pp 1185–1197

Nogami K, Hirabayashi J, Ohba T, Ossaka J, Yamamoto M, Akagi S, Ozawa T, Yoshida M (2001) Temporal variations in the constituents of volcanic ash and adherent water-soluble components in the Unzen Fugendake eruption during 1990–1991. Earth Planets Space 53:723–730

Noguchi S, Toramaru A, Nakada S (2008) Relation between microlite textures and discharge rate during the 1991–1995 eruptions at Unzen, Japan. J Volcanol Geotherm Res 175:141–155

Shimano T, Iida A, Yoshimoto M, Yasuda A, Nakada S (2005) Petrological characteristics of the 2004 eruptive deposits of Asama volcano, Central Japan. Bull Volcanol Soc Jpn 50:315–332 (In Japanese with English abstract)

Sparks RSJ (2003) Forecasting volcanic eruptions. Earth Planet Sci Lett 210:1–15

Taddeucci J, Pompilio M, Scarlato P (2002) Monitoring the explosive activity of the July-August 2001 eruption of Mt. Etna (Italy) by ash characterization. Geophys Res Lett 29. doi:10.1029/2001GL014372

Yokoo A, Iguchi M, Tameguri T, Yamamoto K (2013) Processes prior to outbursts of vulcanian eruption at Showa crater of Sakurajima volcano. Bull Volcanol Soc Japan 58:163–181

Yoshimoto M, Shimano T, Nakada S, Koyama E, Tsuji H, Iida A, Kurokawa M, Okayama Y, Nonaka M, Kaneko T, Hoshizumi H, Ishizuka Y, Furukawa R, Nogami K, Onizawa S, Niihori K, Sugimoto T, Nagai M (2005) Mass estimation and characteristics of ejecta from the 2004 eruption of Asama volcano. Bull Volcanol Soc Jpn 50:519–533 (In Japanese with English abstract)
Acknowledgments
Development of ash sampling apparatus has not been successful without help of staffs of Technical Division, Faculty of Science, Tohoku University. Observation at Sakurajima has been carried out under the strong support of Sakurajima Volcano Research Center, Kyoto University. The manuscript has been highly improved by fruitful comments and pieces of advice by Jacopo Taddeucci, Daniele Andronico, and Maurizio Ripepe. We thank all of them. This work was supported by DPRI, Kyoto University (general collaboration research 21G-12) and by MEXT/JSPS KAKENHI grant number 18740332 and grant number 24710203 (Grant-in-Aid for Young Scientists (B)).
Additional information
Editorial responsibility: J. Taddeucci
About this article
Cite this article
Shimano, T., Nishimura, T., Chiga, N. et al. Development of an automatic volcanic ash sampling apparatus for active volcanoes. Bull Volcanol 75, 773 (2013). https://doi.org/10.1007/s00445-013-0773-7
Received:

Accepted:

Published:
Keywords
Volcanic ash

Automatic sampling

Time series data

Multidisciplinary monitoring