Abstract
The last three eruptions at the Cordón Caulle volcanic complex, Chile, have been strikingly similar in that they have started with relatively short pre-eruptive warning and produced chemically homogeneous rhyolite to rhyodacite magma with glassy to aphyric texture. These characteristics collectively call for an understanding of the storage conditions leading to the rise and extraction of crystal-poor silicic magma from volcanoes. We have analyzed and experimentally reproduced the mineral assemblage and glass chemistry in rhyolite magma produced in the most recent eruption of Cordón Caulle, and we use these to infer magma storage and ascent conditions. Fe–Ti oxide mineral geothermometry suggests that the rhyolite was stored at ∼870–920 °C. At these temperatures, the phenocryst assemblage (plag∼An37 > cpx + opx > mag + ilm) can be reproduced under H2O-saturated conditions of between 100 and 50 MPa, corresponding to crustal depths between about 2.5 and 5.0 km. The shallow and relatively hot magma storage conditions have implications for the rapid onset, degassing efficiency, and progression from explosive to mixed pyroclastic-effusive eruption style at Cordón Caulle.
This is a preview of subscription content, log in to check access.
Access options
Buy single article
Instant access to the full article PDF.
US$ 39.95
Price includes VAT for USA
Subscribe to journal
Immediate online access to all issues from 2019. Subscription will auto renew annually.
US$ 199
This is the net price. Taxes to be calculated in checkout.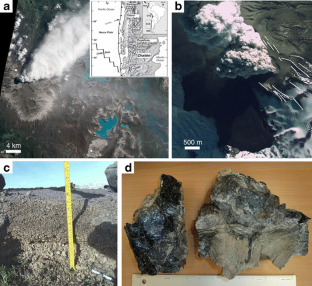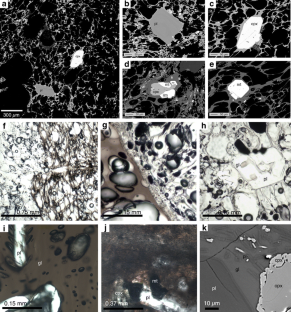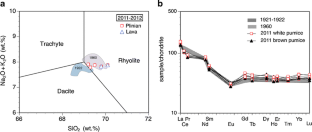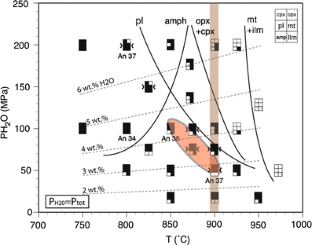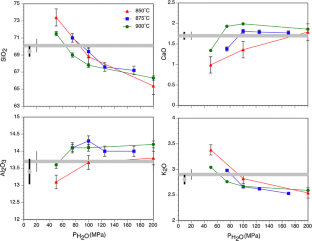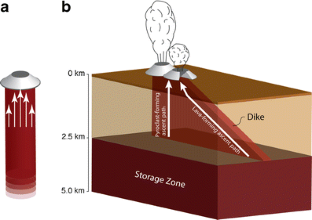 References
Alidibirov M, Dingwell DB (1996) Magma fragmentation by rapid decompression. Nature 380:146–148

Bacon CR, Hirschmann MM (1988) Mg/Mn partitioning as a test for equilibrium between coexisting Fe–Ti oxides. Am Mineral 73:57–61

Bagdassarov NS, Dingwell DB (1992) A rheological investigation of vesicular rhyolite. J Volcanol Geotherm Res 50:307–322

Behrens H, Tamic N, Francois H (2004) Determination of the molar absorption coefficient for the infrared absorption band of CO2 in rhyolitic glasses. Am Mineral 89:301–306

Bertin D, Amigo A, Lara LE, Orozco G, Silva C (2012) La erupción del Cordón Caulle 2011–2012: Evolución fase efusiva. Congreso Geologico Chileno, Antofagasta

Blake S, Fink JH (1987) The dynamics of magma withdrawal from a density stratified dyke. Earth Plan Sci Lett 85:516–524

Blank JG (1993) An experimental investigation of the behavior of carbon dioxide in rhyolitic melt. Ph.D. thesis, California Institute of Technology, Pasadena

Cashman KV, Sturtevant B, Papale P, Navon O (2000) Magmatic fragmentation. In: Sigurdsson H (ed) Encyclopedia of volcanoes. Academic, San Diego, pp 421–430

Castro JM, Dingwell DB (2009) Rapid ascent of rhyolite magma at Chaitén volcano, Chile. Nature 461:780–784

Castro JM, Gardner JE (2008) did magma ascent rate control the explosive-effusive transition at the Inyo volcanic chain, California? Geology 36:279–282

Castro JM, Cottrell E, Tuffen H, Logan AV, Kelley KA (2009) Spherulite crystallization induces Fe-redox redistribution in silicic melt. Chem Geol 268:272–280

Castro JM, Schipper CI, Tuffen H (2012) Simultaneous pyroclastic and effusive venting at rhyolite volcanoes: the cases of Puyehue-Cordón Caulle and Chaitén. EGU Gen Assem Abstr 14:EGU2012–EGU7760

Chouet B (1996) Long-period volcano seismicity: its source and use in eruption forecasting. Nature 380:309–316

Coombs ML, Gardner JE (2001) Shallow-storage conditions for the rhyolite of the 1912 eruption at Novarupta, Alaska. Geology 29:775–778

Cottrell E, Gardner JE, Rutherford MJ (1999) Petrologic and experimental evidence for the movement and heating of the pre-eruptive Minoan rhyodacite (Santorini, Greece). Contrib Mineral Petrol 135:315–331

Devine JD, Gardner JE, Brack HP, Layne GD, Rutherford MJ (1995) Comparison of microanalytical methods for estimating H2O contents of silicic volcanic glasses. Am Mineral 80:319–328

Eichelberger JC (1995) Silicic volcanism: ascent of viscous magmas from crustal reservoirs. Annu Rev Earth Planet Sci 23:41–63

Eichelberger JC, Carrigan CR, Westrich HR, Price RH (1986) Non-explosive silicic volcanism. Nature 323:598–602

Fink JH, Pollard DD (1983) Structural evidence for dikes beneath silicic domes, Medicine Lake Highland Volcano, California. Geology 11:458–461

Gerlach DC, Frey FA, Moreno-Roa H, Lopez-Escobar L (1988) Recent volcanism in the Puyehue-Cordón Caulle region, southern Andes, Chile (40.5° S): Petrogenesis of evolved lavas. J Petrol 29:333–382

Geschwind CH, Rutherford MJ (1992) Cummingtonite and the evolution of the Mount St. Helens (Washington) magma system; an experimental study. Geology 20:1011–1014

Geschwind CH, Rutherford MJ (1995) Crystallization of microlites during magma ascent: the fluid mechanics of 1980–1986 eruptions at Mount St Helens. Bull Volcanol 57:356–370

Ghiorso MS, Evans BW (2008) Thermodynamics of rhombohedral oxide solid solutions and a revision of the Fe–Ti two-oxide geothermometer and oxygen-barometer. Am J Sci 308:957–1039

Giordano D, Russell JK, Dingwell DB (2008) Viscosity of magmatic liquids: a model. Earth Plan Sci Lett 271:123–134

Hammer JE, Rutherford MJ (2002) An experimental study of the kinetics of decompression-induced crystallization in silicic melt. J Geophys Res 107:10,1029–10,1053

Hammer JE, Rutherford MJ (2003) Petrologic indicators of preeruption magma dynamics. Geology 31:79–82

Jacob DE (2006) High sensitivity analysis of trace element-poor geological reference glasses by laser ablation-inductively coupled plasma-mass spectrometry (LA-ICP-MS). Geostand Geoanal Res 30:221–235

Jaupart C, Allègre CJ (1991) Gas content, eruption rate and instabilities of eruption regime in silicic volcanoes. Earth Plan Sci Lett 102:413–429

Jochum KP, Nehring F (2006) BCR-1: GeoReM preferred values (11/2006). GeoReM (http://georem.mpch-mainz.gwdg.de)

Kilburn CR, Voight B (2006) Slow rock fracture as eruption precursor at Soufriere Hills volcano, Montseratt. Geophys Res Lett 25:3665–3668

Lange RA, Carmichael ISE (1990) Thermodynamic properties of silicate liquids with emphasis on density, thermal expansion and compressibility. In: Russell JK, Nicholls J (eds) Modern methods of igneous petrology; understanding magmatic processes. Rev Mineral 24: 25–64

Lara LE (2008) The 2008 eruption of the Chaitén Volcano, Chile: a preliminary report. Andean Geol 36:125–129

Lara LE, Naranjo JA, Moreno H (2004) Rhyodacitic fissure eruption in Southern Andes (Cordón Caulle; 40.5° S) after the 1960 (Mw:9.5) Chilean earthquake: a structural interpretation. J Volcanol Geotherm Res 138:127–138

Lara LE, Moreno H, Naranjo JA, Matthews S, de Arce CP (2006) Magmatic evolution of the Puyehue-Cordón Caulle Volcanic Complex (40° S), Southern Andean Volcanic Zone: from shield to unusual rhyolitic fissure volcanism. J Volcanol Geotherm Res 157:343–366

Larsen J (2006) Rhyodacite magma storage conditions prior to the 3430 yBP caldera-forming eruption of Aniakchak volcano, Alaska. Contrib Mineral Petrol 152:523–540

Le Bas MJ, Streckeisen AL (1991) The IUGS systematics of igneous rocks. J Geol Soc Lond 148:825–833

Lejeune A-M, Richet P (1995) Rheology of crystal-bearing silicate melts: an experimental study at high viscosities. J Geophys Res 100:4215–4229

Lejeune A-M, Bottinga Y, Trull TW, Richet P (1999) Rheology of bubble-bearing magmas. Earth Planet Sci Lett 166:71–84

Llewellin EW, Manga M (2005) Bubble suspension rheology and implications for conduit flow. J Volcanol Geotherm Res 143:205–217

Luhr J (2001) Glass inclusions and melt volatile contents at Parícutin Volcano, Mexico. Contrib Miner Pet 142:261–283

Manga M, Castro J, Cashman KV, Loewenberg M (1998) Rheology of bubble-bearing magmas. J Volcanol Geotherm Res 87:15–28

Martel C, Pichavant M, Bourdier J-L, Traineau H, Holtz F, Scaillet B (1998) Magma storage conditions and control of eruption regime in silicic volcanoes: experimental evidence from Mt. Pelée. Earth Plan Sci Lett 156:89–99

Moore G, Vennemann T, Carmichael ISE (1998) An empirical model for the solubility of H2O in magmas to 3 kilobars. Am Mineral 83:36–42

Moriizumi M, Nakashima S, Okumura S, Yamanoi Y (2009) Color-change processes of a plinian pumice and experimental constraints of color-change kinetics in air of an obsidian. Bull Volcanol 71:1–13

Mueller S, Llewellin EW, Mader HM (2010) The rheology of suspensions of solid particles. Proc R Soc A 466:1201–1228. doi:10.1098/rspa.2009.0445

Nielsen CH, Sigurdsson H (1981) Quantitative methods for electron microprobe analysis of sodium in natural and synthetic glasses. Am Mineral 66:547–552

Okumura S, Nakamura M, Uesugi K, Nakano T, Fujioka T (2013) Coupled effect of magma degassing and rheology on silicic volcanism. Earth Plan Sci Lett 362:163–170

Papale P (1999) Strain-induced magma fragmentation in explosive eruptions. Nature 397:425–428

Pichavant M, Costa F, Burgisser A, Scaillet B, Martel C, Poussineau S (2007) Equilibration scales in silicic to intermediate magmas—implications for experimental studies. J Petrol 48:1955–1972

Roman DC, Cashman KV (2006) The origin of volcano-tectonic earthquake swarms. Geology 34:457–460

Rust AC, Manga M (2002) Effects of bubble deformation on the viscosity of dilute suspensions. J Non-Newton Fluid Mech 104:53–63

Rutherford MJ (2010) Magma ascent rates. In: Putirka, KD and Tepley FJ III (eds) Minerals, inclusions and volcanic processes, vol 69. Mineralogical Society of America, Washington, pp. 241–271

Rutherford MJ, Sigurdsson H, Carey SN, Davis AN (1985) The May 18, 1980, eruption of Mount St. Helens, 1, melt composition and experimental phase equilibria. J Geophys Res 90:2929–2947

Silva Parejas C, Lara LE, Bertin D, Amigo A, Orozco G (2012) The 2011–2012 eruption of Cordón Caulle volcano (Southern Andes): evolution, crisis management and current hazards. EGU General Assembly 2012, Vienna, Austria, 22–27 April 2012. p. 9382

Singer BS, Jicha BR, Harper MA, Naranjo JA, Lara LE, Moreno-Roa H (2008) Eruptive history, geochronology, and magmatic evolution of the Puyehue-Cordón Caulle volcanic complex, Chile. Geol Soc Am Bull 120:599–618

Spera FJ (2000) Physical properties of magma. In: Sigurdsson H, Houghton B, McNutt SR, Rymer H, Stix J (eds) Encyclopedia of volcanoes. Academic, San Diego, pp 171–190

Stein DJ, Spera FJ (1992) Rheology and microstructure of magmatic emulsions—theory and experiments. J Volcanol Geotherm Res 49:157–174

Sun S-S, McDonough WF (1989) Chemical and isotopic systematics of oceanic basalts: implications for mantle composition and processes. In: A.D. Saunders and M.J. Norry (eds) Magmatism in the ocean basins. Geol Soc Spec Publ, pp. 313–345

Taylor BE, Eichelberger JC, Westrich HR (1983) Hydrogen isotopic evidence of rhyolitic magma degassing during shallow intrusion and eruption. Nature 306:541–545

Wicks C, de la Llera JC, Lara LE, Lowenstern J (2011) The role of dyking and fault control in the rapid onset of eruption at Chaitén volcano, Chile. Nature 478:374–377

Woods AW, Koyaguchi T (1994) Transitions between explosive and effusive eruptions of silicic magmas. Nature 370:641–644

Zhang Y, Belcher R, Ihinger PD, Wang L, Xu Z, Newman S (1997) New calibration of infrared measurement of dissolved water in rhyolitic glasses. Geochim Cosmochim Acta 61:3089–3100
Acknowledgments
The authors thank L.E. Lara of the SERNAGEOMIN for providing logistical support and the GeoEye foundation for the use of a high-resolution satellite photo of the Cordón Caulle vent region. C.I. Schipper acknowledges support from ERC grant 202844 under the European FP7. S. Buhre and N. Groschopf provided helpful analytical support. The authors thank P. Wallace, H. Wright, and J. Larsen for providing thorough and useful comments.
Additional information
Editorial responsibility: P. Wallace
Electronic supplementary material
Below is the link to the electronic supplementary material.
About this article
Cite this article
Castro, J.M., Schipper, C.I., Mueller, S.P. et al. Storage and eruption of near-liquidus rhyolite magma at Cordón Caulle, Chile. Bull Volcanol 75, 702 (2013). https://doi.org/10.1007/s00445-013-0702-9
Received:

Accepted:

Published:
Keywords
Cordón Caulle

Explosive-effusive volcanism

Magma storage

Plinian explosion

Rhyolite