Abstract
Since the 1980s, application of thermal infrared satellite data for volcano monitoring has rapidly evolved to become a proven operational tool. Due to the large quantities of data provided by sensors in polar and geostationary orbits, as well as the sheer number of active volcanoes on earth, processing and managing such data sets requires an enormous amount of workforce. A number of algorithms have been developed to facilitate detection, location, and tracking of hot spots of active volcanoes. A collation and review of hot spot detection algorithms developed and applied by the volcanological community reveals three main types which have been applied to date: contextual, fixed threshold, and temporal. The founding algorithms for these three classes are VAST, MODVOLC, and RST, respectively. Through comparison with manually based detections, the performance of each algorithm was tested for sustained lava flows (Etna and Stromboli), strombolian activity (Stromboli), lava dome growth and collapse (Augustine), and fumarole fields (Vulcano). It is shown that, as the number of correctly identified anomalies increases, so too does the number of false positives. Although each of the algorithms operates well within the limits and criteria of their design requirements and application, under current data restraints, no algorithm can be expected to perform perfectly.
This is a preview of subscription content, log in to check access.
Access options
Buy single article
Instant access to the full article PDF.
US$ 39.95
Price includes VAT for USA
Subscribe to journal
Immediate online access to all issues from 2019. Subscription will auto renew annually.
US$ 199
This is the net price. Taxes to be calculated in checkout.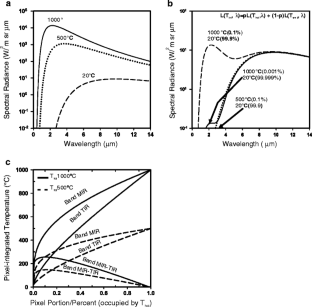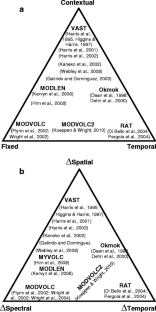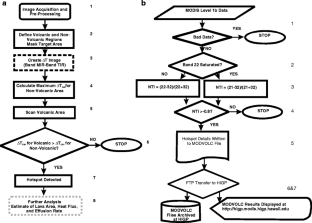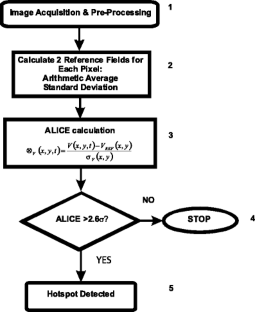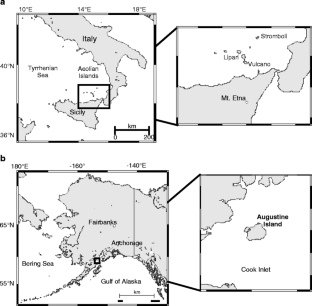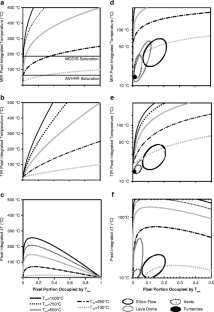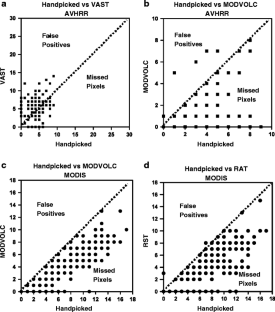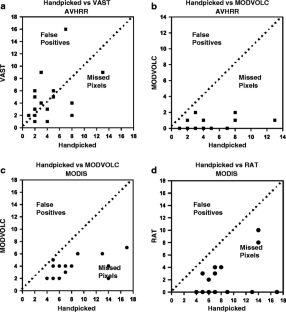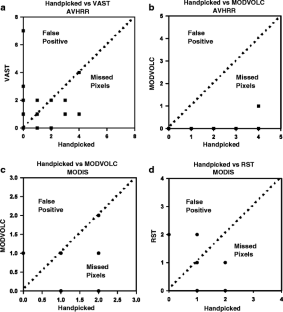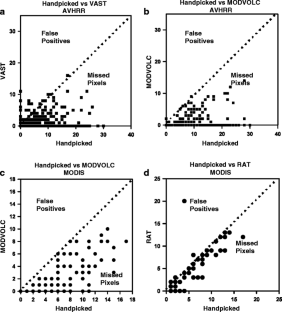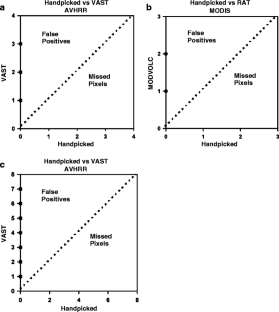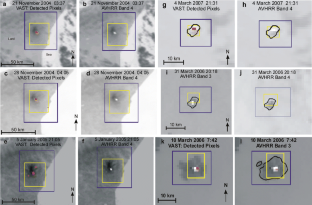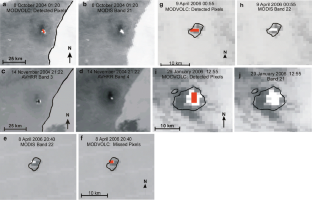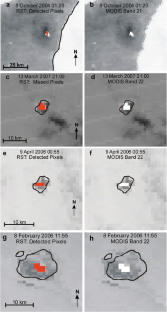 References
Allard P, Behnke B, D'Amico S, Neri M, Gambino S (2006) Mount Etna 1993–2005: anatomy of an evolving eruptive cycle. Earth Sci Rev 78(1–2):85–114

Arino O, Melinotte J-M (1995) Fire index atlas. Earth Observation Quarterly 50:10–15

Barberi F, Civetta L, Rosi M, Scandone R (2009) Chronology of the 2007 eruption of Stromboli and activity of the Scientific Synthesis Group. J Volcanol Geoth Res 182(3–4):123–130

Burton MR, M. N, Andronico D, Branca S, Caltabiano T, Calvari S, Corsaro RA, Del Carlo P, Lanzafame G, Lodato L, Miraglia L, Salerno G, Spampinato L (2005) Etna 2004–2005: an archetype for geodynamically-controlled effusive eruptions. Geophys Res Lett 32(L09303)

Calvari S, Spampinato L, Lodato L, Harris AJL, Patrick MR, Dehn J, Burton MR, Andronico D (2005) Chronology and complex volcanic processes during the 2002–2003 flank eruption at Stromboli volcano (Italy) reconstructed from direct observations and surveys with a handheld thermal camera. J Geophys Res 110(B02201), doi:10.1029/2004JB003129

Calvari S, Lodato L, Steffke A, Cristaldi A, Harris AJL, L. S, E. B (2010) The 2007 Stromboli flank eruption: event chronology and effusion rates using thermal infrared data. J Geophys Res 115(B04201)

Chiodini G, Granieri D, Avino R, Caliro S, Costa A. (2005) Carbon dioxide diffuse degassing and estimation of heat release from volcanic and hydrothermal systems. J Geophys Res 110:B08204, doi:10.1029/2004JB003542

Coppola D, Piscopo D, Staudacher T, Cigolini C (2009) Lava discharge rate and effusive pattern at Piton de la Fournaise for MODIS data. J Volcanol Geoth Res 184(1–2):174–192

Cortese M, Frazzetta G, La Volpe L (1986) lcanic history of Lipari (Aeolian Islands, Italy) during the last 10,000 years. J Volcanol Geoth Res 27:117–135

Cracknell AP (1997) The Advanced Very High Resolution Radiometer. Taylor & Francis, Bristol

Crisci GM, DeRosa R, Mazzuoli R, Sonnino M (1991) Temporal evolution of a three component system: the island of Lipari (Aeolian Arc, southern Italy). Bull Volcanol 53:207–221

Dean KG, Dehn J, Papp KR, Smith S, Izbekov P, Peterson R, Kearney C, Steffke A (2004) Intergrated satellite observations of the 2001 eruption of Mt. Cleveland, Alaska. J Volcanol Geoth Res 127(1–2):87–105

Dean KG, Servilla M, Roach A, Foster B, Engle K (1998) Satellite monitoring of remote volcanoes improves study efforts in Alaska. EOS Transactions 79(413):422–423

Dehn J, Dean K, Engle K (2000) Thermal monitoring of North Pacific volcanoes from space. Geology 28(8):755–758

Delle Donne D (2011) Earthquake-induced heat flux responses at active volcanoes. Geology (in press)

Di Bello G, Filizzola C, Lacava T, Marchese F, Pergola N, Pietrapertosa C, Piscitelli S, Scaffidi I, Tramutoli V (2004) Robust satellite technique for volanic and seismic hazard monitoring. Ann Geophys 47(1):49–64

Doizer JA (1981) A method for satellite identification of surface temperature fields of subsurface resolution. Remote Sens Environ 11:221–229

Flannigan MD, Vonder Haar TH (1986) Forest fire monitoring using NOAA satellite AVHRR. Can J Forest Res 16:975–982

Flasse SP, Ceccato P (1996) A contextual algorithm for AVHRR fire detection. Int J Remote Sens 17(3):419–424

Flynn LP, Wright R, Garbeil H, Harris AJL, Pilger E (2002) A global thermal alert using MODIS: initial results from 2000–2001. Adv Environ Monit and Mod 1:37–69

Francis PW, Rothery DA (1987) Using the Landsat Thematic Mapper to detect and monitor active volcanoes: an example from Lascar volcano, northern Chile. Geology 15:614–617

Galindo I, Dominguez T (2002) Near real-time satellite monitoring during the 1997–2000 activity of Volcan de Colima (Mexico) and its relationship with seismic monitoring. J Volcanol Geoth Res 117:91–104

Glaze LS, Francis PW, Rothery DA (1989) Measuring thermal budgets of active volcanoes by satellite remote sensing. Nature 338:144–146

Harris AJL (1996) Toward automated fire monitoring from space: semi-automated mapping of the January 1994 New South Wales wildfires using AVHRR Data. Int J Wildland Fire 6(3):107–116

Harris AJL, Blake S, Rothery DA (1997a) A chronology of the 1991 to 1993 Mount Etna eruption using advanced very high resolution radiometer data: implications for real-time thermal volcano monitoring. Geophys Res Lett 102:7985–8003

Harris AJL, Flynn LP, Matias O, Rose WI, Cornejo J (2002a) The evolution of an active silicic lava flow field: An ETM + perspective. J Volcanol Geoth Res 135:147–168

Harris AJL, Keszthelyi L, Flynn LP, Mouginis-Mark PJ, Thornber C, Kauahikaua J, Sherrod D, Trusdell F, Sawyer MW, Flament P (1997b) Chronology of the Episode 54 eruption at Kilauea Volcano, Hawaii, from GOES-9 satellite data. Geophys Res Lett 24(24):3281–3284

Harris AJL, Lodato L, Dehn J, Spampinato L (2009) Thermal characterization of the Vulcano fumarole field. Bull Volcanol 71(4):441–458

Harris AJL, Pilger E, Flynn LP (2002b) Web-based hot spot monitoring using GOES: what it is and how it works. Adv Environ Monit and Mod 1(3):134–151

Harris AJL, Pilger E, Garbeil H, Mouginis-Mark PJ, Kauahikaua J, Thornber C (2001) Automated, high temporal resolution, thermal analysis of Kilauea volcano, Hawaii, using GOES-9 satellite data. Int J Remote Sens 22(6):947–967

Harris AJL, Ripepe M (2007a) Temperature and dynamics of degassing at Stromboli. J Geophys Res 112(B03205), doi:10.1029/2006JB004393

Harris AJL, Ripepe M (2007b) Synergy of multiple geophysical approaches to unravel explosive eruption conduit and source dynamics—a case study from Stromboli. Chemie der Erde 67:1–35

Harris AJL, Rothery DA, Carlton RW, Langaas S, Mannstein H (1995) Non-zero saturation of AVHRR thermal channels over high temperature targets: evidence from volcano data and a possible explanation. Int J Remote Sens 16(1):189–196

Harris AJL, Stevenson DS (1997) Thermal observations of degassing open conduits and fumaroles at Stromboli and Vulcano using remotely sensed data. J Volcanol Geoth Res 76:175–198

Harris AJL, Flynn LP, Matias O, Rose WI, Cornejo J (2004) The evolution of an active silicic lava flow field: an ETM+ perspective. J Volcanol Geoth Res 135(1-2):147–168

Higgins J, Harris AJL (1997) VAST: a program to locate and analyse volcanic thermal anomalies automatically from remotely sensed data. Comput Geosci 23(6):627–645

Hirn B, Di Bartola C, Ferrucci F (2008) Spaceborne monitoring 2000–2005 of the Pu'u 'O'o-Kupaianaha (Hawaii) Eruption by synergetic merge of multispectral payloads ASTER and MODIS. IEEE Trans Geosci Remote Sens 46(10):2848–2856

Justice CO, Dowty P (1994) IGBP-DIS satellite fire detection algorithm workshop technical report. In: Justice CO (ed) IGBP-DIS satellite fire detection algorithm workshop technical report. NASA/GSFC, Greenbelt, Maryland, USA. p 88

Kaneko T, Yasuda A, Ishimaru T, Takagi M, Wooster MJ, Kagiyama T (2002) Satellite hot spot monitoring of Japanese volcanoes: a prototype AVHRR-based System. Adv Environ Monit and Mod 1(1):125–133

Kaufman YJ, Justice CO, Flynn LP, Kendall JD, Prins EM, Giglio L, Ward DE, Menzel WP, Setzer AW (1998) Potential global fire monitoring from EOS-MODIS. J Geophys Res 103(D24):32,213–232,238

Kaufman YJ, Tucker CJ, Fung I (1990) Remote sensing of biomass burning in the tropics. J Geophys Res 95(D7):9927–9939

Kennedy PJ, Belward AS, Gregoire JM (1994) An improved approach to fire monitoring in West Africa using AVHRR data. Int J Remote Sens 15(11):2234–2255

Kervyn M, Harris AJL, Mbede E, Belton F, Jacobs P, Ernst GGJ (2006) MODLEN: A semi-automated algorithm for monitoring smallscale thermal activity at Oldoinyo Lengai Volcano Tanzania. In: Quantitative Geology from Multiple Sources IAMG Annual Conference. Liege

Kervyn M, Ernst GGJ, Goossens R, Jacobs P (2008) Mapping volcano topography with remote sensing: ASTER vs SRTM. Int J Remote Sens 29:6515–6538

Koeppen W, Pilger E, Wright R (2010) Time series analysis of infrared satellite data for detecting thermal anomalies: a hybrid approach. Bull Volcano:1–17

Koeppen WC, Pilger E, Wright R (2011) Time series analysis of low resolution thermal infrared thermal anomalies: a hybrid approack. Bull Volcanol (in press)

Langaas S (1993) A parametrised model for savanna fire detection using AVHRR night images. Int J Remote Sens 14(12):2245–2262

Lee TF, Tag PM (1990) Improved detection of hotspots using the AVHRR 3.7 mm Channel. Bull Am Met Soc 71(12):1722–1730

Lyons JJ, Waite GP, Rose WI, Chigna G (2010) Patterns in open vent, strombolian behavior at Fuego volcano, Guatemala 2005–2007. Bull Volcanol 72(1):1–15

Marsella M, Proietti C, Sonnessa A, Coltelli M, Tommasi P, Bernardo E (2009) The evolution of the Sciara del Fuoco subaerial slope during the 2007 Stromboli eruption: Relation between deformation processes and effusive activity. J Volcanol Geoth Res 182(3–4):201–213

Miller TP, McGimsey RG, Richter DH, Riehle JR, Nye CJ, Yount ME, Dumoulin JA (1998) Catalog of the historically active volcanoes of Alaska. In: Geological Survey Open-File Report. USGS. p 104

Mouginis-Mark PJ, Domergue-Schmidt (2000) Acqusition of Satellite Data for Volcano Studies. In: Mouginis-Mark PJ, Crisp J, Fink JH (eds) Remote Sensing of Active Volcanism. American Geophysical Union, Washington, pp 9–24

Oppenheimer C, Francis PW, Rothery DA, Carlton RW (1993) Infrared iamge analysis of volcanic thermal features: Lascar volcano, Chile 1984–1992. J Geophys Res 98:4269–4286

Oppenheimer CMM, Rothery DA (1991) Infrared monitoring of volcanoes by satellite. J Geol Soc 148(3):563–569

Patrick M, Harris AJL, Ripepe M, Dehn J, Rothery DA, Calvari S (2007) Strombolian explosive styles and source conditions: Insights from thermal (FLIR) video. Bull Volcanol 60, doi: 10.1007/s00445-00006-00107-00440

Patrick MR, Smellie JL, Harris AJL, Wright R, Dean KG, Izbekov P, Garbeil H, Pilger E (2005) First recorded eruption of Mount Belinda volcano (Montagu Island), South Sandwhich Islands. Bull Volcanol 67:412–422

Pergola N, Giuseppe DA, Lisi M, Marchese F, Mazzeo G, Tramutoli V (2009) Time domain analysis of robust satellite technique (RST) for near real-time monitoring of active volcanoes and thermal precursor identification. Phys Chem Earth 34:84–94

Pergola N, Marchese F, Tramutoli V (2004) Automated detection of thermal features of active volcanoes by means of infrared AVHRR records. Remote Sens Environ 93:311–327

Pergola N, Marchese F, Tramutoli V, Filizzola C, Ciampa M (2008) Advanced satellite technique for volcanic activity monitoring and early warning. Ann Geophys 51:287–301

Pergola N, Pietrapertosa C, Lacava T, Tramutoli V (2001) Robust satellite techniques for monitoring volcanic eruptions. Ann Geofis 44(2):167–177

Pergola N, Tramutoli V (2003) Two years of operational use of Subpixel Automatic Navigation of AVHRR scheme: accuracy assessment and validation. Remote Sens Environ 85:190–203

Piscopo D (2010) Stromboli MODIS thermal anomalies during strombolian activity. In: Università degli Studi di Torino. p 119

Power JA, Nye CJ, Coombs ML, Wessels RL, Cervelli PF, Dehn J, Wallace KL, Freymueller JT, Doukas MP (2006) The reawakening of Alaska's Augustine Volcano. Eos 87(37):373–377

Ripepe M, Marchetti E, Ulivieri G, Harris AJL, Dehn J, Burton MR, Caltabiano T, Salerno G (2005) Effusive to explosive transition during the 2003 eruption Stromboli volcano. Geology 33(5):341–344

Rothery DA, Coppola D, Saunders C (2005) Analysis of volcanic activity patterns using MODIS thermal alerts. Bull Volcanol 67(6):539–556

Rothery DA, Francis PW, Wood CA (1988) Volcano Monitoring Using Short Wavelength Infrared Data from Satellites. J Geophys Res 93(B7):7993–8008

Tramutoli V (1998) Robust AVHRR Techniques (RAT) for Environmental Monitoring: theory and applications. In: Cecchi GZ E (ed) EUROPTO Conference on Remote Sensing of Geology, Land Management and Cultural Heritage III. SPEI, Barcelona, Spain, pp 101–113

Siebert L, Simkin T, Kimberly P (2010) Volcanoes of the World. Smithsonian Institute, Washington, D.C.

Simkin T, Siebert L (1994) Volcanoes of the World. Geoscience Press in association with the Smithsonian Institution Global Volcanism Program, Tucson, p 368

Tramutoli V, Di Bello G, Pergola N, Piscitelli S (2001) Robust satellite techniques for remote sensing of seimically active area. Ann Geophys 44:295–312

van Manen SM, Dehn J (2009) Satellite remote sensing of thermal activity at Bezymianny and Kliuchevskoi from 1993 to 1998. Geology 37(11):983–986

Vicari A, Ciraudo A, Del Negro C, Herault A, Fortuna L (2009) Lava flow simulations using discharge rates from thermal infrared satellite imagery during the 2006 Etna eruption. Nat Hazards 50(3):539–550

Webley PW, Wooster MJ, Strauch W, Saballos JA, Dill K, Stephenson P, Stephenson J, Escobar Wolf R, Matias O (2008) Experiences from real-time satellite-based volcano monitoring in Central America: case studies at Fuego, Guatemala. Int J Remote Sens 29(22):6618–6644

Weisnet DR, D' Aguanno J (1982) Thermal imagery of Mt. Erebus from the NOAA-6 satellite. Antarct J US 17:32–34

Wooster MJ, Kaneko T (1998) Satellite thermal analyses of lava dome effusion rates at Unzen volcano, Japan. J Geophys Res 103:20935–20947

Wooster MJ, Kaneko T, Nakada S, Shimizu H (2000) Discrimination of lava dome activity styles using satellite-derived thermal structures. J Volcanol Geoth Res 102:97–118

Wooster MJ, Rothery DA (1997a) Time-series analysis of effusive volcanic activity using the ERS along track scanning radiometer: the 1995 Eruption of Fernandina Volcano, Galapagos Islands. Remote Sens Environ 62:109–117

Wooster MJ, Rothery DA (1997b) Thermal monitoring of Lascar volcano, Chile, using infrared data from the along-track scanning radiometer: a 1992–1995 time series. Bull Volcanol 58:566–579

Wright R, Carn SA, Flynn LP (2005) A satellite chronology of the May–June 2003 eruption of Anatahan volcano. J Volcanol Geoth Res 146:102–116

Wright R, Flynn LP (2004) Space-based estimate of volcanic heat flux into the atmosphere during 2001 and 2002. Geology 32(3):189–192

Wright R, Flynn LP, Garbeil H, Harris AJL, Pilger E (2002) Automated volcanic eruption detection using MODIS. Remote Sens Environ 82:135–155

Wright R, Flynn LP, Garbeil H, Harris AJL, Pilger E (2004) MODVOLC: near-real-time thermal monitoring of global volcanism. J Volcanol Geoth Res 135:29–49

Yuhaniz SS, Vladimirova T (2009) An onboard automatic change detection system for disaster monitoring. Int J Remote Sens 30(23):6129–6139
Acknowledgments
The authors would like to take this opportunity to thank all of those who helped in making this research and paper possible. Thanks to Will Koeppen, Harold Garbeil, and Eric Pilger for programming assistance. AVHRR and MODIS data were made available from The Remote Sensing Data Analysis Service (Plymouth Marine Laboratory, Plymouth, UK) and NASA's Goddard Space Flight Center, LAAD DAAC. The paper benefited through insightful discussion with Jon Dehn and Robert Wright, as well as review by Sonia Calvari. Funding was made available through NASA grant no. NNG04GO64G (new tools for advanced hot spot tracking).
Additional information
Editorial responsibility: J.D.L. White
About this article
Cite this article
Steffke, A.M., Harris, A.J.L. A review of algorithms for detecting volcanic hot spots in satellite infrared data. Bull Volcanol 73, 1109–1137 (2011). https://doi.org/10.1007/s00445-011-0487-7
Received:

Accepted:

Published:

Issue Date:
Keywords
Hot spot detection algorithms

Thermal remote sensing

Volcano monitoring