Abstract
Hawaiian eruptions are characterized by fountains of gas and ejecta, sustained for hours to days that reach tens to hundreds of meters in height. Quantitative analysis of the pyroclastic products from the 1959 eruption of Kīlauea Iki, Kīlauea volcano, Hawai'i, provides insights into the processes occurring during typical Hawaiian fountaining activity. This short-lived but powerful eruption contained 17 fountaining episodes and produced a cone and tephra blanket as well as a lava lake that interacted with the vent and fountain during all but the first episode of the eruption, the focus of this paper. Microtextural analysis of Hawaiian fountaining products from this opening episode is used to infer vesiculation processes within the fountain and shallow conduit. Vesicle number densities for all clasts are high (106–107 cm−3). Post-fragmentation expansion of bubbles within the thermally-insulated fountain overprints the pre-fragmentation bubble populations, leading to a reduction in vesicle number density and increase in mean vesicle size. However, early quenched rims of some clasts, with vesicle number densities approaching 107 cm−3, are probably a valid approximation to magma conditions near fragmentation. The extent of clast evolution from low vesicle-to-melt ratio and corresponding high vesicle number density to higher vesicle-to-melt ratio and lower vesicle-number density corresponds to the length of residence time within the fountain.
This is a preview of subscription content, log in to check access.
Access options
Buy single article
Instant access to the full article PDF.
US$ 39.95
Price includes VAT for USA
Subscribe to journal
Immediate online access to all issues from 2019. Subscription will auto renew annually.
US$ 199
This is the net price. Taxes to be calculated in checkout.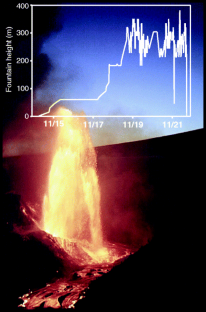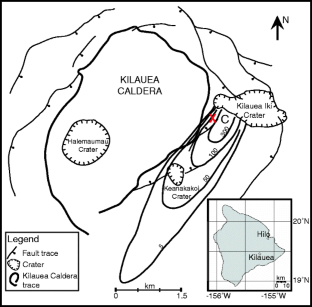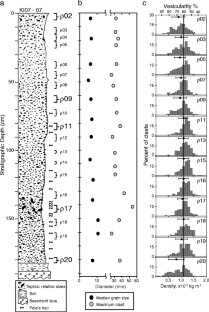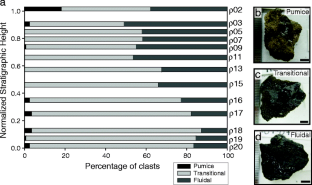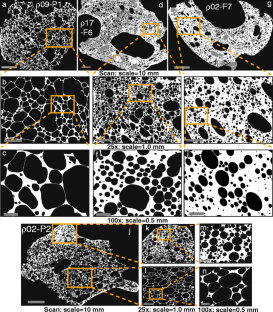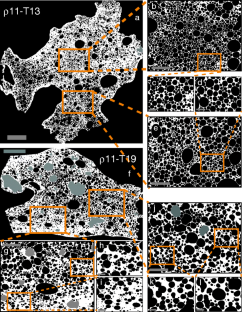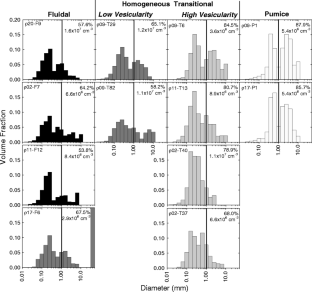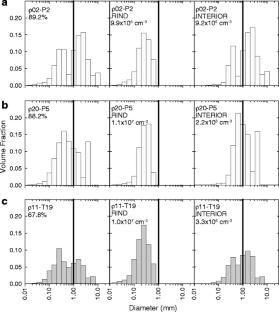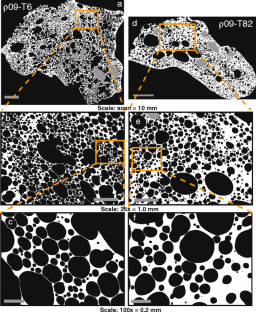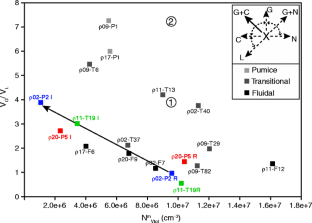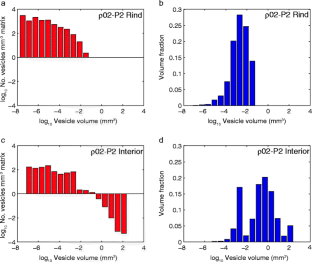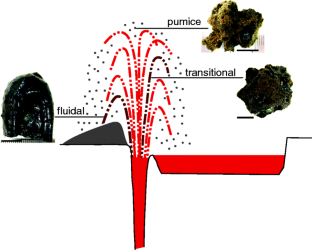 References
Adams NK, Houghton BF, Hildreth W (2006) Abrupt transitions during sustained explosive eruptions: examples from the 1912 eruption of Novarupta, Alaska. Bull Volcanol 69:189–206

Bertagnini A, Calvari S, Coltelli M, Landi P, Pompilio M, Scribano V (1990) The 1989 eruptive sequence. In: Barberi F, Bertagnini A, Landi P (eds) Mt. Etna: the 1989 eruption. Giardini, Pisa, pp 10–22

Bottinga Y, Weill DF (1970) Densities of liquid silicate systems calculated from partial molar volumes of oxide components. Am J Sci 269:169–182

Cashman KV, Mangan MT (1994) Physical aspects of magmatic degassing II: constraints on vesiculation processes from textural studies of eruptive products. In: Carroll MR, Holloway JR (eds) Volatiles in magmas. Reviews in mineralogy. Mineralogical Society of America, Fredricksberg, pp 447–478

Eaton JP, Richter DH, Krivoy HL (1987) Cycling of magma between the summit reservoir and Kīlauea Iki lava lake during the 1959 eruption of Kīlauea volcano. In: Decker RW, Wright TL, Stauffer PH (eds) Volcanism in Hawai'i. US Geol Sury Prof Pap, 1350: 1307–1334

Fedotov SA, Chirkov AM, Gusev NA, Kovalev GN, Slezin YB (1980) The large fissure eruption in the region of Plosky Tolbachik volcano in Kamchatka, 1975–1976. Bull Volcanol 43:47–60

Gardner JE, Thomas RME, Jaupart C, Tait S (1996) Fragmentation of magma during Plinian volcanic eruptions. Bull Volcanol 58:144–162

Gerlach TM (1986) Exsolution of H2O, CO2, and S during eruptive episodes at Kīlauea volcano, Hawai'i. J Geophys Res 91:12177–12185

Gurioli L, Harris AJL, Houghton BF, Polacci M, Ripepe M (2008) Textural and geophysical characterization of explosive basaltic activity at Villarrica volcano. J Geophys Res 113:B08206. doi:10.1029/2007JB005328

Head JW, Wilson CJN (1987) Lava fountain heights at Pu'u 'Ō'ō Kīlauea, Hawai'i: indicators of amount and variations of exsolved magma volatiles. J Geophys Res 92:13715–113719

Heliker C, Mattox TN (2003) The first two decades of the Pu'u 'Ō'ō-Kupaianaha eruption: chronology and selected bibliography, the Pu'u 'Ō'ō-Kupaianaha eruption of Kīlauea volcano, Hawai'i: the first 20 years. US Geol Sury Prof Pap 1676:1–27

Houghton BF, Wilson CJN (1989) A vesicularity index for pyroclastic deposits. Bull Volcanol 51:451–462

Klug C, Cashman KV, Bacon CR (2002) Structure and physical characteristics of pumice from the climactic eruption of Mount Mazama (Crater Lake), Oregon. Bull Volcanol 64:486–501

Lautze NC, Houghton BF (2007) Linking variable explosion style and magma textures during 2002 at Stromboli volcano, Italy. Bull Volcanol 69:445–460

Mangan MT, Cashman KV (1996) The structure of basaltic scoria and reticulite and inferences for vesiculation, foam formation, and fragmentation in lava fountains. J Volcanol Geotherm Res 73:1–18

Mangan MT, Cashman KV, Newman S (1993) Vesiculation of basaltic magma during eruption. J Geol 21:157–160

Mastin LG, Christiansen RL, Thornber CR, Lowenstern JB, Beeson M (2004) What makes hydromagmatic eruptions violent? Some insights from the Keanakakoi Ash, Kīlauea volcano, Hawai'i. J Volcanol Geotherm Res 137:15–31

Murata KJ, Richter DH (1966) Chemistry of the lavas of the 1959–60 eruption of Kīlauea Volcano, Hawai'i. In: The 1959–60 eruption of Kīlauea volcano, Hawai'i. US Geol Sury Prof Pap, 537-A:A1–A26

Parfitt EA, Wilson L (1995) Explosive volcanic eruptions IX. The transition between Hawaiian-style lava fountaining and Strombolian explosive activity. Geophys J Int 121:226–232

Parfitt EA, Wilson L (1999) A Plinian treatment of fallout from Hawaiian lava fountains. J Volcanol Geotherm Res 88:67–75

Richter DH, Eaton JP, Murata KJ, Ault WU, Krivoy HL (1970) Chronological narrative of the 1959–60 eruption of Kīlauea volcano, Hawai'i. In: The 1959–60 eruption of Kīlauea volcano, Hawai'i. US Geol Sury Prof Pap, 537-E:E1–E73

Sable JE, Houghton BF, Del Carlo P, Coltelli M (2006) Changing conditions of magma ascent and fragmentation during the Etna 122 BC basaltic Plinian eruption: evidence from clast microtextures. J Volcanol Geotherm Res 158:333–354

Shea T, Houghton BF, Gurioli L, Cashman KV, Hammer JE, Hobden BJ (2009) Textural studies of vesicles in volcanic rocks: an integrated methodology. J Volcanol Geotherm Res 190:271–289

Slezin YB (2003) The mechanism of volcanic eruptions. J Volcanol Geotherm Res 122:7–50

Swanson DA, Duffield WA, Jackson DB, Peterson DW (1979) Chronological narrative of the 1969–71 Mauna Ulu eruption of Kīlauea volcano, Hawai'i. US Geol Sury Prof Pap 1056:1–55

Taddeucci J, Pompilio M, Scarlato P (2004) Conduit processes during the July–August 2001 explosive activity of Mt. Etna (Italy): inferences from glass chemistry and crystal size distribution of ash particles. J Volcanol Geotherm Res 137:33–54

Thordarson T, Self S, Óskarsson N, Hulsebosch T (1996) Sulfur, chlorine and fluorine degassing and atmospheric loading by the 1783–1784 AD Laki (Skaftár Fires) eruption in Iceland. Bull Volcanol 58:205–225

Walker GPL, Croasdale R (1972) Characteristics of some basaltic pyroclastics. Bull Volcanol 35:303–317

Wilson L (1980) Relationships between pressure, volatile content and ejecta velocity in three types of volcanic explosions. J Volcanol Geotherm Res 8:297–313

Wilson L, Head JW (1981) Ascent and eruption of basaltic magma on the Earth and Moon. J Geophys Res 86:2971–3001
Acknowledgements
We thank Julia Hammer, Gary Barnes, Jacopo Taddeucci, and an anonymous reviewer for their helpful feedback on this work prior to publication. The breadth of this data set was greatly helped by Maria Janebo's diligent and thorough assistance with laboratory work. We are also very grateful to Thomas Shea for his invaluable MATLAB program, FOAMS. Thanks also to Lisa Swinnard and Penny Larin for their help with rocks and stratigraphical logs. This research was funded by NSF grants EAR-0709303 and OISE-0811838 and published under employment with IM Systems Group on contract at NOAA Pacific Services Center.
Additional information
Editorial responsibility: D.B. Dingwell
About this article
Cite this article
Stovall, W.K., Houghton, B.F., Gonnermann, H. et al. Eruption dynamics of Hawaiian-style fountains: the case study of episode 1 of the Kīlauea Iki 1959 eruption. Bull Volcanol 73, 511–529 (2011). https://doi.org/10.1007/s00445-010-0426-z
Received:

Accepted:

Published:

Issue Date:
Keywords
Hawaiian fountaining

Kīlauea

Kīlauea Iki

Vesicle size distribution

Post-fragmentation expansion