Abstract
Soufrière volcano in St Vincent, West Indies, is one of the most active volcanoes in the Eastern Caribbean with at least six eruptions since 1718 AD, the latest of which occurred in 1979. Prior to the 1979 eruption, the active crater hosted deep-water lakes during periods of repose, which were always replenished within a few years after the eruptions. In 1979, the crater was filled with 108 m3 of fragmental material and, despite constant precipitation, has remained virtually dry ever since, with the exception of a small shallow pond. A resistivity survey was conducted in July 2006 to investigate groundwater occurrence in the crater. Results from the resistivity data inversion on several 2-D profiles show a shallow horizontal conductor across the crater floor, consistent with a water-saturated aquifer. They also show that the post-1979 pond, currently present in the crater lake is in fact an outcropping part of the groundwater water reservoir. The reservoir water table is ∼28 m above the pre-1979 lake level and reflects mass equilibrium in the system where constant seepage underground balances the meteoric recharge. We suggest that the groundwater body extends at depth to the bottom of the pre-1979 crater lake, either due to a significant structural discontinuity or because of a reduction of permeability at depth. The estimated maximum volume of water stored underground is 10–30 × 106 m3 and energy considerations indicate that 2.4–7.3 × 1010 kg of magma would potentially be sufficient to vaporise the whole groundwater body. This amount of magma represents only 13–41% of the mass erupted during the last eruption in 1979 which was the smallest of the past 3 eruptions (1902, 1971–72, 1979). Since explosive phreatic or phreatomagmatic eruptions at Soufrière seem to be linked to magma-water interaction within confined space, the results from this survey suggests that phreatic or phreatomagmatic activity is a distinct possibility during future magma intrusion in the summit area, despite the apparent disappearance of water in the summit crater.
This is a preview of subscription content, log in to check access.
Access options
Buy single article
Instant access to the full article PDF.
US$ 39.95
Price includes VAT for USA
Subscribe to journal
Immediate online access to all issues from 2019. Subscription will auto renew annually.
US$ 199
This is the net price. Taxes to be calculated in checkout.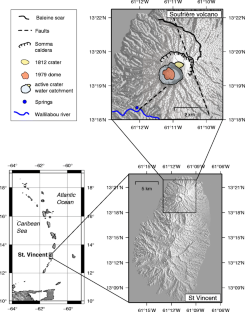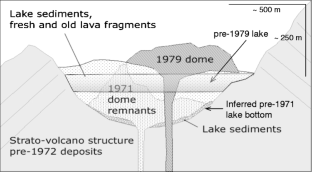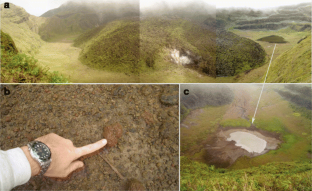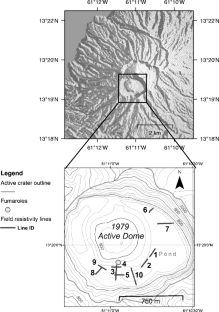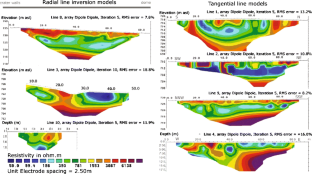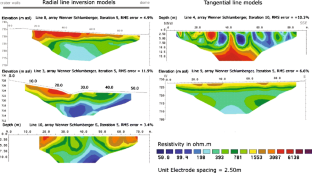 References
Aspinall WP, Sigurdsson H, Shepherd JB (1973) Eruption of Soufrière volcano on St. Vincent island, 1971–1972. Science 181(13 July 1973):117–124

Bernard ML, Zamora M, Géraud Y, Boudon G (2007) Transport properties of pyroclastic rocks from Montagne Pelée volcano (Martinique, Lesser Antilles). J Geophys Res 112(B5):16. doi:10.1029/2006JB004385

deGroot Hedlin C, Constable S (1990) Occam's inversion to generate smooth, two–dimensional models from magnetotelluric data. Geophysics 55(12):1613–1624

Delaney P (1982) Rapid intrusion of magma into wet rock: groundwater flow due to pore pressure increases. J Geophys Res 87(B9):7739–7756

deMarsily G (1986) Hydrogéologie: comprendre et estimer les écoulements souterrains et transport des pollutants. Ecole des Mines de Paris, pp 1–244

Finizola A, Revil A, Rizzo E, Piscitelli S, Ricci T, Morin J, Angeletti B, Mocochain L, Sortino F (2006) Hydrogeological insights at Stromboli volcano (Italy) from geoelectrical, temperature, and CO2 soil degassing investigations. Geophys Res Lett 33(17):4. doi:10.1029/2006GL026842

Friedel S, Jacobs F, Flechsig C, Reißmann C, Brunner I (1998) Large-scale dc resistivity imaging at Merapi volcano. Decade-volcanoes under investigation (Hrsg J Zschau & M Westerhaus), Mitteilungen der Deutschen Geophysikalischen Gesellschaft, S, pp 35–41

Geotermica Italiana SRL (1992) Exploration for geothermal resources in the Eastern Caribbean. Island Report: St. Vincent. Tech. rep., Pisa: United Nations—DTCD, CARICOM—Secretariat

Geotomo Software (2006) RES2DINV ver. 3.55 manual

Koyaguchi T, Woods AW (1996) On the formation of eruption columns following explosive mixing of magma and surface-water. J Geophys Res 101(B3):5561–5574

Lénat J, Fitterman D, Jackson D, Labazuy P (2000) Geoelectrical structure of the central zone of Piton de la Fournaise volcano (Réunion). Bull Volcanol 62(2):75–89

Loke M (1999) Electrical imaging surveys for environmental and engineering studies: a practical guide to 2-D and 3-D surveys, pp 1–57

Loke M, Barker R (1996) Rapid least-squares inversion of apparent resistivity pseudosections by a quasi-Netwon method. Geophys Prospect 44:131–152

Moreau-Fournier M (2008) Investigation of groundwater storage in St. Vincent's Soufrière crater (West Indies). Master's thesis, The University of the West Indies

Nairn IA, Cole PW (1981) Basalt dikes in the 1886 Tarawera Rift. New Zealand J Geol Geophys 24(5–6):585–592

Revil A, Finizola A, Sortino F, Ripepe M (2004) Geophysical investigations at Stromboli volcano, Italy: implications for ground water flow and paroxysmal activity. Geophys J Int 157(1):426–440. doi:10.1111/gji.2004.157.issue-1

Robertson REA (2002) The volcanic geology of the pre-Soufrière rocks on St. Vincent, West Indies. PhD thesis, The University of the West Indies

Shepherd JB (1991) Seismicity and ground deformation studies at Soufrière volcano, St. Vincent (Antilles). Cahier du Centre Européen de Géodynamique et de Sismologie 4:115–125

Shepherd JB, Sigurdsson H (1978) The Soufrière crater lake as a calorimeter. Nature 271(5643):344–345

Shepherd JB, Sigurdsson H (1982) Mechanism of the 1979 explosive eruption of Soufrière volcano, St. Vincent. J Volcanol Geotherm Res 13:119–130

Shepherd JB, Aspinall WP, Rowley K, Pereira J, Sigurdsson H, Fiske R, Tomblin J (1979) The eruption of Soufrière volcano, St Vincent, April–June 1979. Nature 282(5734):24–28

Sheridan M, Wohletz KH (1983) Hydrovolcanism: basic consideration and review. J Volcanol Geotherm Res 17:1–29

Sigurdsson H (1977) Chemistry of the crater lake during the 1971–72 Soufrière eruption. J Volcanol Geotherm Res 2:165–186

Sigurdsson H (1981) Geologic observations in the crater of the Soufrière volcano, St Vincent. Special Publication 1981/1, Seismic Research Unit

Starostin A, Barmin A, Melnik O (2005) A transient model for explosive and phreatomagmatic eruptions. J Volcanol Geotherm Res 143(1–3):133–151

The Caribbean Conservation Association and Island Resources Foundation (1991) St Vincent and the Grenadines: country environmental profile. Country Environmental Profile

Tomblin J, Shepherd JB, Graham A, Nielson G, Michel B (1979) Eruption of the Soufrière volcano, St. Vincent 1979. Special Publication 1979/6, Seismic Research Unit

Toothill J (2000) The role of hydrous fluids in the generation of magmas in the Lesser Antilles. PhD thesis, Lancaster University

White J (1996) Impure coolants and interaction dynamics of phreatomagmatic eruptions. J Volcanol Geotherm Res 74(3–4):155–170

Wohletz KH (1986) Explosive magma–water interactions: thermodynamics, explosion mechanisms, and field studies. Bull Volcanol 48:245–264

Wohletz KH (2002) Water/magma interaction: some theory and experiments on peperite formation. J Volcanol Geotherm Res 114(1–2):19–35

Zimanowski B, Büttner R (2002) Dynamic mingling of magma and liquefied sediments. J Volcanol Geotherm Res 114(1–2):37–44
Acknowledgements
This research was supported through a Research and Publication Funds grant from the University of the West Indies (ref. CRP.3HI). We thank A Samuel (Soufrière Monitoring Unit) and F Springer (Forestry Dept.) from the Ministry of Land, Agriculture and Fisheries, St Vincent, W.I., for their assistance and support during fieldwork. We also thank J Hamilton for earlier input on the project, M-C. Guilhou and L Bardou for their help during the geophysical data acquisition campaign and M Loke for helpful discussions on restivity data inversion. Thanks also to R Persad and A Gopee, for providing GPS and photogrammetry data of Soufrière volcano. Finally, we are grateful to reviewers Bernd Zimanowski and Magnús T. Gudmundsson, and the Editor James White for their thorough and insightful comments which greatly helped improve the manuscript.
Additional information
Editorial responsibility: J.D.L. White
About this article
Cite this article
Fournier, N., Moreau, M. & Robertson, R. Disappearance of a crater lake: implications for potential explosivity at Soufrière volcano, St Vincent, Lesser Antilles. Bull Volcanol 73, 543–555 (2011). https://doi.org/10.1007/s00445-010-0422-3
Received:

Accepted:

Published:

Issue Date:
Keywords
Crater lake

Phreatomagmatic

Resistivity

Magma

Groundwater

Soufrière volcano

St Vincent