Abstract
Short period (e.g. <1 h) variations in lava effusion rate have been detected previously on Mount Etna, Sicily, but the causes and effects of such changes are poorly understood because of difficulties in obtaining suitably high frequency measurements over long periods. Here, we report short period flux variations in active lava flows, recorded in dense time series imagery over a 7-night period using modified remote trail cameras. The sequences of night-time images show significant pulses of enhanced incandescence, interpreted as short period increases in lava flux, travelling down-channel at velocities of ∼10–20 m min−1. Pulse generation decreased from an average of one pulse per hour on the first night to approximately one per night within a few nights. Effusion rate changes on these timescales are considered to reflect instabilities in magma ascent and, consequently, could provide insight into subsurface flow processes.
This is a preview of subscription content, log in to check access.
Access options
Buy single article
Instant unlimited access to the full article PDF.
US$ 39.95
Price includes VAT for USA
Subscribe to journal
Immediate online access to all issues from 2019. Subscription will auto renew annually.
US$ 199
This is the net price. Taxes to be calculated in checkout.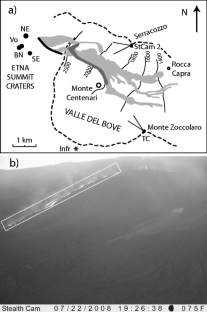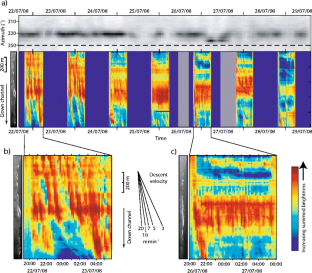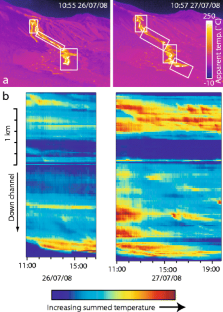 References
Bailey JE, Harris AJL, Dehn J, Calvari S, Rowland SK (2006) The changing morphology of an open lava channel on Mt. Etna. Bull Volcanol 68:497–515

Baloga S (1987) Lava flows as kinematic waves. J Geophys Res 92(B9):9271–9279

Baloga S, Pieri D (1986) Time-dependent profiles of lava flows. J Geophys Res 91(B9):9543–9552

Coltelli M, Proietti C, Branca S, Marsella M, Andronico D, Lodato L (2007) Analysis of the 2001 lava flow eruption of Mt. Etna from three-dimensional mapping. J Geophys Res 112:F02029. doi:10.1029/2006jf000598

Crisci GM, Iovine G, Di Gregorio S, Lupiano V (2008) Lava-flow hazard on the SE flank of Mt. Etna (Southern Italy). J Volcanol Geotherm Res 177(4):778–796

Guest JE, Kilburn CRT, Pinkerton H, Duncan A (1987) The evolution of flow fields: observations of the 1981 and 1983 eruptions of Mount Etna, Sicily. Bull Volcanol 49:527–540

Harris AJL, Murray JB, Aries SE, Davies MA, Flynn LP, Wooster MJ, Wright R, Rothery DA (2000) Effusion rate trends at Etna and Krafla and their implications for eruptive mechanisms. J Volcanol Geotherm Res 102(3–4):237–270

Herault A, Vicari A, Ciraudo A, Del Negro C (2009) Forecasting lava flow hazards during the 2006 Etna eruption: using the MAGFLOW cellular automata model. Comput Geosci 35(5):1050–1060

Hidaka M, Goto A, Umino S, Fujita E (2005) VTFS project: development of the lava flow simulation code LavaSIM with a model for three-dimensional convection, spreading, and solidification. Geochem Geophys Geosyst 6:Q07008. doi:10.1029/2004GC000869

Huppert HE, Hallworth MA (2007) Bi-directional flows in constrained systems. J Fluid Mech 578:95–112

James MR, Lane SJ, Chouet B, Gilbert JS (2004) Pressure changes associated with the ascent and bursting of gas slugs in liquid-filled vertical and inclined conduits. J Volcanol Geotherm Res 129(1–3):61–82

James MR, Pinkerton H, Robson S (2007) Image-based measurement of flux variation in distal regions of active lava flows. Geochem Geophys Geosyst 8:Q03006. doi:10.1029/2006GC001448

Jaupart C, Vergniolle S (1989) The generation and collapse of a foam layer at the roof of a basaltic magma chamber. J Fluid Mech 203:347–380

Joseph DD, Bai R, Chen KP, Renardy YY (1997) Core-annular flows. Ann Rev Fluid Mech 29:65–90

Lane SJ, James M, Wilcock J (2007) Influence of conduit geometry and wall texture on Strombolian activity. In: IUGG XXIV General Assembly. Perugia, Italy, Abstr 6801

Lautze NC, Harris AJL, Bailey JE, Ripepe M, Calvari S, Dehn J, Rowland SK, Evans-Jones K (2004) Pulsed lava effusion at Mount Etna during 2001. J Volcanol Geotherm Res 137(1–3):231–246

Lipman PW, Banks NG (1987) 'A'ā flow dynamics, Mauna Loa 1984. In: Decker RW, Wright TL, Stauffer PH (eds) Volcanism in Hawaii, pp 1527–1567

Marchetti E, Ripepe M, Ulivieri G, Caffo S, Privitera E (2009) Infrasonic evidences for branched conduit dynamics at Mt. Etna volcano, Italy. Geophys Res Lett 36:L19308. doi:10.1029/2009GL040070

Menand T, Phillips JC (2007) Gas segregation in dykes and sills. J Volcanol Geotherm Res 159(4):393–408

Moore HJ (1987) Preliminary estimates of the rheological properties of 1984 Mauna Loa Lava. In: Decker RW, Wright TL, Stauffer PH (eds) Volcanism in Hawaii, pp 1569–1587

Pinkerton H, Wilson L (1994) Factors controlling the lengths of channel-fed lava flows. Bull Volcanol 56(2):108–120

Ripepe M, Marchetti D, Ulivieri G (2007) Infrasonic monitoring at Stromboli volcano during the 2003 effusive eruption: insights on the explosive and degassing process of an open conduit system. J Geophys Res 112:B09207. doi:10.1029/2006JB004613

Walker GPL (1973) Lengths of lava flows. Philos Trans R Soc Lond Ser A-Math Phys Eng Sci 274(1238):107–118
Acknowledgements
This work was funded by the Royal Society and through project INGV-DPC 2007–2009 "V3-LAVA". This research has benefited from funding provided by the Italian Presidenza del Cosiglio dei Ministri-Dipartimento della Protezione Civile (DPC). Scientific papers funded by the DPC do not represent its official opinion and policies. We are grateful for constructive reviews from Tim Orr and John Bailey.
Additional information
Editorial responsibility: P. Delmelle
Electronic supplementary materials
Below is the link to the electronic supplementary material.
About this article
Cite this article
James, M.R., Pinkerton, H. & Ripepe, M. Imaging short period variations in lava flux. Bull Volcanol 72, 671–676 (2010) doi:10.1007/s00445-010-0354-y
Received:

Accepted:

Published:

Issue Date:
Key words
Lava

Effusion rate

Mt. Etna

Unsteady flow

Time-lapse imaging

Pulse