Abstract
Episodic precipitation pulses are important for driving biological activity in desert ecosystems. The pattern of precipitation, including the size of rain events and the duration of time between events, can influence ecosystem net CO2 exchange (NEE) by shifting the balance between ecosystem photosynthesis and respiration. Our objective was to measure the response of NEE and its major components, to seasonal variation in precipitation and other environmental conditions. The study was conducted at a site, where 40–60% of annual precipitation comes from the North American Monsoon that typically brings rain in July–September, a time period when temperatures are near the seasonal peak. The results were compared to a model of the expected responses of NEE to seasonal changes in precipitation and temperature. We measured NEE using the eddy covariance technique during September 2015–August 2016. The ecosystem showed large (fivefold) seasonal variation in maximum photosynthesis and ecosystem respiration rate at 10 °C that corresponded to seasonal variation in precipitation and temperature. Ecosystem respiratory activity exceeded photosynthetic activity, so the ecosystem was a net source of CO2 to the atmosphere during June–October, a period that included monsoon rain inputs. Only during the winter months (November–March) did photosynthesis exceed respiration, resulting in net ecosystem carbon sequestration. The ecosystem recorded a net loss of 10 g C m−2 year−1, which was likely caused by below normal annual precipitation during the study. Our results illustrated the important interaction between seasonal variation in precipitation and temperature in controlling the ecosystem carbon budget.
This is a preview of subscription content, log in to check access.
Access options
Buy single article
Instant access to the full article PDF.
US$ 39.95
Price includes VAT for USA
Subscribe to journal
Immediate online access to all issues from 2019. Subscription will auto renew annually.
US$ 199
This is the net price. Taxes to be calculated in checkout.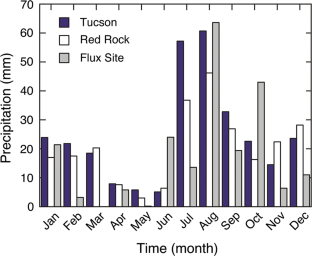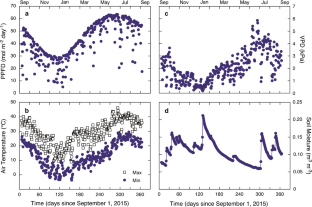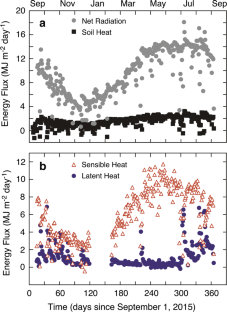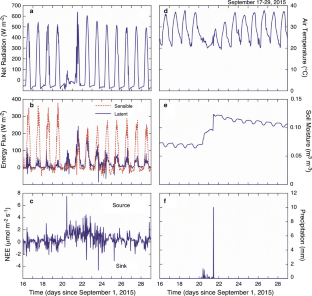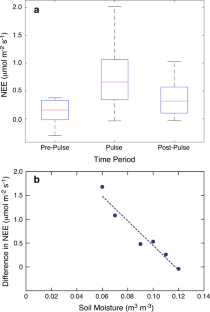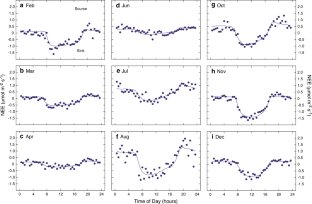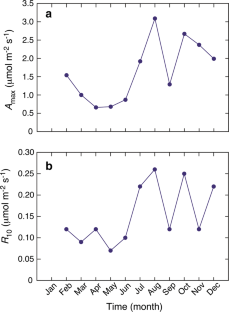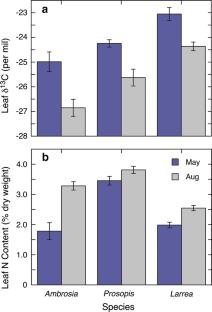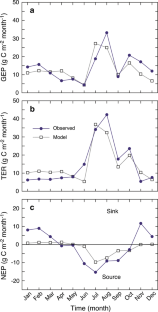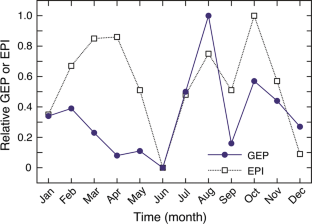 References
Adams DK, Comrie AC (1997) The North American monsoon. Bull Am Meteorol Soc 78:2197–2213

Amthor JS (2000) The McCree–de Wit–Penning de Vries–Thornley respiration paradigms: 30 years later. Ann Bot 86:1–20

Aubinet M, Feigerwinter C, Heinesch B, Laffineur Q, Papale D, Reichstein M, Rinne J, Van Gorsel E (2012) Nighttime flux correction. In: Aubinet M, Vesala T, Papale D (eds) Eddy covariance: a practical guide to measurement and data analysis. Springer, Berlin, pp 133–158

Austin AT, Yahdjian L, Stark JM, Belnap J, Porporato A, Norton U, Ravetta DA, Schaeffer SM (2004) Water pulses and biogeochemical cycles in arid and semi-arid ecosystems. Oecologia 141:221–225

Baldocchi DD (2008) "Breathing" of the terrestrial biosphere: lessons learned from a global network of carbon dioxide flux measurement systems. Aust J Bot 56:1–26

Baldocchi DD (2014) Measuring fluxes of trace gases and energy between ecosystems and the atmosphere—state and future of the eddy covariance method. Glob Chang Biol 20:3600–3609

Barr AG, Black TA, Hogg EH, Kljun N, Morgenstern K, Nesic Z (2004) Inter-annual variability in the leaf area index of a boreal aspen-hazelnut forest in relation to net ecosystem production. Agric For Meteorol 126:237–255

Biederman JA, Scott RL, Goulden ML, Vargas R, Litvak ME, Kolb TE, Yepez EA, Oechel WC, Blanken PD, Bell TW, Garatuzapayan J, Maurer GE, Dore S, Burns SP (2016) Terrestrial carbon balance in a drier world: the effects of water availability in southwestern North America. Glob Chang Biol 22:1867–1879

Bowling DR, Bethers-Marchetti S, Lunch CK, Grote EE, Belnap J (2010) Carbon, water and energy fluxes in a semiarid cold desert grassland during and following multiyear drought. J Geophys Res 115:G04026. https://doi.org/10.1029/2010JG001322

Bowling DR, Grote EE, Belnap J (2011) Rain pulse response of soil CO2 exchange by biological crusts and grasslands of the semiarid Colorado Plateau, United States. J Geophys Res 116:G03028. https://doi.org/10.1029/2011JG001643

Bronson DR, English NB, Dettman DL, Williams DG (2011) Seasonal photosynthetic gas exchange and water-use efficiency in a constitutive CAM plant, the giant saguaro cactus (Carnegiea gigantea). Oecologia 167:861–871

Cable JM, Huxman TE (2004) Precipitation pulse size effects on Sonoran Desert soil microbial crusts. Oecologia 141:317–324

Campbell GS, Norman JM (1998) An introduction to environmental biophysics, 2nd edn. Springer, New York

Ciais P, Reichstein M, Viovy N, Granier A, Ogee J, Allard V, Aubinet M, Buchmann N, Chr Bernhofer, Carrara A, Chevallier F, De Noblet N, Friend AD, Friedlingstein P, Grunwald T, Heinesch B, Keronen P, Knohl A, Krinner G, Loustau D, Manca G, Matteucci G, Miglietta F, Ourcival JM, Papale D, Pilegaard K, Rambal S, Seufert G, Soussana JF, Sanz MJ, Schulze E-D, Vesala T, Valentini R (2005) Europe-wide reduction in primary productivity caused by the heat and drought in 2003. Nature 437:529–533

Dimmitt MA (2015) Biomes and communities of the Sonoran Desert region. In: Phillips SJ, Wentworth Comus P, Dimmitt MA, Brewer LM (eds) A natural history of the Sonoran Desert. Arizona-Sonora Desert Museum Press, University of California Press, Tucson, pp 5–19

Evans JR (1989) Photosynthesis and nitrogen relationships in leaves of C3 plants. Oecologia 78:9–19

Farquhar GD, Ehleringer JR, Hubick KT (1989) Carbon isotope discrimination and photosynthesis. Annu Rev Plant Physiol Plant Mol Biol 40:503–537

Fierer N, Schimel JP (2003) A proposed mechanism for the pulse in carbon dioxide production commonly observed following the rapid rewetting of a dry soil. Soil Sci Soc Am J 67:798–805

Flanagan LB, Adkinson AC (2011) Interacting controls on productivity in a northern Great Plains grassland and implications for response to ENSO events. Glob Chang Biol 17:3293–3311

Flanagan LB, Johnson BG (2005) Interacting effects of temperature, soil moisture, and plant biomass production on ecosystem respiration in a northern temperate grassland. Agric For Meteorol 130:237–253

Flanagan LB, Cai T, Black TA, Barr AG, McCaughey JH, Margolis HA (2012) Measuring and modeling ecosystem photosynthesis and the carbon isotope composition of ecosystem-respired CO2 in three boreal coniferous forests. Agric For Meteorol 153:165–176

Flanagan LB, Orchard TE, Logie GSJ, Coburn CA, Rood SB (2017) Water use in a riparian cottonwood ecosystem: eddy covariance measurements and scaling along a river corridor. Agric For Meteorol 232:332–348

Hamerlynck EP, Huxman TE, Loik ME, Smith SD (2000) Effects of extreme high temperature, drought and elevated CO2 on photosynthesis of the Mojave Desert evergreen shrub, Larrea tridentata. Plant Ecol 148:183–193

Hastings SJ, Oechel WC, Muhlia-Melo A (2005) Diurnal, seasonal and annual variation in the net ecosystem CO2 exchange of a desert shrub community (Sarcocaulescent) in Baja California, Mexico. Glob Chang Biol 11:927–939

Heisler-White JL, Knapp AK, Kelly EF (2008) Increasing precipitation event size increases aboveground net primary productivity in a semi-arid grassland. Oecologia 158:129–140

Huxman TE, Snyder KA, Tissue D, Leffler AJ, Ogle K, Pockman WT, Sandquist DR, Potts DL, Schwinning S (2004) Precipitation pulses and carbon fluxes in semiarid and arid ecosystems. Oecologia 141:254–268

Janssens IA, Lankreijer H, Matteucci G, Kowalski AS, Buchmann N, Epron D, Pilegaard K, Kutsch W, Longdoz B, Grunwald T, Montagnani L, Dore S, Rebmann C, Moors EJ, Grelle A, Rannik U, Morgenstern K, Clement R, Oltchev S, Gudmundsson J, Minerbi S, Berbigier P, Ibrom A, Moncrieff J, Aubinet M, Bernhofer C, Jensen NO, Vesala T, Granier A, Schulze E-D, Lindroth A, Dolman AJ, Jarvis PG, Ceulmans R, Valentini R (2001) Productivity overshadows temperature in determining soil and ecosystem respiration across European forests. Glob Chang Biol 7:269–278

Jassal R, Black TA, Novak M, Morgenstern K, Nesic Z, Gaumont-Guay D (2005) Relationship between soil CO2 concentrations and forest-floor CO2 effluxes. Agric For Meteorol 130:176–192

Jenerette GD, Scott RL, Huxman TE (2008) Whole ecosystem metabolic pulses following precipitation events. Funct Ecol 22:924–930

Kljun N, Calanca P, Rotach MW, Schmid HP (2004) A simple parameterisation for flux footprint predictions. Bound Layer Meteorol 112:503–523

Knapp AK, Beier C, Briske DD, Classen AT, Luo Y, Reichstein M, Smith MD, Smith SD, Bell JE, Fay PA, Heisler JL, Leavitt SW, Sherry R, Smith B, Weng E (2008) Consequences of more extreme precipitation regimes for terrestrial ecosystems. Bioscience 58:811–821

Kolari P, Lappalainen HK, Hanninen H, Hari P (2007) Relationship between temperature and the seasonal course of photosynthesis in Scots pine at northern timberline and in southern boreal zone. Tellus 59B:542–552

Larcher W (1995) Physiological plant ecology: ecophysiology and stress physiology of functional groups, 3rd edn. Springer, Berlin

Makela A, Hari P, Berninger F, Hanninen H, Nikinmaa E (2004) Acclimation of photosynthetic capacity in Scots pine to the annual cycle of temperature. Tree Physiol 24:369–376

McAuliffe JR (2015) Desert soils. In: Phillips SJ, Wentworth Comus P, Dimmitt MA, Brewer LM (eds) A natural history of the Sonoran Desert. Arizona-Sonora Desert Museum Press, University of California Press, Tucson, pp 85–100

Mueller-Dombois D, Ellenberg H (1974) Aims and methods of vegetation ecology. Wiley, New York

Niering WA, Whittaker RH, Lowe CH (1963) The Saguaro: a population in relation to environment. Science 142:15–23

Nobel PS (1984) Productivity of Agave deserti: measurement by dry weight and monthly prediction using physiological responses to environmental parameters. Oecologia 64:1–7

Nobel PS (1986) Relation between monthly growth of Ferocactus acanthodes and an environmental productivity index. Am J Bot 73:541–547

Nobel PS (1988) Environmental biology of agaves and cacti. Cambridge University Press, Cambridge

Osmond CB, Winter K, Ziegler Z (1982) Functional significance of different pathways of CO2 fixation in photosynthesis. In: Person A, Zimmerman H (eds) Encyclopedia of plant physiology, vol 12B. Springer, New York, pp 479–547

Owen NA, Griffiths H (2014) Marginal land bioethanol yield potential of four crassulacean acid metabolism candidates (Agave fourcroydes, Agave salmiana, Agave tequilana and Opuntia ficus-indica) in Australia. GCB Bioenergy 6:687–703. https://doi.org/10.1111/gcbb.12094

Potts DL, Huxman TE, Cable JM, English NB, Ignace DD, Eilts JA, Mason MJ, Weltzin JF, Williams DG (2006) Antecedent moisture and seasonal precipitation influence the response of canopy-scale carbon and water exchange to rainfall pulses in a semi-arid grassland. New Phytol 170:849–860

Richardson AD, Aubinet M, Barr AG, Hollinger DY, Ibrom A, Lasslop G, Reichstein M (2012) Uncertainty quantification. In: Aubinet M, Vesala T, Papale D (eds) Eddy covariance: a practical guide to measurement and data analysis. Springer, Berlin, pp 173–210

Schlesinger WH (2017) An evaluation of abiotic carbon sinks in deserts. Glob Chang Biol 23:25–27. https://doi.org/10.1111/gcb.13336

Schlesinger WH, Belnap J, Marion G (2009) On carbon sequestration in desert ecosystems. Glob Chang Biol 15:1488–1490

Scott RL, Jenerette GD, Potts DL, Huxman TE (2009) Effects of seasonal drought on net carbon dioxide exchange from a woody-plant encroached semiarid grassland. J Geophys Res 114:G04004. https://doi.org/10.1029/2008JG000900

Scott RL, Biederman JA, Hamerlynck EP, Barron-Gafford GA (2015) The carbon balance pivot point of southwestern U.S. semiarid ecosystems: insights from the 21st century drought. J Geophys Res Biogeosci 120:2612–2624. https://doi.org/10.1002/2015JG003181

Shreve F, Wiggins IL (1964) Vegetation and flora of the Sonoran Desert. Stanford University Press, Stanford

Smith SD, Monson RK, Anderson JE (1997) Physiological ecology of North American desert plants. Springer, Berlin

Stoy PC, Mauder M, Foken T, Marcolla B, Boegh E, Ibrom A, Arain MA, Arneth A, Aurela M, Bernhofer C, Cescatti A, Dellwik E, Duce P, Gianelle D, van Gorsel E, Kiely G, Knohl A, Margolis H, McCaughey H, Merbold L, Montagnani L, Papale D, Reichstein M, Saunders M, Serrano-Ortiz P, Sottocornola M, Spano D, Vaccari F, Varlagin A (2013) A data-driven analysis of energy balance closure across FLUXNET research sites: the role of landscape scale heterogeneity. Agric For Meteorol 171–172:137–152

Syed KH, Flanagan LB, Carlson PJ, Glenn AJ, Van Gaalen KE (2006) Environmental control of net ecosystem CO2 exchange in a treed, moderately rich fen in northern Alberta. Agric For Meteorol 140:97–114

Szarek SR, Woodhouse RM (1977) Ecophysiological studies of Sonoran Desert plants II. Seasonal photosynthesis patterns and primary production of Ambrosia deltoidea and Olneya tesota. Oecologia 28:365–375

Szarek SR, Woodhouse RM (1978) Ecophysiological studies of Sonoran Desert plants IV. Seasonal photosynthetic capacities of Acacia greggii and Cercidium microphyllum. Oecologia 37:221–229

Tang J, Baldocchi DD, Xu L (2005) Tree photosynthesis modulates soil respiration on a diurnal time scale. Glob Chang Biol 11:1298–1304

Unland HE, Houser PR, Shuttleworth WJ, Yang Z-L (1996) Surface flux measurement and modeling at a semi-arid Sonoran Desert site. Agric For Meteorol 82:119–153

van Gils JA, Lisovski S, Lok T, Meissner W, Ożarowska A, de Fouw J, Rakhimberdiev E, Soloviev MY, Piersma T, Klaassen M (2016) Body shrinkage due to Arctic warming reduces red knot fitness in tropical wintering range. Science 352:819–821

Weiss JL, Overpeck JT (2005) Is the Sonoran Desert losing its cool? Glob Chang Biol 11:2065–2077

Weltzin JK, Loik ME, Schwinning S, Williams DG, Fay P, Haddad B, Harte J, Huxman TE, Knapp AK, Lin G, Pockman WT, Shaw MR, Small E, Smith MD, Smith SD, Tissue DT, Zak JC (2003) Assessing the response of terrestrial ecosystems to potential changes in precipitation. Bioscience 53:941–952

Williams CA, Hanan N, Scholes RJ, Kutsch W (2009) Complexity in water and carbon dioxide fluxes following rain pulses in an African savanna. Oecologia 161:469–480

Wilson K, Goldstein AH, Falge E, Aubinet M, Baldocchi DD, Berbigier P, Berhofer C, Ceulmans R, Dolman H, Field C, Grell A, Ibrom A, Law BE, Kowalski A, Meyers T, Moncrieff J, Monson R, Oechel W, Tenhunen J, Valentini R, Verma S (2002) Energy balance closure at FLUXNET sites. Agric For Meteorol 113:223–243

Wolf BO, Martinez del Rio C (2003) How important are columnar cacti as sources of water and nutrients for desert consumers? Isotopes Environ Health Stud 39:53–67

Zhao M, Running SW (2010) Drought-induced reduction in global terrestrial net primary production from 2000–2009. Science 329:940–943
Acknowledgements
This research was supported by grants from the Natural Sciences and Engineering Council of Canada—Discovery Grant Program. We thank Russ Monson and Steve Leavitt for their hospitality during a sabbatical visit to University of Arizona (Laboratory of Tree-Ring Research), during which time a portion of the field work for this project was conducted.
Additional information
Communicated by Joy K. Ward.
Electronic supplementary material
Below is the link to the electronic supplementary material.
About this article
Cite this article
Flanagan, L.B., Flanagan, J.E.M. Seasonal controls on ecosystem-scale CO2 and energy exchange in a Sonoran Desert characterized by the saguaro cactus (Carnegiea gigantea). Oecologia 187, 977–994 (2018). https://doi.org/10.1007/s00442-018-4187-2
Received:

Accepted:

Published:

Issue Date:
Keywords
Eddy covariance

Carbon sequestration

Latent and sensible heat flux

Rain pulses