Abstract
Bats are important ecosystem service providers, and therefore most relevant for both lowland and highland habitats, particularly in the tropics. Yet, it is poorly understood to what extent they perform large-scale movements, especially movements along mountain slopes. Here, we studied the movement ecology of the potentially migratory species Miniopterus natalensis at Mount Kilimanjaro in Tanzania. We analysed stable isotope ratios of C (δ13C), N (δ15N) and H (δ2H) in keratin of sedentary frugivorous and insectivorous bats captured between 800 and 2,400 m above sea level to establish elevational gradients of stable isotope ratios in consumer tissues. We expected correlations between stable isotope ratios of the non-exchangeable portion of H in fur keratin and the elevation of capture site, but not necessarily for δ13C and δ15N. Yet, in bats of both feeding ensembles, we found δ15N of fur keratin to correlate positively with the elevation of capture sites but not δ2H. In frugivorous bats, δ13C increased with increasing capture elevation as well. By looking at intra-individual variation of δ13C and δ15N in fur keratin and wing membrane tissues of sedentary Rhinolophus cf. clivosus and of the potentially migratory species M. natalensis, we gathered evidence that M. natalensis migrates seasonally between low and high elevations along the slopes of Mount Kilimanjaro. Finally, based on an isoscape origin model we estimated that M. natalensis captured before and after the cold period at around 1,800 m above sea level originated from around 1,400 m a.s.l. or lower. Thus, we received convergent results in support of seasonal elevational movements of M. natalensis, probably in search for cold hibernacula at higher elevations of Mount Kilimanjaro.
This is a preview of subscription content, log in to check access.
Access options
Buy single article
Instant access to the full article PDF.
US$ 39.95
Price includes VAT for USA
Subscribe to journal
Immediate online access to all issues from 2019. Subscription will auto renew annually.
US$ 199
This is the net price. Taxes to be calculated in checkout.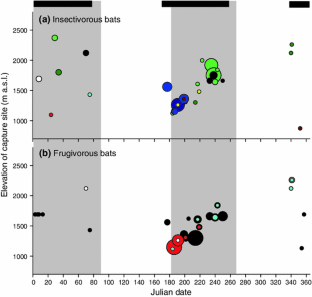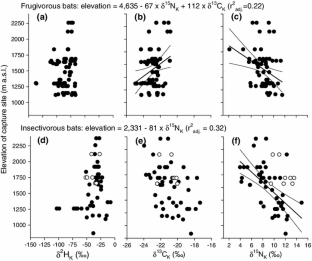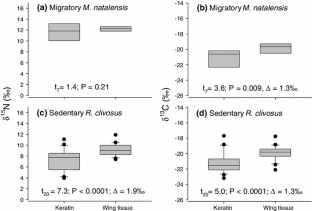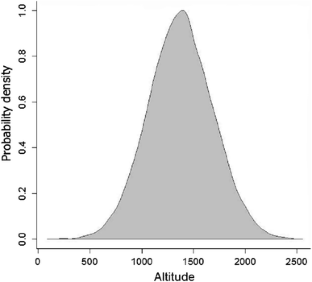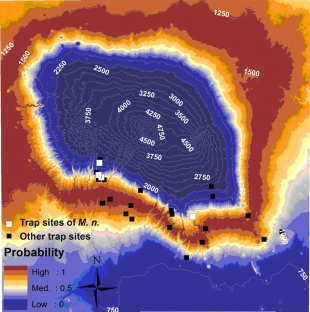 References
Amundson R, Austin AT, Schuur EAG, Yoo K, Matzek V, Kendall C, Uebersax A, Brenner D, Baisden WT (2003) Global patterns of the isotopic composition of soil and plant nitrogen. Global Biogeochem Cycles 17:1031

Andersen K (1917) On the so-called colour phases of the rufous horseshoe bat of India (Rhinolophus rouxi, Temm.). J Bomb Nat Hist Soc 25:260–273

Averill C, Finzi A (2011) Increasing plant use of organic nitrogen with elevation is reflected in nitrogen uptake rates and ecosystem δ15N. Ecology 92:883–891

Bowen GJ, Wassenaar LI, Hobson KA (2005) Global application of stable hydrogen and oxygen isotopes to wildlife forensics. Oecologia 143:337–348

Britzke ER, Loeb SC, Romanek, CS, Hobson KA, Vonhof MJ (2012) Variation in catchment areas of Indiana bat (Myotis sodalis) hibernacula inferred from stable hydrogen (δ2H) isotope analysis. Can J Zool 90:1243–1250

Brown CR (1999) Metabolism and thermoregulation of individual and clustered long-fingered bats, Miniopterus schreibersii, and the implications for roosting. S Afr J Zool 34:166–172

Bumrungsri S, Sripaoraa E, Chongsiri T, Sridith K, Racey PA (2009) The pollination ecology of durian (Durio zibethinus, Bombacaceae) in southern Thailand. J Trop Ecol 25:85–92

Cernusak LA, Winter K, Dalling JW, Holtum JAM, Jaramillo C, Korner C, Leakey ADB, Norby RJ, Poulter B, Turner BL, Wright SJ (2013) Tropical forest responses to increasing atmospheric CO2: current knowledge and opportunities for future research. Funct Plant Biol 40:531–551

Chang Y, Hatch KA, Wei H-L, Yuan HW, You CF, Eggett D, Tu YH, Lin YL, Shiu HJ (2011) Stable nitrogen and carbon isotopes may not be good indicators of altitudinal distribution of montane passerines. Wilson J Ornithol 123:33–47

Cryan PM, Bogan MA, Rye RO, Landis GP, Kester CL (2004) Stable hydrogen isotope analysis of bat hair as evidence for seasonal molt and long-distance migration. J Mammal 85:995–1001

Dansgaard W (1964) Stable isotopes in precipitation. Tellus 16:436–468

Dawson TE, Mambelli S, Plamboeck AH, Templer PH, Tu KP (2002) Stable isotopes in plant ecology. Annu Rev Ecol Syst 33:507–560

Dwyer PD (1963) Seasonal change in pelage of Miniopterus schreibersii blepotis (Chiroptera) in north-eastern New South Wales. Aust J Zool 11:290–300

Dwyer PD (1968) The biology, origin, and adaptation of Miniopterus australis (Chiroptera) in New South Wales. Aust J Zool 16:49–68

Epstein JH, Olival KJ, Pulliam JRC, Smith C, Westrum J, Hughes T, Dobson AP, Zubaid A, Rahman SA, Basir MM, Field HE, Daszak P (2009) Pteropus vampyrus, a hunted migratory species with a multinational home-range and a need for regional management. J Appl Ecol 46:991–1002

Erzberger A, Popa-Lisseanu AG, Lehmann GUC, Voigt CC (2011) Potential and limits in detecting altitudinal movement of bats using stable hydrogen isotope ratios of keratin. Acta Chiropterol 13:431–438

Farquhar GD, Wong SC (1984) An empirical model of stomatal conductance. Aust J Plant Physiol 11:191–209

Farquhar GD, O'Leary MH, Berry JA (1982) On the relationship between carbon isotope discrimination and the inter-cellular carbon dioxide concentrations in leaves. Aust J Plant Physiol 9:121–137

Findley JS, Studier EH, Wilson DW (1972) Morpholoical properties of bat wings. J Mammal 53:429–444

Fraser KC, Kyser TK, Ratcliffe LM (2008) Detecting altitudinal migration events in neotropical birds using stable isotopes. Biotropica 40:269–272

Friend AD, Woodward FI, Switsur VR (1989) Field measurements of photosynthesis, stomatal conductance, leaf nitrogen and δ13C along altitudinal gradients in Scotland. Funct Ecol 3:117–122

Ghanem SJ, Voigt CC (2012) Increasing awareness of ecosystem services provided by bats. Adv Study Behav 44:279–302

Handley LL, Austin AT, Robinson D, Scrimgeour CM, Raven JA, Heaton THE, Schmidt S, Stewart GR (1999) The 15N natural abundance (δ15N) of ecosystem samples reflects measures of water availability. Aust J Plant Physiol 26:185–199

Happold M, Happold DCD (2013) Mammals of Africa. Hedgehogs, shrews and bats, vol IV. Bloomsbury, London

Hayman RW, HILL JE (1971) Order Chiroptera: the mammals of Africa, an identification manual. Smithsonian Institution, Washington, DC

Hemp A (2006a) Continuum or zonation? Altitudinal gradients in the forest vegetation of Mt. Kilimanjaro. Plant Ecol 184:27–42

Hemp A (2006b) The banana forests of Kilimanjaro: biodiversity and conservation of the Chagga homegardens. Biodiv Conserv 15:1193–1217

Hilton RG, Galy A, West AJ, Hovius N, Roberts GG (2013) Geomorphic control on the δ15N of mountain forests. Biogeosciences 10:1693–1705

Hobson KA, Gloutney ML, Gibbs HL (1997) Preservation of blood and tissue samples for stable-carbon and stable-nitrogen isotope analysis. Can J Zool 75:1720–1723

Hobson KA, Atwell L, Wassenaar LI (1999) Influence of drinking water and diet on the stable-hydrogen isotope ratios of animal tissues. Proc Natl Acad Sci USA 96:8003–8006

Hobson KA, Wassenaar LI, Mila B, Lovette I, Dingle C, Smith TB (2003) Stable isotopes as indicators of altitudinal distributions and movements in an Ecuadorean hummingbird community. Oecologia 136:302–308

Högberg P (1997) Tansley review no. 95–15. N natural abundance in soil-plant systems. New Phytol 137:179–203

Hultine KR, Marshall JD (2000) Altitude trends in conifer leaf morphology and stable carbon isotope composition. Oecologia 123:32–40

IUCN (2011) IUCN red list of threatened species version 20112. Available: http://www.iucnredlist.org. Accessed 10 August 2012

Kalka M, Smith AR, Kalko EKV (2008) Bats limit arthropods and herbivory in a tropical forest. Nature 320:71

Kelm DH, Wiesner KR, von Helversen O (2008) Effects of artificial roosts for frugivorous bats on seed dispersal in a Neotropical forest pasture mosaic. Conserv Biol 22:733–741

Kingdon J (ed) (1977) East African mammals. University of Chicago Press, Chicago

Körner C, Farquhar GD, Roksandic Z (1988) A global survey of carbon isotope discrimination plants from high altitude. Oecologia 74:623–632

Körner C, Farquhar GD, Wong SC (1991) Carbon isotope discrimination by plants follows latitudinal and altitudinal trends. Oecologia 74:623–632

LaVal RK (2004) Impact of global warming and locally changing climate on tropical cloud forest bats. J Mammol 85:237–244

Mannel TT, Auerswald K, Schnyder H (2007) Altitudinal gradients of grassland carbon and nitrogen isotope composition are recorded in the hair of grazers. Global Ecol Biogeogr 16:583–592

Mariotti A, Pierre D, Vedy JC, Bruckert S, Guillemot J (1980) The abundance of natural nitrogen-15 in the organic matter of soils along an altitudinal gradient. Catena 7:293–300

McGuire LP, Boyle WA (2013) Altitudinal migration in bats: evidence, patterns, and drivers. Biol Rev. doi:10.1111/brv.12024

McVicar TR, Körner C (2012) On the use of elevation, altitude, and height in the ecological and climatological literature. Oecologia. doi:10.1007/s00442-012-2416-7

Miller-Butterworth CM, Jacobs DS, Harely EH (2003) Strong population substructure is correlated with morphology and ecology in a migratory bat. Nature 424:187–191

Miller-Butterworth CA, Murphy WH, O'Brien SJ, Jacobs DS, Springer MS, Teeling EC (2007) A family matter: conclusive resolution of the taxonomic position of the long-fingered bats, Miniopterus. Mol Biol Evol 24:1553–1561

Minagawa M, Wada E (1984) Stepwise enrichment of 15N along food chains: further evidence and the relation between δ15N and animal age. Geochim Cosmochim Acta 48:1135–1140

Mirón MLL, Herrera MLG, Ramírez PN, Hobson KA (2006) Effect of diet quality on carbon and nitrogen turnover and isotopic discrimination in blood of a New World nectarivorous bat. J Exp Biol 209:541–548

Morecroft MD, Woodward FI (1990) Experimental investigations on the environmental determination of δ13C at different altitudes. J Exp Biol 41:1303–1308

Nathan R, Getz WM, Revilla E, Holyoak M, Kadmon R, Saltz D, Smouse PE (2008) A movement ecology paradigm for unifying organismal movement research. Proc Natl Acad Sci USA 105:19052–19059

Norberg U, Rayner JMV (1987) Ecological morphology and flight in bats (Mammalia; Chiroptera): Wing adaptations, flight performance, foraging strategy and echolocation. Phil Trans Roy Soc Lond B 316:335–427

Ossa G, Kramer-Schadt S, Peel AJ, Scharf AK, Voigt CC (2012) The movement ecology of the straw-colored fruit bat, Eidolon helvum, in sub-Saharan Africa assessed by stable isotopes ratios. PLoS One 7:e45729

Pietsch SJ, Hobson KA, Wassenaar LI, Tütken T (2011) Tracking cats: problems with placing feline carnivores on δ18O, δD isoscapes. PLoS One 6:e24601

Poage MA, Chamberlain CP (2001) Empirical relationships between elevation and the stable isotope composition of precipitation and surface waters: considerations for studies of paleoelevational change. Am J Sci 301:1–15

Popa-Lisseanu AG, Soergel K, Luckner A, Wassenaar LI, Ibáñez C, Ciechanowski M, Görföl T, Niermann I, Beuneux G, Myslajek R, Juste J, Fonderflick J, Kramer-Schadt S, Kelm DH, Voigt CC (2012) A triple isotope approach to predict breeding origins of European bats. PLoS One 7:e38083

Racey PA, Entwistle AC (2000) Life history and reproductive strategies of bats. In: Crichton EG, Krutzsch PH (eds) Reproductive biology of bats. Academic Press, London, pp 363–414

Roderick ML, Berry SL (2001) Linking wood density with tree growth and environment: a theoretical analysis based on the motion of water. New Phytol 149:473–485

Rosevear DR (1965) The bats of West Africa. Trustees of the British Museum (Natural History), London

Siemers BM, Greif S, Borissov I, Voigt-Heucke SL, Voigt CC (2011) Divergent trophic levels in two cryptic sibling bat species. Oecologia 166:69–78

Smith GS, Epstein JH, Breed AC, Plowright RK, Olival KJ, de Jong C, Daszak P, Field HE (2011) Satellite telemetry and long-range bat movements. PLoS One 6:e14696

Taylor PJ (ed) (2000) Bats of southern Africa. University of Natal Press, Scottsville

Tilsner J, Wrage N, Lauf J, Gebauer G (2003a) Emission of gaseous nitrogen oxides from an extensively managed grassland in NE Bavaria, Germany. I. Annual budgets of N2O and NO x emissions. Biogeochemistry 63:229–247

Tilsner J, Wrage N, Lauf J, Gebauer G (2003b) Emission of gaseous nitrogen oxides from an extensively managed grassland in NE Bavaria, Germany. II. Stable isotope natural abundance of N2O. Biogeochemistry 63:249–267

van der Merwe M (1975) Preliminary study on the annual movements of the natal clinging bat. S Afr J Sci 71:237–241

van der Merwe M (1986) Reproductive strategy of Miniopterus schreibersii natalensis. Cimbebasia 8:107–111

Voigt CC, Matt F, Michener R, Kunz TH (2003) Low rates of carbon isotope turnover in tissues of two nectar-feeding bat species (Glossophaginae, Phyllostomidae). J Exp Biol 206:1419–1427

Voigt CC, Kelm DH, Bradley B, Ortmann S (2009) Dietary analysis of plant-visiting bats. In: Kunz TH, Parsons S (eds) Ecological and behavioral methods for the study of bats. Johns Hopkins University Press, Baltimore, pp 593–609

Voigt CC, Akbar Z, Kunz TH, Kingston T (2011) The origin of assimilated proteins in Old and New World phytophagous bats. Biotropica 43:108–113

Voigt CC, Popa-Lisseanu A, Niermann I, Kramer-Schadt S (2012) The catchment area of wind farms for European bats: a plea for international regulations. Biol Conserv 153:80–86

Voigt CC, Schneeberger K, Luckner A (2013) Ecological and dietary correlates of stable hydrogen isotope ratios in fur and body water of syntopical tropical bats. Ecology 94:346–355

Walther H, Harnickell E, Mueller-Dombois D (1975) Climate-diagram maps of the individual continents and the ecological climatic regions of the earth. Springer, Berlin

Wassenaar LI, Hobson KA (2003) Comparative equilibration and online technique for determination of non-exchangeable hydrogen of keratins for use in animal migration studies. Isot Environ Health Sci 39:211–217

Williams-Guillen K, Perfecto I, Vandermeer J (2008) Bats limit insects in a Neotropical agroforestry system. Science 320:70. doi:10.1126/science1152944

Zhang J, Marshall JD, Jaquish BC (1993) Genetic differentiation in carbon isotope discrimination and gas exchange in Pseudotsuga menziesii. Oecologia 93:80–87

Zhu Y, Siegwolf RTW, Durka W, Körner C (2010) Phylogenetically balanced evidence for structural and carbon isotope response in plants along elevational gradients. Oecologia 162:853–863
Acknowledgments
We thank Stefan W. Ferger, Ramsony Mary, Andreas Enßlin and Eunyoung Jung for help in capturing bats and collecting samples. Research and sampling permission for Maria Helbig-Bonitz was given by COSTECH (2010-340-ER-NA-96-44 and 2011-340-ER-96-44) and TANAPA (TNO/HQ/C.10/13/VOL.III). Doris Fichte prepared and Anja Luckner analysed stable isotope ratios in the stable isotope lab of the Leibniz Institute for Zoo and Wildlife Research (IZW). M. H. B. was funded by the German Research Council (DFG), Research Unit 1246. Stable isotope analyses were financed by the IZW, Berlin. We thank Peggy Ostrom and three anonymous reviewers for providing constructive comments that helped to improve the manuscript.
Additional information
Communicated by Peggy Ostrom.
Electronic supplementary material
Below is the link to the electronic supplementary material.
About this article
Cite this article
Voigt, C.C., Helbig-Bonitz, M., Kramer-Schadt, S. et al. The third dimension of bat migration: evidence for elevational movements of Miniopterus natalensis along the slopes of Mount Kilimanjaro. Oecologia 174, 751–764 (2014). https://doi.org/10.1007/s00442-013-2819-0
Received:

Accepted:

Published:

Issue Date:
Keywords
Movement ecology

Migration

Connectivity

Geolocation