Abstract
The phenomenon of overyielding in species-diverse plant communities is mainly attributed to complementary resource use. Vertical niche differentiation belowground might be one potential mechanism for such complementarity. However, most studies that have analysed the diversity/productivity relationship and belowground niche differentiation have done so for fully occupied sites, not very young tree communities that are in the process of occupying belowground space. Here we used a 5–6 year old forest diversity experiment to analyse how fine-root (<2 mm) production in ingrowth cores (0–30 cm) was influenced by tree species identity, as well as the species diversity and richness of tree neighbourhoods. Fine-root production during the first growing season after the installation of ingrowth cores increased slightly with tree species diversity, and four-species combinations produced on average 94.8% more fine-root biomass than monocultures. During the second growing season, fine-root mortality increased with tree species diversity, indicating an increased fine-root turnover in species-rich communities. The initial overyielding was attributable to the response to mixing by the dominant species, Pseudotsuga menziesii and Picea abies, which produced more fine roots in mixtures than could be expected from monocultures. In species-rich neighbourhoods, P. abies allocated more fine roots to the upper soil layer (0–15 cm), whereas P. menziesii produced more fine roots in the deeper layer (15–30 cm) than in species-poor neighbourhoods. Our results indicate that, although there may be no lasting overyielding in the fine-root production of species-diverse tree communities, increasing species diversity can lead to substantial changes in the production, vertical distribution, and turnover of fine roots of individual species.
This is a preview of subscription content, log in to check access.
Access options
Buy single article
Instant access to the full article PDF.
US$ 39.95
Price includes VAT for USA
Subscribe to journal
Immediate online access to all issues from 2019. Subscription will auto renew annually.
US$ 199
This is the net price. Taxes to be calculated in checkout.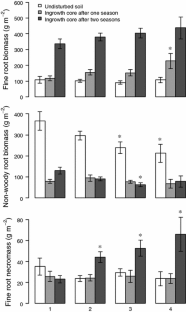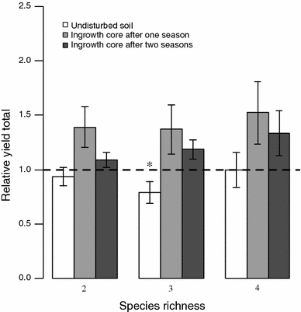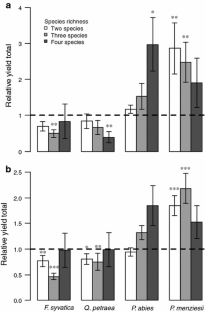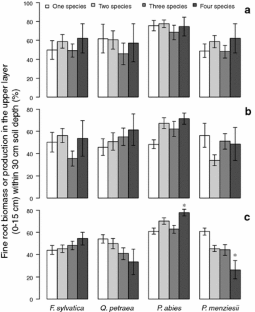 References
Bauhus J, Bartsch N (1996) Fine-root growth in beech (Fagus sylvatica) forest gaps. Can J For Res 26:2153–2159

Bauhus J, Messier C (1999) Soil exploitation strategies of fine roots in different tree species of the southern boreal forest of eastern Canada. Can J For Res 29:260–273

Bauhus J, Schmerbeck J (2010) Silvicultural options to enhance and use forest plantation biodiversity. In: Bauhus J, van der Meer P, Kanninen M (eds) Ecosystem goods and services from plantation forests. Earthscan, London, pp 96–139

Bauhus J, Khanna PK, Menden N (2000) Aboveground and belowground interactions in mixed plantations of Eucalyptus globulus and Acacia mearnsii. Can J For Res 1886–1894

Bauhus J, Bartsch N, Vor T, Cowling A (2004) The effects of gaps and liming on forest floor decomposition and soil C and N dynamics in a Fagus sylvatica forest. Can J For Res 34:509–518

Berendse F (1979) Competition between plant populations with different rooting depths. I. Theoretical considerations. Oecologia 43:19–26

Böhm W (1979) Methods of studying root systems. Springer Verlag, Berlin

Bolte A, Villanueva I (2006) Interspecific competition impacts on the morphology and distribution of fine roots in European beech (Fagus sylvatica L.) and Norway spruce (Picea abies (L.) Karst.). Eur J For Res 125:15–26

Brassard BW, Chen HYH, Bergeron Y (2009) Influence of environmental variability on root dynamics in northern forests. Crit Rev Plant Sci 28:179–197

Brassard BW, Chen HYH, Bergeron Y, Pare D (2011) Differences in fine root productivity between mixed- and single-species stands. Funct Ecol 25:238–246

Busse MD, Ratcliff AW, Shestak CJ, Powers RF (2001) Glyphosate toxicity and the effects of long term vegetation control on soil microbial communities. Soil Biol Biochem 33:1777–1789

Cardinale BJ et al (2007) Impacts of plant diversity on biomass production increase through time because of species complementarity. Proc Natl Acad Sci USA 104:18123–18128

Claus A, George E (2005) Effects of stand age on fine-root biomass and biomass distribution in three European forest chronosequences. Can J For Res 35:1617–1625

Cornell JA (ed) (1990) Experiments with mixtures: designs, models, and the analysis of mixture data, 2nd edn. Wiley, New York

Don A (2007) Carbon dynamics of young experimental afforestations in Thuringia (dissertation). Eberhard Karls Universität Tübingen, Germany

Forrester DI, Cowie AL, Bauhus J, Wood JT, Forrester RI (2006) Effects of changing the supply of nitrogen and phosphorus on growth and interactions between Eucalyptus globulus and Acacia mearnsii in a pot trial. Plant Soil 280:267–277

Fridley JD (2001) The influence of species diversity on ecosystem productivity: how, where, and why? Oikos 93:514–526

Fridley JD (2003) Diversity effects on production in different light and fertility environments: an experiment with communities of annual plants. J Ecol 91:396–406

Gower ST, Norman JM (1991) Rapid estimation of leaf area index in conifer and broad-leaf plantations. Ecology 72:1896–1900

Grime JP (1979) Plant strategies and vegetation processes. Wiley, Chichester

Healy C, Gotelli NJ, Potvin C (2008) Partitioning the effects of biodiversity and environmental heterogeneity for productivity and mortality in a tropical tree plantation. J Ecol 96:903–913

Hector A et al (1999) Plant diversity and productivity experiments in European grasslands. Science 286:1123–1127

Hendricks JJ, Hendrick RL, Wilson CA, Mitchell RJ, Pecot SD, Guo D (2006) Assessing the patterns and controls of fine root dynamics: an empirical test and methodological review. J Ecol 94:40–57

Hendriks CMA, Bianchi FJJA (1995) Root density and root biomass in pure and mixed forest stands of Douglas-fir and beech. Neth J Agric Sci 43:321–331

Hertel D, Leuschner C (2002) A comparison of four different fine root production estimates with ecosystem carbon balance data in a Fagus–Quercus mixed forest. Plant Soil 239:237–251

Hobbie SE, Oleksyn J, Eissenstat DM, Reich PB (2010) Fine root decomposition rates do not mirror those of leaf litter among temperate tree species. Oecologia 162:505–513

Hooper DU, Dukes JS (2004) Overyielding among plant functional groups in a long-term experiment. Ecol Lett 7:95–105

Hooper DU, Vitousek PM (1997) The effects of plant composition and diversity on ecosystem processes. Science 277:1302–1305

Hooper DU et al (2005) Effects of biodiversity on ecosystem functioning: a consensus of current knowledge. Ecol Monogr 75:3–35

Huston MA et al (2000) No consistent effect of plant diversity on productivity. Science 289:1255a

Leuschner C, Hertel D, Coners H, Büttner V (2001) Root competition between beech and oak: a hypothesis. Oecologia 276–284

Loreau M et al (2001) Biodiversity and ecosystem functioning: current knowledge and future challenges. Science 24:804–808

Lukac M, Godbold DL (2001) A modification of the ingrowth-core method to determine root production in fast growing tree species. J Plant Nutr Soil Sci 164:613–614

McKane RB et al (2002) Resource-based niches provide a basis for plant species diversity and dominance in arctic tundra. Nature 415:68–71

Meinen C (2008) Fine root dynamics in broad-leaved deciduous forest stands differing in tree species diversity (dissertation). Georg-August-Universität Göttingen, Göttingen

Meinen C, Hertel D, Leuschner C (2009a) Biomass and morphology of fine roots in temperate broad-leaved forests differing in tree species diversity: is there evidence of below-ground overyielding? Oecologia 161:99–111

Meinen C, Hertel D, Leuschner C (2009b) Root growth and recovery in temperate broad-leaved forest stands differing in tree species diversity. Ecosystems 12:1103–1116

Meinen C, Leuschner C, Ryan NT, Hertel D (2009c) No evidence of spatial root system segregation and elevated fine root biomass in multi-species temperate broad-leaved forests. Trees 23:941–950

Mommer L et al (2010) Unveiling below-ground species abundance in a biodiversity experiment: a test of vertical niche differentiation among grassland species. J Ecol 98:1117–1127

Norby RJ, Ledford J, Reilly CD, Miller NE, O'Neill EG (2004) Fine-root production dominates response of a deciduous forest to atmospheric CO2 enrichment. Proc Natl Acad Sci USA 101:9689–9693

Potvin C, Gotelli NJ (2008) Biodiversity enhances individual performance but does not affect survivorship in tropical trees. Ecol Lett 11:217–223

Pretzsch H, Block J, Dieler J, Dong PH, Kohnle U, Nagel J, Spellmann H, Zingg A (2010) Comparison between the productivity of pure and mixed stands of Norway spruce and European beech along an ecological gradient. Ann For Sci 67:712

Quan X, Wang C, Zhang Q, Wang X, Luo Y, Bond-Lamberty B (2010) Dynamics of fine roots in five Chinese temperate forests. J Plant Res 123:497–507

Ramseier D, Connolly J, Bazzaz FA (2005) Carbon dioxide regime, species identity and influence of species initial abundance as determinants of change in stand biomass composition in five-species communities: an investigation using a simplex design and RGRD Analysis. J Ecol 93:502–511

R Development Core Team (2010) R: a language and environment for statistical computing. R Foundation for Statistical Computing, Vienna. http://www.R-project.org

Richards AE, Forrester DI, Bauhus J, Scherer-Lorenzen M (2010) The influence of mixed tree plantations on the nutrition of individual species: a review. Tree Physiol 30:1192–1208

Schenk HJ (2006) Root competition: beyond resource depletion. J Ecol 94:725–739

Scherer-Lorenzen M (2005) Biodiversity and ecosystem functioning: basic principles. In: Barthlott W, Linsenmair KE, Porembski S (eds) Biodiversity: structure and function (in: Encyclopedia of Life Support Systems, EOLSS). EOLSS, Oxford

Scherer-Lorenzen M, Körner C, Schulze ED (2005) Forest diversity and function: temperate and boreal systems. Springer, Berlin

Scherer-Lorenzen M, Schulze E-D, Don A, Schumacher J, Weller E (2007) Exploring the functional significance of forest diversity: a new long-term experiment with temperate tree species (BIOTREE). Perspect Plant Ecol Evol Syst 9:53–70

Schmid I (2002) The influence of soil type and interspecific competition on the fine root system of Norway spruce and European beech. Basic Appl Ecol 3:339–346

Schmid I, Kazda M (2002) Root distribution of Norway spruce in monospecific and mixed stands on different soils. For Ecol Manag 159:37–47

Silver WL, Miya RK (2001) Global patterns in root decomposition: comparison of climate and litter quality effects. Oecologia 129:407–419

Steele SJ, Gower ST, Vogel JG, Norman JM (1997) Root mass, net primary production and turnover in aspen, jack pine and black spruce forests in Saskatchewan and Manitoba. Canada. Tree Physiol 19:577

Tilman D, Wedin D, Knops J (1996) Productivity and sustainability influenced by biodiversity in grassland ecosystems. Nature 379:718–720

Tilman D, Reich PB, Knops J, Wedin D, Mielke T, Lehman C (2001) Diversity and productivity in a long-term grassland experiment. Science 294:843–845

van Ruijven J, Berendse F (2005) Diversity–productivity relationships: initial effects, long-term patterns, and underlying mechanisms. Proc Natl Acad Sci USA 102:695–700

Vogt KA, Vogt DJ, Palmiotto PA, Boon P, O'Hara J, Asbjornsen H (1996) Review of root dynamics in forest ecosystems grouped by climate, climatic forest type and species. Plant Soil 187(2):159–219

Vogt KA, Vogt DJ, Bloomfield J (1998) Analysis of some direct and indirect methods for estimating root biomass and production of forests at an ecosystem level. Plant Soil 200:71–89

von Felten S, Schmid B (2008) Complementarity among species in horizontal versus vertical rooting space. J Plant Ecol 1:33–41

von Felten S, Hector A, Buchmann N, Niklaus PA, Schmid B, Scherer-Lorenzen M (2009) Belowground nitrogen partitioning in experimental grassland plant communities of varying species richness. Ecology 90:1389–1399

von Meltzer C, Rothe GM (2003) Variability of populations of the ectomycorrhizal fungus Xerocomus pruinatus infecting European beech (Fagus sylvatica), sessile oak (Quercus petraea) or Norway spruce (Picea abies). For Gen 10(2):129–139

Weaver MA, Krutz LJ, Zablotowicz RM, Reddy KN (2007) Effects of glyphosate on soil microbial communities and its mineralization in a Mississippi soil. Pest Manag Sci 63:388–393

Weigelt A, Weisser WW, Buchmann N, Scherer-Lorenzen M (2009) Biodiversity for multifunctional grasslands: equal productivity in high-diversity low-input and low-diversity high-input systems. Biogeosciences 6:1695–1706
Acknowledgments
We are grateful to Ernst-Detlef Schulze, Max Planck Institute for Biogeochemistry, for the permission to use the BIOTREE experiment, and to D. Forrester for his helpful comments on the first manuscript. We thank Renate Nitschke, Parvathi Venugopal, Adam Benneter, Germar Csapek and Alex Plum for assistance in the field and in the laboratory. The BIOTREE site in Kaltenborn is maintained by the Federal Forestry Office Thüringer Wald (Bundesforstamt Thüringer Wald). Pifeng Lei received a scholarship from the German Academic Exchange Service (DAAD) and financial support from the University of Freiburg.
Additional information
Communicated by Hormoz BassiriRad.
About this article
Cite this article
Lei, P., Scherer-Lorenzen, M. & Bauhus, J. The effect of tree species diversity on fine-root production in a young temperate forest. Oecologia 169, 1105–1115 (2012). https://doi.org/10.1007/s00442-012-2259-2
Received:

Accepted:

Published:

Issue Date:
Keywords
Species diversity

Species richness

Fine roots

Overyielding

Vertical niche differentiation

BIOTREE