Abstract
Although the productivity and nitrogen (N)-use traits of mire plants differ dramatically between fens and bogs, soil N richness does not necessarily differ, whereas the soil–water pH is distinctly lower in bogs than in fens. The ecophysiological mechanisms underlying these relations are unclear. To assess the relative availability of N forms in relation to soil–water pH, we focused on the net N uptake rate per unit root weight (NNUR), glutamine synthetase activity and nitrate reductase activity, and performed reciprocal transplant experiments with the seedlings of fen (Carex lyngbyei) and bog (C. middendorffii) sedge species in intact habitat sites. The soil–water pH was clearly lower at the bog site, but the NH4 +, NO3 − or dissolved organic-N concentrations did not differ between the fen and bog sites. The activity of both enzymes for inorganic-N assimilation did not differ among the sites and species. However, the fen species grown at bog sites showed a drastic decrease in the NNUR, suggesting a suppression of organic-N uptake. The bog species showed no NNUR difference between the sites. These results indicate that inorganic-N availability does not differ between the two habitats, but organic-N availability is lowered in a low-pH bog, particularly in the case of fen species. Therefore, the relative availability of N forms shows species-specific variations that depend on the differences in the soil–water pH of root zone, even at similar N richness, which would play a key role in plant distribution strategies in relation to the fen-bog gradient.
This is a preview of subscription content, log in to check access.
Access options
Buy single article
Instant access to the full article PDF.
US$ 39.95
Price includes VAT for USA
Subscribe to journal
Immediate online access to all issues from 2019. Subscription will auto renew annually.
US$ 199
This is the net price. Taxes to be calculated in checkout.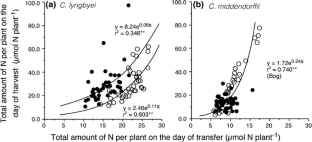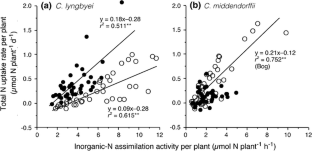 References
Aerts R, Chapin FS (1999) The mineral nutrition of wild plants revisited: a re-evaluation of processes and patterns. Adv Ecol Res 30:1–67

Aerts R, Verhoeven JTA, Whigham DF (1999) Plant-mediated controls on nutrient cycling in temperate fens and bogs. Ecology 80:2170–2181

Baki G, Siefritz F, Man HM, Weiner H, Kaldenhoff R, Kaiser W (2000) Nitrate reductase in Zea mays L. under salinity. Plant Cell Environ 23:515–521

Both G, Gerards S, Laanbroek H (1992) The occurrence of chemolitho-autotrophic nitrifiers in water-saturated grassland soils. Microb Ecol 23:15–26

Brix H, Dyhr-Jensen K, Lorenzen B (2002) Root-zone acidity and nitrogen source affects Typha latifolia L. growth and uptake kinetics of ammonium and nitrate. J Exp Botany 53:2441–2450

Buchanan BB, Gruissem W, Jones R (2000) Biochemistry and molecular biology of plants. Wiley, New York

Chapin FS (1980) The mineral nutrition of wild plants. Annu Rev Ecol Syst 11:233–260

Chapin FS, Moilanen L, Kielland K (1993) Preferential use of organic nitrogen for growth by a non-mycorrhizal arctic sedge. Nature 361:150–153

de Aldana BRV, Geerts RHEM, Berendse F (1996) Nitrogen losses from perennial grass species. Oecologia 106:137–143

Falkengren-Grerup U (1995) Interspecies differences in the preference of ammonium and nitrate in vascular plants. Oecologia 102:305–311

Falkengren-Grerup U, Månsson KF, Olsson MO (2000) Uptake capacity of amino acids by ten grasses and forbs in relation to soil acidity and nitrogen availability. Environ Exp Botany 44:207–219

Garnett TP, Smethurst PJ (1999) Ammonium and nitrate uptake by Eucalyptus nitens: effects of pH and temperature. Plant Soil 214:133–140

Hawkins BJ, Robbins S (2010) pH affects ammonium, nitrate and proton fluxes in the apical region of conifer and soybean roots. Physiol Plant 138:238–247

Iversen CM, Bridgham SD, Kellogg LE (2010) Scaling plant nitrogen use and uptake efficiencies in response to nutrient addition in peatlands. Ecology 91:693–707

Kielland K (1994) Amino acid absorption by arctic plants: implications for plant nutrition and nitrogen cycling. Ecology 75:2373–2383

Li YS, Redmann RE, van Kessel C (1992) Nitrogen budget and 15N translocation in a perennial wheatgrass. Funct Ecol 6:221–225

Liljeroth E, Bååth E, Mathiasson I, Lundborg T (1990) Root exudation and rhizoplane bacterial abundance of barley (Hordeum vulgare L.) in relation to nitrogen-fertilization and root-growth. Plant Soil 127:81–89

Malmer N (1986) Vegetational gradients in relation to environmental-conditions in Northwestern European mires. Can J Bot 64:375–383

McKane RB et al (2002) Resource-based niches provide a basis for plant species diversity and dominance in arctic tundra. Nature 415:68–71

Miller AE, Bowman WD (2003) Alpine plants show species-level differences in the uptake of organic and inorganic nitrogen. Plant Soil 250:283–292

Mitsch WJ, Gosselink JG (2000) Wetlands, 3rd edn. Wiley, New York

Nakamura T, Uemura S, Yabe K (2002a) Hydrochemical regime of fen and bog in north Japanese mires as an influence on habitat and above-ground biomass of Carex species. J Ecol 90:1017–1023

Nakamura T, Uemura S, Yabe K (2002b) Variation in nitrogen-use traits within and between five Carex species growing in the lowland mires of northern Japan. Funct Ecol 16:67–72

Nakamura M, Nakamura T, Tsuchiya T (2010) Advantages of NH4 + on growth, nitrogen uptake and root respiration of Phragmites australis. Plant Soil 331:463–470

Näsholm T, Ekblad A, Nordin A, Giesler R, Högberg M, Högberg P (1998) Boreal forest plants take up organic nitrogen. Nature 392:914–916

Näsholm T, Huss-Danell K, Högberg P (2000) Uptake of organic nitrogen in the field by four agriculturally important plant species. Ecology 81:1155–1161

Näsholm T, Kielland K, Ganeteg U (2009) Uptake of organic nitrogen by plants. New Phytol 182:31–48

Nordin A, Högberg P, Näsholm T (2001) Soil nitrogen form and plant nitrogen uptake along a boreal forest productivity gradient. Oecologia 129:125–132

O'neal D, Joy K (1973) Glutamine synthetase of pea leaves. I. Purification, stabilization, and pH optima. Arch Biochem Biophys 159:113–122

Ruan JY, Gerendás J, Härdter R, Sattelmacher B (2007) Effect of nitrogen form and root-zone pH on growth and nitrogen uptake of tea (Camellia sinensis) plants. Ann Bot 99:301–310

Thornton B (2001) Uptake of glycine by non-mycorrhizal Lolium perenne. J Exp Bot 52:1315–1322

Verhoeven J, Maltby E, Schmitz M (1990) Nitrogen and phosphorus mineralization in fens and bogs. J Ecol 78:713–726

Wassen M, Venterink H, Swart E (1995) Nutrient concentrations in mire vegetation as a measure of nutrient limitation in mire ecosystems. J Veg Sci 6:5–16

Waughman G (1980) Chemical aspects of the ecology of some south German peatlands. J Ecol 68:1025–1046

Wheeler BD (1999) Water and plants in freshwater wetlands. In: Baird AJ, Wilby RL (eds) Hydroecology: plants and water in terrestrial and aquatic ecosystems. Routledge, New York, pp 127–180

Wheeler BD, Proctor MCF (2000) Ecological gradients, subdivisions and terminology of north-west European mires. J Ecol 88:187–203

White RE (1972) Studies on mineral ion absorption by plants I. The absortion and utilization of phosphate by Stylosanthes humilis, Phaseolus atropurpureus and Desmodium intortum. Plant Soil 36:427–447
Acknowledgments
We thank Mr. Yuhto Koizumi, Mr. Suguru Saitoh and Mr. Shin Izawa, Faculty of Bioindustry, Tokyo University of Agriculture, Hokkaido, Japan, for their kind assistance in laboratory and field work. A part of this research was supported by Grants-in-Aid for Advanced Research Project of Tokyo University of Agriculture and Scientific Research of Lake Akkeshi and Bekanbeushi Wetland.
Additional information
Communicated by Allan Green.
About this article
Cite this article
Nakamura, T., Nakamura, M. Ecophysiological mechanisms characterising fen and bog species: focus on variations in nitrogen uptake traits under different soil–water pH. Oecologia 168, 913–921 (2012). https://doi.org/10.1007/s00442-011-2161-3
Received:

Accepted:

Published:

Issue Date:
Keywords
Glutamine synthetase

Mire

Nitrate reductase

Nitrogen availability

Organic nitrogen