Abstract
Productivity of semiarid grasslands is affected by soil water and nutrient availability, with water controlling net primary production under dry conditions and soil nutrients constraining biomass production under wet conditions. In order to investigate limitations on plants by the response of root–shoot biomass allocation to water and nitrogen (N) availability, a field experiment, on restoration plots with rainfed, unfertilized control plots, fertilized plots receiving N (25 kg urea-N ha−1) and water (irrigation simulating a wet season), was conducted at two sites with different grazing histories: moderate (MG) and heavy (HG) grazing. Irrigation and N addition had no effect on belowground biomass. Irrigation increased aboveground (ANPP) and belowground net primary production (BNPP) and rain-use efficiency based on ANPP (RUEANPP), whereas N addition on rainfed plots had no effect on any of the measured parameters. N fertilizer application on irrigated plots increased ANPP and RUEANPP and reduced the root fraction (RF: root dry matter/total dry matter), resulting in smaller N effects on total net primary production (NPP) and rain-use efficiency based on NPP. This suggests that BNPP should be included in evaluating ecosystem responses to resource availability from the whole-plant perspective. N effects on all measured parameters were similar on both sites. However, site HG responded to irrigation with higher ANPP and a lower RF when compared to site MG, indicating that species composition had a pronounced effect on carbon allocation pattern due to below- and aboveground niche complementarity.
This is a preview of subscription content, log in to check access.
Access options
Buy single article
Instant access to the full article PDF.
US$ 39.95
Price includes VAT for USA
Subscribe to journal
Immediate online access to all issues from 2019. Subscription will auto renew annually.
US$ 199
This is the net price. Taxes to be calculated in checkout.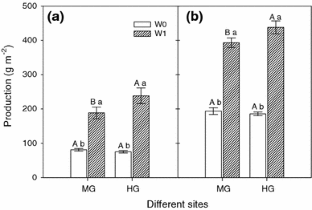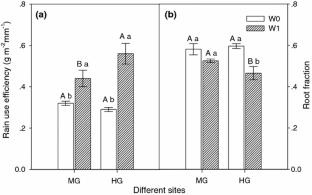 References
Ahlström K, Persson H, Börjesson I (1988) Fertilization in a mature Scots pine (Pinus sylvestris L.) stand-effects on roots. Plant Soil 106:179–190

Bai YF, Han XG, Wu JG, Chen ZZ, Li LH (2004) Ecosystem stability and compensatory effects in the Inner Mongolia grassland. Nature 431:181–184

Bai YF, Wu JG, Xing Q, Pan QM, Huang JH, Yang DL, Han XG (2008) Primary production and rain use efficiency across a precipitation gradient on the Mongolia Plateau. Ecology 89:2140–2153

Bessler H, Temperton VM, Roscher C, Buchmann N, Schmid B, Schulze ED, Weisser WW, Engels C (2009) Aboveground overyielding in grassland mixtures is associated with reduced biomass partitioning to belowground organs. Ecology 90:1520–1530

Brueck H, Erdle K, Gao YZ, Giese M, Zhao Y, Peth S, Lin S (2010) Effects of N and water supply on water use-efficiency of a semiarid grassland in Inner Mongolia. Plant Soil 328:495–505

Camill P, McKone MJ, Sturges ST, Severud WJ, Ellis E, Limmer J, Martin CB, Navratil RT, Purdie AJ, Sandel BS, Talukder S, Trout A (2004) Community- and ecosystem-level changes in a species-rich tallgrass prairie restoration. Ecol Appl 14:1680–1694

Cheng WX, Coleman DC, Box JE Jr (1990) Root dynamics, production and distribution in agroecosystems on the Georgia Piedmont using minirhizotrons. J Appl Ecol 27:592–604

DiTommaso A, Aarssen LW (1989) Resource manipulations in natural vegetation: a review. Vegetatio 84:9–29

Fahnestock JT, Detling JK (1999) Plant responses to defoliation and resource supplementation in the Pryor Mountains. J Range Manag 52:263–270

Gao YZ, Wang SP, Han XG, Cheng QS, Zhou ZY, Patton BD (2007) Defoliation, nitrogen and competition: effects on plant growth and biomass allocation of Cleistogenes squarrosa and Artemisia frigida. J Plant Nutr Soil Sci 170:115–122

Gao YZ, Giese M, Lin S, Sattelmacher B, Zhao Y, Brueck H (2008) Belowground net primary productivity and biomass allocation of a grassland in Inner Mongolia is affected by grazing intensity. Plant Soil 307:41–50

Gao YZ, Giese M, Han XG, Wang DL, Zhou ZY, Brueck H, Lin S, Taube F (2009) Land use and drought interactively affect interspecific competition and species diversity at the local scale in a semiarid steppe ecosystem. Ecol Res 24:627–635

Giardina CP, Ryan MG, Binkley D, Fowneset JH (2003) Primary production and carbon allocation in relation to nutrient supply in a tropical experimental forest. Glob Change Biol 9:1438–1450

Giese M, Gao YG, Zhao Y, Pan QM, Lin S, Peth S, Brueck H (2009) Effects of grazing and rainfall variability on root and shoot decomposition in a semi-arid grassland. Appl Soil Ecol 41:8–18

Gough L, Osenberg CW, Gross KL, Collins SL (2000) Fertilization effects on species density and primary productivity in herbaceous communities. Oikos 89:428–439

Hansson AC, Steen E, Andrén O (1992) Root growth of daily irrigated and fertilized barley investigated with ingrowth cores, soil cores and minirhizotrons. Swed J Agric Res 22:141–152

Harpole WS, Potts D, Suding KN (2007) Ecosystem responses to water and nitrogen amendment in a California grassland. Glob Change Biol 13:2341–2348

Hooper DU, Johnson L (1999) Nitrogen limitation in dryland ecosystems: responses to geographical and temporal variation in precipitation. Biogeochemistry 46:247–293

Hui DF, Jackson RB (2006) Geographic and interannual variability in biomass partitioning in grassland ecosystems: a synthesis of field data. New Phytol 169:85–93

Huxman TE, Smith MD, Fay PA, Knapp AK, Shaw MR, Loik ME, Smith SD, Tissue DT, Zak JC, Weltzin JF, Pockman WT, Sala OE, Haddad BM, Harte J, Koch GW, Schwinning S, Small EE, Williams DG (2004) Convergence across biomes to a common rain-use efficiency. Nature 429:651–654

Joslin JD, Wolfe MH, Hanson PJ (2000) Effects of altered water regimes on forest root systems. New Phytol 147:117129

Katoh K, Takeuchi K, Jiang D, Nan Y, Kou Z (1998) Vegetation restoration by seasonal exclosure in the Kerqin sandy land, Inner Mongolia. Plant Ecol 139:133–144

Knapp AK, Smith MD (2001) Variation among biomes in temporal dynamics of aboveground primary production. Science 291:481–484

Lauenroth WK, Sala OE (1992) Long term forage production of North American shortgrass steppe. Ecol Appl 2:397–403

Lauenroth WK, Dodd JL, Sims PL (1978) The effects of water- and nitrogen-induced stresses on plant community structure in a semiarid grassland. Oecologia 36:211–222

Le Houerou HN, Bingham RL, Skerbek W (1988) Relationship between the variability of primary productivity and the variability of annual precipitation in world arid lands. J Arid Environ 15:1–18

Martín O, Juan L, María S, Sala OE (2001) Inter-annual variation in primary production of a semi-arid grassland related to previous-year production. J Veg Sci 12:137–142

Milchunas DG, Lauenroth WK (1995) Inertia in plant community structure: state changes after cessation of nutrient-enrichment stress. Ecol Appl 5:452–458

Milchunas DG, Lauenroth WK (2001) Belowground primary production by carbon isotope decay and long-term root biomass dynamics. Ecosystems 4:139–150

O'Connor TG, Haines LM, Snyman HA (2001) Influence of precipitation and species composition on phytomass of a semi-arid African grassland. J Ecol 89:850–860

Paruelo JM, Lauenroth WK, Burke IC, Sala OE (1999) Grassland precipitation-use efficiency varies across a resource gradient. Ecosystems 2:64–68

Poorter H, Nagel O (2000) The role of biomass allocation in the growth response of plants to different levels of light, CO2, nutrients and water: a quantitative review. Aust J Plant Physiol 27:595–607

Potts O, Huxman TE, Cable JM, English NB, Ignace DD, Eilts JA, Mason MJ, Weltzin JF, Williams DG (2006) Antecedent moisture and seasonal precipitation influence the response of canopy-scale carbon and water exchange to rainfall pulses in a semi-arid grassland. New Phytol 170:849–860

Sala OE, Parton WJ, Joyce LA, Lauenroth WK (1988) Primary production of the central grassland region of the United States. Ecology 69:40–45

Schenk HJ, Jackson RB (2002) Rooting depths, lateral root spreads and below-ground/above-ground allometries of plants in water-limited ecosystems. J Ecol 90:480–494

Schippers P, Olff H (2000) Biomass partitioning, architecture and turnover of six herbaceous species from habitats with different nutrient supply. Plant Ecol 149:219–231

Snyman HA (2005) Rangeland degradation in a semi-arid South Africa-I: influence on seasonal root distribution, root/shoot ratios and water-use efficiency. J Arid Environ 60:457–481

St Clair SB, Sudderth EA, Castanha C, Torn MS, Ackerly DD (2009) Plant responsiveness to variation in precipitation and nitrogen is consistent across the compositional diversity of a California annual grassland. J Veg Sci 20:860–870

Steffens M, Kölbl A, Totsche KU, Kögel-Knabner I (2008) Grazing effects on soil chemical and physical properties in a semiarid steppe of Inner Mongolia (P.R. China). Geoderma 143:63–72

Stevens CJ, Dise NB, Mountford JO, Gowing DJ (2004) Impact of nitrogen deposition on the species richness of grasslands. Science 303:1876–1879

Stitt M, Scheible W-R (1998) Understanding allocation to shoot and root growth will require molecular information about which compounds act as signals for the plant nutrient status, and how meristem activity and cellular growth are regulated: Opinion. Plant Soil 201:259–263

Tilman D, Wedin D (1991) Plant traits and resource reduction for five grasses growing on a nitrogen gradient. Ecology 72:685–700

Van Noordwijk M, Martikainen P, Bottner P, Cuevas E, Rouland C, Dhillion SS (1998) Global change and root function. Glob Change Biol 4:759–772

Varnamkhasti AS, Milchunas DG, Lauenroth WK, Goetz H (1995) Production and rain use efficiency in short-grass steppe: grazing history, defoliation and water resource. J Veg Sci 6:787–796

Wang W, Liang CZ, Liu ZL, Hao DY (1999) Research on restoring succession of degenerated grassland in Inner Mongolia IV. Analysis of plant population dynamics during restoring succession. J Arid Land Res Environ 13:44–55

Wilson SD, Tilman D (1991) Interactive effects of fertilization and disturbance on community structure and resource availability in an old-field plant community. Oecologia 88:61–71

Xiao XM, Wang YF, Jiang S, Ojima DS, Bonham CD (1995) Interannual variation in the climate and above-ground biomass of Leymus chinense steppe and Stipa grandis steppe in the Xilin river basin, Inner Mongolia, China. J Arid Environ 31:283–299

Zhang LX, Bai YF, Han XG (2004) Differential responses of N:P stoichiometry of Leymus chinensis and Carex korshinskyi to N additions in a steppe ecosystem in Nei Mongol. Acta Bot Sin 46:259–270

Zhou Z, Sun OJ, Huang J, Gao Y, Han X (2006) Land use affects the relationship between species diversity and productivity at the local scale in a semi-arid steppe ecosystem. Funct Ecol 20:753–762
Acknowledgments
This work was supported by the National Natural Science Foundation of China (NSFC, 41071207/30970509), and the Deutsche Forschungsgemeinschaft (DFG, SA 359/30-1) embedded into the joint-research project FG 536, Matter fluxes in grasslands of Inner Mongolia as influenced by stocking rate (MAGIM). We would like to thank the anonymous reviewers for their constructive comments and suggestions, the IMGERS meteorological station for providing climatic data and the Deutscher Akademischer Austauschdienst (DAAD) for supporting the work of Y.Z. Gao on the manuscript at Hohenheim University, Germany.
Additional information
Communicated by Fernando Valladares.
About this article
Cite this article
Gao, Y.Z., Chen, Q., Lin, S. et al. Resource manipulation effects on net primary production, biomass allocation and rain-use efficiency of two semiarid grassland sites in Inner Mongolia, China. Oecologia 165, 855–864 (2011). https://doi.org/10.1007/s00442-010-1890-z
Received:

Accepted:

Published:

Issue Date:
Keywords
Above- (ANPP) and belowground net primary production (BNPP)

Land use history

Irrigation

N fertilizer

Restoration