Abstract
There is now ample evidence of the effects of anthropogenic climate change on the distribution and abundance of species. The black-faced spoonbill (Platalea minor) is an endangered migratory species and endemic to East Asia. Using a maximum entropy approach, we predicted the potential wintering distribution for spoonbills and modeled the effects of future climate change. Elevation, human influence index and precipitation during the coldest quarter contributed most to model development. Five regions, including western Taiwan, scattered locations from eastern coastal to central mainland China, coastal areas surrounding the South China Sea, northeastern coastal areas of Vietnam and sites along the coast of Japan, were found to have a high probability of presence and showed good agreement with historical records. Assuming no limits to the spread of this species, the wintering range is predicted to increase somewhat under a changing climate. However, three currently highly suitable regions (northeastern Vietnam, Taiwan and coastal areas surrounding the South China Sea) may face strong reductions in range by 2080. We also found that the center of the predicted range of spoonbills will undergo a latitudinal shift northwards by as much as 240, 450, and 600 km by 2020, 2050 and 2080, respectively. Our findings suggest that species distribution modeling can inform the current and future management of the black-faced spoonbill throughout Asia. It is clear that a strong international strategy is needed to conserve spoonbill populations under a changing climate.
This is a preview of subscription content, log in to check access.
Access options
Buy single article
Instant access to the full article PDF.
US$ 39.95
Price includes VAT for USA
Subscribe to journal
Immediate online access to all issues from 2019. Subscription will auto renew annually.
US$ 199
This is the net price. Taxes to be calculated in checkout.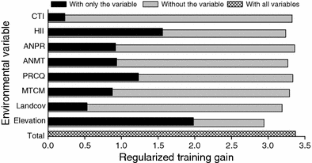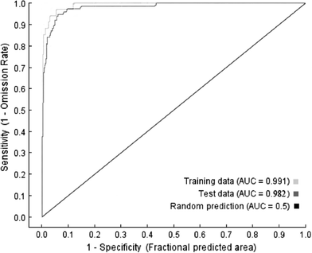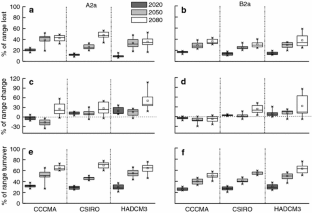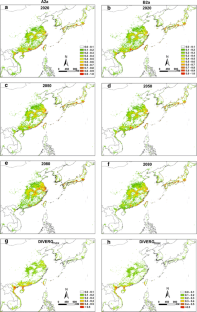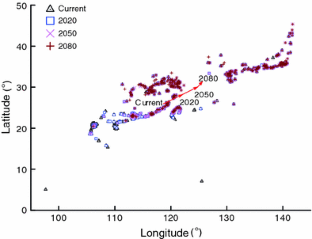 References
Anderson BJ, Akçakaya HR, Araújo MB, Fordham DA, Martinez-Meyer E, Thuiller W, Brook BW (2009) Dynamics of range margins for metapopulations under climate change. Proc R Soc Lond B 276:1415–1420

Araújo MB, New M (2007) Ensemble forecasting of species distributions. Trends Ecol Evol 22:42–47

Araújo MB, Rahbek C (2006) How does climate change affect biodiversity? Science 313:1396–1397

Araújo MB, Williams PH (2000) Selecting areas for species persistence using occurrence data. Biol Conserv 96:331–345

Araújo MB, Cabeza M, Thuiller W, Hannah L, Williams PH (2004) Would climate change drive species out of reserves? An assessment of existing reserve-selection methods. Glob Change Biol 10:1618–1626

Austin OL (1948) The birds of Korea. Bull Mus Comp Zool 101:1–301

Austin GE, Rehfisch MM (2005) Shifting nonbreeding distributions of migratory fauna in relation to climatic change. Glob Change Biol 11:31–38

Barbet-Massin M, Walther BA, Thuiller W, Rahbek C, Jiguet F (2009) Potential impacts of climate change on the winter distribution of Afro-Palaearctic migrant passerines. Biol Lett 5:248–251

Bässler C, Müller J, Hothorn T, Kneib T, Badeck F, Dziock F (2010) Estimation of the extinction risk for high-montane species as a consequence of global warming and assessment of their suitability as cross-taxon indicators. Ecol Indic 10:341–352

Beaumont LJ, Hughes L, Pitman AJ (2008) Why is the choice of future climate scenarios for species distribution modelling important? Ecol Lett 11:1135–1146

Bibby C (2003) Conservation of migratory birds. In: Berthold P, Gwinner E, Sonnenschein E (eds) Avian migration. Springer, Berlin, pp 407–420

BirdLife International (2008) Platalea minor. In: IUCN 2008. 2008 IUCN red list of threatened species. http://www.iucnredlist.org/. Accessed Jan 2009

BirdLife International (2009) Red Data Book of threatened birds in Asia —Platalea minor. https://www.globalconservation.info/rudy/detailbird.php?id=279. Accessed Dec 2008

Both C, Visser ME (2001) Adjustment to climate change is constrained by arrival date in a long-distance migrant bird. Nature 411:296–298

Brown JL, Li SH, Bhagabati N (1999) Long-term trend toward earlier breeding in an American bird: A response to global warming? Proc Natl Acad Sci USA 96:5565–5569

Coetzee BWT, Robertson MP, Erasmus BFN, van Rensburg BJ, Thuiller W (2009) Ensemble models predict Important Bird Areas in southern Africa will become less effective for conserving endemic birds under climate change. Glob Ecol Biogeogr 18:701–710

Coppack T, Pulido F, Czisch M, Auer DP, Berthold P (2003) Photoperiodic response may facilitate adaptation to climatic change in long-distance migratory birds. Proc R Soc Lond B 270:S43–S46

Crick HQP (2004) The impact of climate change on birds. Ibis 146:48–56

del Hoyo J, Elliott A, Saragatal J (1992) Handbook of the birds of the world. Lynx, Barcelona

Dennis R (2001) Progressive bias in species status is symptomatic of fine-grained mapping units subject to repeated sampling. Biodivers Conserv 10:483–494

Ding W, Lei F, Yin Z, Liu R (1999) The breeding sites of the black-faced spoonbill Platalea minor have been discovered in Northern China. Bird Conserv Int 9:284

Elith J, Graham CH, Anderson RP, Dudík M, Ferrier S, Guisan A, Hijmans RJ, Huettmann F, Leathwick JR, Lehmann A, Li J, Lohmann LG, Loiselle BA, Manion G, Moritz C, Nakamura M, Nakazawa Y, Overton JMM, Peterson AT, Phillips SJ, Richardson K, Scachetti-Pereira R, Schapire RE, Soberón J, Williams S, Wisz MS, Zimmermann NE (2006) Novel methods improve prediction of species' distributions from occurrence data. Ecography 29:129–151

Fielding AH, Bell JF (1997) A review of methods for the assessment of prediction errors in conservation presence/absence models. Environ Conserv 24:38–49

Funk VA, Richardson KS (2002) Systematic data in biodiversity studies: use it or lose it. Syst Biol 51:303–316

Gibson L, Barrett B, Burbidge A (2007) Dealing with uncertain absences in habitat modelling: a case study of a rare ground-dwelling parrot. Divers Distrib 13:704–713

GLC (2003) Global Land Cover 2000 database. European Commission, Joint Research Centre. http://gem.jrc.ec.europa.eu/products/glc2000/glc2000.php. Accessed Oct 2009

Gregory RD, Willis SG, Jiguet F, Vorisek P, Klvanova A, van Strien A, Huntley B, Collingham YC, Couvet D, Green RE (2009) An indicator of the impact of climatic change on European bird populations. PLoS ONE 4:e4678

Guisan A, Thuiller W (2005) Predicting species distribution: offering more than simple habitat models. Ecol Lett 8:993–1009

Hernandez PA, Graham CH, Master LL, Albert DL (2006) The effect of sample size and species characteristics on performance of different species distribution modeling methods. Ecography 29:773–785

Hickling R, Roy DB, Hill JK, Thomas CD (2005) A northward shift of range margins in British Odonata. Glob Change Biol 11:502–506

Hijmans RJ, Graham CH (2006) The ability of climate envelope models to predict the effect of climate change on species distributions. Glob Change Biol 12:2272–2281

Hijmans RJ, Cameron SE, Parra JL, Jones PG, Jarvis A (2005) Very high resolution interpolated climate surfaces for global land areas. Int J Climatol 25:1965–1978

Hole DG, Willis SG, Pain DJ, Fishpool LD, Butchart SHM, Collingham YC, Rahbek C, Huntley B (2009) Projected impacts of climate change on a continent-wide protected area network. Ecol Lett 12:420–431

Hu J, Jiang Z (2010) Predicting the potential distribution of the endangered Przewalski's gazelle. J Zool. doi:10.1111/j.1469-7998.2010.00715.x

Hu J, Zeng X, Xie Z, Hu H (2009) Current status of wintering population of black-faced spoonbill in Haifeng Avian Natural Reserve, Guangdong, China. Chin J Zool 44:54–57

IPCC (2001) Intergovernmental Panel on Climate Change Third Assessment Report - Climate Change 2001. IPCC, Geneva

Kadmon R, Farber O, Danin A (2004) Effect of roadside bias on the accuracy of predictive maps produced by bioclimatic models. Ecol Appl 14:401–413

Kaliontzopoulou A, Brito J, Carretero M, Larbes S, Harris D (2008) Modelling the partially unknown distribution of wall lizards (Podarcis) in North Africa: ecological affinities, potential areas of occurrence, and methodological constraints. Can J Zool 86:992–1001

La Sorte FA, Thompson FR (2007) Poleward shifts in winter ranges of North American birds. Ecology 88:1803–1812

La Touche JD (1931–1934) A handbook of the birds of eastern China. Taylor & Francis, London

Last of the Wild Data Version 2 (2005) Global human influence index (HII). In: Wildlife Conservation (WCS) and Center for International Earth Science Information Network (CIESIN). http://sedac.ciesin.columbia.edu/wildareas/. Accessed Sept 2009

Liu CR, Berry PM, Dawson TP, Pearson RG (2005) Selecting thresholds of occurrence in the prediction of species distributions. Ecography 28:385–393

Maclean IMD, Austin GE, Rehfisch MM, Blew J, Crowe O, Delany S, Devos K, Deceuninck B, Gunther K, Laursen K, Van Roomen M, Wahl J (2008) Climate change causes rapid changes in the distribution and site abundance of birds in winter. Glob Change Biol 14:2489–2500

Marmion M, Parviainen M, Luoto M, Heikkinen RK, Thuiller W (2009) Evaluation of consensus methods in predictive species distribution modelling. Divers Distrib 15:59–69

McKenney DW, Pedlar JH, Lawrence K, Campbell K, Hutchison MF (2007) Potential impacts of climate change on the distribution of North American trees. Bioscience 57:939–948

Mendoza MM, Reyes GR, Eduarte MM (2002) Rediscovery of Black-faced Spoonbill Platalea minor in the Philippines. Forktail 18:153–154

Murphy-Klassen HM, Underwood TJ, Sealy SG, Czyrnyj AA, Holberton RL (2009) Long-term trends in spring arrival dates of migrant birds at Delta Marsh, Manitoba, in relation to climate change. Auk 122:1130–1148

Nakicenovic N, Swart R (2000) IPCC special report on emissions scenarios. Cambridge University Press, New York

Papeş M, Gaubert P (2007) Modelling ecological niches from low numbers of occurrences: assessment of the conservation status of poorly known viverrids (Mammalia, Carnivora) across two continents. Divers Distrib 13:890–902

Parmesan C, Ryrholm N, Stefanescu C, Hill JK, Thomas CD, Descimon H, Huntley B, Kaila L, Kullberg J, Tammaru T, Tennent WJ, Thomas JA, Warren M (1999) Poleward shifts in geographical ranges of butterfly species associated with regional warming. Nature 399:579–583

Pearce J, Ferrier S (2000) An evaluation of alternative algorithms for fitting species distribution models using logistic regression. Ecol Modell 128:127–147

Pearson RG, Raxworthy CJ, Nakamura M, Peterson AT (2007) Predicting species distributions from small numbers of occurrence records: a test case using cryptic geckos in Madagascar. J Biogeogr 34:102–117

Peterson AT, Nakazawa Y (2008) Environmental data sets matter in ecological niche modelling: an example with Solenopsis invicta and Solenopsis richteri. Glob Ecol Biogeogr 17:135–144

Peterson AT, Ortega-Huerta MA, Bartley J, Sanchez-Cordero V, Soberon J, Buddemeier RH, Stockwell DRB (2002) Future projections for Mexican faunas under global climate change scenarios. Nature 416:626–629

Phillips SJ, Dudík M (2008) Modeling of species distributions with Maxent: new extensions and a comprehensive evaluation. Ecography 31:161–175

Phillips SJ, Anderson RP, Schapire RE (2006) Maximum entropy modeling of species geographic distributions. Ecol Modell 190:231–259

Sæther B-E, Tufto J, Engen S, Jerstad K, Røstad OW, Skåtan JE (2000) Population dynamical consequences of climate change for a small temperate songbird. Science 287:854–856

Solomon S, Qin D, Manning M, Marquis M, Averyt K, Tignor M, Miller H, Chen Z (2007) Climate change 2007: the physical science basis. Contribution of working group I to the fourth assessment report of the intergovenmental panel on climate change. Cambridge University Press, Cambridge

Stockwell DRB, Peterson AT (2002) Effects of sample size on accuracy of species distribution models. Ecol Modell 148:1–13

Thomas CD, Cameron A, Green RE, Bakkenes M, Beaumont LJ, Collingham YC, Erasmus BFN, de Siqueira MF, Grainger A, Hannah L, Hughes L, Huntley B, van Jaarsveld AS, Midgley GF, Miles L, Ortega-Huerta MA, Townsend Peterson A, Phillips OL, Williams SE (2004) Extinction risk from climate change. Nature 427:145–148

Thuiller W (2004) Patterns and uncertainties of species' range shifts under climate change. Glob Change Biol 10:2020–2027

Thuiller W, Brotons L, Araujo MB, Lavorel S (2004) Effects of restricting environmental range of data to project current and future species distributions. Ecography 27:165–172

Thuiller W, Broennimann O, Hughes G, Alkemade JRM, Midgley GF, Corsi F (2006) Vulnerability of African mammals to anthropogenic climate change under conservative land transformation assumptions. Glob Change Biol 12:424–440

Tingley MW, Monahan WB, Beissinger SR, Moritz C (2009) Birds track their Grinnellian niche through a century of climate change. Proc Natl Acad Sci USA 106:19637–19643

Ueta M, Melville DS, Wang Y, Ozaki K, Kanai Y, Leader PJ, Wang CC, Kuo CY (2002) Discovery of the breeding sites and migration routes of black-faced spoonbills Platalea minor. Ibis 144:340–343

USGS (2009) HYDRO1 k elevation derivative database. http://eros.usgs.gov/#/Find_Data/Products_and_Data_Available/gtopo30/hydro. Accessed Dec 2008

Visser ME, Perdeck AC, van Balen JH, Both C (2009) Climate change leads to decreasing bird migration distances. Glob Change Biol 15:1859–1865

Walther BA, Schaffer N, van Niekerk A, Thuiller W, Rahbek C, Chown SL (2007) Modelling the winter distribution of a rare and endangered migrant, the Aquatic Warbler Acrocephalus paludicola. Ibis 149:701–714

Webster M, Forest C, Reilly J, Babiker M, Kicklighter D, Mayer M, Prinn R, Sarofim M, Sokolov A, Stone P, Wang C (2003) Uncertainty analysis of climate change and policy response. Clim Change 61:295–320

Yeung CKL, Yao CT, Hsu YC, Wang JP, Li SH (2006) Assessment of the historical population size of an endangered bird, the black-faced spoonbill (Platalea minor) by analysis of mitochondrial DNA diversity. Anim Conserv 9:1–10

Yu Y (2003) The international black-faced spoonbill census: 24–26 January 2003. The Hong Kong Bird Watching Society, Hong Kong

Yu Y (2004) The international black-faced spoonbill census: 16–16 January 2004. The Hong Kong Bird Watching Society, Hong Kong

Yu Y (2005) The international black-faced spoonbill census: 21–23 January 2005. The Hong Kong Bird Watching Society, Hong Kong

Yu Y (2009) International black-faced spoonbill census 2008 and 2009. The Hong Kong Bird Watching Society, Hong Kong

Yu Y, Wong C (2006) The international black-faced spoonbill census: 6–8 January 2006. The Hong Kong Bird Watching Society, Hong Kong

Yu Y, Wong C (2007) The International Black-faced Spoonbill Census: 19–21 January 2007. The Hong Kong Bird Watching Society, Hong Kong

Zheng G (1998) Search for black-faced spoonbill. Bull Biol 33:13–15

Zhu L, Sun O, Sang W, Li Z, Ma K (2007) Predicting the spatial distribution of an invasive plant species (Eupatorium adenophorum) in China. Landsc Ecol 22:1143–1154
Acknowledgments
We are grateful to Steven Phillips for adapting the Maxent application several times to allow us to execute the models here, and to all those who contributed to the International Black-faced Spoonbill Census. We thank Feng Xiao, Peng Luo, Yunhai Guo, Xiaoge Ping and Philippe Chouteau for help with earlier versions of the manuscript. Our work was supported by Science and Technology Supporting Project of MOST (2008BAC39B04), the National Natural Sciences Foundation of China (30770311), and Field Station Foundation of Guangdong Academy of Sciences (2008, 2009).
Additional information
Communicated by Chris Whelan.
About this article
Cite this article
Hu, J., Hu, H. & Jiang, Z. The impacts of climate change on the wintering distribution of an endangered migratory bird. Oecologia 164, 555–565 (2010). https://doi.org/10.1007/s00442-010-1732-z
Received:

Accepted:

Published:

Issue Date:
Keywords
Climate change

Black-faced spoonbill (Platalea minor)

East Asia

Maxent

Species distribution modeling

Species' range shift

Wintering distribution