Abstract
Food webs of many ecosystems are sustained by organic matter from other habitats. Human activities and climatic change are increasingly modifying the quality and supply of these resources, yet for most ecosystems it is unknown how the taxonomic composition of organic matter influences community composition. Along the coastline of Sydney, Australia, the once abundant habitat-forming macroalga, Phyllospora comosa, is now locally extinct. Shallow reefs are now primarily occupied by Sargassum sp. and, to a lesser extent, the kelp Ecklonia radiata. We experimentally manipulated the supply of P. comosa, Sargassum sp. and E. radiata to estuarine sediments to assess responses by macroinvertebrate communities to: (1) changing the identity of the dominant detrital resource; and (2) varying the ratio of input of different macrophytes. Estuarine sediments dosed with P. comosa supported greater abundances of macroinvertebrates than sediments receiving Sargassum sp. or the kelp E. radiata. Whereas plots receiving Sargassum sp. or E. radiata had fewer macroinvertebrates than controls, plots receiving a moderate (120 g dry weight per m2) loading of P. comosa had more. Mixtures of detritus dominated by P. comosa supported similar macroinvertebrate communities to monocultures of the alga. Communities in sediments receiving detritus comprised of less than one-third P. comosa were, however, distinctly different. Our study provides evidence that the ecological ramifications of species decline can extend to spatially removed ecosystems, subsidised by allochthonous materials. Even prior to extinction of detrital sources, small changes in their provision of organic matter may alter the structure of subsidised communities.
This is a preview of subscription content, log in to check access.
Access options
Buy single article
Instant access to the full article PDF.
US$ 39.95
Price includes VAT for USA
Subscribe to journal
Immediate online access to all issues from 2019. Subscription will auto renew annually.
US$ 199
This is the net price. Taxes to be calculated in checkout.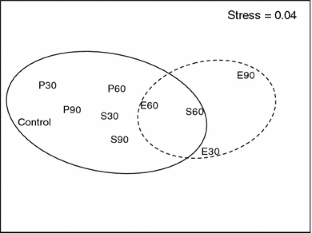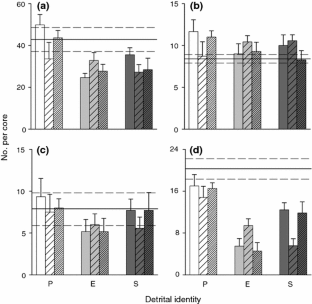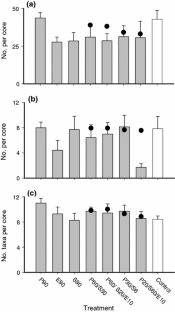 References
Airoldi L, Beck MW (2007) Loss, status and trends for coastal marine habitats of Europe. Oceanogr Mar Biol Ann Rev 45:345–405

Anderson MJ (2001) A new method for non-parametric multivariate analysis of variance. Austral Ecol 26:32–46

Bishop MJ, Kelaher BP (2007) Impacts of detrital enrichment on estuarine assemblages: disentangling effects of frequency and intensity of disturbance. Mar Ecol Prog Ser 341:25–36

Bishop MJ, Kelaher BP (2008) Non-additive, identity-dependent effects of detrital species mixing on soft-sediment communities. Oikos 117:531–542

Bishop MJ, Kelaher BP, Alquezar RA, York PH, Ralph PJ, Skilbeck CG (2007) Trophic cul-de-sac, Pyrazus ebeninus, limits trophic transfer through an estuarine detritus-based food web. Oikos 116:427–438

Cebrián J, Lartigue J (2004) Patterns of herbivory and decomposition in aquatic and terrestrial ecosystems. Ecol Monogr 74:237–259

Clarke KR (1993) Non-parametric multivariate analyses of changes in community structure. Aust J Ecol 18:117–143

Coleman MA, Kelaher BP, Steinberg PD, Millar AJK (2008) Absence of a large brown macroalga on urbanized rocky reefs around Sydney, Australia, and evidence for historical decline. J Phycol 44:897–901

Connell SD, Russell BD, Turner DJ, Shepherd SA, Kildea T, Miller D, Airoldi L, Cheshire A (2008) Recovering a lost baseline: missing kelp forests from a metropolitan coast. Mar Ecol Prog Ser 360:63–72

Duarte CM (2002) The future of seagrass meadows. Environ Conserv 29:192–206

Duggins DO, Eckman JE (1994) The role of kelp detritus in the growth of benthic suspension feeders in an understory kelp forest. J Exp Mar Biol Ecol 176:53–68

Duggins DO, Eckman JE (1997) Is kelp detritus a good food for suspension feeders? Effects of kelp species, age and secondary metabolites. Mar Biol 128:489–495

Field JG, Clarke KR, Warwick RM (1982) A practical strategy for analysing multispecies distribution patterns. Mar Ecol Prog Ser 8:37–52

Findlay S, Tenore K (1982) Nitrogen source for a detritivore: detritus substrate versus associated microbes. Science 218:371–373

Fletcher WJ (1984) Experimental population ecology of sublittoral grazers in New South Wales. PhD thesis, University of Sydney, Australia

Glasby CJ, Hutchings PA, Fauchald K, Paxton H, Rouse GW, Watson RC (2000) Class polychaeta. In: Beesley PL, Ross GJB, Glasby CJ et al (eds) Polychaetes and their allies: the southern synthesis. Fauna of Australia, vol 4A. Polychaeta, myzostomida, pogonophora, echiura, sipuncula. CSIRO Publishing, Melbourne, pp 1–296

Kelaher BP, Levinton JS (2003) Variation in detrital enrichment causes spatio-temporal variation in soft-sediment assemblages. Mar Ecol Prog Ser 261:85–97

Lake PS, Palmer MA, Biro P, Cole J, Covich AP, Dahm C, Gibert J, Goedkoop W, Martens K, Verhoeven K (2000) Global change and the biodiversity of freshwater ecosystems: impacts on linkages between above-sediment and sediment biota. Bioscience 50:1099–1107

Ling SD (2008) Range expansion of a habitat-modifying species leads to loss of taxonomic diversity: a new and impoverished reef state. Oecologia 156:883–894

Melville AJ, Connolly RM (2003) Spatial analysis of stable isotope data to determine primary sources of nutrition for fish. Oecologia 136:499–507

Moore TN, Fairweather PG (2006) Decay of multiple species of seagrass detritus is dominated by species identity, with an important influence of mixing litters. Oikos 114:329–337

Olabarria C, Lastra M, Garrido J (2007) Succession of macrofauna on macroalgal wrack of an exposed sandy beach: effects of patch size and site. Mar Environ Res 63:19–40

Polis GA, Anderson WB, Holt RD (1997) Toward an integration of landscape and food web ecology: the dynamics of spatially subsidized food webs. Annu Rev Ecol Syst 28:289–316

Ponder WF, Clark SA, Dallwitz MJ (2000) Freshwater and estuarine molluscs: an interactive, illustrated key for New South Wales. CSIRO Publishing, Victoria

Rublee PA (1982) Seasonal distribution of bacteria in salt-marsh sediments in North Carolina. Estuar Coast Shelf Sci 15:67–74

Steinberg PD (1989) Biogeographical variation in brown algal polyphenolics and other secondary metabolites: comparison between temperate Australasia and North America. Oecologia 78:373–382

Steinberg PD, van Altena I (1992) Tolerance of marine invertebrate herbivores to brown algal phlorotannins in temperate Australia. Ecol Monogr 62:189–222

Steneck RS, Graham MH, Bourque BJ, Corbett D, Erlandson JM, Estes JA, Tegner MJ (2002) Kelp forest ecosystems: biodiversity, stability, resilience and future. Environ Conserv 29:436–459

Underwood AJ, Kingsford MJ, Andrew NL (1991) Patterns in shallow subtidal marine assemblages along the coast of New South Wales. Aust J Ecol 16:231–249

Valentine JP, Johnson CR (2004) Establishment of the introduced kelp Undaria pinnatifida following dieback of the native macroalga Phyllospora comosa in Tasmania, Australia. Mar Freshw Res 55:223–230

Vitousek PM, Mooney HA, Lubchenco J, Melillo JM (1997) Human domination of earth's ecosystems. Science 277:494–499

Willan RC (1998) Superfamily tellinoidea. In: Beesley PL, Ross GJB, Wells A (eds) Mollusca: the southern synthesis. Fauna of Australia, vol 5, Part B. CSIRO Publishing, Melbourne, pp 342–348

Winer BJ (1971) Statistical principles in experimental design, 2nd edn. McGraw-Hill Kogakusha, Tokyo
Acknowledgments
We thank B. Coates and S Taylor for assistance with field work and sample processing. This study was funded by an Australian Research Council (ARC) Discovery Grant to B.P.K., a Hermon Slade Foundation Grant to B.P.K. and M.J.B., and an ARC Postdoctoral Fellowship and Discovery Grant to M.A.C. The experiments comply with the current laws of Australia.
Additional information
Communicated by Steven Kohler.
About this article
Cite this article
Bishop, M.J., Coleman, M.A. & Kelaher, B.P. Cross-habitat impacts of species decline: response of estuarine sediment communities to changing detrital resources. Oecologia 163, 517–525 (2010). https://doi.org/10.1007/s00442-009-1555-y
Received:

Accepted:

Published:

Issue Date:
Keywords
Detritus

Extinction

Macroinvertebrates

Phyllospora comosa

Spatial subsidy