Abstract
We assessed the temporal changes in and the relationships between the structures of the macroinvertebrate communities and the environmental conditions of the French Rhône River (the river from Lake Geneva to the Mediterranean Sea) over the last 20 years (1985–2004). Multisite environmental and biological datasets were analysed using multiple CO-inertia analysis (MCOA) and Procrustean analysis. Changes in environmental conditions were mainly marked by an improvement in water quality between 1985 and 1991 and by an increase in water temperature from 1985 onwards due to climate change. Improvement in water quality seemed to delay changes in community structures under global warming. We then observed trends in community structures coupled with high temperatures and a decrease in oxygen content. Interestingly, we observed both gradual changes and rapid switches in community states. These shifts seemed coupled to extreme hydroclimatic events (i.e. pulse disturbances). Floods and the 2003 heatwave enhanced the development of eurytolerant and invasive taxa which were probably able to take advantage of gradual warming environmental conditions. Despite various site-specific "press" constraints (e.g. hydropower schemes, nuclear power plants), similar changes in community structures were observed along the French Rhône River. Such consistency in temporal processes at large geographical scales underlined the strength of hydroclimatic constraints on community dynamics compared to specific local disturbances. Finally, community structures did not show any sign of recovery, and their relative sensitivities to extreme hydroclimatic events seemed to increase with time. Thus, our results suggest that global changes may reduce the resilience of current community states.
This is a preview of subscription content, log in to check access.
Access options
Buy single article
Instant access to the full article PDF.
US$ 39.95
Price includes VAT for USA
Subscribe to journal
Immediate online access to all issues from 2019. Subscription will auto renew annually.
US$ 199
This is the net price. Taxes to be calculated in checkout.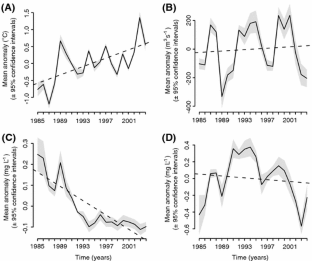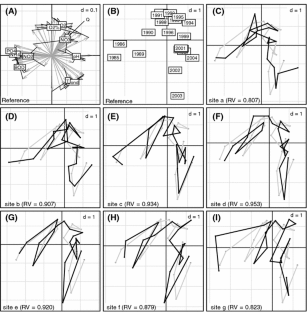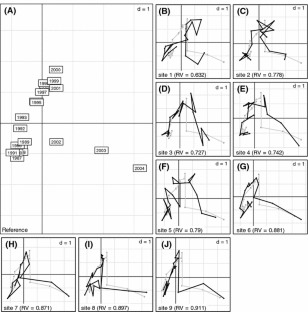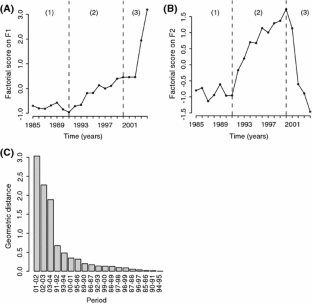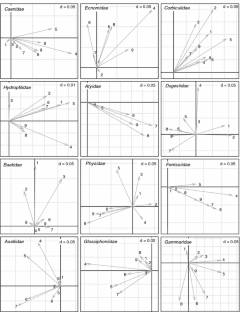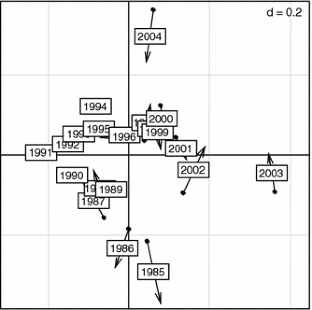 References
Agence de l'Eau Rhône Méditerranée Corse (1999) Qualité des eaux du Rhône. Evolution 1969–1995. Agence de Bassin Rhône Méditerraneé Corse, Lyon

Alcaraz G, Espina S (1995) Acute toxicity of nitrite in juvenile grass carp modified by weight and temperature. Bull Environ Contam Toxicol 55:473–478

Anneville O, Gammeter S, Straile D (2005) Phosphorus decrease and climate variability: mediators of synchrony in phytoplankton changes among European peri-alpine lakes. Freshw Biol 50:1731–1746

Araujo R, Moreno D, Ramos MA (1993) The Asiatic clam Corbicula-Fluminea (Muller, 1774) (Bivalvia, Corbiculidae) in Europe. Am Malacol Bull 10:39–49

Arthur JW, West CW, Allen KN, Hedtke SF (1987) Seasonal toxicity of ammonia to 5 fish and 9 invertebrate species. Bull Environ Contam Toxicol 38:324–331

Augspurger T, Keller AE, Black MC, Cope WG, Dwyer FJ (2003) Water quality guidance for protection of freshwater mussels (Unionidae) from ammonia exposure. Environ Toxicol Chem 22:2569–2575

Bady P, Dolédec S (2003) Importance de la variabilité hydroclimatique régionale sur les peuplements de macroinvertébrés benthiques du Bas-Rhône. In: Pont D (ed) Conséquences potentielles du changement climatique sur les biocénoses aquatiques et riveraines françaises, Rapport Final Programme GICC-Aquabio. Ministère de l'Environement et du Développement Durable, Paris, pp 73–93

Bady P, Doledec S, Dumont B, Fruget JF (2004) Multiple co-inertia analysis: a tool for assessing synchrony in the temporal variability of aquatic communities. CR Biol 327:29–36

Banque Hydro (2006) Banque nationale de donnée pour l'hydrométrie et l'hydrologie. Banque Hydro, Ministère de l'Environement et du Développement Durable, Paris (see http://www.hydro.eaufrance.fr/accueil.html, last accessed on 8th January 2007)

Bender EA, Case TJ, Gilpin ME (1986) Perturbation experiments in community ecology: theory and practice. Ecology 65:1–13

Boulton AJ, Peterson CG, Grimm NB, Fisher SG (1992) Stability of an aquatic macroinvertebrate community in a multiyear hydrologic disturbance regime. Ecology 73:2192–2207

Cairns J, Buikema AL, Heath AG, Parker BC (1978) Effects of temperature on aquatic organism sensitivity to selected chemicals. Virginia Water Resources Research Center, Virginia Polytechnic Institute and State University, Blacksburg, VA

Carrel G, Olivier JM, Poirel A, Breil P (2003) Variabilite inter-annuelle de la reproduction des poissons cyprinidae dans le Rhône à l'aval de Lyon: rôle de la température. In: Pont D (ed) Conséquences potentielles du changement climatique sur les biocénoses aquatiques et riveraines françaises, Rapport Final programme GICC-Aquabio. Ministère de l'Environement et du Développement Durable, Paris, pp 94–108

Cattanéo F, Carrel G, Lamouroux N, Breil P (2001) Relationship between hydrology and cyprinid reproductive success in the Lower Rhône at Montélimar, France. Arch Hydrobiol 151:427–450

Chessel D, Hanafi M (1996) Analyses de la co-inertie de K nuages de points. Rev Stat Appl 44:35–60

Connell JH, Slatyer RO (1977) Mechanisms of succession in natural communities and their role in community stability and organization. Am Nat 111:1119–1144

Connell JH (1978) Diversity in tropical rain forests and coral reefs. Science 199:1302–1310

Daufresne M (2004) Approche multi-échelles des relations dynamiques entre les organismes aquatiques et leur environnement. Ph.D. Thesis, Université Claude Bernard Lyon1, Lyon

Daufresne M, Roger MC, Capra H, Lamouroux N (2004) Long-term changes within the invertebrate and fish communities of the Upper Rhone River: effects of climatic factors. Glob Change Biol 10:124–140

Dessaix J, Fruget JF, Olivier JM, Beffy JL (1995) Changes of macroinvertebrate communities in the dammed and by-passed sections of the french upper Rhône after regulation. Reg River 10:265–279

Digby PGN, Kempton RA (1987) Multivariate analysis of ecological communities (Population and Community Biology Series). Chapman and Hall, London

Direction de l'eau (2005) Circulaire DCE 2005/12 relative à la définition du « bon état » et à la constitution des référentiels pour les eaux douces de surface (cours d'eau, plans d'eau), en application de la directive européenne 2000/60/DCE du 23 octobre 2000, ainsi qu'à la démarche à adopter pendant la phase transitoire (2005–2007). Ministère de l'Ecologie et du Développement Durable, Paris

Dolédec S, Dessaix J, Tachet H (1996) Changes within the Upper Rhone River macrobenthic communities after the completion of three hydroelectric schemes: Anthropogenic effects or natural change? Arch Hydrobiol 136:19-40

Emerson K, Russo RC, Lund RE, Thurston RV (1975) Aqueous ammonia equilibrium calculations—effect of ph and temperature. J Fish Res Board Can 32:2379–2383

Escoffier B, Pages J (1994) Multiple factor analysis (AFMULT package). Comput Stat Data Anal 18:121–140

Fruget JF, Centofanti M, Dessaix J, Olivier JM, Druart JC, Martinez PJ (2001) Temporal and spatial dynamics in large rivers: example of a long-term monitoring of the middle Rhone River. Ann Limnol Int J Lim 37:237–251

Fruget JF, Michelot JL (2001) Biodiversity of the French Rhône River: current state, historical changes, restoration potential. In: Gopal G, Junk WJ (eds) Biodiversity in wetlands: assessment, function and conservation, vol 2. Backhuys, Leiden, pp 1–28

Fuchs U, Statzner B (1990) Time scales for the recovery potential of river communities after restoration: lessons to be learned from smaller streams. Reg River 5:77–87

Gaertner J-C, Chessel D, Bertrand J (1998) Stability of spatial structures of demersal assemblages: a multitable approach. Aquat Living Resour 11:75–85

Gardner TA, Cote IM, Gill JA, Grant A, Watkinson AR (2005) Hurricanes and Caribbean coral reefs: Impacts, recovery patterns, and role in long-term decline. Ecology 86:174–184

Ginot V, Souchon Y, Roger P (1996) Impact de l'élévation artificielle de température induite par le fonctionnement du Centre Nucléaire de Production Electrique du Bugey (fleuve Rhône) sur les communautés de poissons. Hydroécol Appl 8:1–33

Glenn-Lewin DC, van der Maarel E (1992) Pattern and processes of vegetation dynamics. In: Glenn-Lewin DC, Peet RK, Veblen TT (eds) Plant succession: theory and predictions. Chapman and Hall, London

Gower JC (1971) Statistical methods of comparing different multivariate analyses of the same data. In: Hodson FR, Kendall DG, Tautu P (eds) Mathematics in the archaeological and historical sciences. University Press, Edinburgh, UK, pp 138–149

Haridas CV, Tuljapurkar S (2005) Elasticities in variable environments: properties and implications. Am Nat 166:481–495

Ihaka R, Gentleman R (1996) R: a language for data analysis and graphics. J Comput Graph Stat 5:299–314

IPCC (2001) Climate change 2001: the scientific basis. Cambridge University Press, Cambridge

Jackson DA (1995) PROTEST: a Procrustean randomization TEST of community environment concordance. Ecosciences 2:297–303

Jongman RH, ter Braak CJF, van Tongeren OFR (1995) Data analysis in community and landscape ecology. Cambridge University Press, Cambridge

Kir M, Kumlu A, Eroldogan OT (2004) Effects of temperature on acute toxicity of ammonia to Penaeus semisulcatus juveniles. Aquaculture 241:479–489

Kroupova H, Machova J, Svobodova Z (2005) Nitrite influence on fish: a review. Vet Med 50:461–471

Krzyzanek E, Kasza H, Krzanowski W, Kuflikowski T, Pajak G (1986) Succession of communities in the Goczalkowice Dam reservoir in the period 1955–1982. Arch Hydrobiol 106:21–43

Lake PS (2000) Disturbance, patchiness, and diversity in streams. J N Am Benthol Soc 19:573–592

Lavit C, Escoufier Y, Sabatier R, Traissac P (1994) The ACT (STATIS method). Comput Stat Data An 18:97–119

Legendre P, Legendre L (1998) Numerical ecology, 2nd edn (in English). Elsevier, Amsterdam

Lomborg B (2001) The sceptical environmentalist. Cambridge University Press, Cambridge

Meurisse-Genin M, Reydams-Detollenaere A, Stroot P, Micha JC (1987) Les macroinvertébrés benthiques de la Meuse belge: bilan des cinq années de recherche (1980 à 1984). Arch Hydrobiol 109:67–88

Miller AM, Golladay SW (1996) Effects of spates and drying on macroinvertebrate assemblages of an intermittent and a perennial prairie stream. J N A Benth Soc 15:670–689

Mouthon J, Daufresne M (2006) Effects of the 2003 heatwave and climatic warming on mollusc communities of the Saône: a large lowland river and of its two main tributaries (France). Glob Change Biol 12:441–449

Niemi GJ, DeVore P, Detenbeck N, Taylor D, Lima A, Pastor J, Yount JD, Naiman RJ (1990) Overview of case studies on recovery of aquatic systems from disturbance. Environ Manage 14:571–587

Parmesan C, Yohe G (2003) A globally coherent fingerprint of climate change impacts across natural systems. Nature 421:37–42

Parry ML (2000) Assessment of potential effects and adaptations for climate change in Europe. The Europe ACACIA project. Jackson Environmental Institute, University of East Anglia, Norwich, UK

Paugy D, Fermon Y, Abban KE, Diop ME, Traore K (1999) Onchocerciasis control programme in West Africa: a 20-year monitoring of fish assemblages. Aquat Living Resour 12:363–378

Pickett STA, Kolasa J, Armesto JJ, Collins SL (1989) The ecological concept of disturbance and its expression at various hierarchical levels. Oikos 54:129–136

Pickett STA, White PS (1985) The ecology of natural disturbance and patch dynamics. Academic, New York

Pont D (2003) Conséquences potentielles du changement climatique sur les biocénoses aquatiques et riveraines françaises. Rapport Final Programme GICC-Aquabio. Ministère de l'Environement et du Developpement Durable, Paris

Poulard JC, Blanchard F (2005) The impact of climate change on the fish community structure of the eastern continental shelf of the Bay of Biscay. Ices J Mar Sci 62:1436–1443

R Development Core Team (2006) R: a language and environment for statistical computing. R Foundation for Statistical Computing, Vienna, Austria, ISBN 3–900051–07–0 (see http://www.R-project.org/, last accessed 8th January 2007)

Reice SR (1985) Experimental disturbance and the maintenance of species diversity in a stream community. Oecologia 67:90–97

Robert P, Escoufier Y (1976) A unifying tool for linear multivariate statistical methods: the RV coefficient. Appl Stat 25:257–265

Roger MC, Faessel B, Lafont M (1991) Impact thermique des effluents du Centre de Production Nucléaire du Bugey sur les invertébrés benthiques du Rhône. Hydroécol Appl 1:63–110

Root TL, Price JT, Hall KR, Schneider SH, Rosenzweig C, Pounds JA (2003) Fingerprints of global warming on wild animals and plants. Nature 421:57–60

Russo RC (1985) Ammonia, nitrite and nitrate. In: Rand GM, Petrocelli SR (eds) Fundamentals of aquatic toxicology. Hemisphere, Washington, DC, pp 455–471

Scheffer M, Carpenter S, Foley JA, Folke C, Walker B (2001) Catastrophic shifts in ecosystems. Nature 413:591–596

Scheffer M, Carpenter SR (2003) Catastrophic regime shifts in ecosystems: linking theory to observation. Trends Ecol Evol 18:648–656

Simonet F (2001) Le nouveau système d'évaluation des la qualité des l'eau des rivières: le SEQ-Eau. Rev Agen Eau Adour Gar 81:7–9

Sorvari S, Korhola A, Thompson R (2002) Lake diatom response to recent Arctic warming in Finnish Lapland. Glob Change Biol 8:171–181

Statzner B, Resh VH, Roux AL (1994) The synthesis of long-term ecological research in the context of concurrently developed ecological theory—design of a research strategy for the Upper Rhone river and its floodplain. Freshw Biol 31:253–263

Stenseth NC, Mysterud A, Ottersen G, Hurrell JW, Chan KS, Lima M (2002) Ecological effects of climate fluctuations. Science 297:1292–1296

Stott PA, Stone DA, Allen MR (2004) Human contribution to the European heatwave of 2003. Nature 432:610–614

Tachet H, Gaschignard-Fossati O, Cellot B, Berly A (1988) Le macrobenthos de la Saône. Ann Limnol 24:83–100

Tachet H, Richoux P, Bournaud M, Usseglio-Polatera P (2000) Invertébrés d'eau douce: systématique, biologie, écologie. CNRS, Paris

Tuljapurkar S, Horvitz CC, Pascarella JB (2004) The many growth rates and elasticities of populations in random environments. Am Nat 164:821–823

van Nes EH, Scheffer M (2004) Large species shifts triggered by small forces. Am Nat 164:255–266

Walther GR, Post E, Convey P, Menzel A, Parmesan C, Beebee TJ, Fromentin JM, Hoegh-Guldberg O, Bairlein F (2002) Ecological responses to recent climate change. Nature 416:389–395

Watanabe K, Yoshimura C, Omura T (2005) Stochastic model for recovery prediction of macroinvertebrates following a pulse-disturbance in river. Ecol Model 189:396–412

Webb BW (1996) Trends in stream and river temperature. Hydrol Process 10:205–226

Weilguni H, Humpesch UH (1999) Long-term trends of physical, chemical and biological variables in the River Danube 1957–1995: a statistical approach. Aquat Sci 61:234–259
Acknowledgments
We thank all persons who collected the biological data, especially Pâquerette Dessaix (ARALEP), Marie-Claude Roger (Cemagref-Lyon) and Jean-Claude Berget (Cemagref-Aix). This study formed part of the research program "Thermal study of the Rhône River. Stage III. Relationship between temperature and biology". We thank Electricité de France (EDF) for their financial support and for allowing the biological data to be used. We thank Alain Poirel (EDF) for providing the temperature data. Finally, we thank Christophe Bonenfant and Alejandro Isla for their helpful comments on the early manuscript draft and Prof. Eric Pattee for reviewing the English of the final draft.
Additional information
Priority programme of the German Research Foundation—contribution 15
Communicated by Ulrich Sommer.
About this article
Cite this article
Daufresne, M., Bady, P. & Fruget, J. Impacts of global changes and extreme hydroclimatic events on macroinvertebrate community structures in the French Rhône River. Oecologia 151, 544 (2007). https://doi.org/10.1007/s00442-006-0655-1
Received:

Accepted:

Published:
Keywords
Climate change

Disturbances

Heatwave

Regime shift

Ordination techniques