Abstract
Changes in ecosystem functions following disturbances are of central concern in ecology and a challenge for ecologists is to understand the factors that affect the resilience of community structures and ecosystem functions. In many forest ecosystems, one such important natural disturbance is fire. The aim of this study was to understand the variation of resilience in six functional groups of invertebrates in response to different fire frequencies in southern Switzerland. We measured resilience by analysing arthropod species composition, abundance and diversity in plots where the elapsed time after single or repeated fires, as determined by dendrochronology, varied. We compared data from these plots with data from plots that had not burned recently and defined high resilience as the rapid recovery of the species composition to that prior to fire. Pooling all functional groups showed that they were more resilient to single fires than to repeated events, recovering 6–14 years after a single fire, but only 17–24 years after the last of several fires. Flying zoophagous and phytophagous arthropods were the most resilient groups. Pollinophagous and epigaeic zoophagous species showed intermediate resilience, while ground-litter saprophagous and saproxylophagous arthropods clearly displayed the lowest resilience to fire. Their species composition 17–24 years post-burn still differed markedly from that of the unburned control plots. Depending on the fire history of a forest plot, we found significant differences in the dominance hierarchy among invertebrate species. Any attempt to imitate natural disturbances, such as fire, through forest management must take into account the recovery times of biodiversity, including functional group composition, to ensure the conservation of multiple taxa and ecosystem functions in a sustainable manner.
This is a preview of subscription content, log in to check access.
Access options
Buy single article
Instant access to the full article PDF.
US$ 39.95
Price includes VAT for USA
Subscribe to journal
Immediate online access to all issues from 2019. Subscription will auto renew annually.
US$ 199
This is the net price. Taxes to be calculated in checkout.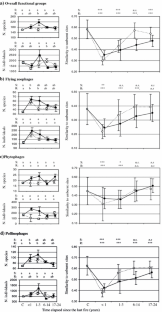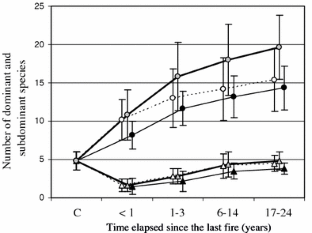 References
Baker SC, Richardson AMM, Seeman DO, Barmuta LA (2004) Does clearfell, burn and sow silviculture mimic the effect of wildfire? A field study and review using litter beetles. For Ecol Manage 199:433–448

Begon M, Harper JL, Townsend CR (1999) Ecology. Blackwell, Berlin

Bengtsson J (1998) Which species? What kind of diversity? Which ecosystem function? Some problems in studies of relations between biodiversity and ecosystem function. Appl Soil Ecol 10:191–199

Bengtsson J (2002) Disturbance and resilience in soil animal communities. Eur J Soil Biol 38:119–125

Bengtsson J, Nilsson SG, Franc A, Menozzi P (2000) Biodiversity, disturbance, ecosystem function and management of European forests. For Ecol Manag 132:39–50

Bense U (1995) Longhorn beetles. Illustrated key to the Cerambycidae and Vesperidae of Europe. Margraf, Weikersheim

Brunhes J (1981) Caractéristiques et performances d'un pièges à émergence destiné à l'étude des Insectes à larves édaphiques ou aquatiques. Entomologiste 37:126–131

Buddle CM, Spence JR, Langor DW (2000) Succession of boreal forest spider assemblages following wildfire and harvesting. Ecography 23:424–436

Collins SL, Glenn SM, Gibson DJ (1995) Experimental-analysis of Intermediate disturbance hypothesis and initial floristic composition—decoupling cause and effect. Ecology 76:486–492

Conedera M, Manetti MC, Giudici F, Amorini E (2004a) Distribution and economic potential of the sweet chestnut (Castanea sativa Mill.) in Europe. Ecol Mediterr 30:179–193

Conedera M, Stanga P, Oester B, Bachmann P (2001) Different post-culture dynamics in abandoned chestnut orchards. For Snow Landsc Res 76:487–492

Conedera M, Krebs P, Tinner W, Pradella M, Torriani D (2004b) The cultivation of Castanea sativa (Mill.) in Europe, from its origin to its diffusion on a continental scale. Veg Hist Archaeobot 13:161–179

Conedera M, Peter L, Marxer P, Forster F, Rickenmann D, Re L (2003) Consequences of forest fires on the hydrogeological response of mountain catchments: a case study of the Riale Buffaga, Ticino, Switzerland. Earth Surf Process Land 28:117–129

Connell HV (1978) Diversity in tropical rain forests and coral reefs. Science 199:1302–1310

Crailsheim K, Schneider LHW, Hrassnigg N, Buhlmann G, Brosch U, Gmeinbauer R, Schoffmann B (1992) Pollen consumption and utilization in worker honeybees (Apis mellifera carnica) dependence on individual age and function. J Insect Physiol 38:409–419

Dajoz R (2000) Insects and forests. Intercept Lavoisier, Paris

Debinski DM, Ray C, Saveraid EH (2001) Species diversity and the scale of the landscape mosaic: do scales of movement and patch size affect diversity? Biol Conserv 98:179–190

Duelli P (1997) Biodiversity evaluation in agricultural landscapes: an approach at two different scales. Agric Ecosyst Environ 62:81–91

Duelli P, Obrist MK, Schmatz DR (1999) Biodiversity evaluation in agricultural landscapes: above-ground insects. Agric Ecosyst Environ 74:33–64

Forman RTT, Gordon M (1986) Landscape ecology. Wiley, New York

Hanula JL, Wade DD (2003) Influence of long-term dormant-season burning and fire exclusion on ground-dwelling arthropod populations in longleaf pine flatwoods ecosystems. For Ecol Manage 175:163–184

Haydon DT, Friar JK, Pianka ER (2000) Fire-driven dynamic mosaics in the Great Victoria Desert, Australia. II. A spatial and temporal landscape model. Landsc Ecol 15:407–423

Hoffmann BD (2003) Responses of ant communities to experimental fire regimes on rangelands in the Victoria River District of the Northern Territory. Aust Ecol 28:182–195

Holliday J (1991) Species responses of carabid beetles (Coleoptera, Carabidae) during postfire regeneration of boreal forest. Can Entomol 123:1369–1389

Hurlbert SH (1984) Pseudoreplication and the design of ecological field experiments. Ecol Monogr 54:187–211

Huston MA (1979) A general hypothesis of species diversity. Am Nat 113:81–101

Huston MA (1994) Biological diversity: the coexistence of species on changing landscapes. Cambridge University Press, Cambridge

Hyvarinen E, Kouki J, Martikainen P, Lappalainen H (2005) Short-term effects of controlled burning and green-tree retention on beetle (Coleoptera) assemblages in managed boreal forests. For Ecol Manage 212:315–332

Koch K (1989) Die Käfer Mitteleuropas-Ökologie. Goecke and Evers

Koricheva J, Mulder CPH, Schmid B, Huss-Danell K (2000) Numerical responses of different trophic groups of invertebrates to manipulations of plant diversity in grasslands. Oecologia 125:271–282

Legendre P, Legendre L (1998) Numerical ecology. Elsevier, New York

Li J, Loneragan WA, Duggin JA, Grant CD (2004) Issues affecting the measurement of disturbance response patterns in herbaceous vegetation—a test of the intermediate disturbance hypothesis. Plant Ecol 172:11–26

Ludwig D, Walker BH, Holling CS (1997) Sustainability, Stability, and Resilience. Conservation Ecology [online], 1, 7. URL: http://www.consecol.org/vol1/iss1/art7/

Mantel NA (1967) The detection of disease clustering and a generalized regression approach. Cancer Res 27:209–220

Martikainen P, Siitonen J, Punttila P, Kaila L, Rauh J (2000) Species richness of Coleoptera in mature managed and old-growth boreal forests in southern Finland. Biol Conserv 94:199–209

Marxer P (2003) Oberflächenabfluss und Bodenerosion auf Brandflächen des Kastanienwaldgürtels der Südschweiz mit einer Anleitung zur Bewertung der post-fire Erosionsanfälligkeit. Physiogeographica 33:1–217

Mielikainen K, Hynynen J (2003) Silvicultural management in maintaining biodiversity and resistance of forests in Europe—boreal zone: case Finland. J Environ Manag 67:47–54

Moretti M, Barbalat S (2004) The effects of wildfire on wood-eating beetles in deciduous forests on the southern slope of the Swiss Alps. For Ecol Manage 187:85–103

Moretti M, Conedera M, Duelli P, Edwards PJ (2002) The effects of wildfire on ground-active spiders (Arthropoda: Araneae) in deciduous forests on the southern slope of the Alps. J Appl Ecol 39:321–336

Moretti M Obrist MK Duelli P (2004) Arthropod biodiversity after forest fires: winners and losers in the winter fire regime of the Southern Alps. Ecography 27:173–186

Mühlenberg M (1993) Freilandökologie. Quelle & Meyer, Heidelberg

Ne'eman G, Dafni A, Potts SG (2000) The effect of fire on flower visitation rate and fruit set in four core-species in east Mediterranean scrubland. Plant Ecol 146:97–104

Niwa CG, Peck RW (2002) Influence of prescribed fire on carabid beetle (Carabidae) and spider (Araneae) assemblages in forest litter in southwestern Oregon. Environ Entomol 31:785–796

Nyström M, Folke C (2001) Spatial resilience of coral reefs. Ecosystems 4:406–417

Obrist MK, Duelli P (1996) Trapping efficiency of funnel- and cup-traps for epigeal arthropods. Mitt Schweiz Entomol Ges 69:367–369

Parr CL, Robertson HG, Biggs HC, Chown SL (2004) Response of African savanna ants to long-term fire regimes. J Appl Ecol 41:630–642

Peterson G, Allen CR, Holling CS (1998) Ecological resilience, biodiversity, and scale. Ecosystems 1:6–18

Peterson GD (2002) Contagious disturbance, ecological memory, and the emergence of landscape pattern. Ecosystems 5:329–338

Pickett STA (1989) Space-for-time substitution as an alternative to long-term studies. Likens GE (ed) Long-term studies in ecology: approaches and alternatives. Springer, Berlin Heidelberg New York

Potts SG, Vulliamy B, Dafni A, Ne'eman G, O'Toole C, Roberts S, Willmer P (2003) Response of plant-pollinator communities to fire: changes in diversity, abundance and floral reward structure. Oikos 101:103–112

Potts SG, Vulliamy B, Roberts S, Roberts S, O'Toole C, Dafni A, NE'Eman G, Willmer P (2005) Role of nesting resources in organising diverse bee communities in a Mediterranean landscape. Ecol Entomol 30:78–85

Providoli I, Elsenbeer H, Conedera M (2002) Post-fire management and splash erosion in a chestnut coppice in southern Switzerland. For Ecol Manage 162:219–229

Reed DC, Raimondi PT, Carr MH, Goldwasser L (2000) The role of dispersal and disturbance in determining spatial heterogeneity in sedentary organisms. Ecology 81:2011–2026

Röder G (1990) Biologie der Schwebfliegen Deutschlands (Diptera: Syrphidae). Bauer, Keltern-Weiler

Rowell A, Moore PF (1999) Global review of forest fires. WWF International, Gland

Saint-Germain M, Larrivee M, Drapeau P, Fahrig L, Buddle CM (2005) Short-term response of ground beetles (Coleoptera: Caradibae) to fire and logging in a spruce-dominated boreal landscape. For Ecol Manage 212:118–126

Seifert B (1996) Ameisen: beobachten, bestimmen. Naturbuch, Augsburg

Siemann E, Haarstad J, Tilman D (1997) Short-term and long-term effects of burning on oak savanna arthropods. Am Midl Nat 137:349–361

Similä M, Kouki J, Martikainen P, Uotila A (2002) Conservation of beetles in boreal pine forests: the effects of forest age and naturalness on species assemblages. Biol Conserv 106:19–27

Sippola AL, Siitonen J, Punttila P (2002) Beetle diversity in timberline forests: a comparison between old-growth and regeneration areas in Finnish Lapland. Ann Zool Fenn 39:69–86

Steffan-Dewenter I, Munzenberg U, Burger C, Thies C, Tscharntke T (2002) Scale-dependent effects of landscape context on three pollinator guilds. Ecology 83:1421–1432

Stephens SL, Moghaddas JJ (2005) Fuel treatment effects on snags and coarse woody debris in a Sierra Nevada mixed conifer forest. For Ecol Manage 214:53–64

Tilman D (1982) Resource competition and community structure. J Ecol 35:1–22

Tinner W, Conedera M, Ammann B, Gäggeler HW, Gedye S, Jones R, Säggesser B, (1998) Pollen and charcoal in lake sediments compared with historically documented forest fires in southern Switzerland since AD 1920. Holocene 8(1):31–42

Tinner W, Hubschmid P, Wehrli M, Ammann B, Conedera M (1999) Long-term forest ecology and dynamics in southern Switzerland. J Ecol 87:273–289

Tinner W, Conedera M, Ammann B, Lotter AF (2005) Fire ecology north and south of the Alps since the last ice age. Holocene 15(8):1214–1226

Walker B (1995) Conserving biological diversity through ecosystem resilience. Conserv Biol 9:747–752

Walker B, Kinzig A, Langridge J (1999) Plant attribute diversity, resilience, and ecosystem function: the nature and significance of dominant and minor species. Ecosystems 2:95–113

Wermelinger B, Duelli P, Obrist MK (2002) Dynamics of saproxylophagous beetles (Coleoptera) in windthrow areas in alpine spruce forests. For Snow Landsc Res 77:133–148

Westrich P (1989) Die Wildbienen Baden-Württembergs. Spezieller Teil, Ulmer

Wikars L-O (2001) Immediate effects of fire-severity on soil invertebrates in cut and uncut pine forests. For Ecol Manage 141:189–200

Wildi O, Orloci L (1996) Numerical exploration of community patterns. A guide to the use of MULVA-5, 2nd edn. SBP, Amsterdam

Zar JH (1984) Biostatistical analysis. Prentice-Hall, Englewood Cliffs, N.J.
Acknowledgements
We are grateful to M. Conedera, K. Schiegg, W. Tinner, H. Wagner and P. Pearman for useful comments on the manuscript and discussion of the results. We also thank C. Staehli for helping with data analysis, and S. Dingwall for helping to revise the manuscript. Many thanks are due to the people who helped with the fieldwork (P. Hördegen, P. Wirz, F. Fibbioli, and K. Sigrist) and who identified or checked the species (F. Amiet, S. Barbalat, R. Bärfuss, C. Besuchet, C. Germann, I. Giacalone, A. Hänggi, X. Heer, P. Hördegen, P. Stucky, D. Wyniger, and P. Zahradnik).
Additional information
Communicated by Ingolf Steffan-Dewenter
Electronic supplementary material
Appendix (Tables 3, 4)
Appendix (Tables 3, 4)
About this article
Cite this article
Moretti, M., Duelli, P. & Obrist, M.K. Biodiversity and resilience of arthropod communities after fire disturbance in temperate forests. Oecologia 149, 312–327 (2006). https://doi.org/10.1007/s00442-006-0450-z
Received:

Accepted:

Published:

Issue Date:
Keywords
Fire regime

Succession

Invertebrates

Functional groups

Switzerland