Abstract
Relationships between flowering plants and their pollinators are usually affected by the amount of reward, mainly pollen or nectar, offered to pollinators by flowers, with these amounts usually positively correlated with floral display. The large Oncocyclus iris flowers, despite being the largest flowers in the East Mediterranean flora, are nectarless and have hidden pollen. No pollinators visit the flowers during daytime, and these flowers are pollinated only by night-sheltering solitary male bees. These iris flowers are partially or fully dark-colored, suggesting that they gather heat by absorbing solar radiation. Here we test the hypothesis that the dark-colored flowers of the Oncocyclus irises offer heat reward to their male solitary bee pollinators. Floral temperature was higher by 2.5°C than ambient air after sunrise. Solitary male bees emerged earlier after sheltering in Oncocyclus flowers than from other experimental shelter types. Pollination tunnels facing east towards the rising sun hosted more male bees than other aspects. We suggest that floral heat reward can explain the evolution of dark floral colors in Oncocyclus irises, mediated by the pollinators' behavior.
This is a preview of subscription content, log in to check access.
Access options
Buy single article
Instant access to the full article PDF.
US$ 39.95
Price includes VAT for USA
Subscribe to journal
Immediate online access to all issues from 2019. Subscription will auto renew annually.
US$ 199
This is the net price. Taxes to be calculated in checkout.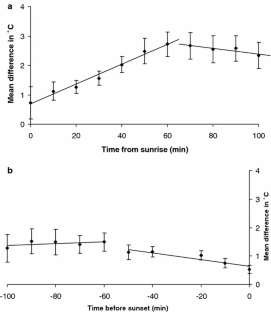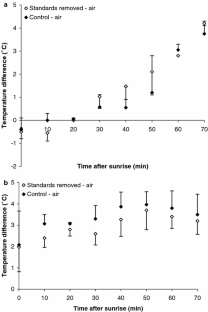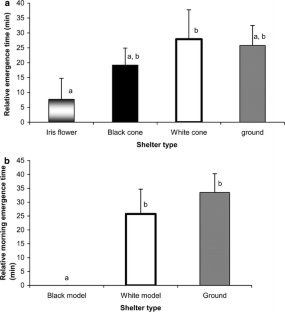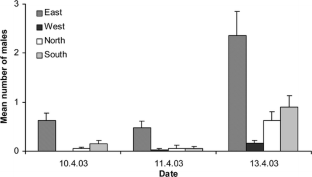 References
Alcock J (1999) Sleeping aggregations of the bee Idiomelissodes duplocincta (Cockerell) (Hymenoptera: Anthophorini) and their possible function. J Kansas Entomol Soc 71:74–84

Arafeh RMH, Sapir Y, Shmida A, Iraki N, Fragman O, Comes HP (2002) Patterns of genetic and phenotypic variation in Iris haynei and I. atrofusca (Iris sect. Oncocyclus = the Royal Irises) along an environmental gradient in Israel and the West Bank. Mol Ecol 11:39–53

Avishai M (1977) Species relationships and cytogenetic affinities in section Oncocyclus of the genus Iris, PhD Thesis, The Hebrew University of Jerusalem

Avishai M, Zohary D (1980) Genetic affinities among the Oncocyclus Irises. Bot Gaz 141:107–115

Blarer A, Keasar T, Shmida A (2002) Possible mechanisms for the formation of flower size preferences by foraging bumble-bees. Ethology 108:341–351

Cohen D, Shmida A (1993) The evolution of flower display and reward. Evol Biol 27:197–243

Dafni A, Ivri Y, Brantjes NBM (1981) Pollination of Serapias vomeracea Briq. (Orchidaceae) by imitation of holes for sleeping solitary male bees (Hymenoptera). Acta Bot Neerlandica 30:69–73

Danforth BN, Neff JL (1992) Male polymorphism and polyethism in Perdita texana (Hymenoptera, Andrenidae). Ann Entomol Soc Am 85:616–626

Dieringer G, Cabrera LR, Lara M, Loya L, Reyes-Castillo P (1999) Beetle pollination and floral thermogenicity in Magnolia (Magnoliaceae). Int J Plant Sci 160:64–71

Fragman O, Plitmann U, Heller D, Shmida A (1999) Checklist and ecological data-base of the flora of israel and its surroundings. Mifalot "Yeffe Nof" & The MiddleEast Nature Conservation Promotion Ass., Jerusalem

Friedman JW, Shmida A (1995) Pollination, gathering nectar and the distribution of flower species. J Theoret Biol 175:127–138

Gaglianone MC (2000) Behavior on flowers, structures associated to pollen transport and nesting biology of Perditomorpha brunerii and Cephalourgus anomalus (Hymenoptera: Colletidae, Andrenidae). Rev Biol Trop 48:89–99

Galen C, Stanton ML (2003) Sunny-side up: flower heliotropism as a source of parental environmental effects on pollen quality and performance in the snow buttercup, Ranunculus adoneus (Ranunculaceae). Am J Bot 90:724–729

Heinrich B (1979) Bumblebee Economics. Harvard University Press, Cambridge

Heinrich B, Raven PH (1972) Energetics and pollination ecology. Science 176:597–602

Herrera CM (1995) Floral biology, microclimate, and pollination by ectothermic bees in an early-blooming herb. Ecology 76:218–228

Horovitz A (1976) Edaphic factor and flower colour distribution in the Anemonaea. Plant Syst Evol 126:239–242

Ivri Y, Eisikowitch D (1988) Observations in pollination of Iris lortetii (in Hebrew). Israel Land and Nature (Teva Va-Aretz) 30:5–9

Jaffe S (1988) Climate of Israel. In: Yom-Tov Y, Tchernov E (eds) The zoogeogrphy of Israel. Dr W. Junk Publishers, Dordrecht

Jewell J, McKee J, Richards AJ (1994) The keel colour polymorphism in Lotus corniculatus L.: differences in internal flower temperature. New Phytol 128:363–368

Kaiser W (1995) Rest at night in some solitary bees—a comparison with the sleep-like state of honey bee. Apidologie 26:213–230

Kevan PG (1975) Sun-tracking solar furnaces in high Arctic flowers: significance for pollination and insects. Science 189:723–726

Kevan P, Baker HG (1983) Insects as flower visitors and pollinators. Annu Rev Entomol 28:407–453

Lack AJ (1976) Flower-basking by insects in Britain. Watsonia 11:143–144

Linsley EG (1962) Sleeping aggregations of aculeate Hymenoptera—II. Ann Entomol Soc Am 55:148–164

Linsley EG, Cazier MA (1972) Diurnal and seasonal behavior patterns among adults of Protoxaea gloriosa (Hymenoptera, Oxaeidae). Am Mus Novit 2509:1–25

Orueta D (2002) Thermal relationships between Calendula arvensis inflorescences and Usia aurata flies. Ecology 83:3073–3085

Patino S, Grace J, Banziger H (2000) Endothermy by flowers of Rhizanthes lowii (Rafflesiaceae). Oecologia 124:149–155

Patino S, Jeffree C, Grace J (2002) The ecological role of orientation in tropical convolvulaceous flowers. Oecologia 130:373–379

Proctor M, Yeo P, Lack A (1996) The natural history of pollination. Harper Collins, London

Sapir Y, Shmida A (2002) Species concepts and ecogeographical divergence of Oncocyclus irises. Israel J Plant Sci 50:S119-S127

Sapir Y, Shmida A, Fragman O, Comes HP (2002) Morphological variation of the Oncocyclus Irises (Iris: Iridaceae) in the Southern Levant. Bot J Linn Soc 139:369–382

Sapir Y, Shmida A, Ne'eman G (2005) Pollination of the Oncocyclus irises (Iris: Iridaceae) by night-sheltering male bees. Plant Biol 7:417–424

Seymour RS, White CR, Gibernau M (2003) Heat reward for insect pollinators. Nature 426:243–244

Simpson BB, Neff JL (1983) Evolution and diversity of floral rewards. In: Jones CE, Little RJ (eds) Handbook of experimental pollination biology. Van Nostrand Reinhold, New York, pp 142–159

Stone GN (1990) Endothermy and thermoregulation in solitary bees, PhD Thesis, University of Oxford

Thoenes SC (1994) Description of a sleeping aggregation of male Chalicodoma chilopsis (Cockerell) (Hymenoptera: Megachilidae). Pan Pac Entomol 70:328–330

Totland O (1996) Flower heliotropism in an Alpine population of Ranunculus acris (Ranunculaceae): effects on flower temperature, insect visitation, and seed production. Am J Bot 83:452–458
Acknowledgements
We thank R. Kashi, O. Spiegel and nature-guides of Keshet field-school for their help in field work. B. Gross, N. Kane, P. Kevan, L. Kurz, J. Ollerton, J. Shykoff, and an anonymous reviewer helped to improve early versions of the manuscript. The research was supported by a grant from the Deutsche Forschungs Gemeinschaft (Co-254/1-1) to A.S., and a grant from the American Iris Society Foundation to Y.S.
Additional information
Communicated by Jacqui Shykoff
About this article
Cite this article
Sapir, Y., Shmida, A. & Ne'eman, G. Morning floral heat as a reward to the pollinators of the Oncocyclus irises. Oecologia 147, 53–59 (2006). https://doi.org/10.1007/s00442-005-0246-6
Received:

Accepted:

Published:

Issue Date:
Keywords
Bee behavior

Iridaceae

Nectar-less flowers

Night shelter

Solitary male bees

Thermal reward