Abstract
Recent studies have shown that anguillid eel populations in habitats spanning the marine–freshwater ecotone can display extreme plasticity in the range of catadromy expressed by individual fishes. Carbon and nitrogen stable isotope analysis was used to differentiate between European eels (Anguilla anguilla) collected along a short (2 km) salinity gradient ranging from <1‰ to ~30‰ in Lough Ahalia, a tidal Atlantic lake system. Significant differences were recorded in mean δ13C, δ15N and C:N values from eels collected from fresh, brackish and marine-dominated basins. A discriminant analysis using these predictor variables correctly classified ca. 85% of eels to salinity zone, allowing eels to be classified as freshwater (FW), brackish (BW) or marine (MW) residents. The results of the discriminant analysis also suggested that a significant proportion of eels moved between habitats (especially between FW and BW). Comparisons of several key population parameters showed significant variation between eels resident in different salinity zones. Mean condition and estimated age was significantly lower in MW eels, whilst observed length at age (a correlate of growth) was significantly higher in MW eels, intermediate in BW and lowest in FW eels. This study has demonstrated that the ecology of eels found along a short salinity gradient can be extremely plastic and that stable isotope analysis has considerable utility in demonstrating intra-population variation in diadromous fishes.
This is a preview of subscription content, log in to check access.
Access options
Buy single article
Instant access to the full article PDF.
US$ 39.95
Price includes VAT for USA
Subscribe to journal
Immediate online access to all issues from 2019. Subscription will auto renew annually.
US$ 199
This is the net price. Taxes to be calculated in checkout.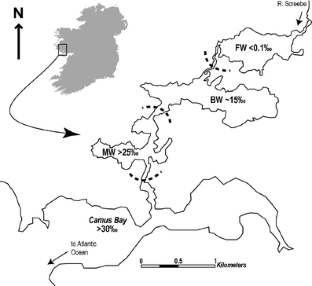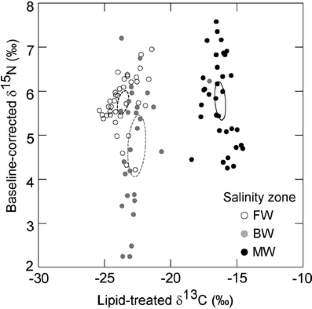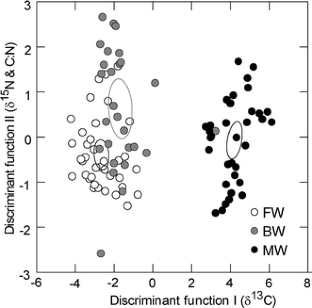 References
Aida K, Tsukamoto K, Yamauchi K (eds) (2003) Eel Biology. Springer-Verlag, Tokyo

Aoyama J, Miller MJ (2003) The silver eel. In: Aida K, Tsukamoto K, Yamauchi K (eds) Eel Biology. Springer-Verlag, Tokyo, pp 107–117

Arai T, Kotake A, Ohji M, Miyazki N, Tsukamoto K (2003) Migratory history and habitat use of Japanese eel Anguilla japonica in the Sanriku Coast of Japan. Fish Sci 69:813–818

Bardonnet A, Riera P (2005) Feeding of glass eels (Anguilla anguilla) in the course of their estuarine migration: new insights from stable isotope analysis. Estuar Coast Shelf Sci 63:201–209

Bearhop S, Adams CE, Waldron S, Fuller RA, Macleod H (2004) Determining trophic niche width: a novel approach using stable isotope analysis. J Appl Ecol 73:1007–1012

Beullens K, Eding EH, Gilson P, Ollevier F, Komen J, Richter CJJ (1997) Gonadal differentiation, intersexuality and sex ratios of European eel (Anguilla anguilla L.) maintained in captivity. Aquaculture 153:135–150

Bligh EG, Dyer WJ (1959) A rapid method of total lipid extraction and purification. Can J Biochem Physiol 37:911–917

Bozeman EL, Helfman GS, Richardson T (1985) Population size and home range of American eels in a Georgia tidal creek. Trans Am Fish Soc 114:821–825

Cabana G, Rasmussen JB (1996) Comparison of aquatic food chains using nitrogen isotopes. Proc Natl Acad Sci USA 93:10844–10847

Campana SE, Thorrold SR (2001) Otoliths, increments, and elements: keys to a comprehensive understanding of fish populations? Can J Fish Aquat Sci 58:30–38

Campana SE, Chouinard GA, Hanson JM, Frechet A, Brattey J (2000) Otolith elemental fingerprints as biological tracers of fish stocks. Fish Res 46:343–357

Casselman JM (2003) Dynamics of resources of the American eel, Anguilla rostrata: declining abundance in the 1990s. In: Aida K, Tsukamoto K, Yamauchi K (eds) Eel biology. Springer-Verlag, Tokyo, pp 255–274

Dekker W, Casselman JM, Cairns DK, Tsukamoto K, Jellyman D, Lickers H (2003) Worldwide decline of eel resources necessitates immediate action: Québec Declaration of Concern. Fisheries 28:28–30

Chanton J, Lewis FG (2002) Examination of coupling between primary and secondary production in a river-dominated estuary: Apalachicola Bay, Florida, USA. Limnol Oceanogr 47:683–697

Charles K, Roussel J-M, Cunjak RA (2004) Estimating the contribution of sympatric anadromous and freshwater resident brown trout to juvenile production. Mar Freshwat Res 55:185–191

Dekker W (2003) Status of the European eel stock and fisheries. In: Aida K, Tsukamoto K, Yamauchi K (eds) Eel biology. Springer-Verlag, Tokyo, pp 237–254

DeNiro M, Epstein S (1977) Mechanism of carbon isotope fractionation associated with lipid synthesis. Science 197:261–263

Doucett RR, Hooper W, Power G (1999a) Identification of anadromous and nonanadromous adult brook trout and their progeny in the Tabusintac River, New Brunswick, by means of multiple-stable-isotope analysis. Trans Am Fish Soc 128:278–288

Doucett RR, Power M, Power G, Caron F, Reist JD (1999b) Evidence for anadromy in a southern relict population of Arctic charr from North America. J Fish Biol 55:84–93

Dufour V, Pierre C, Rancher J (1998) Stable isotopes in fish otoliths discriminate between lagoonal and oceanic residents of Taiaro Atoll (Tuamotu Archipelago, French Polynesia). Coral Reefs 17:23–28

Dutil J-D, Giroux F, Kemp A, Lavoie G, Dallaire J-P (1988) Tidal influence on movements and on daily cycle of activity of American eels. Trans Am Fish Soc 117:488–494

Fernandez-Delgado C, Hernando JA, Herrera M, Bellido M (1989) Age and growth of yellow eels, Anguilla anguilla, in the estuary of the Guadalquiver river (south-west Spain). J Fish Biol 34:561–570

Feuchtmayr H, Grey J (2003) Effect of preparation and preservation procedures on carbon and nitrogen stable isotope determinations from zooplankton. Rapid Commun Mass Spectrom 17:2605–2610

Feunteun E (2002) Management and restoration of European eel population (Anguilla anguilla): an impossible bargain. Ecol Eng 18:575–591

Frost PC, Tank SE, Turner MA, Elser JJ (2003) Elemental composition of littoral invertebrates from oligotrophic and eutrophic Canadian lakes. J N Am Benthol Soc 22:51–62

Fry B (2002) Conservative mixing of stable isotopes across estuarine salinity gradients: a conceptual framework for monitoring watershed influences on downstream fisheries production. Estuaries 25:264–271

Fry B, Sherr EB (1984) δ13C measurements as indicators of carbon flow in marine and freshwater ecosystems. Contrib Mar Sci 27:13–47

Fry B, Mumford PL, Tam F, Fox DD, Warren GL, Havens KE, Steinman AD (1999) Trophic position and individual feeding histories of fish from Lake Okeechobee, Florida. Can J Fish Aquat Sci 56:590–600

Fry B, Baltz DN, Benfield MC, Fleeger JW, Gace A, Haas HL, Quiñones-Rivera ZJ (2003) Stable isotope indicators of movement and residency for brown shrimp (Farfantepenaeus aztecus) in coastal Louisiana marshscapes. Estuaries 26:82–97

Gorokhova E, Hansson S (2000) Elemental composition of Mysis mixta (Crustacea, Mysidacea) and energy costs of reproduction and embryogenesis under laboratory conditions. J Exp Mar Biol Ecol 246:103–123

Grey J, Thackeray SJ, Jones RI, Shine A (2002) Ferox trout (Salmo trutta) as 'Russian dolls': complementary gut content and stable isotope analyses of the Loch Ness foodweb. Freshwat Biol 47:1235–1243

Gross MR (1987) Evolution of diadromy in fishes. Am Fish Soc Symp 1:14–25

Gross MR, Coleman RM, McDowall RM (1988) Aquatic productivity and the evolution of diadromous fish migration. Science 239:1291–1293

Hansen RA, Eversole AG (1984) Age, growth and sex ratio of American eels in brackish-water portions of a South Carolina river. Trans Am Fish Soc 113:744–749

Helfman GS, Bozeman EL, Brothers EB (1984a) Comparison of American eel growth rates from tag returns and length-age analyses. Fish Bull 82:519–522

Helfman GS, Bozeman EL, Brothers EB (1984b) Size, age and sex of American eels in a Georgia river. Trans Am Fish Soc 113:132–141

Helfman GS, Facey DE, Hales LS, Bozeman EL (1987) Reproductive ecology of the American eel. Am Fish Soc Symp 1:42–56

Hesslein RH, Capel MJ, Fox DE, Hallard KA (1991) Stable isotopes of sulfur, carbon, and nitrogen as indicators of trophic level and fish migration in the lower Mackenzie River basin, Canada. Can J Fish Aquat Sci 48:2258–2265

Hesslein RH, Hallard KA, Ramlal P (1993) Replacement of sulfur, carbon, and nitrogen in tissues of growing broad whitefish (Coregonus onus) in response to a change in diet traced by δ34S, δ13C, and δ15N. Can J Fish Aquat Sci 50:2071–2076

Houlihan DF, Carter CG, McCarthy ID (1995) Protein synthesis in fish. In: Hochachka P, Mommsen T (eds) Biochemistry and molecular biology of fishes, vol 4. Elsevier, Amsterdam, pp 191–220

Jessop BM, Shiao J-C, Iizuka Y, Tzeng WN (2002) Migratory behaviour and habitat use by American eels Anguilla rostrata as revealed by otolith microchemistry. Mar Ecol Prog Ser 233:217–229

Jessop BM, Shiao JC, Iizuka Y, Tzeng WN (2004) Variation in the annual growth, by sex and migration history, of silver American eels Anguilla rostrata. Mar Ecol Prog Ser 272:231–244

Jones IJ, Waldron S (2003) Combined stable isotope and gut contents analysis of food webs in plant-dominated, shallow lakes. Freshwat Biol 48:1396–1407

Kline TC, Wilson WJ, Goering JJ (1998) Natural isotope indicators of fish migration at Prudhoe Bay, Alaska. Can J Fish Aquat Sci 55:1494–1502

Litvin SY, Weinstein MP (2004) Multivariate analysis of stable-isotope ratios to infer movements and utilization of estuarine organic matter by juvenile weakfish (Cynoscion regalis). Can J Fish Aquat Sci 61:1851–1861

Lucas MC, Baras E (2000) Methods for studying spatial behaviour of freshwater fishes in the natural environment. Fish Fish 1:283–316

McCarthy ID, Waldron S (2000) Identifying migratory Salmo trutta using carbon and nitrogen stable isotope ratios. Rapid Commun Mass Spectrom 14:1325–1331

McCarthy TK, Cullen P, O'Conner W (1999) The biology and management of River Shannon eel populations. Fish Bull (Dub) 17:9–20

McConnaughey T (1978) Ecosytems naturally labelled with carbon-13: applications to the study of food webs. M.Sc Thesis, University of Alaska

McConnaughey T, McRoy CP (1979) Food-web structure and the fractionation of carbon isotopes in the Bering Sea. Mar Biol 53:257–262

Moriarty C, Dekker W (1997) Management of the European eel. Fish Bull (Dub) 15:1–110

Morrison WE, Secor DH (2003) Demographic attributes of yellow-phase American eels (Anguilla rostrata) in the Hudson River estuary. Can J Fish Aquat Sci 60:1487–1501

Morrison WE, Secor DH, Piccoli PM (2003) Estuarine habitat use by Hudson River American eels as determined by otolith strontium:calcium ratios. In: Dixon DA (ed) Biology, management, and protection of catadromous eels. American Fisheries Society, Bethesda, pp 87–100

Oliveira K, McCleave JD (2002) Sexually different growth histories of the American eel in four rivers in Maine. Trans Am Fish Soc 131:203–211

Oliveira K, McCleave JD, Wippelhauser GS (2001) Regional variation and effect of lake:river area on sex distribution of American eels. J Fish Biol 58:943–952

Overman NC, Parrish DL (2001) Stable isotope composition of walleye: 15N accumulation and area-specific differences in δ13C. Can J Fish Aquat Sci 58:1253–1260

Owen SF (2001) Meeting energy budgets by modulation of behaviour and physiology in the eel (Anguilla anguilla L.). Comp Biochem Physiol A 128:631–644

Penczak T (1985) Phosphorus, nitrogen and carbon cycling by fish populations in two small lowland rivers in Poland. Hydrobiologia 120:159–165

Peterson BJ, Fry B (1987) Stable isotopes in ecosystem studies. Annu Rev Ecol Syst 18:293–320

Poole WR (1990) Summer fyke nets as a method of eel capture in a salmonid fishery. Aquacult Fish Manage 21:259–262

Poole WR, Reynolds JD (1996) Age and growth of yellow eel, Anguilla anguilla (L.), determined by two different methods. Ecol Freshwat Fish 5:86–95

Post DM (2002) Using stable isotopes to estimate trophic position: models, methods, and assumptions. Ecology 83:703–718

Rounick JS, Hicks BJ (1985) The stable carbon isotope ratios of fish and their invertebrate prey in four New Zealand rivers. Freshwat Biol 15:207–214

Salonen K, Sarvala J, Hakala I, Viljanen M-L (1976) The relation of energy and organic carbon in aquatic invertebrates. Limnol Oceanogr 21:724–730

Secor DH (1999) Specifying divergent migrations in the concept of stock: the contingent hypothesis. Fish Res 43:13–34

Secor DH, Henderson-Arzapalo A, Piccoli PM (1995) Can otolith microchemistry chart patterns of migration and habitat utilization in anadromous fishes? J Exp Mar Biol Ecol 192:15–33

Shiao J-C, Iizuka Y, Chang CW, Tzeng WN (2003) Disparities in habitat use and migratory behavior between tropical eel Anguilla marmorata and temperate eel A. japonica in four Taiwanese rivers. Mar Ecol Prog Ser 261:233–242

Smith RJ, Hobson KA, Koopman HN, Lavigne DM (1996) Distinguishing between populations of fresh- and salt-water harbour seals (Phoca vitulina) using stable-isotope ratios and fatty acid profiles. Can J Fish Aquat Sci 53:272–279

Sokal RR, Rohlf FJ (1995) Biometry, 3rd edn. W.H. Freeman & Co., New York

SPSS (1998) Systat 8.0 Statistics. Prentice Hall, New Jersey

Svedäng H, Neumann E, Wickström H (1996) Maturation patterns in female European eel: age and size at the silver eel stage. J Fish Biol 48:342–351

Tabachnick BG, Fidell LS (2001) Using multivariate statistics, 4th edn. Allyn and Bacon, Boston & others

Tanner DK, Brazner JC, Brady VJ (2000) Factors influencing carbon, nitrogen, and phosphorus content of fish from a Lake Superior coastal wetland. Can J Fish Aquat Sci 57:1243–1251

Tatsukawa K (2003) Eel resources in East Asia. In: Aida K, Tsukamoto K, Yamauchi K (eds) Eel biology. Springer-Verlag, Tokyo, pp 293–298

Tesch F-W (2003) The eel, 5th edn. Blackwell, Oxford

Thresher RE (1999) Elemental composition of otoliths as a stock delineator in fishes. Fish Res 43:165–204

Tsukamoto K, Arai T (2001) Facultative catadromy of the eel Anguilla japonica between freshwater and seawater habitats. Mar Ecol Prog Ser 220:265–276

Tsukamoto K, Nakai I, Tesch W-V (1998) Do all freshwater eels migrate?. Nature 396:635–636

Tsukamoto K, Aoyama J, Miller MJ (2002) Migration, speciation, and the evolution of diadromy in anguillid eels. Can J Fish Aquat Sci 59:1989–1998

Tzeng WN, Severin KP, Wickström H (1997) Use of otolith microchemistry to investigate the environmental history of European eel Anguilla anguilla. Mar Ecol Prog Ser 149:73–81

Tzeng WN, Wang CH, Wickström H, Reizenstein M (2000) Occurrence of the semi-catadromous European eel Anguilla anguilla in the Baltic Sea. Mar Biol 137:93–98

Tzeng WN, Iizuka Y, Shiao J-C, Yamada Y, Oka HP (2003) Identification and growth rates comparison of divergent migratory contingents of Japanese eel, (Anguilla japonica). Aquaculture 216:77–86
Acknowledgements
This work forms a contribution to the HEA PRTI-3 funded project: Population biology of eels in Irish marine and mixohaline waters. The work could not have gone ahead without permissions granted by the Western Regional Fisheries Board and the Screebe Fishery. We thank two anonymous reviewers for comments. We would like to thank colleagues from both NUIG (E. MacLoughlin and C. Graham) and MPIL (H. Buhtz and A. Möller) for their kind help in the field and laboratory.
Additional information
Communicated by Jim Ehleringer
About this article
Cite this article
Harrod, C., Grey, J., McCarthy, T.K. et al. Stable isotope analyses provide new insights into ecological plasticity in a mixohaline population of European eel. Oecologia 144, 673–683 (2005). https://doi.org/10.1007/s00442-005-0161-x
Received:

Accepted:

Published:

Issue Date:
Keywords
Anguilla anguilla

C:N

δ13C
δ15N

Discriminant analysis

Divergent components

Salinity gradient

Variation