Abstract
Latitudinal patterns for quantitative traits in insect are commonly used to investigate climatic adaptation. We compare the cold resistance of the leafminer (Liriomyza sativae) pupa among populations distributed from tropical to temperate regions, incorporating the thermal overwintering limit of the insect's range. The patterns of cold resistance for northern and southern populations differ. The southern populations significantly increased their cold resistance with latitude, showing a latitudinal pattern independent of seasons, acclimation regimes, and assay methods. In contrast, the northern populations showed no stable patterns; they were always intermediate in cold hardiness between the low-latitude and high-latitude populations within the overwintering limit. Integration of these data with those of the biologically similar congeneric leafminer, L. huidobrensis, suggests that a pattern shift in stress tolerance associated with the overwintering range limit is probably a general adaptive strategy adopted by freeze–intolerant species that have a high-latitude boundary of distribution, but can only overwinter and develop in protected greenhouses in harsh seasons. Considering the widespread availability of greenhouses for overwintering insects in northern China, we speculated that the large-scale existence of thermally-buffered microhabitats in greenhouses might eliminate the development of cold resistance of the leafminer populations. However, results suggest a strong selection for increased cold resistance for natural populations of Liriomyza species at higher latitudes that can overwinter in the field, but not for populations at latitudes above the thermal limit. Thus, habitat modification associated with greenhouses can limit gene flow and reduce cold tolerances even at latitudes above where the leafminers can overwinter in the field.
This is a preview of subscription content, log in to check access.
Access options
Buy single article
Instant access to the full article PDF.
US$ 39.95
Price includes VAT for USA
Subscribe to journal
Immediate online access to all issues from 2019. Subscription will auto renew annually.
US$ 199
This is the net price. Taxes to be calculated in checkout.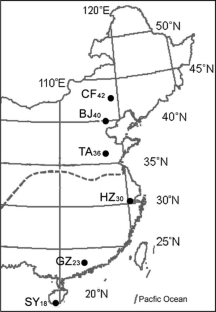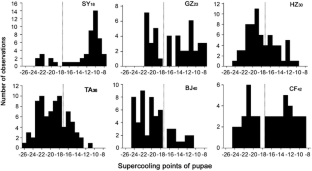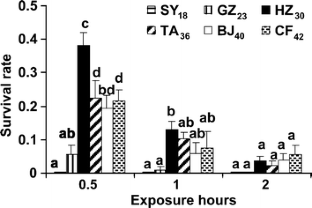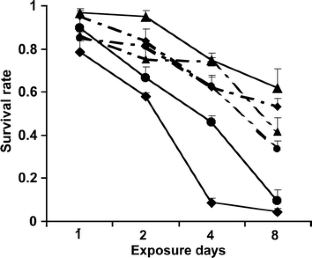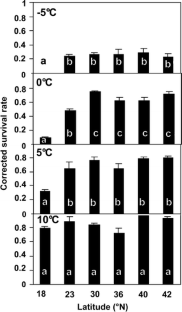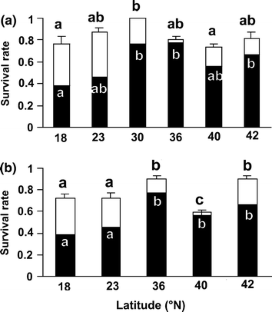 References
Akinci S, Akinci IE, Karatas A, Turkmen O (1998) Temperature changes under different protective structures at the late autumn and early spring periods in Van. Acta Horticult 491:87–91

Block W (1982) Supercooling points of insects and mites on the Antarctic Peninsula. Ecol Entomol 7:1–8

Block W, Sømme L (1982) Cold hardiness of terrestrial mites at Signy Island, Maritime Antarctic. Oikos 38:157–167

Cannon RJC, Block W (1988) Cold tolerance of microarthropods. Biol Rev 63:23–77

Case TJ, Taper ML (2000) Interspecific competition, environmental gradients, gene flow, and the coevolution of species' borders. Am Nat 155:583–605

Castilla N (2002) Current situation and future prospects of protected crops in the Mediterrranean region. In: Sansavini S, Janick J (eds) Proceedings of the international symposium on mediterranean horticulture: issues and prospects. Acta Horticult 582:135–147

Chen B, Kang L (2002a) Trends of occurrence and geographic variation of pea leafminer Liriomyza huidobrensis in China. Plant Quarantine 16:138–140

Chen B, Kang L (2002b) Cold hardiness and supercooling capacity in the pea leafminer Liriomyza huidobrensis. CryoLetters 23:173–182

Chen B, Kang L (2004) Variation in cold hardiness of Liriomyza huidobrensis (Diptera: Agromyzidae) along the latitudinal gradients. Environ Entomol 33:155–164

Chen B, Kang L (2005) Implication of pupal cold tolerance for the northern overwintering range limit of the leafminer Liriomyza sativae (Diptera: Agromyzidae) in China. Applied Entomol Zool 40 (in press)

Danks HV (1996) The wider integration of studies on insect cold-hardiness. Eur J Entomol 93:383–403

Fuller SJ, Chavigny P, Lapchin L, Vanlerberghe-Masutti F (1999) Variation in clonal diversity in greenhouse infestations of the aphid, Aphis gossypii Glover in southern France. Mol Ecol 8:1867–1877

Guo JM, Liu WM, Gao GL (2000) Population trends and integrated management of leafminer Liriomyza sativae in Inner Mongolia, China. Plant Quarantine 14:190–192

Hatherly IS, Bale JS, Walters KFA, WorlandMR (2004) Thermal biology of Typhlodromips montdorensis: implications for its introduction as a glashouse biological control agent in the UK. Entomol Exp Appl 111:97–109

Hodkinson ID (1999) Species response to global environmental change or why ecophysiological models are important: a reply to Davis et al. J Anim Ecol 68:1259–1262

Hoffmann AA, Hallas R, Sinclair C, Mitrovski P (2001) Levels of variation in stress resistance in Drosophila among strains, local populations, and geographic regions: patterns for desiccation, starvation, cold resistance, and associated traits. Evolution 55:1621–1630

Hoffmann AA, Hercus MJ (2000) Environmental stress as an evolutionary force. Bioscience 50: 217–226

Hoffmann AA, Sorensen JG, Loeschcke V (2003) Adaptation of Drosophila to temperature extremes: bringing together quantitative and molecular approach. J Theor Biol 28: 175–216

Hu MG (1995) Climate conditioning in protected cultivation in northern China. China Vegetable 3: 7–9

Jenkins N L, Hoffmann A A (1999) Limits to the southern border of Drosophila serrata: cold resistance, heritable variation, and trade-offs. Evolution 53:1823–1834

Jing XH, Kang L (2003) Geographical variation in egg cold hardiness: a study on the adaptation strategies of the migratory locust Locusta migratoria L. Ecol Entomol 28:151–158

Jing H, Wang SX (2003) Occurrence and control strategies of leafminer Liriomyza sativae in Daqing, northern China. Horticulture North China 1:56–57

Kimura MT (2004) Cold and heat tolerance of drosophilid flies with reference to their latitudinal distributions. Oecologia 140:442–449

Kirk WDJ, Terry LI (2003) The spread of the western flower thrips Frankliniella occidentalis (Pergande). Agr For Entomol 5:301–310

Klok CJ, Chown SL, Gaston KJ (2003) The geographic ranges structure of the holly leaf-miner. III.Cold hardiness physiology. Func Ecol 17:858–868

MacDonald JR, Bale JS, Walters KFA (1997) Low temperature mortality and overwintering of the western flower thrips Frankliniella occidentalis (Thysanoptera: Thripidae). Bull Entomol Res 87:497–505

MacDonald JR, Head J, Bale JS, Walters KFA (2000) Cold tolerance, overwintering and establishment potential of Thrips palmi. Physiol Entomol 25:159–166

Magiafoglou A, Carew ME, Hoffmann AA (2002) Shifting clinal patterns and microsatellite variation in Drosophila serrata populations: a comparison of populations near the southern border of the species range. J Evol Biol 15:763–774

MDD (Meteorological Documentation Department of National Weather Bureau of China) (2002) Climatological atlas of the People's Repbublic of China. China Meteorological Press, Beijing

Parrella MP (1987) Biology of Liriomyza. Ann Rev Entomol 32:201–204

Raaphorst MGM (2003) Greenhouse of the future. Acta Horticut 611:57–59

Reitz RS, Trumble JT (2002) Interspecific and intraspecific differences in two Liriomyza leafminer species in California. Entomol Exp Appl 102:101–113

Sinclair BJ, Klok CJ, Scott MB, Terblanche JS, Chown SL. (2003) Diurnal variation in supercoling points of three species of Collembola from Cape Hallett, Antarctica. J Insect Physiol 49:1049–1061

Spencer KA (1973) Agromyzidae (Diptera) of economic importance. Series Entomologica 9, the Hague

Spicer JI, Gaston KJ (1999) Physiological diversity and its ecological implications. Blackwell, Oxford

Van Lenteren JC, Woets J (1988) Biological control and integrated pest control in greenhouses. Ann Rev Entomol 33: 239–269

Voituron Y, Mouquet N, de Mazancourt C, Clobert J (2002) To freeze or not to freeze? An evolutionary perspective on the cold-hardiness strategies of overwintering ectotherms. Am Nat 160: 255–270

Warren MS, Hill JK, Thomas JA, Fox R, Huntley B (2001) Rapid responses of British butterflies to opposing forces of climate and habitat change. Nature 414:65–69

Worland MR, Convey P (2001) Rapid cold hardening in Antarctic microarthropods. Func Ecol 15:515–524

Zhao YX, Kang L (2000) Cold tolerance of the leafminer Liriomyza sativae (Dipt., Agromyzidae). J Appl Entomol 124:185–89
Acknowledgements
We are grateful to Prof. John Trumble for his critical comments and improving the manuscript. We would like to thank Dr. X.H. Jing and S. Wang for helping collect samples in the fields and culturing of L. sativae as well as Dr. S.G. Hao for assistance with the statistical analysis. This work was supported by the National Natural Science Foundation (No. 30470291) and the Innovation Program of the Chinese Academy of Sciences (No. KSCX1-SW-13).The experiments comply with the current laws of China where they were performed.
Additional information
Communicated by Roland Brandl
About this article
Cite this article
Chen, B., Kang, L. Can greenhouses eliminate the development of cold resistance of the leafminers?. Oecologia 144, 187 (2005). https://doi.org/10.1007/s00442-005-0051-2
Received:

Accepted:

Published:
Keywords
Cold resistance

Gene flow

Habitat changes

Latitudinal variation

Liriomyza