Abstract
We conducted a rigorous test of tropical tree seedling microhabitat differentiation by examining microhabitat associations, survival and growth of established seedlings of ten tropical tree species representing a four-factor gradient in seed size. Eight microhabitat variables describing soil and light conditions were measured directly adjacent to each of 588 seedlings within twelve 10×100 m belt transects at Paracou, French Guiana, and at 264 reference points along the transects. From these measurements, we defined three principal components describing soil richness, soil softness and canopy openness. Six of ten species (in 9 of 30 total cases) were distributed non-randomly with respect to microhabitat along at least one principal component. However, few species demonstrated clear microhabitat specialization. All shifts in distribution relative to reference points were in the same direction (richer, softer soil). Furthermore, of 135 pairwise comparisons among the species, only 7 were significantly different. More than three-fourths of all seedlings (75.3%) survived over the 2-year monitoring period, but survival rates varied widely among species. In no case was the probability of survival influenced by any microhabitat parameter. Relative height growth rates for the seedlings over 2 years varied from −0.031 cm cm−1 year−1 (Dicorynia guianensis, Caesalpiniaceae) to 0.088 cm cm−1 year−1 (Virola michelii, Myristicaceae). In only 4 of 30 cases was height growth significantly associated with one of the three principal components. Because the conditions in this study were designed to maximize the chance of finding microhabitat differentiation among a group of species differing greatly in life history traits, the lack of microhabitat specialization it uncovered suggests that microhabitat partitioning among tropical tree species at the established seedling stage is unlikely to contribute greatly to coexistence among these species.
This is a preview of subscription content, log in to check access.
Access options
Buy single article
Instant access to the full article PDF.
US$ 39.95
Price includes VAT for USA
Subscribe to journal
Immediate online access to all issues from 2019. Subscription will auto renew annually.
US$ 199
This is the net price. Taxes to be calculated in checkout.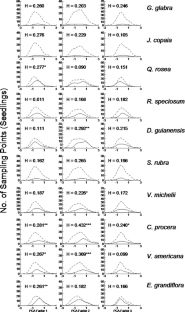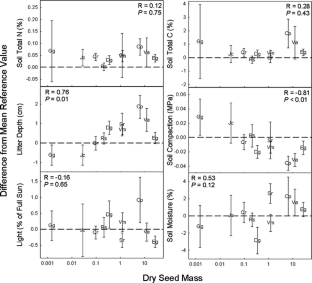 References
Ashton PS (1978) Vegetation and soil association in tropical forests. Malayan Nat J 30:225–228

Augspurger CK, Kitajima K (1992) Experimental studies of seedling recruitment from contrasting seed distributions. Ecology 73:1270–1284

Baraloto C (2001) Tradeoffs between neotropical tree seedling traits and performance in contrasting environments. PhD Thesis, University of Michigan

Baraloto C, Forget P-M (2004) Effects of post-logging microhabitats on regeneration from seed: implications for sustainable forest management. In: Gourlet-Fleury S, Guehl J-M, Laroussinie O (eds) Ecology and management of a Neotropical Rainforest: the Example of Paracou (French Guiana). Elsevier, Paris

Barigah TS, Imbert P, Huc R (1998) Growth and net assimilation rate of seedlings of ten Guianan tree species grown under five light regimes. Ann Sci For 55:681–706

Barthès B (1991) Influence des caractères pédologiques sur la répartition spatiale de deux espèces du genre Eperua (Caesalpiniaceae) en forêt guyanaise. Bois For Trop 46:303–320

Barton AM (1993) Factors controlling plant distributions: drought, competition, and fire in montane pines in Arizona. Ecol Monogr 63:367–397

Boggan J, Funk V, Kelloff C, Hoff M, Cremers G, Feuillet C (1997) Checklist of the plants of the Guianas. University of Guyana, Georgetown

Bonal D, Sabatier D, Montpied P, Tremeaux D, Guehl JM (2000) Interspecific variability of d13C among canopy trees in rainforests of French Guiana: functional groups and canopy integration. Oecologia 124:454-468

Bongers F, Poorter L, Van Rompaey RSAR, Parren MPE (1999) Distribution of twelve moist forest canopy tree species in Liberia and Cote d'Ivoire: response curves to a climatic gradient. J Veg Sci 10:371–382

Brokaw NVL (1985) Treefalls, regrowth, and community structure in tropical forests. In: White PS (ed) The ecology of natural disturbance and patch dynamics. Academic, Orlando, pp 53–69

Brokaw NVL (1987) Gap-phase regeneration of three pioneer tree species in a tropical forest. J Ecol 75:9–19

Brokaw N, Busing RT (2000) Niche versus chance and tree diversity in forest gaps. Trends Ecol Evol 15:183–188

Clark DA, Clark DB (1992) Life history diversity of canopy and emergent trees in a neotropical rain forest. Ecol Monogr 62:315–344

Clark DA, Clark DB (1999) Assessing the growth of tropical rain forest trees: issues for forest modeling and management. Ecol Appl 9:981–997

Clark DB, Clark DA, Rich PM (1993) Comparative analysis of microhabitat utilization by saplings of nine tree species in neotropical rain forest. Biotropica 25:397–407

Collinet F (1997) Essai de regroupement des principales espèces structurantes d'une forêt dense humide d'après l'analyse de leur répartition spatiale. PhD Thesis, Université Claude Bernard (Lyon 1), Villeurbanne

Condit R, Sukumar R, Stephen PH, Foster RB (1998) Predicting population trends from size distributions: a direct test in a tropical tree community. Am Nat 152:495–509

Connell JH, Green PT (2000) Seedling dynamics over thirty-two years in a tropical rain forest tree. Ecology 81:568–584

Denslow JS (1980) Gap partitioning among tropical rain forest trees. Biotropica 12:47–55

Denslow JS (1987) Tropical rain forest gaps and tree species diversity. Annu Rev Ecol Syst 18:431–451

Denslow JS, Ellison AM, Sanford RE (1998) Treefall gap size effects on above- and below-ground processes in a tropical wet forest. J Ecol 86:597–609

DeSteven D (1994) Tropical seedling dynamics: recruitment patterns and their population consequences for three canopy species in Panama. J Trop Ecol 10:369–383

Forget P-M (1988) Dissémination et régénération naturelle de huit espèces d'arbres en forêt guyanaise. PhD Thesis, Université Pierre et Marie Curie, Paris

Forget P-M (1992) Regeneration ecology of Eperua grandiflora (Caesalpiniaceae), a large-seeded tree in French Guiana. Biotropica 24:146–156

Forget P-M (1994) Regeneration pattern of Vouacapoua americana (Caesalpiniaceae), a rodent-dispersed tree species in French Guiana. Biotropica 26:420–426

Forget P-M (1996) Removal of seeds of Carapa procera (Meliaceae) by rodents and their fate in rainforest in French Guiana. J Trop Ecol 12:751–761

Forget P.-M (1997) Effect of microhabitat on seed fate and seedling performance in two rodent-dispersed tree species in rain forest in French Guiana. J Ecol 85:693–703

Foster SA, Janson CH (1985) The relationship between seed size and establishment conditions in tropical woody plants. Ecology 66:773–780

Friend DTC (1961) A simple method of measuring integrated light values in the field. Ecology 42:577–580

Gartlan JS, Newbery DM, Thomas DW, Waterman PG (1986) The influence of topography and soil phosphorus on the vegetation of Korup forest reserve, Cameroun. Vegetatio 65:131–148

Gavin DG, Peart DR (1997) Spatial structure and regeneration of Tetramerista glabra in peat swamp rain forest in Indonesian Borneo. Plant Ecol 131:223–231

Grubb PJ (1977) The maintenance of species richness in plant communities: the importance of the regeneration niche. Biol Rev Camb Phil Soc 52:107–145

Grubb PJ (1996) Rainforest dynamics: the need for new paradigms. In: Edwards DS (ed) Tropical rainforest research—current issues. Kluwer, Amsterdam, pp 215–233

Hammond DS, Brown VK (1995) Seed size of woody plants in relation to disturbance, dispersal, soil type in wet neotropical forests. Ecology 76:2544–2561

Harms KE, Wright JS, Calderon O, Hernandez A, Herre EA (2000) Pervasive density-dependent recruitment enhances seedling diversity in a tropical forest. Nature 404:493–495

Harms KE, Condit R, Hubbell SP, Foster RB (2001) Habitat associations of trees and shrubs in a 50-ha neotropical forest plot. J Ecol 89:947–959

Hosmer DW, Lemeshow S (1989) Applied logistic regression. Wiley, New York

Huante P, Rincon E, Chapin FSI (1995) Nutrient availability and growth rate of 34 woody species from a tropical deciduous forest in Mexico. Funct Ecol 9:849–858

Huante P, Rincon E, Chapin FS (1998) Foraging for nutrients, responses to changes in light, and competition in tropical deciduous tree seedlings. Oecologia 117:209–216

Hubbell SP (1979) Tree dispersion, abundance, and diversity in a tropical dry forest. Science 203:1299–1309

Hubbell SP et al (1999) Light-gap disturbances, recruitment limitation, and tree diversity in a neotropical forest. Science 283:554–557

Hunt R (1978) Plant growth analysis. Edward Arnold, London

Keating PL (1999) Changes in paramo vegetation along an elevation gradient in southern Ecuador. J Torrey Bot Soc 126:159–175

Kelly CK, Purvis A (1993) Seed size and establishment conditions in tropical trees. Oecologia 94:356–360

Kitajima K (1994) Relative importance of photosynthetic traits and allocation patterns as correlates of seedling shade tolerance of 13 tropical trees. Oecologia 98:419–428

Kobe RK (1999) Light gradient partitioning among tropical tree species through differential seedling mortality and growth. Ecology 80:187–201

Loubry D (1993) Les paradoxes de l'angélique (Dicorynia guianensis Amshoff): dissémination et parasitisme des graines avant dispersion chez un arbre anémochore de forêt guyanaise. Rev Ecol (Terre et Vie) 48:353–363

Molofsky J, Augspurger CK (1992) The effect of leaf litter on early seedling establishment in a tropical forest. Ecology 73:68–77

Newbery DM, Gartlan JS, McKey DB, Waterman PG (1986) The influence of drainage and soil phosphorus on the vegetation of Douala-Edea Forest Reserve, Cameroun. Vegetatio 65:149–162

Nicotra AB, Chazdon RL, Iriarte SVB (1999) Spatial heterogeneity of light and woody seedling regeneration in tropical wet forests. Ecology 80:1908–1926

Olsen SR, Cole CU, Watanabe FS, Dean LA (1954) Estimation of available phosphorus in soils by extraction with sodium bicarbonate. USDA Circular 939:19

Osunkoya OO, Ash JE, Hopkins MS, Graham AW (1994) Influence of seed size and seedling ecological attributes on shade-tolerance of rain-forest tree species in northern Queensland. J Ecol 82:149–163

Overpeck JT, Rind D, Goldberg R (1990) Climate-induced changes in forest disturbance and vegetation. Nature 343:51–53

Pacala SW, Canham CD, Silander JA, Kobe RK (1994) Sapling growth as a function of resources in a temperate forest. Can J For Res 66:1–43

Phillips OL, Hall P, Gentry AH, Sawyer SA, Vasquez R (1994) Dynamics and species richness of tropical rain forests. Proc Natl Acad Sci USA 91:2805–2809

Poorter L (1998) Seedling growth of Bolivian rain forest tree species in relation to light and water availability. PhD Thesis, Utrecht

Poorter L (1999) Growth responses of 15 rain-forest tree species to a light gradient: the relative importance of morphological and physiological traits. Funct Ecol 13:396–410

Pregitzer KS, Barnes BV, Lemme GD (1983) Relationship of topography to soils and vegetation in an Upper Michigan ecosystem. Soil Sci Soc Am J 47:117–123

Puig H, Riéra B, Lescure JP (1990) Phytomasse et productivité en forêt guyanaise. Bois For Trop 220:25–32

Ribichich AM, Protomastro J (1998) Woody vegetation structure of xeric forest stands under different edaphic site conditions and disturbance histories in the Biosphere Reserve 'Parque Costers del Sur', Argentina. Plant Ecol 139:189–201

Ricklefs RE (1977) Environmental heterogeneity and plant species diversity: a hypothesis. Am Nat 111:377–381

Roy S, Singh JS (1995) Seasonal and spatial dynamics of plant-available N and P pools and N-mineralization in relation to fine roots in a dry tropical forest habitat. Soil Biol Biochem 27:33–40

Sabatier D (1983) Fructification and dissémination en forêt Guyanaise. L'exemple de quelques espèces ligneuses. PhD Thesis, Montpellier

Sabatier D, Grimaldi M, Prévost M-F, Guillaume J, Godron M, Dosso M, Curmi P (1997) The influence of soil cover organization on the floristic and structural heterogeneity of a Guianan rain forest. Plant Ecol 131:81–108

Schupp EW (1995) Seed-seedling conflicts, habitat choice and patterns of plant recruitment. Am J Bot 82:399–409

Schupp EW, Milleron TE, Russo S (2002). Dissemination limitation and the origin and maintenance of species-rich tropical forests. In: Levey DJ, Silva WR, Galetti M (eds) Seed dispersal and frugivory: ecology, evolution and conservation. CABI, Wallingford, pp 19–33

Silman ME (1996) Regeneration from seed in a neotropical forest. PhD Thesis, Duke University, Durham

StatSoft (2001) Multidimensional scaling. http://www.statsoftinc.com/textbook/stmulsca.html

Svenning J-C (1999) Microhabitat specialization in a species-rich palm community in Amazonian Ecuador. J Ecol 87:55–65

Swaine MD (ed) (1996) The ecology of tropical forest tree seedlings. UNESCO/Parthenon, Paris

Swaine MD, Whitmore TC (1988) On the definition of ecological species groups in tropical rain forests. Vegetatio 75:81–86

Tilman D, Pacala S (1993) The maintenance of species richness in plant communities. In: Schluter D (ed) Species diversity in ecological communities: historical and geographical perspectives. University of Chicago Press, Chicago, pp 13–25

Vazquez JA, Givnish TJ (1998) Altitudinal gradients in tropical forest composition, structure, and diversity in the Sierra de Manantlan. J Ecol 86:999–1020

Veenendaal EM, Swaine MD, Blay Y, Yelifari NB, Mullins CE (1996) Seasonal and long-term soil water regime in West African tropical forest. J Veg Sci 7:473–482

Walters MB, Reich PB (1996) Are shade tolerance, survival, and growth linked? Low light and nitrogen effects on hardwood seedlings. Ecology 77:841–853

Webb CO, Peart DR (1999) Seedling density dependence promotes coexistence of Bornean rain. Ecology 80:2006–2017

Webb CO, Peart DR (2000) Habitat associations of trees and seedlings in a Bornean rain forest. J Ecol 88:464–478

Welden CW, Hewett SW, Hubbell SP, Foster RB (1991) Sapling survival, growth and recruitment: relationship to canopy height in a neotropical forest. Ecology 72:35–50

Whitmore TC (1989) Canopy gaps and the two major groups of forest trees. Ecology 70:536–538

Whitmore TC (1996) A review of some aspects of tropical rain forest seedling ecology with suggestions for further enquiry. In: Swaine MD (ed) The ecology of tropical forest tree seedlings UNESCO/Parthenon, Paris, pp 3–39

Winn AA (1985) Effects of seed size and microsite on seedling emergence of Prunella vulgaris in four habitats. J Ecol 73:831–840

Wright SJ (1992) Seasonal drought soil fertility and the species density of tropical forest plant communities. Trends Ecol Evol 7:260–263
Acknowledgements
We thank CIRAD-Forêt and Silvolab-Guyane for permission to conduct research in the Paracou Reserve. P.-M. Forget, S. Jésel, T. Perot, and P. Pétronelli helped with field inventories. Soil analyses were conducted at the Laboratory of Terrestrial Ecology in the School of Natural Resources at the University of Michigan, and we are grateful to D. Zak and B. Holmes for their assistance. D. Burslem, L. Curran, P.-M. Forget, K. Harms, E. Schupp, C. Webb, J. Wright, and D. Zak provided challenging and insightful comments on earlier versions of this manuscript. C.B. was supported during this work by grants from the University of Michigan Department of Biology, the Rackham Graduate School, the Herman and Margaret Sokol Foundation, and the Lurcy Foundation.
About this article
Cite this article
Baraloto, C., Goldberg, D.E. Microhabitat associations and seedling bank dynamics in a neotropical forest. Oecologia 141, 701–712 (2004). https://doi.org/10.1007/s00442-004-1691-3
Received:

Accepted:

Published:

Issue Date:
Keywords
French Guiana

Life history traits

Light availability

Regeneration niche

Soil nutrients