Abstract
We developed an individual-based stochastic-empirical model to simulate the carbon dynamics of live and dead trees in a Central Amazon forest near Manaus, Brazil. The model is based on analyses of extensive field studies carried out on permanent forest inventory plots, and syntheses of published studies. New analyses included: (1) growth suppression of small trees, (2) maximum size (trunk base diameter) for 220 tree species, (3) the relationship between growth rate and wood density, and (4) the growth response of surviving trees to catastrophic mortality (from logging). The model simulates a forest inventory plot, and tracks recruitment, growth, and mortality of live trees, decomposition of dead trees (coarse litter), and how these processes vary with changing environmental conditions. Model predictions were tested against aggregated field data, and also compared with independent measurements including maximum tree age and coarse litter standing stocks. Spatial analyses demonstrated that a plot size of ~10 ha was required to accurately measure wood (live and dead) carbon balance. With the model accurately predicting relevant pools and fluxes, a number of model experiments were performed to predict forest carbon balance response to perturbations including: (1) increased productivity due to CO2 fertilization, (2) a single semi-catastrophic (10%) mortality event, (3) increased recruitment and mortality (turnover) rates, and (4) the combined effects of increased turnover, increased tree growth rates, and decreased mean wood density of new recruits. Results demonstrated that carbon accumulation over the past few decades observed on tropical forest inventory plots (~0.5 Mg C ha−1 year−1) is not likely caused by CO2 fertilization. A maximum 25% increase in woody tissue productivity with a doubling of atmospheric CO2 only resulted in an accumulation rate of 0.05 Mg C ha−1 year−1 for the period 1980–2020 for a Central Amazon forest, or an order of magnitude less than observed on the inventory plots. In contrast, model parameterization based on extensive data from a logging experiment demonstrated a rapid increase in tree growth following disturbance, which could be misinterpreted as carbon sequestration if changes in coarse litter stocks were not considered. Combined results demonstrated that predictions of changes in forest carbon balance during the twenty-first century are highly dependent on assumptions of tree response to various perturbations, and underscores the importance of a close coupling of model and field investigations.
This is a preview of subscription content, log in to check access.
Access options
Buy single article
Instant access to the full article PDF.
US$ 39.95
Price includes VAT for USA
Subscribe to journal
Immediate online access to all issues from 2019. Subscription will auto renew annually.
US$ 199
This is the net price. Taxes to be calculated in checkout.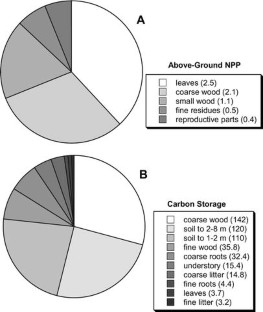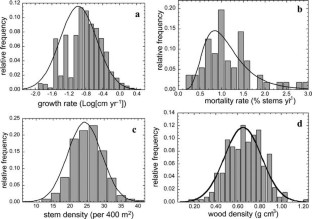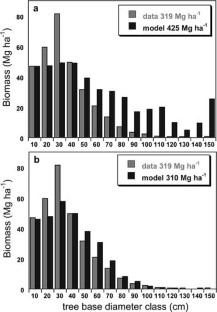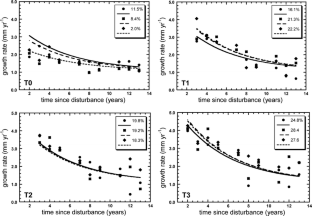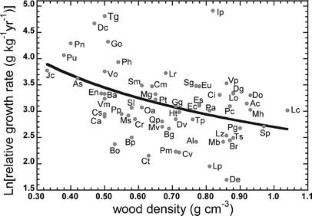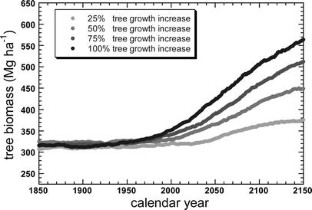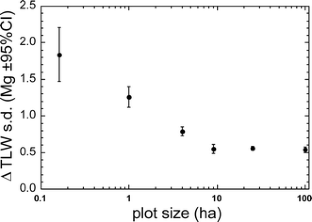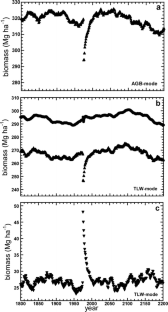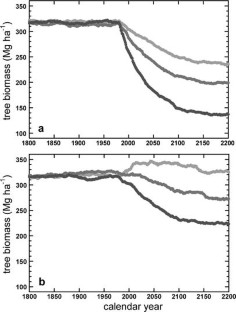 References
Alder D (1995) Growth modelling for mixed tropical forests. Oxford Forestry Institute, Oxford

Alder D, Silva JNM (2000) An empirical cohort model for management of terra firme forests in the Brazilian Amazon. For Ecol Manage 130:141–157

Amthor JS, Koch GW (1996) Biota growth factor b: stimulation of terrestrial ecosystem net primary production by elevated atmospheric CO2. In: Koch GW, Mooney HA (eds) Carbon dioxide and terrestrial ecosystems. Academic, San Diego, pp 399–414

Baker TR, Phillips OL, Malhi Y, Almeida S, Arroyo L, Di Fiore A, Killeen T, Laurance SG, Laurance WF, Lewis SL, Lloyd J, Monteagudo A, Neill DA, Patino S, Pitman NCA, Silva JNM, Martinez RV (2004a) Variation in wood density determines spatial patterns in Amazonian forest biomass. Global Change Biol (in press)

Baker TR, Phillips OL, Malhi Y, Almeida S, Arroyo L, Fiore AD, Erwin T, Higuchi N, Killeen T, Laurance SG, Laurance WF, Lewis SL, Monteagudo A, Neill DA, Vargas PN, Pitman NCA, Silva JNM, Martinez RV (2004b) Increasing biomass in Amazonian forest plots. Phil Trans R Soc London B 359:353–356

Bolin B (1998) The Kyoto negotiations on climate change: a science perspective. Science 279:330–331

Bolker BM, Pacala SW, Bazzaz FA, Canham CD, Levin SA (1995) Species-diversity and ecosystem response to carbon-dioxide fertilization—conclusions from a temperate forest model. Global Change Biol 1:373–381

Botkin DB, Schenk HJ (1996) History and rationales of the JABOWA model of forest growth. In: Vance E (ed) Review and analysis of JABOWA and related forest models and their use in climate change studies. NCASI, Research Triangle Park, North Carolina, pp 154–172

Bravard S, Righi D (1989) Geochemical differences in an Oxisol–Spodosol toposequence of Amazonia, Brazil. Geoderma 44:29–42

Bugmann H (2001) A review of forest gap models. Climatic Change 51:259–305

Canadell JG, Mooney HA, Baldocchi DD, Berry JA, Ehleringer JR, Field CB, Gower ST, Hollinger DY, Hunt JE, Jackson RB, Running SW, Shaver GR, Steffen W, Trumbore SE, Valentini R, Bond BY (2000) Carbon metabolism of the terrestrial biosphere: a multitechnique approach for improved understanding. Ecosystems 3:115–130

Chambers JQ, Silver WL (2004) Some aspects of ecophysiological and biogeochemical responses of tropical forests to atmospheric change. Phil Trans R Soc London B 359:463–476

Chambers JQ, Higuchi N, Schimel JP (1998) Ancient trees in Amazonia. Nature 391:135–136

Chambers JQ, Higuchi N, Ferreira LV, Melack JM, Schimel JP (2000) Decomposition and carbon cycling of dead trees in tropical forests of the Central Amazon. Oecologia 122:380–388

Chambers JQ, Higuchi N, Tribuzy ES, Trumbore SE (2001a) Carbon sink for a century. Nature 410:429

Chambers JQ, Santos J, Ribeiro RJ, Higuchi N (2001b) Tree damage, allometric relationships, and above-ground net primary production in a tropical forest. For Ecol Manage 152:73–84

Chambers JQ, Schimel JP, Nobre AD (2001c) Respiration from coarse wood litter in Central Amazon forests. Biogeochemistry 52:115–131

Chambers JQ, Van Eldik T, Southon J, Higuchi N (2001d) Tree age structure in tropical forests of Central Amazonia. In: Bierregaard ROJ, Gascon C, Lovejoy TE, Mesquita RCG (eds) Lessons from Amazonia. Yale University Press, New Haven, pp 68–78

Clark DA (2004) Sources or sinks? The response of tropical forests to current and future climate and atmospheric composition. Phil Trans R Soc London B 359:477–492

Clark DA, Clark DB (1992) Life history diversity of canopy and emergent trees in a neotropical rain forest. Ecol Monogr 62:315–344

Clark DA, Clark DB (1999) Assessing the growth of tropical rain forest trees: issues for forest modeling and management. Ecol Appl 9:981–997

Clark DA, Brown S, Kicklighter DW, Chambers JQ, Thomlinson JR, Ni J, Holland EA (2001) NPP in tropical forests: an evaluation and synthesis of the existing field data. Ecol Appl 11:371–384

Clark DA, Piper SC, Keeling CD, Clark DB (2003) Tropical rain forest tree growth and atmospheric carbon dynamics linked to interannual temperature variation during 1984–2000. Proc Natl Acad Sci USA 100:5852–5857

Condit R, Hubbell SP, Foster RB (1995) Mortality rates of 205 neotropical tree and shrub species and the impact of severe drought. Ecol Monogr 65:419–439

Cox PM, Betts RA, Jones CD, Spall SA, Totterdell IJ (2000) Acceleration of global warming due to carbon-cycle feedbacks in a coupled climate model. Nature 408:184–187

Davidson EA, Trumbore SE (1995) Gas diffusivity and the production of CO2 in deep soils of the eastern Amazon. Tellus 47B:550-565

Fearnside PM (1997) Wood density for estimating forest biomass in Brazilian Amazonia. For Ecol Manage 90:59–87

Franken M, Irmler U, Klinge H (1979) Litterfall in inundation, riverine and terra firme forests of central Amazonia. Trop Ecol 20:225-235

Friedli H, Lotscher H, Oeschger H, Siegenthaler U, Stauffer B (1986) Ice core record of the/sup 13C/12C ratio of atmospheric CO2 in the past two centuries. Nature 324:237–238

Goulden ML, Miller SD, Rocha HRD, Menton M, Freitas HC, Figueira AMSD, Sousa CADD (2004) Diel and seasonal patterns of tropical forest CO2 exchange. Global Change Biol (in press)

Guimarães WM, Mello-Ivo W (1997) Biomassa e nutrientes de raízes finas em áreas de exploração seletiva de madeira na Amazônia central, Brasil. In: Higuchi N et al (eds) Biomassa e nutrients florestais: projeto bionte relatorio final. Instituto Nacional de Pesquisas da Amazônia, Manaus, p 345

Hamilton JG, DeLucia EH, George K, Naidu SL, Finzi AC, Schlesinger WH (2002) Forest carbon balance under elevated CO2. Oecologia 131:250–260

Higuchi N, Ferraz JBS, Antony L, Luizão F, Luizão R, Biot Y, Hunter I, Proctor J, Ross S (1997) Biomassa e nutrients florestais: projeto bionte relatorio final. Instituto Nacional de Pesquisas da Amazônia, Manaus, p 345

Houghton RA (2003) Revised estimates of the annual net flux of carbon to the atmosphere from changes in land use and land management 1850–2000. Tellus B-Chem Phys Meteorol 55:378–390

Houghton RA, Skole DL, Nobre CA, Hackler JL, Lawrence KT, Chomentowski WH (2000) Annual fluxes of carbon from deforestation and regrowth in the Brazilian Amazon. Nature 403:301–304

Hubbell SP, Foster RB, O'Brien ST, Harms KE, Condit R, Wechsler B, Wright SJ, de Lao SL (1999) Light-cap disturbances, recruitment limitation, and tree diversity in a neotropical forest. Science 283:554–557

IPCC (2000) Emissions scenarios: summary for policymakers. WMO/UNEP, Geneva

James F (1990) A review of pseudorandom number generators. Comput Phys Commun 60:329–344

Keeling CD, Whorf TP (2002) Atmospheric CO2 records from sites in the SIO air sampling network. In: Trends: a compendium of data on global change. Carbon Dioxide Information Analysis Center, Oak Ridge National Laboratory, US Department of Energy, Oak Ridge

Keller M, Clark DA, Clark DB, Weitz AM, Veldkamp E (1996) If a tree falls in the forest. Science 273:201

Klinge H, Rodrigues WA (1968) Litter production in an area of Amazonian terra firme forests. Amazoniana 1:287-301

Kozlowski TT, Kramer PJ, Pallardy SG (1991) The physiological ecology of woody plants. Academic, San Diego

Laurance WF, Fearnside PM, Laurance SG, Delamonica P, Lovejoy TE, Rankin-de Merona J, Chambers JQ, Gascon C (1999) Relationship between soils and Amazon forest biomass: a landscape-scale study. For Ecol Manage 118:127–138

Laurance WF, Lovejoy TE, Vasconcelos HL, Bruna EM, Didham RK, Stouffer PC, Gascon C, Bierregaard RO, Laurance SG, Sampaio E (2002) Ecosystem decay of Amazonian forest fragments: a 22-year investigation. Conserv Biol 16:605–618

Lewis SL, Malhi Y, Phillips OL (2004a) Fingerprinting the impacts of global change on tropical forests. Phil Trans R Soc London B 359:437–462

Lewis SL, Phillips OL, Baker TR, Lloyd J, Malhi Y, Almeida S, Higuchi N, Laurance WF, Neill DA, Silva JNM, Terborgh J, Lezama AT, Martinez RV, Brown S, Chave J, Kuebler C, Vargas PN, Vinceti B (2004b) Concerted changes in tropical forest structure and dynamics: evidence from 50 South American long-term plots. Phil Trans R Soc London B 359:421–437

Lieberman D, Lieberman M (1987) Forest tree growth and dynamics at La Selva, Costa Rica (1969–1972). J Trop Ecol 3:347–358

Lovejoy T, Bierregaard R (1990) Central Amazonian forests and the minimum critical size of ecosystem project. In: Gentry A (ed) Four neotropical rainforests. Yale University Press, New Haven, pp 60–71

Luizão FJ (1989) Litter production and mineral element input to the forest floor in a central Amazonian forest. GeoJournal 19:407–417

Luizão FJ (1995) Ecological studies in contrasting forest types in Central Amazonia. In: Department of biological and molecular sciences. University of Stirling, Stirling

Luizão FJ, Schubart HOR (1987) Litter production and decomposition in a terra firme forest of Central Amazonia. Experiencia 43:259–265

Malhi Y, Nobre AD, Grace J, Kruijt B, Pereira MGP, Culf A, Scott S (1998) Carbon dioxide transfer over a Central Amazonian rain forest. J Geophys Res 31:593–631

Malhi Y, Baker TR, Phillips OL, Almeida S, Alvarez E, Arroyo L, Chave J, Czimczik CI, Di Fiore A, Higuchi N, Killeen T, Laurance SG, Laurance WF, Lewis SL, Montoya LMM, Monteagudo A, Neill C, Vargas PN, Patino S, Pitman NCA, Quesada CA, Silva JNM, Lezama AT, Martinez RV, Terborgh J, Vinceti B, Lloyd J (2004) The above-ground wood productivity and net primary productivity of 100 neotropical forests. Global Change Biol (in press)

McMahon TA (1973) Size and shape in biology. Science 179:1201–1204

Moorcroft PR, Hurtt GC, Pacala SW (2001) A method for scaling vegetation dynamics: the ecosystem demography model (ED). Ecol Monogr 71:557–586

Nascimento HEM, Laurance WF (2002) Total aboveground biomass in central Amazonian rainforests: a landscape-scale study. For Ecol Manage 168:311-321

Neftel A, Moor E, Oeschger H, Stauffer B (1985) Evidence from polar ice cores for the increase in atmospheric CO2 in the past two centuries. Nature 315:45–47

Nelson BW, Kapos V, Adams JB, Oliveira WJ, Braun OPG, do Amaral IL (1994) Forest disturbance by large blowdowns in the Brazilian Amazon. Ecology 75:853–858

Nemani RR, Keeling CD, Hashimoto H, Jolly WM, Piper SC, Tucker CJ, Myneni RB, Running SW (2003) Climate-driven increases in global terrestrial net primary production from 1982 to 1999. Science 300:1560–1563

Phillips OL, Gentry AH (1994) Increasing turnover through time in tropical forests. Science 263:954–958

Phillips OL, Malhi Y, Higuchi N, Laurance WF, Núñez PV, Vásquez RM, Laurance SG, Ferreira LV, Stern M, Brown S, Grace J (1998) Changes in the carbon balance of tropical forests: evidence from long-term plots. Science 282:439–442

Phillips OL, Martinez RV, Arroyo L, Baker TR, Killeen T, Lewis SL, Malhi Y, Mendoza AM, Neill D, Vargas PN, Alexiades M, Ceron C, Di Fiore A, Erwin T, Jardim A, Palacios W, Saldias M, Vinceti B (2002) Increasing dominance of large lianas in Amazonian forests. Nature 418:770–774

Phillips OL, Baker TR, Arroyo L, Higuchi N, Killeen T, Laurance WF, Lewis SL, Lloyd J, Malhi Y, Monteagudo A, Neill DA, Vargas PN, Silva JNM, Terborgh J, Martinez RV, Alexiades M, Almeida S, Brown S, Chave J, Cormiskey JA, Czimczik CI, Fiore AD, Erwin T, Kuebler C, Laurance SG, Nascimento HEM, Oliveir J, Palacios W, Patino S, Pitman NCA, Quesada CA, Saldias M, Lezama AT, Vinceti B (2004) Pattern and process in Amazon tree turnover: 1976–2001. Phil Trans R Soc London B 359:381–408

Post WM, Pastor J (1996) LINKAGES-an individual-based forest ecosystem model. Climatic Change 34:253–261

Rankin-De Merona JM, Prance GT, Hutchings RW, Silva MFD, Rodrigues WA, Uehling ME (1992) Preliminary results of a large-scale tree inventory of upland rain forest in the Central Amazon. Acta Amazonica 22:493–534

Ribeiro JELS, Hopkins MJG, Vicentini A, Sothers CA, Costa MAS, Brito JM, Souza MAD, Martins LHP, Lohmann LG, Assunção PACL, Pereira EC, Silva CF, Mesquita MR, Procópio LC (1999) Flora da Reserva Ducke. INPA-DFID, Manaus

Rice AH, Pyle EH, Saleska SR, Hutyra L, Palace M, Keller M, Camargo PB, Portilho K, Marques DF, Wofsy SC (2004) Carbon balance of vegetation dynamics in an old-growth Amazonian forest. Ecol Appl (in press)

Saleska SR, Miller SD, Matross DM, Goulden ML, Wofsy SC, da Rocha HR, de Camargo PB, Crill P, Daube BC, de Freitas HC, Hutyra L, Keller M, Kirchhoff V, Menton M, Munger JW, Pyle EH, Rice AH, Silva H (2003) Carbon in Amazon forests: unexpected seasonal fluxes and disturbance-induced losses. Science 302:1554–1557

Schimel DS (1995) Terrestrial biogeochemical cycles: global estimates with remote sensing. Remote Sens Environ 64:49–56

Silva RP, Santos J, Tribuzy ES, Chambers JQ, Nakamura S, Higuchi N (2002) Diameter increment and growth patterns for individual trees in Central Amazon, Brazil. For Ecol Manage 116:295–301

Sombroek W (2001) Spatial and temporal patterns of Amazon rainfall—consequences for the planning of agricultural occupation and the protection of primary forests. Ambio 30:388–396

Summers PM (1998) Estoque, Decomposição e Nutrients da Liteira Grossa em Floresta de Terra-Firme, na Amazônia Central. In: Biologia Tropical e Recursos Naturais. Instituto Nacional de Pesquisas da Amazônia, Manaus, p 103

Swaine MD, Lieberman D, Putz FE (1987) The dynamics of tree populations in tropical forest: a review. J Trop Ecol 3:359–366

Telles ECC, Camargo PB, Martinelli LA, Trumbore SE, Costa ES, Santos J, Higuchi N, Oliveira RO (2003) Influence of soil texture on carbon dynamics and storage potential in tropical soils of Amazonia. Global Biogeochem Cycles 17:1040

Tian H, Mellilo JM, Kicklighter DW, McGuire AD, Heifrich JVKI, Moore BI, Vörösmarty CJ (1998) Effect of interannual climate variability on carbon storage in Amazonian ecosystems. Nature 396:664–667

Toledo LC (2002) Efeito da umidade na respiração de liteira grossa e fina em uma floresta tropical de terra-firme da Amazônia Central. In: CPST. INPA, Manaus, p 50

Trumbore SE, Davidson EA, Barbosa de Carmago P, Nepstad DC, Martinelli LA (1995) Belowground cycling of carbon in forests and pastures of Eastern Amazonia. Global Biogeochem Cycles 9:515–528

Veldkamp E, Becker A, Schwendenmann L, Clark DA, Schulte-Bisping H (2003) Substantial labile carbon stocks and microbial activity in deeply weathered soils below a tropical wet forest. Global Change Biol 9:1171–1184

VEMAP (1995) Vegetation/ecosystem modeling and analysis project: comparing biogeography and biogeochemistry models in a continental-scale study of terrestrial ecosystem responses to climate change and CO2 doubling. Global Biogeochem Cycles 9:407–437

Williamson GB, Laurance WF, Oliveira AA, Delamonica P, Gascon C, Lovejoy TE, Pohl L (2000) Amazonian tree mortality during the 1997 El Nino drought. Conserv Biol 14:1538–1542
Acknowledgments
We thank Oliver Phillips, Deborah Clark and an anonymous reviewer for comments and suggestions that improved this manuscript. This work was supported by the Piculus project (G7 Nations Pilot Programs, FINEP 6.4.00.0041.00), NASA LBA-ECO, the Biological Dynamics of Forests Fragments Project (INPA/Smithsonian Institution), the Jacaranda Project (INPA/JICA), and the National Center for Ecological Analysis and Synthesis (NCEAS).
About this article
Cite this article
Chambers, J.Q., Higuchi, N., Teixeira, L.M. et al. Response of tree biomass and wood litter to disturbance in a Central Amazon forest. Oecologia 141, 596–611 (2004). https://doi.org/10.1007/s00442-004-1676-2
Received:

Accepted:

Published:

Issue Date:
Keywords
Carbon cycling model

Coarse woody debris

Growth

Decomposition

Net ecosystem exchange

Productivity