Abstract
Tropical savannas and closed forests are characterized by distinct tree communities, with most species occurring almost exclusively in only one of the two environments. The ecology of these two groups of species will largely determine the structure and dynamics of the savanna-forest boundary, but little is known about the ecological and physiological differences that might control their distributions. We performed field and nursery experiments to compare seedling establishment success, predawn leaf water potential, biomass allocation, and root carbohydrate concentration of congeneric species, each composed of one savanna species and one forest species. Seedling establishment of savanna and forest species responded differently to vegetation cover, with forest species having lowest establishment success in the open savanna and savanna species having lowest success in forest. Subsequent survival followed similar patterns, resulting in even greater differences in cumulative success. The low survival of forest species in the savanna appears related to drought stress, as seedlings of forest species had lower predawn leaf water potential than savanna species. Seedlings of savanna species had greater root: shoot ratios and root total nonstructural carbohydrate (TNC) concentration, particularly among evergreen genera. Among evergreen genera, root TNC per shoot mass, which may largely determine resprout capacity, was seven times higher in savanna species than forest species. Although water availability and microclimate may reduce the success of forest species, these factors appear unable to completely exclude forest seedling establishment in savanna. Fire, on the other hand, appears to be a much more absolute constraint to success of forest species in savanna.
This is a preview of subscription content, log in to check access.
Access options
Buy single article
Instant access to the full article PDF.
US$ 39.95
Price includes VAT for USA
Subscribe to journal
Immediate online access to all issues from 2019. Subscription will auto renew annually.
US$ 199
This is the net price. Taxes to be calculated in checkout.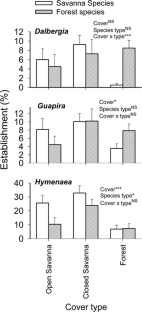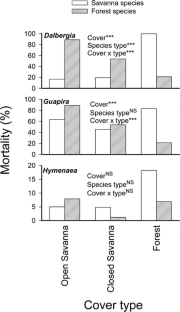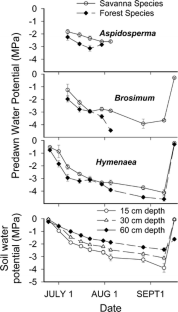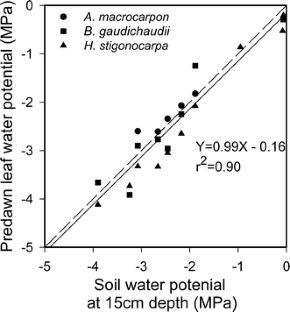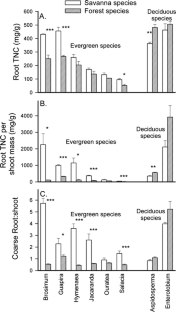 References
Adejuwon JO, Adesina FA (1992) The nature and dynamics of the forest-savanna boundary in south-western Nigeria. In: Furley PA, Procter J, Ratter JA (eds) Nature and dynamics of forest-savanna boundaries. Chapman and Hall, London, pp 331–352

Andrade LAZ, Schmidt IB, Borghetti F (2001) Germinação e estabelecimento de Dimorphandra mollis em área de cerrado submetida queimadas prescritas. Resumos V Congresso de Ecologia do Brasil, Porto Alegre, p 89

Belsky AJ, Amundson RG, Duxbury JM, Riha SJ, Ali AR, Mwong SM (1989) The effects of trees on their physical, chemical, and biological environments in a semi-arid savanna in Kenya. J Appl Ecol 26:1005–1024

Bergmeyer HU (1970) Methoden der enzymatischen Analyse. Chemie, Weinheim

Biddulph J, Kellman M (1998) Fuels and fire at savanna gallery forest boundaries in southeastern Venezuela. J Trop Ecol 14:445–461

Bowman DMJS (1992) Evidence for the retreat of dry monsoon forest under a regime of aboriginal burning. Proc R Soc Queensland 102:25–30

Bowman DMJS (1993) Establishment of two dry monsoon forest species on a fire-protected monsoon forest-savanna boundary, Cobourg Peninsula, northern Australia. Aust J Ecol 18:235–237

Bowman DMJS (2000) Australian rainforests: islands of green in a land of fire. Cambridge University Press, Cambridge

Bowman DMJS, Panton WJ (1993) Factors that control monsoon-rainforest seedling establishment and growth in north Australian Eucalyptus savanna. J Ecol 81:297–304

Bowman DMJS, Walsh A, Milne DJ (2001) Forest expansion and grassland contraction within a Eucalyptus savanna matrix between 1941 and 1994 at Litchfield national park in the Australian national park in the Australian monsoon tropics. Global Ecol Biogeogr 10:535–548

Castro EA, Kauffman JB (1998) Ecosystem structure in the Brazilian cerrado: a vegetation gradient of aboveground biomass, root mass and consumption by fire. J Trop Ecol 14:263–283

Desjardins T, Carneiro A, Mariotti A, Chauvel A, Girardin C (1996) Changes of the forest-savanna boundary in Brazilian Amazonia during the Holocene revealed by stable isotope ratios of soil organic carbon. Oecologia 108:749–756

Eiten G (1972) The cerrado vegetation of Brazil. Bot Rev 38:201–341

Felfili JM, et al (2001) Flora fanerogâmica das matas de galeria e ciliares do Brasil Central. In: Ribeiro JF, Fonseca CEL, Sousa-Silva JC (eds) Cerrado: Caracterização e Recuperação de Matas de Galeria. EMBRAPA, Planaltina, pp 195–263

Felfili JM, Silva Junior MC (1992) Floristic composition, phytosociology and comparison of cerrado and gallery forests at Fazenda Agua Limpa, Federal District, Brazil. In: Furley PA, Procter J, Ratter JA (eds) Nature and dynamics of forest-savanna boundaries. Chapman and Hall, London, pp 393–416

Fensham RJ, Fairfax RJ, Butler DW, Bowman DMJS (2003) Effects of fire and drought in a tropical eucalypt savanna colonized by rain forest. J Biogeogr 30:1405–1414

Fölster H, Dezzeo N, Priess JA (2001) Soil-vegetation relationship in base-deficient premontane moist forest-savanna mosaics of the Venezuelan Guayana. Geoderma 104:95–113

Franco AC (2002) Ecophysiology of woody plants. In: Oliveira PS, Marquis RJ (eds) The Cerrados of Brazil: ecology and natural history of a neotropical savanna. Columbia University Press, New York, pp 178–197

Franco AC, Souza MP, Nardoto GB (1996) Estabelecimento e crescimento de Dalbergia miscolobium Benth. em áreas de campo sujo e cerrado. In: Miranda HS, Saito CH, Dias BFS (eds) Impactos de Queimadas em Áreas de Cerrado e Restinga. University of Brasília Press, Brasília, pp 84–92

Furley PA (1992) Edaphic changes at the forest-savanna boundary with particular reference to the neotropics. In: Furley PA, Proctor J, Ratter JA (eds) Nature and dynamics of forest-savanna boundaries. Chapman and Hall, London, pp 91–117

Gillison AN (1983) Tropical savannas of Australia and the southwest Pacific. In: Bourliere F (ed) Tropical savannas, vol 13. Elsevier, Amsterdam, pp 183–243

Goodland R, Ferri MG (1979) Ecologia do Cerrado. Livraria Itatiaia Editora LTDA., Belo Horizante

Gould KA, et al (2002) Post-fire tree regeneration in lowland Bolivia: implications for fire management. For Ecol Manage 165:225–234

Haridasan M (1988) Performance of Miconia albicans (SW.) Triana, an aluminum-accumulating species, in acidic and calcareous soils. Commun Soil Sci Plant Anal 19:1091–1103

Haridasan M (1992) Observations on soils, foliar nutrient concentrations and floristic composition of cerrado sensu stricto and cerradão communities in central Brazil. In: Furley PA, Proctor J, Ratter JA (eds) Nature and dynamics of forest-savanna boundaries. Chapman and Hall, London, pp 171–184

Hoffmann WA (1996) The effects of fire and cover on seedling establishment in a neotropical savanna. J Ecol 84:383–393

Hoffmann WA (2000) Post-establishment seedling success in the Brazilian cerrado: a comparison of savanna and forest species. Biotropica 32:62–69

Hoffmann WA, Franco AC (2003) Comparative growth analysis of tropical forest and savanna woody plants using phylogenetically independent contrasts. J Ecol 91:475–484

Hoffmann WA, Moreira AG (2002) The role of fire in population dynamics of woody plants. In: Oliveira PS, Marquis RJ (eds) The Cerrados of Brazil: ecology and natural history of a Neotropical savanna. Columbia University Press, New York

Hoffmann WA, Orthen B, Nascimento PKV (2003) Comparative fire ecology of tropical savanna and forest trees. Funct Ecol 17:720–726

Hopkins B (1992) Ecological processes at the forest-savanna boundary. In: Furley PA, Procter J, Ratter JA (eds) Nature and dynamics of forest-savanna boundaries. Chapman and Hall, London, pp 21–33

Joly CA, Crawford RMM (1982) Variation in tolerance and metabolic responses to flooding in some tropical trees. J Exp Bot 33:799–809

Kanegae MF, Braz VDS, Franco AC (2000) Efeitos da seca sazonal e disponibildade de luz na sobrevivência e crescimento de Bowdichia virgiloides em duas fitofisionomias dos cerrados de Brasil Central. Rev Bras Bot 23:457–466

Kauffman JB (1991) Survival by sprouting following fire in tropical forests of the Eastern Amazon. Biotropica 23:219–224

Kellman M (1979) Soil enrichment by neotropical forest trees. J Ecol 67:565–577

Kellman M (1985) Forest seedling establishment in Neotropical savanna: transplant experiments with Xylopia frutescens and Calophyllum brasiliense. J Biogeogr 12:373–379

Kellman M, Miyanishi K (1982) Forest seedling establishment in Neotropical savannas: observations and experiments in the mountain pine ridge savanna, Belize. J Biogeogr 9:193–206

Kershaw AP (1992) The development of rainforest-savanna boundaries in tropical Australia. In: Furley PA, Procter J, Ratter JA (eds) Nature and dynamics of forest-savanna boundaries. Chapman and Hall, London, pp 255–271

Matos MRB (1994) Efeito do fogo sobre os regenerantes de Bletharocalyx salicifolius H. B. K. (Myrtaceae) em cerrado aberto, Brasília, DF. Masters Thesis, Ecology Department. Universidade de Brasília, Brasilia

Meinzer FC, et al (1999) Atmospheric and hydraulic limitations on transpiration in Brazilian cerrado woody species. Funct Ecol 13:273–282

Mordelet P, Abbadie L, Menaut JC (1993) Effects of tree clumps on soil characteristics in a humid savanna of West Africa. Plant Soil 153:103–111

Moreira AG, Klink CA (2000) Biomass allocation and growth of tree seedlings from two contrasting Brazilian Savannas. Ecotropicos 13:43–51

Myers N, Mittermeier RA, Mittermeier CG, da Fonseca GAB, Kent J (2002) Biodiversity hotspots for conservation priorities. Nature 403:853–858

Neary DG, Klopatek CC, DeBano LF, Ffolliott PF (1999) Fire effects on belowground sustainability: a review and synthesis. For Ecol Manage 122:51–71

Oliveira PE, Silva JCS (1993) Biological reproduction of two species of Kielmeyera (Guttiferae) in the cerrados of central Brazil. J Trop Ecol 9:67–80

Oliveira-Filho AT, Ratter JA (1995) A study of the origin of central Brazilian forests by the analysis of plant species distribution patterns. Edinburgh J Bot 52:141–194

Oliveira-Filho AT, Ratter JA (2002) Vegetation physiognomies and woody flora of the cerrado biome. In: Oliveira PS, Marquis RJ (eds) The Cerrados of Brazil: ecology and natural history of a Neotropical savanna. Columbia University Press, New York, pp 91–120

Paulilo MTS, Felippe GM (1998) Growth of the shrub-tree flora of the Brazilian cerrados: a review. Trop Ecol 39:165–174

Ratter JA (1992) Transitions between cerrado and forest vegetation in Brazil. In: Furley PA, Procter J, Ratter JA (eds) Nature and dynamics of forest-savanna boundaries. Chapman and Hall, London, pp 417–429

Rawitscher F, Ferri MG, Rachid M (1943) Profundidade dos solos e vegetação em campos cerrados do Brasil Meridional. An Acad Bras Cienc 15:267–294

Ribeiro JF, Walter BMT (2001) As matas de galeria no contexto do bioma cerrado. In: Ribeiro JF, Fonseca CEL, Sousa-Silva JC (eds) Cerrado: Caracterização e Recuperação de Matas de Galerias. Embrapa, Planaltina, pp 29–47

Ruggiero PGC, Batalha MA, Pivello VR, Meirelles ST (2002) Soil-vegetation relationships in cerrado (Brazilian savanna) and semideciduous forest, Southeastern Brazil. Plant Ecol 160:1–16

Sanaiotti TM, Martinelli LA, Victoria RL, Trumbore SE, Camargo PB (2002) Past vegetation changes in Amazon savannas determined using carbon isotopes of soil organic matter. Biotropica 34:2–16

Schwartz D, Floresta H, Mariotti A, Balesdent J, Massimba JP, Girardin C (1996) Present dynamics of the savanna-forest boundary in the Congolese Mayombe: a pedological, botanical and isotopic (13C and 14C) study. Oecologia 106:516–524

Scott TA, Melvin EH (1953) Determination of dextran with anthrone. Anal Chem 25:1656–1661

Setterfield SA (2002) Seedling establishment in an Australian tropical savanna: effects of seed supply, soil disturbance and fire. J Appl Ecol 39:949–959

Sokal RR, Rohlf JF (1995) Biometry. Freeman, New York

Swaine MD, Hawthorne WD, Orgle TK (1992) The effects of fire exclusion on savanna vegetation at Kpong, Ghana. Biotropica 24:166–172

Zar JH (1999) Biostatistical analysis. Prentice Hall, Englewood Cliffs
About this article
Cite this article
Hoffmann, W.A., Orthen, B. & Franco, A.C. Constraints to seedling success of savanna and forest trees across the savanna-forest boundary. Oecologia 140, 252–260 (2004). https://doi.org/10.1007/s00442-004-1595-2
Received:

Accepted:

Published:

Issue Date:
Keywords
Carbohydrate

Cerrado

Fire

Tropical forest

Water potential