Abstract
Ecological applications of stable isotope analysis rely on different producers having distinct isotopic ratios to trace energy and nutrient transfer to consumers. Carbon (C) and nitrogen (N) are the usual elements analysed. We tested the hypothesis that producers unable to be separated using C and N would be separated by sulphur (S), by reviewing estuarine and marine food web studies using all three elements (total of 836 pairwise comparisons between producers). S had a wider range of values across all producers than C and N (S: 34.4, C: 23.3, N: 18.7‰), and a higher mean difference among producers (S: 9.3, C: 6.5, N: 3.3‰). We varied from 1 to 10‰ the distance producers must be apart to be considered separate. For each of these gap distances, S-separated producers tied on C and N in 40% or more of cases. Comparing the three elements individually, S had fewer tied pairs of producers for any gap distance than C or N. However, S also has higher within-producer variability. Statistical tests on simulated data showed that this higher variability caused S to be less effective than C for analysing differences among mean producer values, yet mixing models showed that S had the smallest confidence intervals around mean estimates of source contributions to consumers. We also examined the spatial and temporal scales over which S isotope signatures of the saltmarsh plant Spartina alterniflora varied. Differences between samples taken within tens of metres were smallest, but between samples hundreds of metres apart were as different as samples thousands of kilometres apart. The time between samples being taken did not influence S signatures. Overall, the use of S is recommended because it has a high probability of distinguishing the contribution of different producers to aquatic food webs. When two elements are employed, the combination of S and C separates more producers than any other combination.
This is a preview of subscription content, log in to check access.
Access options
Buy single article
Instant access to the full article PDF.
US$ 39.95
Price includes VAT for USA
Subscribe to journal
Immediate online access to all issues from 2019. Subscription will auto renew annually.
US$ 199
This is the net price. Taxes to be calculated in checkout.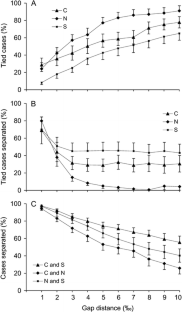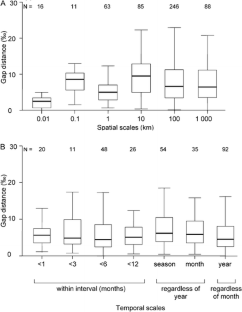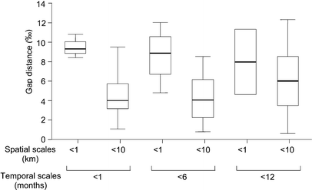 References
Chanton JP, Lewis FG (1999) Plankton and dissolved inorganic carbon isotopic composition in a river dominated estuary: Apalachicola Bay, Florida. Estuaries 22:575–583

Chukhrov FV, Ermilova LP, Churikov VS, Nosik LP (1980) The isotopic condition of plant sulfur. Org Geochem 2:69–75

Coffin RB, Fry B, Wright RT (1989) Carbon isotopic compositions of estuarine bacteria. Limnol Oceanogr 34:1305–1310

Cornwell JC, Stevenson JC, Stribling JM (1990) Biogeochemical studies in the Monie Bay National Estuarine Research Reserve. Report No. NA89AA/D C2 130. Chesapeake Bay National Estuarine Research Reserve, Washington, D.C.

Couch CA (1989) Carbon and nitrogen stable isotopes of meiobenthos and their food resources. Estuar Coast Shelf Sci 28:433–441

Currin CA, Newell SY, Paerl HW (1995) The role of standing dead Spartina alterniflora and benthic microalgae in salt marsh food webs—considerations based on multiple stable isotope analysis. Mar Ecol Prog Ser 121:99–116

Deegan LA, Garritt RH (1997) Evidence for spatial variability in estuarine food webs. Mar Ecol Prog Ser 147:31–47

Deegan LA, Peterson BJ, Portier R (1990) Stable isotopes and cellulase activity as evidence for detritus as a food source for juvenile gulf menhaden. Estuaries 13:14–19

Farquhar GD, Ehleringer JR, Hubrick KT (1989) Carbon isotope discrimination and photosynthesis. Annu Rev Plant Physiol Plant Mol Biol 40:503–537

Fry B (1983) Fish and shrimp migrations in the northern Gulf of Mexico analysed using stable C, N and S isotope ratios. Fish Bull 81:789–801

Fry B (1988) Food web structure on Georges Bank from stable C, N, and S isotopic compositions. Limnol Oceanogr 33:1182–1190

Fry B, Scalan RS, Winters JK, Parker PL (1982) Sulphur uptake by salt grasses, mangroves, and seagrasses in anaerobic sediments. Geochim Cosmochim Acta 46:1121–1124

Fry B, Mumford PL, Tam F, Fox DD, Warren GL, Havens KE, Steinman AD (1999) Trophic position and individual feeding histories of fish from Lake Okeechobee, Florida. Can J Fish Aquat Sci 56:590–600

Fry B, Silva SR, Kendall C, Anderson RK (2002) Oxygen isotope corrections for online δ34S analysis. Rapid Commun Mass Spectrom 16:854–858

Harrigan P, Zieman JC, Macko SA (1989) The base of nutritional support for the Gray Snapper (Lutjanus griseus): an evaluation based on a combined stomach content and stable isotope analysis. Bull Mar Sci 44:65–77

Hsieh YP, Shieh YN (1997) Analysis of reduced inorganic sulfur by diffusion methods: improved apparatus and evaluation for sulfur isotopic studies. Chem Geol 137:255–261

Kharlamenko VI, Kiyashko SI, Imbs AB, Vyshkvartzev DI (2001) Identification of food sources of invertebrates from the seagrass Zostera marina community using carbon and sulfur stable isotope ratio and fatty acid analyses. Mar Ecol Prog Ser 220:103–117

Kwak TJ, Zedler JB (1997) Food web analysis of southern California coastal wetlands using multiple stable isotopes. Oecologia 110:262–277

Lajtha K, Michener RH (eds) (1994) Stable isotopes in ecology and environmental science. Blackwell, London

Loneragan NR, Bunn SE, Kellaway DM (1997) Are mangroves and seagrasses sources of organic carbon for penaeid prawns in a tropical Australian estuary? A multiple stable isotope study. Mar Biol 130:289–300

Machás R, Santos R (1999) Sources of organic matter in Ria Formosa revealed by stable isotope analysis. Acta Oecol 20:463–469

Macko SA, Estep MLF (1984) Microbial alteration of stable nitrogen and carbon isotopic compositions of organic matter. Org Geochem 6:787–790

McCutchan JH, Lewis WM, Kendall C, McGrath CC (2003) Variation in trophic shift for stable isotope ratios of carbon, nitrogen and sulfur. Oikos 102:378–390

Mekhtiyeva VL, Pankina RG, Gavrilov YY (1976) Distributions and isotopic compositions of forms of sulfur in water animals and plants. Geochem Int 13:82–87

Melville AJ, Connolly RM (2003) Spatial analysis of stable isotope data to determine primary sources of nutrition for fish. Oecologia 136:499–507

Michener RH, Schell DM (1994) Stable isotope ratios as tracers in marine aquatic food webs. In: Lajtha K, Michener RH (eds) Stable isotopes in ecology and environmental science. Blackwell, London, pp 121–157

Monaghan JM, Scrimgeour CM, Stein WM, Zhao FJ, Evans EJ (1999) Sulphur accumulation and redistribution in wheat (Triticum aestivum): a study using stable sulphur isotope ratios as a tracer. Plant Cell Environ 22:831–839

Moncreiff CA, Sullivan MJ (2001) Trophic importance of epiphytic algae in subtropical seagrass beds: evidence from multiple stable isotope analyses. Mar Ecol Prog Ser 215:93–106

Newell RIE, Marshall N, Sasekumar A, Chong VC (1995) Relative importance of benthic microalgae, phytoplankton, and mangroves as sources of nutrition for penaeid prawns and other coastal invertebrates from Malaysia. Mar Biol 123:595–606

O'Leary MH (1988) Carbon isotopes in photosynthesis. Bioscience 38:328–336

Peterson BJ (1999) Stable isotopes as tracers of organic matter input and transfer in benthic food webs: a review. Acta Oecol 20:479–487

Peterson BJ, Fry B (1987) Stable isotopes in ecosystem studies. Annu Rev Ecol Syst 18:293–320

Peterson BJ, Howarth RW (1987) Sulfur, carbon, and nitrogen isotopes used to trace organic matter flow in the salt-marsh estuaries of Sapelo Island, Georgia. Limnol Oceanogr 32:1195–1213

Peterson BJ, Howarth RW, Garritt RH (1985) Multiple stable isotopes used to trace the flow of organic matter in estuarine food webs. Science 227:1361–1363

Peterson BJ, Howarth RW, Garritt RH (1986) Sulfur and carbon isotopes as tracers of salt-marsh organic matter flow. Ecology 67:865–874

Phillips DL, Gregg JW (2001) Uncertainty in source partitioning using stable isotopes. Oecologia 127:171–179

Pinnegar J, Polunin N (2000) Contributions of stable-isotope data to elucidating food webs of Mediterranean rocky littoral fishes. Oecologia 122:399–409

Stribling JM, Cornwell JC, Currin C (1998) Variability of stable sulfur isotopic ratios in Spartina alterniflora. Mar Ecol Prog Ser 166:73–81

Sullivan MJ, Moncreiff CA (1990) Edaphic algae are an important component of salt marsh food-webs: evidence from multiple stable isotope analyses. Mar Ecol Prog Ser 62:149–159

Thode HG (1991) Sulfur isotopes in nature and the environment: an overview. In: Krouse HR, Grinenko VA (eds) Stable isotopes: natural and anthropogenic sulphur in the environment. Wiley, Chichester, pp 1–26

Trust BA, Fry B (1992) Stable sulphur isotopes in plants: a review. Plant Cell Environ 15:1105–1110

Wainright SC, Weinstein MP, Able KW, Currin CA (2000) Relative importance of benthic microalgae, phytoplankton and the detritus of smooth cordgrass Spartina alterniflora and the common reed Phragmites australis to brackish-marsh food webs. Mar Ecol Prog Ser 200:77–91

Weinstein MP, Litvin S, Bosley KL, Fuller CM, Wainright SC (2000) The role of tidal salt marsh as an energy source for marine transient and resident finfishes: a stable isotope approach. Trans Am Fish Soc 129:797–810

Zieman JC, Macko SA, Mills AL (1984) Role of seagrasses and mangroves in estuarine food webs: temporal and spatial changes in stable isotope composition and amino acid content during decomposition. Bull Mar Sci 35:380–392
Acknowledgements
We thank our colleagues in the marine ecology group at Griffith University, particularly T. Gaston and T. Stevens, for helping to improve the manuscript. This study did not involve experimentation on animals.
About this article
Cite this article
Connolly, R.M., Guest, M.A., Melville, A.J. et al. Sulfur stable isotopes separate producers in marine food-web analysis. Oecologia 138, 161–167 (2004). https://doi.org/10.1007/s00442-003-1415-0
Received:

Accepted:

Published:

Issue Date:
Keywords
Estuary

Spartina

Trophic ecology

Variability