Abstract
The Alaskan tussock tundra is a strongly nutrient-limited ecosystem, where almost all vascular plant species are mycorrhizal. We established a long-term removal experiment to document effects of arctic plant species on ecto- and ericoid mycorrhizal fungi and to investigate whether species interactions and/or nutrient availability affect mycorrhizal colonization. The treatments applied were removal of Betula nana (Betulaceae, dominant deciduous shrub species), removal of Ledum palustre (Ericaceae, dominant evergreen shrub species), control (no removal), and each of these three treatments with the addition of fertilizer. After 3 years of Ledum removal and fertilization, we found that overall ectomycorrhizal colonization in Betula was significantly reduced. Changes in ectomycorrhizal morphotype composition in removal and fertilized treatments were also observed. These results suggest that the effect of Ledum on Betula 's mycorrhizal roots is due to sequestration of nutrients by Ledum, leading to reduced nutrient availability in the soil. In contrast, ericoid mycorrhizal colonization was not affected by fertilization, but the removal of Betula and to a lower degree of Ledum resulted in a reduction of ericoid mycorrhizal colonization suggesting a direct effect of these species on ericoid mycorrhizal colonization. Nutrient availability was only higher in fertilized treatments, but caution should be taken with the interpretation of these data as soil microbes may effectively compete with the ion exchange resins for the nutrients released by plant removal in these nutrient-limited soils.
This is a preview of subscription content, log in to check access.
Access options
Buy single article
Instant access to the full article PDF.
US$ 39.95
Price includes VAT for USA
Subscribe to journal
Immediate online access to all issues from 2019. Subscription will auto renew annually.
US$ 199
This is the net price. Taxes to be calculated in checkout.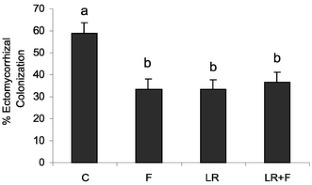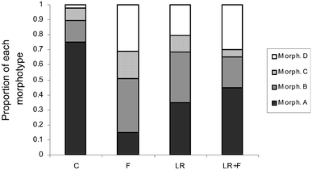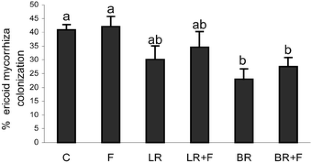 References
Abbott LK, Robson AD, De Boer G (1984) The effect of phosphorus on the formation of hyphae in soil by the fungus, Glomus fasciculatum. New Phytol 97:437–446

Aerts R, Bobbink R (1999) The impact of atmospheric nitrogen deposition on vegetation processes in terrestrial non-forest ecosystems. In: Langan S (ed) The impact of nitrogen deposition on natural and semi-natural ecosystems. Kluwer, Dordrecht, pp 85–122

Aerts R, Chapin III FS (2000) The mineral nutrition of wild plants revisited: a re-evaluation of processes and patterns. Adv Ecol Res 30:1–67

Agerer R (1987–1996) Colour atlas of ectomycorrhizae. Einhorn, Schwäbish Gmünd, Germany

Allen MF (1991) The ecology of mycorrhizae. Cambridge University Press, Cambridge

Allen E, Allen MF (1991) The mediation of competition by mycorrhizae in successional and patchy environments. In Grace JB, Tilman D (eds) Perspectives on plant competition. Academic Press, San Diego, Calif., pp 367–389

Binkley D (1984) Ion exchange resin bags: factors affecting estimates of nitrogen availability. Soil Sci Soc Am J 48:1181–1184

Bret-Harte MS, Shaver GR, Zoerner JP, Johnstone JF, Wagner JL, Chavez AS, Gunkelman IV RF, Lippert SC, Laundre JA (2001) Developmental plasticity allows Betula nana to dominate tundra subjected to an altered environment. Ecology 82:18–32

Bret-Harte MS, Shaver GR, Chapin FS III (2002) Primary and secondary growth in arctic shrubs: implications for community response to environmental change. J Ecol 90:251–267

Brundrett M, Bougher N, Dell B, Grove T, Malajczuk N (1996) Working with mycorrhizas in forestry and agriculture. ACIAR Monogr 32

Caporn SJ, Song MW, Read DJ, Lee JA (1995) The effect of repeated fertilization on mycorrhizal infection in heather [ Calluna vulgaris (L.) Hull]. New Phytol 129:605–609

Chapin FS III, Shaver GR (1985) Individualistic growth response of tundra plant species to environmental manipulations in the field. Ecology 66:564–576

Chapin FS III, Shaver GR (1996) Physiological and growth responses of arctic plants to a field experiment simulating climatic change. Ecology 77:822–840

Chapin FS III, Shaver GR, Giblin AE, Nadelhoffer KJ, Laundre JA (1995) Response of arctic tundra to experimental and observed changes in climate. Ecology 76:694–711

Chapin FS III, Bret-Harte MS, Hobbie SE, Zhong H (1996) Plant functional types as predictors of transient responses of arctic vegetation to global change. J Veg Sci 7:347–358

Deacon JW, Fleming LV (1992) Interactions of ectomycorrhizal fungi. In: Allen M (ed) Mycorrhizal functioning. Chapman & Hall, New York, pp 249–300

Díaz S, Symstad AJ, Chapin FS III, Wardle DA, Huenneke LF (2003) Functional diversity revealed by removal experiments. Trends Ecol Evol 18:140–146

Giblin AE, Nadelhoffer KJ, Shaver GR, Laundre JA, McKerrow AJ (1991) Biogeochemical diversity along a riverside toposequence in arctic Alaska. Ecol Monogr 61:415–435

Grace C, Stribley DP (1991) A safer procedure for routine staining of vesicular-arbuscular mycorrhizal fungi. Mycol Res 95:1160–1162

Helm DJ, Allen EB, Trappe JM (1996) Mycorrhizal chronosequence near Exit Glacier, Alaska. Can J Bot 74:1496–1506

Helm DJ, Allen EB, Trappe JM (1999) Plant growth and ectomycorrhizae formation by transplants on deglaciated land near Exit Glacier, Alaska. Mycorrhiza 8:297–304

Hobbie SE, Chapin III FS (1998) The response of tundra plant biomass, aboveground production, nitrogen, and CO2 flux to experimental warming. Ecology 79:1526–1544

Hobbie SE, Shevtsova A, Chapin III FS (1999) Plant responses to species removal and removal warming in Alaskan tussock tundra. Oikos 84:417–434

Hultén E (1968) Flora of Alaska and neighboring territories. Stanford University Press, Stanford

Jasper, DA, Robson AD, Abbott LK (1979) Phosphorus and the formation of vesicular-arbuscular mycorrhizas. Soil Biol Biochem 11:501–505

Johansson M (2000) The influence of ammonium nitrate on the root growth and ericoid mycorrhizal colonization of Calluna vulgaris (L.) Hull from a Danish heathland. Oecologia 123:418–424

Lajtha K (1988) The use of ion exchange resin bags for measuring nutrient availability in an arid ecosystem. Plant Soil 105:105–111

Lilleskov EA, Bruns T (2001) Nitrogen and ectomycorrhizal fungal communities: what we know, what we need to know. New Phytol 149:154–158

McGonigle TP, Miller MH, Evans DG, Fairchild GL, Swan JA (1990) A method which gives an objective measure of colonization of roots by vesicular-arbuscular mycorrhizal fungi. New Phytol 115:495–501

McKane RB, Johnson LC, Shaver GR, Nadelhoffer KJ, Rastetter EB, Fry B, Giblin AE, Kielland K, Kwiatkowski B, Laundre JA, Murray G (2002) Resource-based niches provide a basis for plant species diversity and dominance in arctic tundra. Nature 415:68–71

Michelsen A, Schmidt IK, Jonasson S, Dighton J, Jones HE, Callaghan T (1995) Inhibition of growth, and effects on nutrient uptake of arctic graminoids by leaf extracts—allelopathy or resource competition between plants and microbes? Oecologia 103:407–418

Michelsen A, Graglia E, Schmidt I, Jonasson S, Sleep D, Quarmby C (1999) Differential responses of grass and dwarf shrub to long-term changes in soil microbial biomass C, N and P following factorial addition of NPK fertilizer, fungicide and labile carbon to a heath. New Phytol 143:523–538

Moore-Parkhust S, Eglander L (1982) Mycorrhizal status of Rhododendron spp. in commercial nurseries in Rhode Island. Can J Bot 60:2342–2344

Nadelhoffer KL, Shaver GR, Fry B, Giblin AE, Johnson LC, McKane RB (1996) 15N natural abundance and N use by plants. Oecologia 107:386–394

Norusis MJ (1997) SPSS for Windows. Advanced statistics, Release 5

Omar MB, Bolland L, Heather WA (1979) A permanent mounting medium for fungi. Bull Br Mycol Soc 13:31–32

Peter M, Ayer F, Egli S (2001) Nitrogen addition in a Norway spruce stand altered macromycete sporocarp production and below-ground ectomycorrhizal species composition. New Phytol 149:311–325

Read DJ (1991) Mycorrhizas in ecosystems. Experientia 47:376–391

Shaver GR, Chapin III FS (1980) Response to fertilization by various plant growth forms in an Alaskan tundra: nutrient accumulation and growth. Ecology 61:662–675

Shaver GR, Chapin III FS (1986) Effect of fertilizer on production and biomass of tussock tundra, Alaska, USA. Arct Alp Res 18:261–268

Shaver GR, Chapin III FS (1991) Production: biomass relationships and element cycling in contrasting arctic vegetation types. Ecol Monogr 61:1–31

Shaver GR, Bret-Harte MS, Jones MH, Johnstone JF, Gough L, Chapin III FS (2001) Species composition interacts with fertilizer to control long-term change in tundra productivity. Ecology 82:3163–3181

Stribley DP, Read DJ (1976) The biology of mycorrhiza in the Ericaceae. VI. The effects of mycorrhizal infection and concentration of ammonium nitrogen on growth of cranberry ( Vaccinium macrocarpon Ait.) in sand culture. New Phytol 77:63–72

Wallenda T, Kottke I (1998) Nitrogen deposition and ectomycorrhizas. New Phytol 139:169–187

Whitledge TE, Mallow SC, Patton CJ, Wirick CD (1981) Automated nutrient analysis in seawater. Technical report. Ocean Science Division, Brookhaven National Laboratory, Upton, N.Y.

Winer BJ, Brown DR, Michels KM (1991) Statistical principles in experimental design, 3rd edn. McGraw-Hill, New York

Zar JH (1999) Biostatistical analysis, 4th edn. Prentice Hall, Upper Saddle River, N.J.
Acknowledgements
We thank Joanna Wagner, Suzanne Lippert, Kristen Laughridge, Sonia Nosratinia, Laura Gold, Cameron Walker, Joshua Whorley, Erica Garcia, Kristin Lebacqz, Vincianne Sacré, David Cook, Stacey Young, Theresa McHugh, Jesse Burns, Peter Ray, and Gus Shaver for help in establishing and maintaining this experiment. We gratefully acknowledge the U.S. National Science Foundation (grant no. OPP-9896302, OPP-ATLAS 9896302), IAI (grant no. ISP III–3018), and Fundación Antorchas for their financial support.
About this article
Cite this article
Urcelay, C., Bret-Harte, M.S., Díaz, S. et al. Mycorrhizal colonization mediated by species interactions in arctic tundra. Oecologia 137, 399–404 (2003). https://doi.org/10.1007/s00442-003-1349-6
Received:

Accepted:

Published:

Issue Date:
Keywords
Ectomycorrhizas

Ericoid mycorrhizas

Nutrient availability

Mycorrhizal root interactions

Removal experiment