Abstract
Male reproductive organ plays an important role in sperm production, maintenance and entry to the female reproductive tract, as well as generation and secretion of male sex hormones responsible for the health of male reproductive system. The purpose of this paper is to discuss the experimental and clinical evidence on the utilization of tissue engineering techniques in treating male infertility. Tissue engineering (TE) and regenerative medicine have developed new approaches to treat patients with reproductive disorders such as iatrogenic injuries, congenital abnormalities, and trauma. In some cases, including congenital defects and undescended testis or hypogonadism, the sperm samples are not retrieved. This makes TE a possible future strategy for restoration of male fertility. Here, we have summarized the recent advances in experimental and clinical application of cell-, tissue-, and organ-based regenerative medicine in male reproductive disorders.
This is a preview of subscription content, log in to check access.
Access options
Buy single article
Instant access to the full article PDF.
US$ 39.95
Price includes VAT for USA
Subscribe to journal
Immediate online access to all issues from 2019. Subscription will auto renew annually.
US$ 199
This is the net price. Taxes to be calculated in checkout.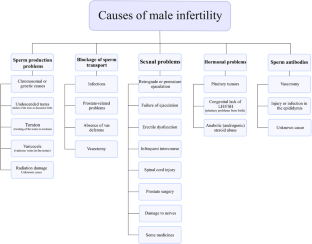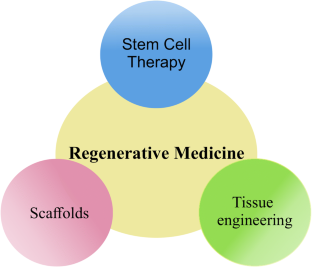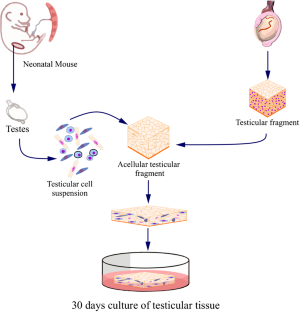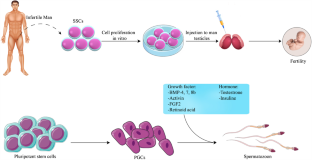 Abbreviations
TE:

Tissue engineering

ECM:

Extracellular matrix

iPSCs:

induced pluripotent stem cells

ESCs:

Embryonic stem cells

MSCs:

Mesenchymal stem cells

GFs:

Growth factors

ART:

Assisted reproductive techniques

VEGF:

Vascular endothelial growth factor

BMP:

Bone morphogenetic protein

TGF:

Transforming growth factor

hESC:

Human embryonic stem cells

SSCs:

Spermatogonia stem cells

2D:

2-dimensional

3D:

3-dimensional

IVF :

in vitro fertilization

ICSI:

Intracytoplasmic sperm injection

SCNT:

Somatic cell nuclear transfer

PGCs:

Primordial germ cells

CBVD:

Congenital bilateral vas deferens

SMC:

Smooth muscle cells

TDSs:

Testis-derived scaffolds

TOs:

Testicular organoids
References
Alves-Lopes JP, Stukenborg J-B (2017) Testicular organoids: a new model to study the testicular microenvironment in vitro? Hum Reprod Update 24:176–191

Amorim CA (2017) Special issue devoted to a new field of regenerative medicine: reproductive tissue engineering. Ann Biomed Eng 45:1589–1591

Aponte PM (2015) Spermatogonial stem cells: current biotechnological advances in reproduction and regenerative medicine. World J Stem Cells 7:669

Arora KS, Blake V (2014) Uterus transplantation: ethical and regulatory challenges. J Med Ethics 40:396–400

Artel A, Mehdizadeh H, Chiu Y-C, Brey EM, Cinar A (2011) An agent-based model for the investigation of neovascularization within porous scaffolds. Tissue Eng A 17:2133–2141

Atala A (2012) Tissue engineering of reproductive tissues and organs. Fertil Steril 98:21–29

Baert Y, Stukenborg J-B, Landreh M, De Kock J, Jörnvall H, Söder O, Goossens E (2014) Derivation and characterization of a cytocompatible scaffold from human testis. Hum Reprod 30:256–267

Bojnordi MN (2017) The applications and recovery outcome of spermatogonia stem cells in regenerative medicine. Middle East Fertil Soc J 22:246–250

Bojnordi MN, Movahedin M, Tiraihi T, Javan M (2012) A simple co-culture system for generation of embryonic stem-like cells from testis. Iran Red Crescent Med J 14:811

Bredenoord AL, Clevers H, Knoblich JA (2017) Human tissues in a dish: the research and ethical implications of organoid technology. Science 355:eaaf9414

Cai H, Xia X, Wang L, Liu Y, He Z, Guo Q, Xu C (2013) In vitro and in vivo differentiation of induced pluripotent stem cells into male germ cells. Biochem Biophys Res Commun 433:286–291

Cakici C, Buyrukcu B, Duruksu G, Haliloglu AH, Aksoy A, Isık A, Uludag O, Ustun H, Subası C, Karaoz E (2013) Recovery of fertility in azoospermia rats after injection of adipose-tissue-derived mesenchymal stem cells: the sperm generation. Biomed Res Int 2013:18

Campbell GR, Turnbull G, Xiang L, Haines M, Armstrong S, Rolfe BE, Campbell JH (2008) The peritoneal cavity as a bioreactor for tissue engineering visceral organs: bladder, uterus and vas deferens. J Tissue Eng Regen Med 2:50–60

Caplan AI (2019) Tissue engineering: then, now, and the future. Tissue Eng A 25:515–517

Cavalcanti BN, Nör JE (2019) Current and future views on pulpal tissue engineering. In: Clinical approaches in endodontic regeneration. Springer, Berlin, pp 161–175

Chen F-M, Liu X (2016) Advancing biomaterials of human origin for tissue engineering. Prog Polym Sci 53:86–168

Chen K-L, Eberli D, Yoo JJ, Atala A (2010) Bioengineered corporal tissue for structural and functional restoration of the penis. Proc Natl Acad Sci 107:3346–3350

Chen Z, Li Z, He Z (2015) Plasticity of male germline stem cells and their applications in reproductive and regenerative medicine. Asian J Androl 17:367

de Souza D, Faucz F, Pereira-Ferrari L, Sotomaior V, Raskin S (2018) Congenital bilateral absence of the vas deferens as an atypical form of cystic fibrosis: reproductive implications and genetic counseling. Andrology 6:127–135

Del Vento F, Vermeulen M, de Michele F, Giudice M, Poels J, des Rieux A, Wyns C (2018) Tissue engineering to improve immature testicular tissue and cell transplantation outcomes: one step closer to fertility restoration for prepubertal boys exposed to gonadotoxic treatments. Int J Mol Sci 19:286

Dikina AD, Alt DS, Herberg S, McMillan A, Strobel HA, Zheng Z, Cao M, Lai BP, Jeon O, Petsinger VI (2018) A modular strategy to engineer complex tissues and organs. Adv Sci 5:1700402

Dull RB (2012) Male infertility: an overview of the causes and treatments. US Pharm 37:39–42

Durruthy Durruthy J, Ramathal C, Sukhwani M, Fang F, Cui J, Orwig KE, Reijo Pera RA (2014) Fate of induced pluripotent stem cells following transplantation to murine seminiferous tubules. Hum Mol Genet 23:3071–3084

Easley CA IV, Phillips BT, McGuire MM, Barringer JM, Valli H, Hermann BP, Simerly CR, Rajkovic A, Miki T, Orwig KE (2012) Direct differentiation of human pluripotent stem cells into haploid spermatogenic cells. Cell Rep 2:440–446

Elhija MA, Lunenfeld E, Schlatt S, Huleihel M (2012) Differentiation of murine male germ cells to spermatozoa in a soft agar culture system. Asian J Androl 14:285

Fang F, Li Z, Zhao Q, Li H, Xiong C (2018) Human induced pluripotent stem cells and male infertility: an overview of current progress and perspectives. Hum Reprod 33:188–195

Fatehullah A, Tan SH, Barker N (2016) Organoids as an in vitro model of human development and disease. Nat Cell Biol 18:246

Fu Q, Cao Y-l (2010) Use of tissue engineering in treatment of the male genitourinary tract abnormalities. J Sex Med 7:1741–1746

Garg S, Garg A, Shukla A, Dev SK, Kumar M (2018) A review on Nano-therapeutic drug delivery carriers for effective wound treatment strategies. Asian J Pharm Pharmacol 4:90–101

Ghorbanlou M, Abdanipour A, Shirazi R, Malekmohammadi N, Shokri S, Nejatbakhsh R (2019) Indirect co-culture of testicular cells with bone marrow mesenchymal stem cells leads to male germ cell-specific gene expressions. Cell J 20:505

Gomes ME, Rodrigues MT, Domingues RM, Reis RL (2017) Tissue engineering and regenerative medicine: new trends and directions—a year in review. Tissue Eng B Rev 23:211–224

Goodyear S, Brinster R (2017) Spermatogonial stem cell transplantation to the testis. Cold Spring Harbor Protocols 2017:pdb. prot094235

Haseltine WA (2001) The emergence of regenerative medicine: a new field and a new society. E-biomed: J Regenerat Med 2:17–23

Hayashi K, Ohta H, Kurimoto K, Aramaki S, Saitou M (2011) Reconstitution of the mouse germ cell specification pathway in culture by pluripotent stem cells. Cell 146:519–532

Hermann BP, Sukhwani M, Winkler F, Pascarella JN, Peters KA, Sheng Y, Valli H, Rodriguez M, Ezzelarab M, Dargo G (2012) Spermatogonial stem cell transplantation into rhesus testes regenerates spermatogenesis producing functional sperm. Cell Stem Cell 11:715–726

House M, Sanchez CC, Rice WL, Socrate S, Kaplan DL (2010) Cervical tissue engineering using silk scaffolds and human cervical cells. Tissue Eng A 16:2101–2112

Howard D, Buttery LD, Shakesheff KM, Roberts SJ (2008) Tissue engineering: strategies, stem cells and scaffolds. J Anat 213:66–72

Jackson EL, Lu H (2016) Three-dimensional models for studying development and disease: moving on from organisms to organs-on-a-chip and organoids. Integr Biol 8:672–683

Jalayeri M, Pirnia A, Najafabad EP, Varzi AM, Gholami M (2017) Evaluation of alginate hydrogel cytotoxicity on three-dimensional culture of type A spermatogonial stem cells. Int J Biol Macromol 95:888–894

Jungwirth A, Giwercman A, Tournaye H, Diemer T, Kopa Z, Dohle G, Krausz C, Infertility EWGoM (2012) European Association of Urology guidelines on male infertility: the 2012 update. Eur Urol 62:324–332

Kaiser L (1992) The future of multihospital systems. Topics in health care financing 18:32–45

Kanatsu-Shinohara M, Morimoto H, Shinohara T (2016) Fertility of male germline stem cells following spermatogonial transplantation in infertile mouse models. Biol Reprod 94(112):111–111

Keshtmand Z, Oryan S, Ghanbari A, Khazaei M (2014) Protective effect of Tribulus terrestris hydroalcoholic extract against cisplatin-induced cytotoxicity on sperm parameters in male mice. Int J Morphol 32:551–557

Kim YS, Smoak MM, Melchiorri AJ, Mikos AG (2019) An overview of the tissue engineering market in the United States from 2011 to 2018. Tissue Eng A 25:1–8

Kubota H, Brinster RL (2018) Spermatogonial stem cells. Biol Reprod 99:52–74

Lee JK, Link JM, Hu JC, Athanasiou KA (2017) The self-assembling process and applications in tissue engineering. Cold Spring Harbor Perspect Med 7:a025668

Lee SJ, Yoo JJ, Atala A (2018) Biomaterials and tissue engineering. In: Clinical Regenerative Medicine in Urology. Springer, Berlin, pp 17–51

Lue Y, Erkkila K, Liu PY, Ma K, Wang C, Hikim AS, Swerdloff RS (2007) Fate of bone marrow stem cells transplanted into the testis: potential implication for men with testicular failure. Am J Pathol 170:899–908

Mahabadi JA, Sabzalipoor H, Kehtari M, Enderami SE, Soleimani M, Nikzad H (2018) Derivation of male germ cells from induced pluripotent stem cells by inducers: a review. Cytotherapy 20:279–290

Mahla RS (2016) Stem cells applications in regenerative medicine and disease therapeutics. Int J Cell Biol 2016:6940283

Meng L, Liao W, Yang S, Xiong Y, Song C, Liu L (2016) Tissue-engineered tubular substitutions for urinary diversion in a rabbit model. Exp Biol Med 241:147–156

Miyaoka R, Esteves SC (2013) Predictive factors for sperm retrieval and sperm injection outcomes in obstructive azoospermia: do etiology, retrieval techniques and gamete source play a role? Clinics 68:111–119

Morris MI, Muller E (2019) Infectious complications of transplant tourism. Curr Infect Dis Rep 21:36

Mulder CL, Zheng Y, Jan SZ, Struijk RB, Repping S, Hamer G, van Pelt AM (2016) Spermatogonial stem cell autotransplantation and germline genomic editing: a future cure for spermatogenic failure and prevention of transmission of genomic diseases. Hum Reprod Update 22:561–573

Mulder CL, Catsburg LA, Zheng Y, de Winter-Korver CM, Van Daalen SK, Van Wely M, Pals S, Repping S, Van Pelt AM (2017) Long-term health in recipients of transplanted in vitro propagated spermatogonial stem cells. Hum Reprod 33:81–90

Mumme M, Wixmerten A, Miot S, Barbero A, Kaempfen A, Saxer F, Gehmert S, Krieg A, Schaefer DJ, Jakob M (2019) Tissue engineering for paediatric patients. Swiss Med Wkly 149

Murdock MH, David S, Swinehart IT, Reing JE, Tran K, Gassei K, Orwig KE, Badylak SF (2019) Human testis extracellular matrix enhances human spermatogonial stem cell survival in vitro. Tissue Eng A 25:663–676

Nayernia K, Lee JH, Drusenheimer N, Nolte J, Wulf G, Dressel R, Gromoll J, Engel W (2006) Derivation of male germ cells from bone marrow stem cells. Lab Investig 86:654

Nickkholgh B, Mizrak SC, Van Daalen SK, Korver CM, Sadri-Ardekani H, Repping S, van Pelt AM (2014) Genetic and epigenetic stability of human spermatogonial stem cells during long-term culture. Fertil Steril 102:1700–1707. e1701

Nikolic A, Volarevic V, Armstrong L, Lako M, Stojkovic M (2016) Primordial germ cells: current knowledge and perspectives. Stem Cells Int 2016:1741072

Olabisi RM (2015) Cell microencapsulation with synthetic polymers. J Biomed Mater Res A 103:846–859

Olson JL, Atala A, Yoo JJ (2011) Tissue engineering: current strategies and future directions. Chonnam Med J 47:1–13

Patel MN, Atala A (2011) Tissue engineering of the penis. Sci World J 11:2567–2578

Peak TC, Haney NM, Wang W, DeLay KJ, Hellstrom WJ (2016) Stem cell therapy for the treatment of Leydig cell dysfunction in primary hypogonadism. World J Stem Cells 8:306

Poels J, Abou-Ghannam G, Decamps A, Leyman M, des Rieux A, Wyns C (2016) Transplantation of testicular tissue in alginate hydrogel loaded with VEGF nanoparticles improves spermatogonial recovery. J Control Release 234:79–89

Pourmoghadam Z, Aghebati-Maleki L, Motalebnezhad M, Yousefi B, Yousefi M (2018) Current approaches for the treatment of male infertility with stem cell therapy. J Cell Physiol 233:6455–6469

Raya-Rivera AM, Baez C, Atala A, Yoo JJ (2008) Tissue engineered testicular prostheses with prolonged testosterone release. World J Urol 26:351–358

Roberts K, Kim JT, White S, Hestekin J, Wolchok JC (2019) Production of Extracellular Matrix Fibers via Sacrificial Hollow Fiber Membrane Cell Culture. J Vis Exp 2:e58791

Saberianpour S, Karimi A, Nemati S, Amini H, Sardroud HA, Khaksar M, Mamipour M, Nouri M, Rahbarghazi R (2019) Encapsulation of rat cardiomyoblasts with alginate-gelatin microspheres preserves stemness feature in vitro. Biomed Pharmacother 109:402–407

Sadri-Ardekani H, Atala A (2014) Testicular tissue cryopreservation and spermatogonial stem cell transplantation to restore fertility: from bench to bedside. Stem Cell Res Ther 5:68

Sadri-Ardekani H, Atala A (2015) Regenerative medicine for the treatment of reproductive system disorders: current and potential options. Adv Drug Deliv Rev 82:145–152

Sadri-Ardekani H, Atala A (2019) Regenerative medicine for the male reproductive system. In: Principles of Regenerative Medicine. Elsevier, Berlin, pp 1251–1261

Sadri-Ardekani H, Mizrak SC, van Daalen SK, Korver CM, Roepers-Gajadien HL, Koruji M, Hovingh S, de Reijke TM, de la Rosette JJ, van der Veen F (2009) Propagation of human spermatogonial stem cells in vitro. Jama 302:2127–2134

Sahare MG, Imai H (2018) Recent advances of in vitro culture systems for spermatogonial stem cells in mammals. Reproduct Med Biol 17:134–142

Sampogna G, Guraya SY, Forgione A (2015) Regenerative medicine: historical roots and potential strategies in modern medicine. J Microscopy Ultrastruct 3:101–107

Sato T, Katagiri K, Kubota Y, Ogawa T (2013) In vitro sperm production from mouse spermatogonial stem cell lines using an organ culture method. Nat Protoc 8:2098

Schlegel P (2009) Evaluation of male infertility. Minerva Ginecol 61:261–283

Sharma S, Portela J, Langenstroth-Röwer D, Wistuba J, Neuhaus N, Schlatt S (2017) Male germline stem cells in non-human primates. Primate Biol 4:173–184

Sharma S, Wistuba J, Pock T, Schlatt S, Neuhaus N (2019) Spermatogonial stem cells: updates from specification to clinical relevance. Hum Reprod Update 25:275–297

Silber S (2018) Evaluation of male infertility. In: Fundamentals of Male Infertility. Springer, Berlin, pp 47–58

Skaznik-Wikiel ME, Gilbert SB, Meacham RB, Kondapalli LA (2015) Fertility preservation options for men and women with cancer. Rev Urol 17:211

Takashima S (2018) Biology and manipulation technologies of male germline stem cells in mammals. Reproduct Med Biol 17:398–406

Talebi A, Gilani MAS, Koruji M, Ai J, Navid S, Rezaie MJ, Jabari A, Movassagh SA, Khadivi F, Salehi M (2019) Proliferation and differentiation of mouse Spermatogonial stem cells on a three-dimensional surface composed of PCL/gel Nanofibers. Int J Morphol 37:1132–1141

Taylor RA, Cowin PA, Cunha GR, Pera M, Trounson AO, Pedersen J, Risbridger GP (2006) Formation of human prostate tissue from embryonic stem cells. Nat Methods 3:179

Terzic A, Pfenning MA, Gores GJ, Harper CM (2015) Regenerative medicine build-out. Stem Cells Transl Med 4:1373–1379

Thoma ME, McLain AC, Louis JF, King RB, Trumble AC, Sundaram R, Louis GMB (2013) Prevalence of infertility in the United States as estimated by the current duration approach and a traditional constructed approach. Fertil Steril 99:1324–1331. e1321

Topraggaleh TR, Valojerdi MR, Montazeri L, Baharvand H (2019) Testis-derived macroporous 3D scaffold as a platform for the generation of mouse testicular organoids. Biomater Sci 7:1422–1436

Tournaye H, Goossens E (2011) Spermatogonial stem cells: what does the future hold? Facts Views Vision ObGyn 3:36

Vassena R, Eguizabal C, Heindryckx B, Sermon K, Simon C, van Pelt A, Veiga A, Zambelli F (2015) Stem cells in reproductive medicine: ready for the patient? Hum Reprod 30:2014–2021

Velez MP, Hamel C, Hutton B, Gaudet L, Walker M, Thuku M, Cobey KD, Pratt M, Skidmore B, Smith GN (2019) Care plans for women pregnant using assisted reproductive technologies: a systematic review. Reprod Health 16:9

Vermeulen M, Poels J, De Michele F, Des Rieux A, Wyns C (2017) Restoring fertility with cryopreserved prepubertal testicular tissue: perspectives with hydrogel encapsulation, nanotechnology, and bioengineered scaffolds. Ann Biomed Eng 45:1770–1781

Vlajković S, Čukuranović R, Daković Bjelaković M, Stefanović V (2012) Possible therapeutic use of spermatogonial stem cells in the treatment of male infertility: a brief overview. Sci World J 2012:1–8

Volarevic V, Bojic S, Nurkovic J, Volarevic A, Ljujic B, Arsenijevic N, Lako M, Stojkovic M (2014) Stem cells as new agents for the treatment of infertility: current and future perspectives and challenges. Biomed Res Int 2014:507234

Witjas FM, van den Berg BM, van den Berg CW, Engelse MA, Rabelink TJ (2019) Concise review: the endothelial cell extracellular matrix regulates tissue homeostasis and repair. Stem Cells Transl Med 8:375–382

Yamzon JL, Kokorowski P, Koh CJ (2008) Stem cells and tissue engineering applications of the genitourinary tract. Pediatr Res 63:472

Yi S, Ding F, Gong L, Gu X (2017) Extracellular matrix scaffolds for tissue engineering and regenerative medicine. Current Stem Cell Res Ther 12:233–246

Yin X, Mead BE, Safaee H, Langer R, Karp JM, Levy O (2016) Engineering stem cell organoids. Cell Stem Cell 18:25–38

Yuan S, Schuster A, Tang C, Yu T, Ortogero N, Bao J, Zheng H, Yan W (2016) Sperm-borne miRNAs and endo-siRNAs are important for fertilization and preimplantation embryonic development. Development 143:635–647

Zhu W, Ma X, Gou M, Mei D, Zhang K, Chen S (2016) 3D printing of functional biomaterials for tissue engineering. Curr Opin Biotechnol 40:103–112

Ziaeipour S, Ahrabi B, Naserzadeh P, Aliaghaei A, Sajadi E, Abbaszadeh H-A, Amini A, Abdi S, Darabi S, Abdollahifar M-A (2019) Effects of Sertoli cell transplantation on spermatogenesis in azoospermic mice. Cell Physiol Biochem 52:421–434
Acknowledgments
This study was supported by stem cell research center at Tabriz University of Medical Sciences, Iran.
Ethics declarations
Conflict of interest
The authors declare that they have no conflict of interest.
Ethical approval
This article does not contain any studies with human and animal participants performed by any of the authors.
Additional information
Publisher's note
Springer Nature remains neutral with regard to jurisdictional claims in published maps and institutional affiliations.
About this article
Cite this article
Ghanbari, E., Khazaei, M., Ghahremani-nasab, M. et al. Novel therapeutic approaches of tissue engineering in male infertility. Cell Tissue Res (2020). https://doi.org/10.1007/s00441-020-03178-w
Received:

Accepted:

Published:
Keywords
Tissue engineering

Regenerative medicine

Stem cell

Growth factor

Scaffold