Sialoglycoprotein isolated from Carassius auratus eggs promotes osteogenesis by stimulating mesenchymal stem cells to commit to osteoblast differentiation
Abstract
In this study, we explore whether the pro-osteogenic effects of sialoglycoprotein from Carassius auratus eggs (Ca-SGP) involve mesenchymal stem cells (MSCs). Ovariectomized osteoporotic mice treated with Ca-SGP had increased bone formation and reduced bone marrow adipose tissue. As MSCs are common progenitors of osteoblasts and adipocytes, we isolated MSCs from Ca-SGP-treated mice and found that they tended to differentiate into osteoblasts over adipocytes confirmed by Alizarin red and Oil red O staining. This change was seen at the gene and protein level. To further explore the effect of Ca-SGP on MSCs, we isolated MSCs from healthy mice and treated them with Ca-SGP in vitro. We discovered that Ca-SGP promoted MSC differentiation to osteoblasts. In addition, Ca-SGP promoted osteogenesis and reduced the fat in marrow cavity of adolescent mice. For the first time, our results demonstrate that Ca-SGP promotes osteogenesis via stimulating MSCs to commit to osteoblasts.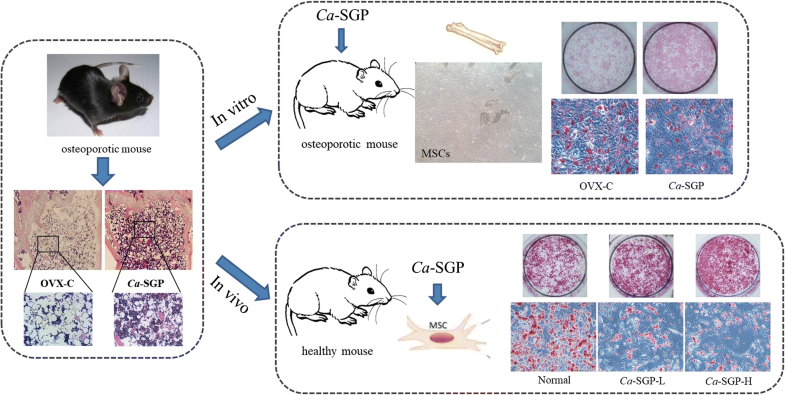 Keywords
Sialoglycoprotein 
Osteogenesis 
Mesenchymal stem cell 
Osteoblast 
Differentiation 
Notes
Funding information
This study is financially supported by the National Key R&D Program of China (No. 2018YFC0311203), National Natural Science Foundation of China (No. 31371876), Key Research & Development Plan of Shandong Province (No. 2016YYSP017) and National Key Research and Development Program (No. 2017YFF0207800).
Compliance with ethical standards
Animal protocols were approved by the ethical committee of experimental animal care at Ocean University of China (certificate no. SYXK20120014). All animal experiments were carried out following institutional guidelines.
Conflicts of interest
The authors declare that they have no competing interest.
Copyright information
© Springer-Verlag GmbH Germany, part of Springer Nature 2019