Abstract
Spinal disk herniation can induce radicular pain through chemical irritation caused by proinflammatory and immune responses. Bone marrow mesenchymal stem cells (BMSCs) are a unique type of adult stem cell with the functions of suppressing inflammation and modulating immune responses. This study was undertaken to observe the effect of intrathecal BMSCs on the treatment of mechanical allodynia and the suppression of microglial activation in a rat noncompressive disk herniation model. The model was induced by the application of nucleus pulposus (NP) to the L5 dorsal root ganglion (DRG). The study found that the use of NP in the DRG can induce abnormal mechanical pain, increase the contents of the proinflammatory factors TNF-α and IL-1β, decrease the content of the anti-inflammatory cytokine TGF-β1 and activate microglia in the spinal dorsal horns (L5) (P < 0.05). BMSC administration could increase the mechanical withdrawal thresholds dramatically, decrease the contents of IL-1β and TNF-α, increase the content of TGF-β1 significantly (P < 0.05) and inhibit microglial activation in the bilateral spinal dorsal horn. Our results indicate that BMSC administration can reduce mechanical allodynia and downregulate the expression of proinflammatory cytokines by inhibiting microglial activation in the spinal dorsal horn in a rat noncompressive disk herniation model.
This is a preview of subscription content, log in to check access.
Access options
Buy single article
Instant access to the full article PDF.
US$ 39.95
Price includes VAT for USA
Subscribe to journal
Immediate online access to all issues from 2019. Subscription will auto renew annually.
US$ 199
This is the net price. Taxes to be calculated in checkout.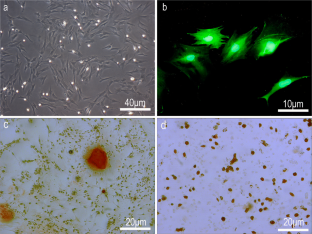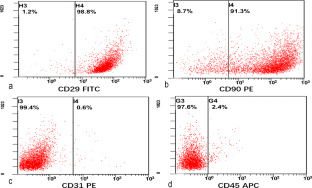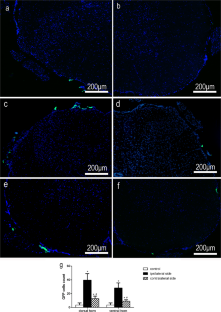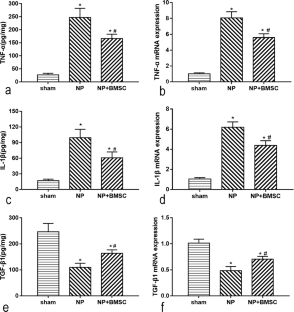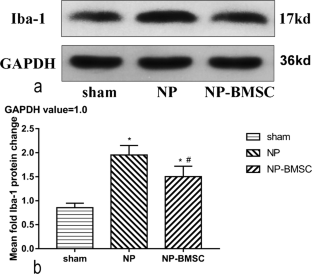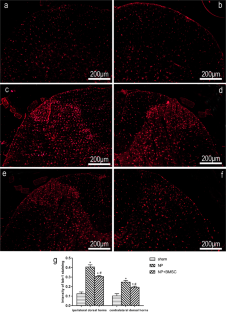 References
Abbadie C (2005) Chemokines, chemokine receptors and pain. Trends Immunol 26:529–534

Ahn SH, Cho YW, Ahn MW, Jang SH, Sohn YK, Kim HS (2002) mRNA expression of cytokines and chemokines in herniated lumbar intervertebral discs. Spine 27:911–917

Anzai H, Hamba M, Onda A, Konno S, Kikuchi S (2002) Epidural application of nucleus pulposus enhances nociresponses of rat dorsal horn neurons. Spine 27:E50–E55

Baker AH, Sica V, Work LM, Williams-Ignarro S, de Nigris F, Lerman LO, Casamassimi A, Lanza A, Schiano C, Rienzo M, Ignarro LJ, Napoli C (2007) Brain protection using autologous bone marrow cell, metalloproteinase inhibitors, and metabolic treatment in cerebral ischemia. Proc Natl Acad Sci U S A 104:3597–3602

Bakshi A, Barshinger AL, Swanger SA, Madhavani V, Shumsky JS, Neuhuber B, Fischer I (2006) Lumbar puncture delivery of bone marrow stromal cells in spinal cord contusion: a novel method for minimally invasive cell transplantation. J Neurotrauma 23:55–65

Cao H, Zhang YQ (2008) Spinal glial activation contributes to pathological pain states. Neurosci Biobehav Rev 32:972–983

Casey E (2011) Natural history of radiculopathy. Phys Med Rehabil Clin N Am 22:1–5

Chaplan SR, Bach FW, Pogrel JW, Chung JM, Yaksh TL (1994) Quantitative assessment of tactile allodynia in the rat paw. J Neurosci Methods 53:55–63

Chen NF, Huang SY, Chen WF, Chen CH, Lu CH, Chen CL, Yang SN, Wang HM, Wen ZH (2013) TGF-beta1 attenuates spinal neuroinflammation and the excitatory amino acid system in rats with neuropathic pain. J Pain 14:1671–1685

Childress MA (2017) Spine conditions: cervical spine conditions. FP Essentials 461:11–14

Cho HK, Cho YW, Kim EH, Sluijter ME, Hwang SJ, Ahn SH (2013) Changes in pain behavior and glial activation in the spinal dorsal horn after pulsed radiofrequency current administration to the dorsal root ganglion in a rat model of lumbar disc herniation: laboratory investigation. J Neurosurg Spine 19:256–263

Clark AK, Gentry C, Bradbury EJ, McMahon SB, Malcangio M (2007) Role of spinal microglia in rat models of peripheral nerve injury and inflammation. Eur J Pain (London, England) 11:223–230

Cohen SP, Hooten WM (2017) Advances in the diagnosis and management of neck pain. BMJ 358:j3221

Cuellar JM, Montesano PX, Carstens E (2004) Role of TNF-alpha in sensitization of nociceptive dorsal horn neurons induced by application of nucleus pulposus to L5 dorsal root ganglion in rats. Pain 110:578–587

Cuellar JM, Borges PM, Cuellar VG, Yoo A, Scuderi GJ, Yeomans DC (2013) Cytokine expression in the epidural space: a model of noncompressive disc herniation-induced inflammation. Spine 38:17–23

De Leo JA, Tawfik VL, LaCroix-Fralish ML (2006) The tetrapartite synapse: path to CNS sensitization and chronic pain. Pain 122:17–21

Deng G, Wang W, Yang C, Gao R, Yang X, Ye X (2016) Shaking improves the whole bone marrow adherent method of purification. Mol Med Rep 13:3133–3138

Di Nicola M, Carlo-Stella C, Magni M, Milanesi M, Longoni PD, Matteucci P, Grisanti S, Gianni AM (2002) Human bone marrow stromal cells suppress T-lymphocyte proliferation induced by cellular or nonspecific mitogenic stimuli. Blood 99:3838–3843

Echeverry S, Shi XQ, Zhang J (2008) Characterization of cell proliferation in rat spinal cord following peripheral nerve injury and the relationship with neuropathic pain. Pain 135:37–47

Echeverry S, Shi XQ, Haw A, Liu H, Zhang ZW, Zhang J (2009) Transforming growth factor-beta1 impairs neuropathic pain through pleiotropic effects. Mol Pain 5:16

Eggers R, Tannemaat MR, De Winter F, Malessy MJ, Verhaagen J (2016) Clinical and neurobiological advances in promoting regeneration of the ventral root avulsion lesion. Eur J Neurosci 43:318–335

Forostyak S, Jendelova P, Sykova E (2013) The role of mesenchymal stromal cells in spinal cord injury, regenerative medicine and possible clinical applications. Biochimie 95:2257–2270

Gallaher ZR, Ryu V, Herzog T, Ritter RC, Czaja K (2012) Changes in microglial activation within the hindbrain, nodose ganglia, and the spinal cord following subdiaphragmatic vagotomy. Neurosci Lett 513:31–36

Gallaher ZR, Johnston ST, Czaja K (2014) Neural proliferation in the dorsal root ganglia of the adult rat following capsaicin-induced neuronal death. J Comp Neurol 522:3295–3307

Hanisch UK, Kettenmann H (2007) Microglia: active sensor and versatile effector cells in the normal and pathologic brain. Nat Neurosci 10:1387–1394

Hao S, Mata M, Glorioso JC, Fink DJ (2007) Gene transfer to interfere with TNFalpha signaling in neuropathic pain. Gene Ther 14:1010–1016

Hashizume H, DeLeo JA, Colburn RW, Weinstein JN (2000) Spinal glial activation and cytokine expression after lumbar root injury in the rat. Spine 25:1206–1217

Hess DC, Hill WD, Carroll JE, Borlongan CV (2004) Do bone marrow cells generate neurons? Arch Neurol 61:483–485

Hill-Felberg SJ, McIntosh TK, Oliver DL, Raghupathi R, Barbarese E (1999) Concurrent loss and proliferation of astrocytes following lateral fluid percussion brain injury in the adult rat. J Neurosci Res 57:271–279

Honma T, Honmou O, Iihoshi S, Harada K, Houkin K, Hamada H, Kocsis JD (2006) Intravenous infusion of immortalized human mesenchymal stem cells protects against injury in a cerebral ischemia model in adult rat. Exp Neurol 199:56–66

Hubbard RD, Winkelstein BA (2005) Transient cervical nerve root compression in the rat induces bilateral forepaw allodynia and spinal glial activation: mechanical factors in painful neck injuries. Spine 30:1924–1932

Inoue K (2006) The function of microglia through purinergic receptors: neuropathic pain and cytokine release. Pharmacol Ther 109:210–226

Jeong SR, Kwon MJ, Lee HG, Joe EH, Lee JH, Kim SS, Suh-Kim H, Kim BG (2012) Hepatocyte growth factor reduces astrocytic scar formation and promotes axonal growth beyond glial scars after spinal cord injury. Exp Neurol 233:312–322

Jiang XX, Zhang Y, Liu B, Zhang SX, Wu Y, Yu XD, Mao N (2005) Human mesenchymal stem cells inhibit differentiation and function of monocyte-derived dendritic cells. Blood 105:4120–4126

Kallakuri S, Takebayashi T, Ozaktay AC, Chen C, Yang S, Wooley PH, Cavanaugh JM (2005) The effects of epidural application of allografted nucleus pulposus in rats on cytokine expression, limb withdrawal and nerve root discharge. Eur Spine J 14:956–964

Kawakami M, Tamaki T, Weinstein JN, Hashizume H, Nishi H, Meller ST (1996) Pathomechanism of pain-related behavior produced by allografts of intervertebral disc in the rat. Spine 21:2101–2107

Kayama S, Konno S, Olmarker K, Yabuki S, Kikuchi S (1996) Incision of the anulus fibrosus induces nerve root morphologic, vascular, and functional changes. An experimental study. Spine 21:2539–2543

Kim SJ, Park SM, Cho YW, Jung YJ, Lee DG, Jang SH, Park HW, Hwang SJ, Ahn SH (2011) Changes in expression of mRNA for interleukin-8 and effects of interleukin-8 receptor inhibitor in the spinal dorsal horn in a rat model of lumbar disc herniation. Spine 36:2139–2146

Klass M, Gavrikov V, Drury D, Stewart B, Hunter S, Denson DD, Hord A, Csete M (2007) Intravenous mononuclear marrow cells reverse neuropathic pain from experimental mononeuropathy. Anesth Analg 104:944–948

Kleibeuker W, Gabay E, Kavelaars A, Zijlstra J, Wolf G, Ziv N, Yirmiya R, Shavit Y, Tal M, Heijnen CJ (2008) IL-1 beta signaling is required for mechanical allodynia induced by nerve injury and for the ensuing reduction in spinal cord neuronal GRK2. Brain Behav Immun 22:200–208

Koh SH, Baik W, Noh MY, Cho GW, Kim HY, Kim KS, Kim SH (2012) The functional deficiency of bone marrow mesenchymal stromal cells in ALS patients is proportional to disease progression rate. Exp Neurol 233:472–480

Le Blanc K, Rasmusson I, Sundberg B, Gotherstrom C, Hassan M, Uzunel M, Ringden O (2004) Treatment of severe acute graft-versus-host disease with third party haploidentical mesenchymal stem cells. Lancet (London, England) 363:1439–1441

Lendahl U, Zimmerman LB, McKay RD (1990) CNS stem cells express a new class of intermediate filament protein. Cell 60:585–595

Leung L, Cahill CM (2010) TNF-alpha and neuropathic pain--a review. J Neuroinflammation 7:27

Liu L, Persson JK, Svensson M, Aldskogius H (1998) Glial cell responses, complement, and clusterin in the central nervous system following dorsal root transection. Glia 23:221–238

Liu WH, Liu JJ, Wu J, Zhang LL, Liu F, Yin L, Zhang MM, Yu B (2013) Novel mechanism of inhibition of dendritic cells maturation by mesenchymal stem cells via interleukin-10 and the JAK1/STAT3 signaling pathway. PLoS One 8:e55487

Marchand F, Perretti M, McMahon SB (2005) Role of the immune system in chronic pain. Nat Rev Neurosci 6:521–532

Meisel R, Zibert A, Laryea M, Gobel U, Daubener W, Dilloo D (2004) Human bone marrow stromal cells inhibit allogeneic T-cell responses by indoleamine 2,3-dioxygenase-mediated tryptophan degradation. Blood 103:4619–4621

Miyoshi S, Sekiguchi M, Konno S, Kikuchi S, Kanaya F (2011) Increased expression of vascular endothelial growth factor protein in dorsal root ganglion exposed to nucleus pulposus on the nerve root in rats. Spine 36:E1–E6

Musolino PL, Coronel MF, Hokfelt T, Villar MJ (2007) Bone marrow stromal cells induce changes in pain behavior after sciatic nerve constriction. Neurosci Lett 418:97–101

Neirinckx V, Agirman G, Coste C, Marquet A, Dion V, Rogister B, Franzen R, Wislet S (2015) Adult bone marrow mesenchymal and neural crest stem cells are chemoattractive and accelerate motor recovery in a mouse model of spinal cord injury. Stem Cell Res Ther 6:211

Olmarker K, Rydevik B, Nordborg C (1993) Autologous nucleus pulposus induces neurophysiologic and histologic changes in porcine cauda equina nerve roots. Spine 18:1425–1432

Omarker K, Myers RR (1998) Pathogenesis of sciatic pain: role of herniated nucleus pulposus and deformation of spinal nerve root and dorsal root ganglion. Pain 78:99–105

Pettine KA, Murphy MB, Suzuki RK, Sand TT (2015) Percutaneous injection of autologous bone marrow concentrate cells significantly reduces lumbar discogenic pain through 12 months. Stem Cells (Dayton, Ohio) 33:146–156

Pettine K, Suzuki R, Sand T, Murphy M (2016) Treatment of discogenic back pain with autologous bone marrow concentrate injection with minimum two year follow-up. Int Orthop 40:135–140

Rothman SM, Guarino BB, Winkelstein BA (2009) Spinal microglial proliferation is evident in a rat model of painful disc herniation both in the presence of behavioral hypersensitivity and following minocycline treatment sufficient to attenuate allodynia. J Neurosci Res 87:2709–2717

Sasaki M, Radtke C, Tan AM, Zhao P, Hamada H, Houkin K, Honmou O, Kocsis JD (2009) BDNF-hypersecreting human mesenchymal stem cells promote functional recovery, axonal sprouting, and protection of corticospinal neurons after spinal cord injury. J Neurosci 29:14932–14941

Siniscalco D, Giordano C, Galderisi U, Luongo L, de Novellis V, Rossi F, Maione S (2011) Long-lasting effects of human mesenchymal stem cell systemic administration on pain-like behaviors, cellular, and biomolecular modifications in neuropathic mice. Front Integr Neurosci 5:79

Sotiropoulou PA, Perez SA, Gritzapis AD, Baxevanis CN, Papamichail M (2006) Interactions between human mesenchymal stem cells and natural killer cells. Stem Cells (Dayton, Ohio) 24:74–85

Sung CS, Wong CS (2007) Cellular mechanisms of neuroinflammatory pain: the role of interleukin-1beta. Acta Anaesthesiol Taiwanica : Off J Taiwan Soc Anesthesiol 45:103–109

Takebayashi T, Cavanaugh JM, Cuneyt Ozaktay A, Kallakuri S, Chen C (2001) Effect of nucleus pulposus on the neural activity of dorsal root ganglion. Spine 26:940–945

Tencerova M, Kassem M (2016) The bone marrow-derived stromal cells: commitment and regulation of Adipogenesis. Front Endocrinol 7:127

Tsuda M, Inoue K, Salter MW (2005) Neuropathic pain and spinal microglia: a big problem from molecules in "small" glia. Trends Neurosci 28:101–107

Uccelli A, Moretta L, Pistoia V (2008) Mesenchymal stem cells in health and disease. Nat Rev Immunol 8:726–736

Vucetic N, Astrand P, Guntner P, Svensson O (1999) Diagnosis and prognosis in lumbar disc herniation. Clin Orthop Relat Res:116–122

Watkins LR, Maier SF (2003) Glia: a novel drug discovery target for clinical pain. Nat Rev Drug Discov 2:973–985

Wilkins A, Kemp K, Ginty M, Hares K, Mallam E, Scolding N (2009) Human bone marrow-derived mesenchymal stem cells secrete brain-derived neurotrophic factor which promotes neuronal survival in vitro. Stem Cell Res 3:63–70

Xue F, Wei Y, Chen Y, Wang Y, Gao L (2014) A rat model for chronic spinal nerve root compression. Eur Spine J 23:435–446

Yan K, Zhang R, Sun C, Chen L, Li P, Liu Y, Peng L, Sun H, Qin K, Chen F, Huang W, Chen Y, Lv B, Du M, Zou Y, Cai Y, Qin L, Tang Y, Jiang X (2013) Bone marrow-derived mesenchymal stem cells maintain the resting phenotype of microglia and inhibit microglial activation. PLoS One 8:e84116

Youn DH, Wang H, Jeong SJ (2008) Exogenous tumor necrosis factor-alpha rapidly alters synaptic and sensory transmission in the adult rat spinal cord dorsal horn. J Neurosci Res 86:2867–2875

Zai LJ, Yoo S, Wrathall JR (2005) Increased growth factor expression and cell proliferation after contusive spinal cord injury. Brain Res 1052:147–155

Zanone MM, Favaro E, Miceli I, Grassi G, Camussi E, Caorsi C, Amoroso A, Giovarelli M, Perin PC, Camussi G (2010) Human mesenchymal stem cells modulate cellular immune response to islet antigen glutamic acid decarboxylase in type 1 diabetes. J Clin Endocrinol Metab 95:3788–3797
Acknowledgments
This work was supported by the National Natural Science Foundation of China (Grant no. 81472071 and Grant no. 81301537) and the National High Technology Research and Development Program ("863" Program) of China (Grant no. 2013AA032203).
Ethics declarations
Disclaimer
The content is solely the responsibility of the author.
Conflicts of interest
The authors declare that they have no conflicts of interest.
Additional information
Dr. Xiaojian Ye is the main corresponding author of this paper.
Xiaojian Ye and Xiangqun Yang supported this project equally.
About this article
Cite this article
Huang, X., Wang, W., Liu, X. et al. Bone mesenchymal stem cells attenuate radicular pain by inhibiting microglial activation in a rat noncompressive disk herniation model. Cell Tissue Res 374, 99–110 (2018). https://doi.org/10.1007/s00441-018-2855-5
Received:

Accepted:

Published:

Issue Date:
Keywords
Intervertebral disk herniation

Bone mesenchymal stem cell

Microglia

Radicular pain

Inflammation