Abstract
In several mouse models of mental retardation, ventricular enlargements have been observed. Mutation in the SrGAP3 gene residing on chromosome 3p25 has previously been associated with intellectual disability in humans. In addition, SrGAP3 is related to Rho-GAPs signaling pathways, which play essential roles in the development and plasticity of the nervous system. About 10 % of postnatal homozygous SrGAP3-deficient mice die due to hydrocephalus, whereas the remaining mice survive into adulthood but display enlarged ventricles. We analyze the ventricular enlargement of these mice by performing a post-mortem MRI approach. We found a more than 15-fold enlargement of the lateral ventricles of homozygous SrGAP3-deficient mice. Moreover, we demonstrate that this phenotype was not accompanied by a stenosis of the aqueduct. Instead, SrGAP3 knockout mice displayed reduced densities of cilia of ependymal cells in These third ventricle compared to age-matched controls. This results indicate that the ventricular enlargement may be due to ciliopathy.
This is a preview of subscription content, log in to check access.
Access options
Buy single article
Instant access to the full article PDF.
US$ 39.95
Price includes VAT for USA
Subscribe to journal
Immediate online access to all issues from 2019. Subscription will auto renew annually.
US$ 199
This is the net price. Taxes to be calculated in checkout.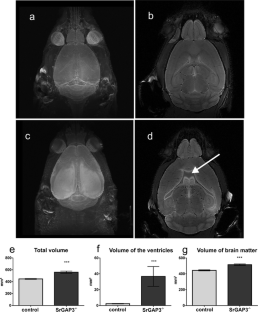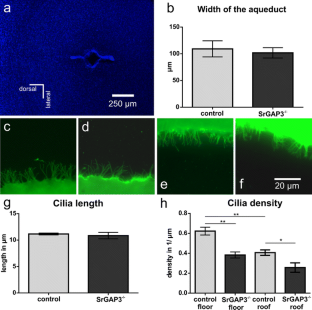 References
Abouhamed M, Grobe K, San IV, Thelen S, Honnert U, Balda MS, Matter K, Bahler M (2009) Myosin IXa regulates epithelial differentiation and its deficiency results in hydrocephalus. Mol Biol Cell 20:5074–5085

Demyanenko GP, Tsai AY, Maness PF (1999) Abnormalities in neuronal process extension, hippocampal development, and the ventricular system of L1 knockout mice. J Neurosci 19:4907–4920

Doetsch F, Garcia-Verdugo JM, Alvarez-Buylla A (1997) Cellular composition and three-dimensional organization of the subventricular germinal zone in the adult mammalian brain. J Neurosci 17:5046–5061

Endris V, Wogatzky B, Leimer U, Bartsch D, Zatyka M, Latif F, Maher ER, Tariverdian G, Kirsch S, Karch D, Rappold GA (2002) The novel Rho-GTPase activating gene MEGAP/ srGAP3 has a putative role in severe mental retardation. Proc Natl Acad Sci U S A 99:11754–11759

Endris V, Haussmann L, Buss E, Bacon C, Bartsch D, Rappold G (2011) SrGAP3 interacts with lamellipodin at the cell membrane and regulates Rac-dependent cellular protrusions. J Cell Sci 124:3941–3955

Gunnarsson C, Foyn Bruun C (2010) Molecular characterization and clinical features of a patient with an interstitial deletion of 3p25.3-p26.1. Am J Med Genet A 152A:3110–3114

Jain N, Lim LW, Tan WT, George B, Makeyev E, Thanabalu T (2014) Conditional N-WASP knockout in mouse brain implicates actin cytoskeleton regulation in hydrocephalus pathology. Exp Neurol 254:29–40

Khelfaoui M, Denis C, van Galen E, de Bock F, Schmitt A, Houbron C, Morice E, Giros B, Ramakers G, Fagni L, Chelly J, Nosten-Bertrand M, Billuart P (2007) Loss of X-linked mental retardation gene oligophrenin1 in mice impairs spatial memory and leads to ventricular enlargement and dendritic spine immaturity. J Neurosci 27:9439–9450

Kim IH, Carlson BR, Heindel CC, Kim H, Soderling SH (2012) Disruption of wave-associated Rac GTPase-activating protein (Wrp) leads to abnormal adult neural progenitor migration associated with hydrocephalus. J Biol Chem 287:39263–39274

Lee L (2013) Riding the wave of ependymal cilia: Genetic susceptibility to hydrocephalus in primary ciliary dyskinesia. J Neurosci Res 91:1117–1132

Liu T, Jin X, Prasad RM, Sari Y, Nauli SM (2014) Three types of ependymal cells with intracellular calcium oscillation are characterized by distinct cilia beating properties. J Neurosci Res 92:1199–1204

Mata I, Perez-Iglesias R, Roiz-Santianez R, Tordesillas-Gutierrez D, Gonzalez-Mandly A, Berja A, Vazquez-Barquero JL, Crespo-Facorro B (2010) Additive effect of NRG1 and DISC1 genes on lateral ventricle enlargement in first episode schizophrenia. Neuroimage 53:1016–1022

Peng X, Lin Q, Liu Y, Jin Y, Druso JE, Antonyak MA, Guan JL, Cerione RA (2013) Inactivation of Cdc42 in embryonic brain results in hydrocephalus with ependymal cell defects in mice. Protein Cell 4:231–242

Shuib S, McMullan D, Rattenberry E, Barber RM, Rahman F, Zatyka M, Chapman C, Macdonald F, Latif F, Davison V, Maher ER (2009) Microarray based analysis of 3p25-p26 deletions (3p- syndrome). Am J Med Genet A 149A:2099–2105

Soderling SH, Binns KL, Wayman GA, Davee SM, Ong SH, Pawson T, Scott JD (2002) The WRP component of the WAVE-1 complex attenuates Rac-mediated signalling. Nat Cell Biol 4:970–975

Steen RG, Mull C, McClure R, Hamer RM, Lieberman JA (2006) Brain volume in first-episode schizophrenia: systematic review and meta-analysis of magnetic resonance imaging studies. Br J Psychiatry 188:510–518

von Bohlen und Halbach O, Lotze M, Pfannmöller JP (2014) Post-mortem magnetic resonance microscopy (MRM) of the murine brain at 7 Tesla results in a gain of resolution as compared to in vivo MRM. Front Neuroanat 8:1–7

Waltereit R, Leimer U, von Bohlen und Halbach O, Panke J, Holter SM, Garrett L, Wittig K, Schneider M, Schmitt C, Calzada-Wack J, Neff F, Becker L, Prehn C, Kutscherjawy S, Endris V, Bacon C, Fuchs H, Gailus-Durner V, Berger S, Schonig K, Adamski J, Klopstock T, Esposito I, Wurst W, de Angelis MH, Rappold G, Wieland T, Bartsch D (2012) Srgap3−/− mice present a neurodevelopmental disorder with schizophrenia-related intermediate phenotypes. FASEB J 26:4418–4428

Williams CA, Dagli A, Battaglia A (2008) Genetic disorders associated with macrocephaly. Am J Med Genet A 146A:2023–2037

Yang Y, Marcello M, Endris V, Saffrich R, Fischer R, Trendelenburg MF, Sprengel R, Rappold G (2006) MEGAP impedes cell migration via regulating actin and microtubule dynamics and focal complex formation. Exp Cell Res 312:2379–2393
Acknowledgments
We wish to thank Mrs Hanisch and Mr Hadlich for excellent technical assistance. The study was supported by a grant from the "Forschungsverbund Neurowissenschaften Greifswald".
Additional information
Leif Koschützke and Jonathan Bertram contributed equally to this work.
About this article
Cite this article
Koschützke, L., Bertram, J., Hartmann, B. et al. SrGAP3 knockout mice display enlarged lateral ventricles and specific cilia disturbances of ependymal cells in the third ventricle. Cell Tissue Res 361, 645–650 (2015). https://doi.org/10.1007/s00441-015-2224-6
Received:

Accepted:

Published:

Issue Date:
Keywords
Post-mortem MRI

Neurodevelopmental disorder

Hydrocephalus

Ciliopathy

MEGAP