Abstract
Osteoporosis (OP) often increases the risk of bone fracture and other complications and is a major clinical problem. Previous studies have found that high blood pressure is associated with bone formation abnormalities, resulting in increased calcium loss. We have investigated the effect of the antihypertensive drug benidipine on bone marrow stromal cell (BMSC) differentiation into osteoblasts and bone formation under osteoporotic conditions. We used a combination of in vitro and in vivo approaches to test the hypothesis that benidipine promotes murine BMSC differentiation into osteoblasts. Alkaline phosphatase (ALP), osteocalcin (OCN), runt-related transcription factor 2 (RUNX2), β-catenin, and low-density lipoprotein receptor-related protein 5 (LRP5) protein expression was evaluated in primary femoral BMSCs from C57/BL6 mice cultured under osteogenic conditions for 2 weeks to examine the effects of benidipine. An ovariectomized (OVX) mouse model was used to investigate the effect of benidipine treatment for 3 months in vivo. We found that ALP, OCN, and RUNX2 expression was up-regulated and WNT/β-catenin signaling was enhanced in vitro and in vivo. In OVX mice that were intragastrically administered benidipine, bone parameters (trabecular thickness, bone mineral density, and trabecular number) in the distal femoral metaphysis were significantly increased compared with control OVX mice. Consistently, benidipine promoted BMSC differentiation into osteoblasts and protected against bone loss in OVX mice. Therefore, benidipine might be a suitable candidate for the treatment of patients with postmenopausal osteoporosis and hypertension.
This is a preview of subscription content, log in to check access.
Access options
Buy single article
Instant access to the full article PDF.
US$ 39.95
Price includes VAT for USA
Subscribe to journal
Immediate online access to all issues from 2019. Subscription will auto renew annually.
US$ 199
This is the net price. Taxes to be calculated in checkout.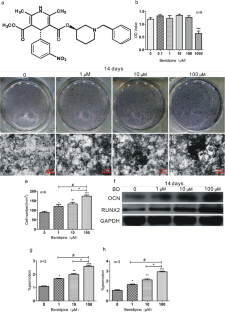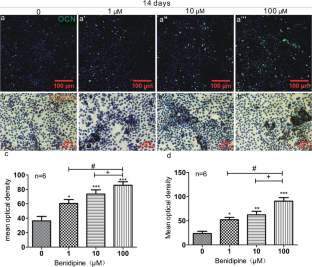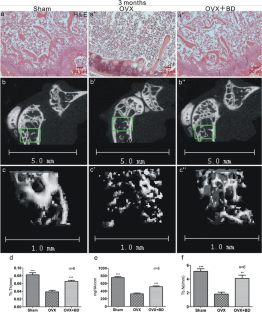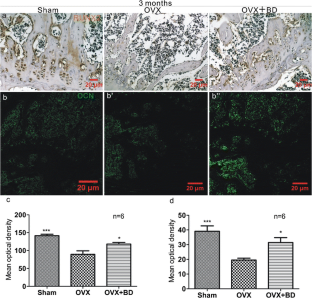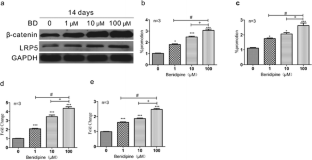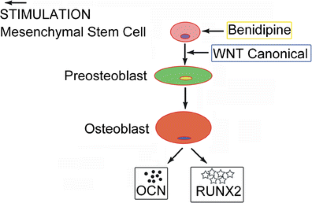 References
Baron R, Rawadi G (2007) Targeting the Wnt/beta-catenin pathway to regulate bone formation in the adult skeleton. Endocrinology 148:2635–2643

Bianco P, Kuznetsov SA, Riminucci M, Gehron Robey P (2006) Postnatal skeletal stem cells. Methods Enzymol 419:117–148

Boyden LM, Mao J, Belsky J, Mitzner L, Farhi A, Mitnick MA, Dianqing W, Insoga K, Lifton RP (2002) High bone density due to a mutation in LDL-receptor–related protein 5. Radiology 346:1513–1521

Brickman AS, Nyby MD, Hungen K von, Eggena P, Tuck ML (1990) Calcitropic hormones, platelet calcium, and blood pressure in essential hypertension. Hypertension 16:515–522

Canalis E, Giustina A, Bilezikian JP (2007) Mechanisms of anabolic therapies for osteoporosis. N Engl J Med 357:905–916

Cappuccio FP, Meilahn E, Zmuda JM, Cauley JA (1999) High blood pressure and bone-mineral loss in elderly white women: a prospective study. Study of Osteoporotic Fractures Research Group. Lancet 354:971–975

Chan GK, Duque G (2002) Age-related bone loss: old bone, new facts. Gerontology 48:62–71

Cirillo M, Galletti F, Strazzullo P, Torielli L, Melloni MC (1989) On the pathogenetic mechanism of hypercalciuria in genetically hypertensive rats of the Milan strain. Am J Hypertens 2:741–746

Danks L, Takayanagi H (2013) Immunology and bone. J Biochem 154:29–39

Davey RA, Clarke MV, Sastra S, Skinner JP, Chiang C, Anderson PH, Zajac JD (2012) Decreased body weight in young Osterix-Cre transgenic mice results in delayed cortical bone expansion and accrual. Transgenic Res 21:885–893

Gadallah M, Massry SG, Bigazzi R, Horst RL, Eggena P, Campese VM (1991) Intestinal absorption of calcium and calcium metabolism in patients with essential hypertension and normal renal function. Am J Hypertens 4:404–409

Gong Y, Slee RB, Fukai N, Rawadi G, Roman-Roman S, Reginato AM, Wang H, Cundy T, Glorieux FH, Lev D, Zacharin M, Oexle K, Marcelino J, Suwairi W, Heeger S, Sabatakos G, Apte S, Adkins WN, Allgrove J, Arslan-Kirchner M, Batch JA, Beighton P, Black GC, Boles RG, Boon LM, Borrone C, Brunner HG, Carle GF, Dallapiccola B, De Paepe A, Floege B, Halfhide ML, Hall B, Hennekam RC, Hirose T, Jans A, Jüppner H, Kim CA, Keppler-Noreuil K, Kohlschuetter A, LaCombe D, Lambert M, Lemyre E, Letteboer T, Peltonen L, Ramesar RS, Romanengo M, Somer H, Steichen-Gersdorf E, Steinmann B, Sullivan B, Superti-Furga A, Swoboda W, Boogaard MJ van den, Van Hul W, Vikkula M, Votruba M, Zabel B, Garcia T, Baron R, Olsen BR, Warman ML, Osteoporosis-Pseudoglioma Syndrome Collaborative Group (2001) LDL receptor-related protein 5 (LRP5) affects bone accrual and eye development. Cell 107:513–523

Grobbee DE, Hackeng WH, Birkenhager JC, Hofman A (1988) Raised plasma intact parathyroid hormone concentrations in young people with mildly raised blood pressure. Br Med J (Clin Res Ed) 296:814–816

Hu H, Hilton MJ, Tu X, Yu K, Ornitz DM, Long F (2005) Sequential roles of Hedgehog and Wnt signaling in osteoblast development. Development 132:49–60

Hvarfner A, Bergstrom R, Morlin C, Wide L, Ljunghall S (1987) Relationships between calcium metabolic indices and blood pressure in patients with essential hypertension as compared with a healthy population. J Hypertens 5:451–456

Izawa Y, Sagara K, Kadota T, Makita T (1985) Bone disorders in spontaneously hypertensive rat. Calcif Tissue Int 37:605–607

Karsenty G (2003) The complexities of skeletal biology. Nature 423:316–318

Katz AM, Hager WD, Messineo FC, Pappano AJ (1984) Cellular actions and pharmacology of the calcium channel blocking drugs. Am J Med 77:2–10

Kosaka N, Uchii M (1998) Effect of benidipine hydrochloride, a dihydropyridine-type calcium antagonist, on the function of mouse osteoblastic cells. Calcif Tissue Int 62:554–556

Kronenberg HM (2003) Developmental regulation of the growth plate. Nature 423:332–336

Little RD, Carulli JP, Del Mastro RG, Dupuis J, Osborne M, Folz C, Manning SP, Swain PM, Zhao SC, Eustace B, Lappe MM, Spitzer L, Zweier S, Braunschweiger K, Benchekroun Y, Hu X, Adair R, Chee L, FitzGerald MG, Tulig C, Caruso A, Tzellas N, Bawa A, Franklin B, McGuire S, Nogues X, Gong G, Allen KM, Anisowicz A, Morales AJ, Lomedico PT, Recker SM, Van Eerdewegh P, Recker RR, Johnson ML (2002) A mutation in the LDL receptor-related protein 5 gene results in the autosomal dominant high-bone-mass trait. Am J Hum Genet 70:11–19

McCarron DA, Pingree PA, Rubin RJ, Gaucher SM, Molitch M, Krutzik S (1980) Enhanced parathyroid function in essential hypertension: a homeostatic response to a urinary calcium leak. Hypertension 2:162–168

Melton LJ 3rd, Chrischilles EA, Cooper C, Lane AW, Riggs BL (1992) Perspective. How many women have osteoporosis? J Bone Miner Res 7:1005–1010

Nishiya Y, Sugimoto S (2001) Effects of various antihypertensive drugs on the function of osteoblast. Biol Pharm Bull 24:628–633

Nishiya Y, Kosaka N, Uchii M, Sugimoto S (2002) A potent 1,4-dihydropyridine L-type calcium channel blocker, benidipine, promotes osteoblast differentiation. Calcif Tissue Int 70:30–39

Owen M (1988) Marrow stromal stem cells. J Cell Sci Suppl 10:63–76

Rodda SJ, McMahon AP (2006) Distinct roles for Hedgehog and canonical Wnt signaling in specification, differentiation and maintenance of osteoblast progenitors. Development 133:3231–3244

Rodrıguez JP, Garat S, Gajardo H, Pino AM, Seitz G (1999) Abnormal osteogenesis in osteoporotic patients is reflected by altered mesenchymal stem cells dynamics. J Cell Biochem 75:414–423

Rossini M, Gatti D, Adami S (2013) Involvement of WNT/beta-catenin signaling in the treatment of osteoporosis. Calcif Tissue Int 93:121–132

Strazzullo P, Nunziata V, Cirillo M, Giannattasio R, Ferrara LA, Mattioli PL, Mancini M (1983) Abnormalities of calcium metabolism in essential hypertension. Clin Sci 65:137–141

Sun H, Kim JK, Mortensen R, Mutyaba LP, Hankenson KD, Krebsbach PH (2013) Osteoblast-targeted suppression of PPARgamma increases osteogenesis through activation of mTOR signaling. Stem Cells 31:2183–2192

Wang J, Bi M, Zhu Z, Wu L, Wang J (2014) Effects of the antihypertensive drug benidipine on osteoblast function in vitro. Exp Ther Med 7:649–653

Young EW, Morris CD, McCarron DA (1992) Urinary calcium excretion in essential hypertension. J Lab Clin Med 120:624–632
Acknowledgments
We thank Hua Wu (Hohhot Zhongke Medical Technology, Inner Mongolia, PR China) for excellent technical support with micro-CT.
Additional information
Z-p.M. and J-c.L. contributed equally to this work.
Design of the study: Z-p.M., J-c.L., and D-z.C. Acquisition of data: Z-p.M., J-c.L., D-z.C., and C.Z. Interpretation of data: Z-p.M., J-c.L., D-z.C., and C.Z. Manuscript preparation: Z-p.M., J-c.L., D-z.C., and C.Z. The authors declare no competing interests. This work was not commisioned and was externally peer-reviewed. Ethical approval was given by the Medical Ethics Committee of Inner Mongolia Medical University.
This project was funded by the Inner Mongolia Medical University Science and Technology Project (YKD2012KJBW003).
Electronic supplementary material
Below is the link to the electronic supplementary material.
About this article
Cite this article
Ma, Z., Liao, J., Zhao, C. et al. Effects of the 1, 4-dihydropyridine L-type calcium channel blocker benidipine on bone marrow stromal cells. Cell Tissue Res 361, 467–476 (2015). https://doi.org/10.1007/s00441-015-2115-x
Received:

Accepted:

Published:

Issue Date:
Keywords
Osteoblast

Benidipine

WNT signal pathway

Bone metabolism

Osteoporosis