Abstract
Mesenchymal stem cell (MSC) therapy is promising for neuroprotection but there is no report of an appropriate in vitro model mimicking the situation of the in vivo retina that is able to test the effect of MSCs in suspension or encapsulated with/without a drug combination. This study aims to establish a viable mixed co-culture model having three layers: neuroretina explants (NRs), retinal pigment epithelium (RPE) cells and adipose tissue-derived MSCs (AT-MSCs) for evaluating adipose-MSC effects. AT-MSCs were grown on the lower surface of a transwell membrane and RPE cells were grown on the bottom of a culture plate as monocultures. A transwell membrane was inserted into a culture plate well. NR was placed as an organotypic culture on the upper surface of the transwell membrane. Thus, a triple-layered co-culture setup was constructed. In double-layered setups, NR were co-cultured with AT-MSCs or RPE cells. Optimum medium, experiment execution period and transwell membrane permeability (TMP) were determined. MSC effects on RPE cell proliferation and NR reactive gliosis were evaluated. Limitations were discussed. Our study shows that neurobasal A with DMEM (1:1) mixed medium was suitable for viability of all three layers. AT-MSC growth decreased TMP significantly, 30–60 % in 3- to 6-day periods. Spontaneous NR reactive gliosis limits the experiment execution period to 6 days. AT-MSCs maintained their undifferentiated nature and showed no or limited neuroprotective effects. In this study, we successfully assembled viable double- and triple-layered co-culture setups for AT-MSCs, RPE and NR, optimised conditions for their survival and explored setup Limitations.
This is a preview of subscription content, log in to check access.
Access options
Buy single article
Instant access to the full article PDF.
US$ 39.95
Price includes VAT for USA
Subscribe to journal
Immediate online access to all issues from 2019. Subscription will auto renew annually.
US$ 199
This is the net price. Taxes to be calculated in checkout.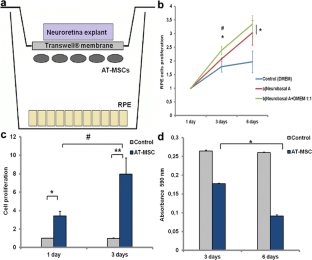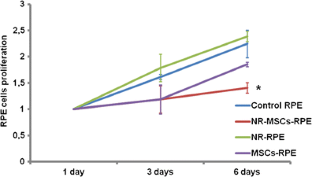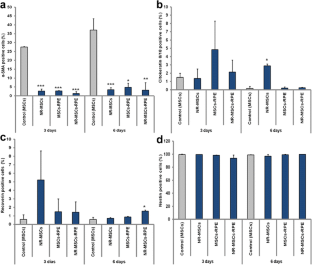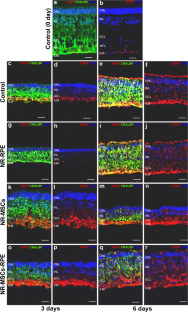 References
Binder S, Stanzel BV, Krebs I, Glittenberg C (2007) Transplantation of the RPE in AMD. Prog Retin Eye Res 26:516–554

Cullen VC, Mackarel AJ, Hislip SJ, O'Connor CM, Keenan AK (2000) Investigation of vascular endothelial growth factor effects on pulmonary endothelial monolayer permeability and neutrophil transmigration. Gen Pharmacol 35:149–157

Doorn J, Moll G, Le Blanc K, van Blitterswijk C, de Boer J (2012) Therapeutic applications of mesenchymal stromal cells: paracrine effects and potential improvements. Tissue Eng Part B 18:101–115

Fernandez-Bueno I, Pastor JC, Gayoso MJ, Alcalde I, Garcia MT (2008) Müller and macrophage-like cell interactions in an organotypic culture of porcine neuroretina. Mol Vis 14:2148–2156

Fernandez-Bueno I, Fernández-Sánchez L, Gayoso MJ, García-Gutierrez MT, Pastor JC, Cuenca N (2012) Time course modifications in organotypic culture of human neuroretina. Exp Eye Res 104:26–38

Fernandez-Bueno I, Garcia-Gutierrez MT, Srivastava GK, Gayoso MJ, Gonzalo-Orden JM, Pastor JC (2013) Adalimumab (tumor necrosis factor-blocker) reduces the expression of glial fibrillary acidic protein immunoreactivity increased by exogenous tumor necrosis factor alpha in an organotypic culture of porcine neuroretina. Mol Vis 19:894–903

Fletcher EL, Jobling AI, Vessey KA, Luu C, Guymer RH, Baird PN (2011) Animal models of retinal disease. Prog Mol Biol Transl Sci 100:211–286

Hao P, Liang Z, Piao H, Ji X, Wang Y, Liu Y, Liu R, Liu J (2014) Conditioned medium of human adipose-derived mesenchymal stem cells mediates protection in neurons following glutamate excitotoxicity by regulating energy metabolism and GAP-43 expression. Metab Brain Dis 29:193–205

Kolomeyer AM, Sugino IK, Zarbin MA (2011) Characterization of conditioned media collected from cultured adult versus fetal retinal pigment epithelial cells. Invest Ophthalmol Vis Sci 52:5973–5986

Lehmann AD, Daum N, Bur M, Lehr CM, Gehr P, Rothen-Rutishauser BM (2011) An in vitro triple cell co-culture model with primary cells mimicking the human alveolar epithelial barrier. Eur J Pharm Biopharm 77:398–406

Levkovitch-Verbin H, Sadan O, Vander S, Rosner M, Barhum Y, Melamed E, Offen D, Melamed S (2010) Intravitreal injections of neurotrophic factors secreting mesenchymal stem cells are neuroprotective in rat eyes following optic nerve transection. Invest Ophthalmol Vis Sci 51:6394–6400

Lo AC, Woo TT, Wong RL, Wong D (2011) Apoptosis and other cell death mechanisms after retinal detachment: implications for photoreceptor rescue. Ophthalmologica 226:10–17

Nieto-Miguel T, Galindo S, Reinoso R, Corell A, Martino M, Pérez-Simón JA, Calonge M (2013) In vitro simulation of corneal epithelium microenvironment induces a corneal epithelial-like cell phenotype from human adipose tissue mesenchymal stem cells. Curr Eye Res 38:933–944

Ong JM, da Cruz L (2012) A review and update on the current status of stem cell therapy and the retina. Br Med Bull 102:133–146

Pastor JC, Méndez MC, de la Fuente MA, Coco RM, García-Arumí J, Rodríguez de la Rúa E, Fernández N, Saornil MA, Gayoso MJ (2006) Intraretinal immunohistochemistry findings in proliferative vitreoretinopathy with retinal shortening. Ophthalmic Res 38:193–200

Rothen-Rutishauser BM, Kiama SG, Gehr P (2005) A three-dimensional cellular model of the human respiratory tract to study the interaction with particles. Am J Respir Cell Mol Biol 32:281–289

Sanchez I, Martin R, Ussa F, Fernandez-Bueno I et al (2011) The parameters of the porcine eyeball. Graefes Arch Clin Exp Ophthalmol 249:475–82

Schwartz SD, Hubschman JP, Heilwell G, Franco-Cardenas V, Pan CK, Ostrick RM, Mickunas E, Gay R, Klimanskaya I, Lanza R (2012) Embryonic stem cell trials for macular degeneration: a preliminary report. Lancet 379:713–720

Singh AK, Srivastava GK, García-Gutiérrez MT, Pastor JC (2013) Adipose derived mesenchymal stem cells partially rescue mitomycin C treated ARPE19 cells from death in co-culture condition. Histol Histopathol 28:1577–1583

Srivastava GK, Reinoso R, Singh AK, Fernandez-Bueno I, Martino M, Garcia-Gutierrez MT, Pastor JC, Corell A (2013) Flow cytometry assessment of the purity of human retinal pigment epithelial primary cell cultures. J Immunol Methods 389:61–68

Zhang K, Hopkins JJ, Heier JS, Birch DG, Halperin LS, Albini TA, Brown DM, Jaffe GJ, Tao W, Williams GA (2011) Ciliary neurotrophic factor delivered by encapsulated cell intraocular implants for treatment of geographic atrophy in age-related macular degeneration. Proc Natl Acad Sci U S A 108:6241–6245
Acknowledgments
The authors would like to thank the following institutions for funding our work: (1) National Plan of R + D + I 2008–2011 and ISCIII-Subdirección General de Evaluación y Fomento de la Investigación (PS09/00938) (MICINN), co-financed by FEDER, Spain; (2) Centro en Red de Medicina Regenerativa y Terapia Celular de Junta de Castilla y León, 47011 Valladolid, Spain; (3) JCYL BIO/39/VA26/10 and VA386A12-2, Junta de Castilla y León, Spain; and (4) AECI, Ministry of Foreign Affairs and Cooperation, Spain. This study was presented in parts to the Association for Research in Vision and Ophthalmology (ARVO) Annual meeting, Orlando, FL, USA, May 2014 and the International Symposium on Ocular Pharmacology and Therapeutics (ISOPT), Rejkyavik, Iceland, June 2014.
Conflict of interest
The authors have no conflicts of interest to declare.
About this article
Cite this article
Rodriguez-Crespo, D., Di Lauro, S., Singh, A.K. et al. Triple-layered mixed co-culture model of RPE cells with neuroretina for evaluating the neuroprotective effects of adipose-MSCs. Cell Tissue Res 358, 705–716 (2014). https://doi.org/10.1007/s00441-014-1987-5
Received:

Accepted:

Published:

Issue Date:
Keywords
Human adipose-derived mesenchymal stem cells

Neuroretina

RPE cells

Organotypic culture