Abstract
We constructed a new artificial collagen-based graft as a tendon proper and covered it with a polydioxanone sheath. This bioimplant was tested in vitro and also its effectiveness was tested in a large tendon defect model in vivo. A 2-cm full defect in the left Achilles tendon of all animals (n = 120) was created. The animals were andomly divided into three groups: control (n = 40), treated with collagen-based graft (n = 40) and treated with collagen-Polydioxanone-based graft (n = 40). Clinical examination was done weekly. The animals were euthanized at 60 and 120 days post-injury (DPI). The serum level of platelet-derived growth factor (PDGF) was measured. Hydroxyproline and dry matter content together with gross morphologic, histomorphometric, ultrastructural and biomechanical characteristics of the healing tissues were studied. The mechanism of host–graft interactions was studied in another 55 pilot animals. The graft was able to initiate inflammation, accelerate fibroplasia and improve remodeling of the neotenon in the defect area. Except for small remnants, most parts of the implants were gradually absorbed and substituted by a newly regenerated tendon. The preserved remnants were accepted as a part of neotenon and acted as scaffolds for the newly regenerated collagen fibrils. Unlike the controls, the treated lesions showed lower peritendinous adhesion, muscle fibrosis and atrophy and higher hydroxyproline concentration, dry matter content, ultimate strength, yield strength and modulus of elasticity. Numbers, diameter, density and differentiation of collagen fibrils were also greater in the treated lesions than the control ones. This study showed that the implant was cytocompatible, biodegradable, biocompatible and effective in tendon healing.
This is a preview of subscription content, log in to check access.
Access options
Buy single article
Instant access to the full article PDF.
US$ 39.95
Price includes VAT for USA
Subscribe to journal
Immediate online access to all issues from 2019. Subscription will auto renew annually.
US$ 199
This is the net price. Taxes to be calculated in checkout.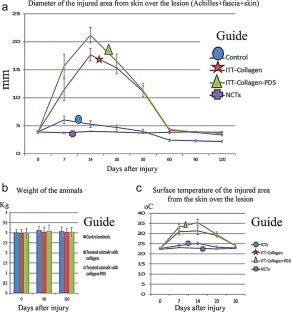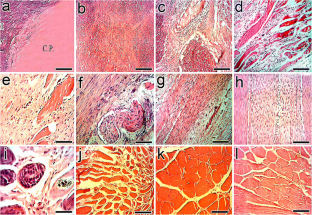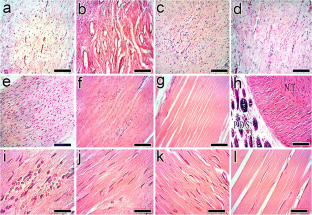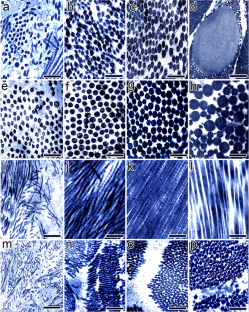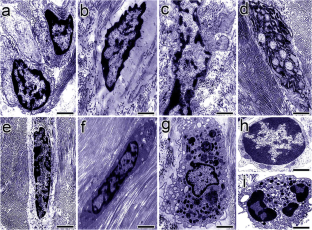 Abbreviations
DPI:

Days post-injury

ICTs:

Injured control tendons

ITTCs:

Injured treated tendons with collagen implant

ITTC-PDSs:

Injured treated tendons with collagen implant and polydioxanone sheath

NCTs:

Normal contralateral tendons

PDGF:

Platelet-derived growth factors
References
Boland ED, Coleman BD, Barnes CP, Simpson DG, Wnek GE, Bowlin GL (2005) Electrospinning polydioxanone for biomedical applications. Acta Biomater 1:115–123

Burks TN, Andres-Mateos E, Marx R, Mejias R, Van Erp C, Simmers JL, Walston JD, Ward CW, Cohn RD (2011) Losartan restores skeletal muscle remodeling and protects against disuse atrophy in sarcopenia. Sci Transl Med 3:82ra37

Chalmers J (2000) Review article: Treatment of Achilles tendon ruptures. J Orthop Res 8:97–99

Chen J, Xu J, Wang A, Zheng M (2009) Scaffolds for tendon and ligament repair: review of the efficacy of commercial products. Expert Rev Med Devices 6:61–73

Cornwell KG, Landsman A, James KS (2009) Extracellular matrix biomaterials for soft tissue repair. Clin Podiatr Med Surg 26:507–523

Czarkowska-paczek B, Bartlomiejczyk I, Przybylski J (2006) The serum levels of growth: PDGF, TGF-BETA and VEGF are increased after strenuous physical exercise. J Physiol Pharmacol 57:189–197

Dowling BA, Dart AJ, Hodgson IR, Smith RKW (2000) Superficial digital flexor tendonitis in the horse. Equine Vet J 32:369–378

Dubey N, Letourneau PC, Tranquillo RT (2001) Neuronal contact guidance in magnetically aligned fibrin gels: effect of variation in gel mechano-structural properties. Biomaterials 22:1065–1075

Fini M, Torricelli P, Giavaresi G, Rotini R, Castagna A, Giardino R (2007) In vitro study comparing two collageneous membranes in view of their clinical application for rotator cuff tendon regeneration. J Orthop Res 25:98–107

Foltran I, Foresti E, Parma B, Sabatino P, Roveri N (2008) Novel biologically inspired collagen nanofibers reconstituted by electrospinning method. Macromol Symp 269:111–118

Ghanaati S, Schlee M, Webber MJ, Willershausen I, Barbeck M, Balic E, Görlach C, Stupp SI, Sader RA, Kirkpatrick CJ (2011) Evaluation of the tissue reaction to a new bilayered collagen matrix in vivo and its translation to the clinic. Biomed Mater 6:015010

Gigante A, Cesari E, Busilacchi A, Manzotti S, Kyriakidou K, Greco F, Di Primio R, Mattioli-Belmonte M (2009) Collagen I membranes for tendon repair: effect of collagen fiber orientation on cell behavior. J Orthop Res 27:826–832

Hankemeier S, Hurschler C, Zeichen J, van Griensven M, Miller B, Meller R, Ezechieli M, Krettek C, Jagodzinski M (2009) Bone marrow stromal cells in a liquid fibrin matrix improve the healing process of patellar tendon window defects. Tissue Eng Part A 15:1019–1030

Khanna A, Friel M, Gougoulias N, Longo UG, Maffulli N (2009) Prevention of adhesions in surgery of the flexor tendons of the hand: what is the evidence? Br Med Bull 90:85–109

Longo UG, Lamberti A, Maffulli N, Denaro V (2010) Tendon augmentation grafts: a systematic review. Br Med Bull 94:165–188

Laurencin CT, Khan Y (2012) Regenerative engineering. Sci Transl Med 4:160ed9

Iizuka T, Mikkonen P, Paukku P, Lindqvist C (1991) Reconstruction of orbital floor with polydioxanone plate. Int J Oral Maxillofac Surg 20:83–87

Ma L, Gao C, Mao Z, Zhou J, Shen J, Hu X, Han C (2003) Collagen/chitosan porous scaffold with improved biostability for skin tissue engineering. Biomaterials 24:4833–4841

Maffulli N, Spiezia F, Testa V, Capasso G, Longo UG, Denaro V (2012) Free gracilis tendon graft for reconstruction of the Achilles tendons. J Bone Joint Surg Am 94:906–910

Martinello T, Bronzini I, Perazzi A, Testoni S, De Benedictis GM, Negro A, Caporale G, Mascarello F, Iacopetti I, Patruno M (2012) Effects of in vivo applications of peripheral blood-derived mesenchymal stromal cells (PB-MSCs) and platlet-rich plasma (PRP) on experimentally injured deep digital flexor tendons of sheep. J Orthop Res. doi:10.1002/jor.22205.

McCall AS, Kraft S, Edelhauser HF, Kidder GW, Lundquist RR, Bradshaw HE, Dedeic Z, Dionne MJ, Clement EM, Conrad GW (2010) Mechanisms of Corneal Tissue Cross-linking in Response to Treatment with Topical Riboflavin and Long-Wavelength Ultraviolet Radiation (UVA). Invest Ophthalmol Vis Sci 51:129–138

Moshiri A, Oryan A (2011) Structural and Functional Modulation of Early Healing of Full-thickness Superficial Digital Flexor Tendon Rupture in Rabbits by Repeated Subcutaneous Administration of Exogenous Human Recombinant Basic Fibroblast Growth Factor. J Foot Ankle Surg 50:654–662

Moshiri A, Oryan A (2012) Role of tissue engineering in tendon reconstructive surgery and regenerative medicine: current concepts, approaches and concerns. Hard Tissue 1:11

Oliva F, Gatti S, Porcellini G, Forsyth NR, Maffulli N (2012) Growth factors and tendon healing. Med Sport Sci 57:53–64

Oryan A, Shoushtari AH (2008) Histology and Ultrastructure of the Developing Superficial Digital Flexor Tendon in Rabbits. Anat Histol Embryol 37:134–140

Oryan A, Moshiri A (2011) A long term study on the role of exogenous human recombinant basic fibroblast growth factor on the superficial digital flexor tendon healing in rabbits. J Musculoskelet Neuronal Interact 11:185–195

Oryan A, Moshiri A (2012) Recombinant fibroblast growth protein enhances healing ability of experimentally induced tendon injury in vivo. J Tissue Eng Regen Med. doi:10.1002/term.1534.

Oryan A, Goodship AE, Silver IA (2008) Response of a Collagenase-Induced Tendon Injury to Treatment with a Polysulphated Glycosaminoglycan (Adequan). Connect Tissue Res 49:351–360

Oryan A, Silver IA, Goodship AE (2009) Effects of a Serotonin S2-receptor blocker on healing of acute and chronic tendon injuries. J Invest Surg 22:246–255

Oryan A, Silver IA, Goodship AE (2010) Metrenperone enhances collagen turnover and remodeling in the early stages of healing of tendon injury in rabbit. Arch Orthop Trauma Surg 130:151–157

Oryan A, Moshiri A, Meimandiparizi AH (2011) Effects of sodium-hyaluronate and glucosamine-chondroitin sulfate on remodeling stage of tenotomized superficial digital flexor tendon in rabbits: a clinical, histopathological, ultrastructural, and biomechanical study. Connect Tissue Res 52:329–339.

Oryan A, Moshiri A, Meimandiparizi AH, Raayat Jahromi A (2012a) Repeated administration of exogenous Sodium-hyaluronate improved tendon healing in an in vivo transection model. J Tissue Viability 21:88–102

Oryan A, Moshiri A, Raayat AR (2012b) Novel Application of Theranekron® Enhanced the Structural and Functional Performance of the Tenotomized Tendon in Rabbits. Cells Tissues Organs 196:442–455

Oryan A, Moshiri A, Meimandiparizi AH (2012c) Short and long terms healing of the experimentally transverse sectioned tendon in rabbits. Sports Med Arthrosc Rehabil Ther Technol 4:14

Oryan A, Moshiri A, MeimandiParizi A (2012d) Alcoholic Extract of Tarantula Cubensis Improves Sharp Ruptured Tendon Healing After Primary Repair in Rabbits. Am J Orthop 41:554–560

Oryan A, Moshiri A, Sharifi P (2012e) Advances in injured tendon engineering with emphasis on the role of collagen implants. Hard Tissue 1:12

Ouyang HW, Goh JC, Thambyah A, Teoh SH, Lee EH (2003) Knitted poly-lactide-co-glycolide scaffold loaded with bone marrow stromal cells in repair and regeneration of rabbit Achilles tendon. Tissue Eng 9:431–439

Parafioriti A, Armiraglio E, Del Bianco S, Tibalt E, Oliva F, Berardi AC (2011) Single injection of platelet-rich plasma in a rat Achilles tendon tear model. Muscles Ligaments Tendons J 1:41–47

Park YS, Sung KS (2012) Surgical reconstruction of chronic Achilles tendon ruptures using various methods. Orthopedics 35:e213–e218

Pearce AI, Richards RG, Milz S, Schneider E, Pearce SG (2007) Animal models for implant biomaterial research in bone: a review. Eur Cell Mater 13:1–10

Ping Ooi C, Cameron RE (2002) The hydrolytic degradation of polydioxanone (PDSII) sutures. Part II: Micromechanisms of deformation. J Biomed Mater Res 63:291–298

Pridgen BC, Woon CY, Kim M, Thorfinn J, Lindsey D, Pham H, Chang J (2011) Flexor tendon tissue engineering: acellularization of human flexor tendons with preservation of biomechanical properties and biocompatibility. Tissue Eng Part C 17:819–828

Postlethwaite AE, Seyer JM, Kang AH (1978) Chemotactic attraction of human fibroblasts to type I, II, and III collagens and collagen-derived peptides. Proc Natl Acad Sci USA 75:871–875

Ray JA, Doddi N, Regula D, Williams JA, Melveger A (1981) Polydioxanone (PDS), a novel monofilament synthetic absorbable suture. Surg Gynecol Obstet 153:497–507

Reverchon E, Baldino L, Cardea S, De Marco I (2013) Biodegradable synthetic scaffolds for tendon regeneration. Muscles Ligaments Tendons J 2:181–186

Roeder BA, Kokini K, Sturgis JE, Robinson JP, Voytik-Harbin SL (2002) Tensile mechanical properties of three-dimensional type I collagen extracellular matrices with varied microstructure. J Biomech Eng 124:214–222

Sato M, Maeda M, Kurosawa H, Inoue Y, Yamauchi Y, Iwase H (2000) Reconstruction of rabbit Achilles tendon with three bioabsorbable materials: histological and biomechanical studies. J Orthop Sci 5:256–267

Schulze-Tanzil G, Al-Sadi O, Ertel W, Lohan A (2012) Decellularized Tendon Extracellular Matrix-A Valuable Approach for Tendon Reconstruction? Cells 1:1010–1028

Sharma P, Maffulli N (2005) Tendon Injury and Tendinopathy: Healing and Repair. J Bone Joint Surg Am 87:187–202

Sharma P, Maffulli N (2006) Biology of tendon injury: healing, modeling and remodeling. J Musculoskelet Neuronal Interact 6:181–190

Shearn JT, Kinneberg KR, Dyment NA, Galloway MT, Kenter K, Wylie C, Butler DL (2011) Tendon tissue engineering: progress, challenges, and translation to clinic. J Musculoskelet Neuronal Interact 11:163–173

Siritientong T, Srichana T, Aramwit P (2011) The effect of sterilization methods on the physical properties of silk sericin scaffolds. AAPS Pharm Sci Tech 12:771–781

Stillaert FB, Di Bartolo C, Hunt JA, Rhodes NP, Tognana E, Monstrey S, Blondeel PN (2008) Human clinical experience with adipose precursor cells seeded on hyaluronic acid-based spongy scaffolds. Biomaterials 29:3953–3959

Taylor SH, Al-Youha S, Van Agtmael T, Lu Y, Wong J, McGrouther DA, Kadler KE (2011) Tendon is covered by a basement membrane epithelium that is required for cell retention and the prevention of adhesion formation. PLOS ONE 6:e16337

Tsai SP, Hsieh CY, Hsieh CY, Wang DM, Huang LLH, Lai JY, Hsieh HJ (2007) Preparation and Cell Compatibility Evaluation of Chitosan/Collagen Composite Scaffolds Using Amino Acids as Crosslinking Bridges. J Appl Polym Sci 105:1774–1785

Veillette CJ, Cunningham KD, Hart DA, Fritzler MJ, Frank CB (1998) Localization and characterization of porcine patellar tendon xenograft antigens in a rabbit model of medial collateral ligament replacement. Transplantation 65:486–493

Wray LS, Orwin EJ (2009) Recreating the microenvironment of the native cornea for tissue engineering applications. Tissue Eng Part A 15:1463–1472

Zilberman M, Nelson KD, Eberhart RC (2005) Mechanical properties and in vitro degradation of bioresorbable fibers and expandable fiber-based stents. J Biomed Mater Res B 74:792–799
Acknowledgement
We thank Shiraz University Veterinary School for financial support and cooperation and sincerely appreciate additional funding through grant ISNF 87020247, from the Iranian National Science Foundation. We are also grateful to Dr A. Mogheiseh, Dr N. Golestani, Dr M. Forood, Dr Y. Aryazand (Department of Clinical Sciences) G. Yousefi, L. Shirvani (Deparment of Pathobiology), A. Safavi (Center of Electron Microscopy), M.R. Solhpoor (Department of Materials Science), M. Noroozi, G. Rezaiee and J. Sarikhani (Department of Surgery) from Shiraz University, Shiraz, Iran, for their technical assistance.
Funding
This work was supported by the Shiraz University Veterinary School and the Iranian National Science Foundation (grant ISNF 87020247). The funders had no role in study design, data collection and analysis, decision to publish, or preparation of the manuscript.
Competing Interests
The authors declare that no competing interests exist.
About this article
Cite this article
Oryan, A., Moshiri, A. & Meimandi-Parizi, A. Implantation of a novel tissue-engineered graft in a large tendon defect initiated inflammation, accelerated fibroplasia and improved remodeling of the new Achilles tendon: a comprehensive detailed study with new insights. Cell Tissue Res 355, 59–80 (2014). https://doi.org/10.1007/s00441-013-1726-3
Received:

Accepted:

Published:

Issue Date:
Keywords
Tissue engineering

Tendon healing

Ultrastructure

Reconstructive surgery

Collagen

Polydioxanone

Scaffold

Implant

Graft