Abstract
Repair of injured tendon is a very slow process and involves the release of many molecules, including nitric oxide. We investigate the influence of local nitrergic inhibition in histological and functional recovery of injured Achilles tendon. A standard murine model of tendon injury by rupture was used. The animals were divided into three experimental groups: control, injury + vehicle (normal saline) and injury + Nω-nitro-L-arginine methyl ester (L-NAME). The products were injected into the paratendinous region every 2 days and body weight gain and Achilles functional index (AFI) were evaluated on days 0, 7, 14 and 21 after tendon injury. On day 21 post-injury, the animals were killed to evaluate nitric oxide production and tissue organization. We observed that tendon surgical division led to increased tissue nitrite levels, which were reduced in L-NAME-treated rats. The AFI revealed functional recovery of L-NAME-treated animals on day 21 post-injury, which was not observed in the saline-treated group. Microscopic analysis of hematoxylin-eosin staining and collagen autofluorescence showed that L-NAME-treated rats had more aligned areas of collagen fibers and that the diameter of newly organized collagen in this group was also greater than that in the vehicle-treated one. We demonstrate that local treatment with L-NAME significantly improves the functional parameters and accelerates histomorphological recovery.
This is a preview of subscription content, log in to check access.
Access options
Buy single article
Instant access to the full article PDF.
US$ 39.95
Price includes VAT for USA
Subscribe to journal
Immediate online access to all issues from 2019. Subscription will auto renew annually.
US$ 199
This is the net price. Taxes to be calculated in checkout.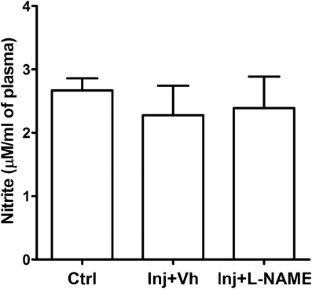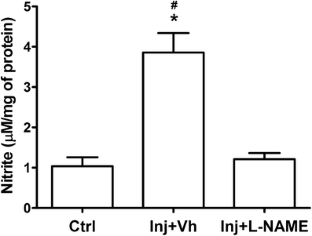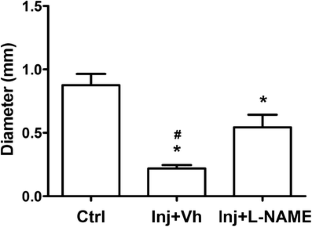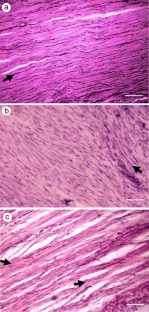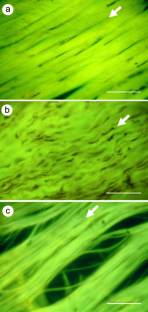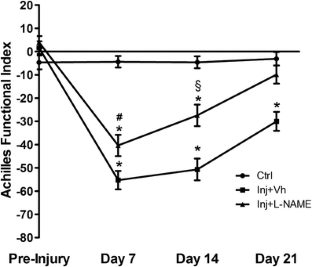 References
Abate M, Gravare SK, Siljeholm C, Di Iorio A, De Amicis D, Salini V, Werner S, Paganelli R (2009) Pathogenesis of tendinopathies: inflammation or degeneration? Arthritis Res Ther 11:235

Ackermann PW, Li J, Lundeberg T, Kreicbergs A (2003) Neuronal plasticity in relation to nociception and healing of rat Achilles tendon. J Orthop Res 21:432–441

Barmakian JT, Lin H, Green SM, Posner MA, Casar RS (1994) Comparison of a suture technique with the modified Kessler method: resistance to gap formation. J Hand Surg 19A:777–781

Bogdan C, Röllinghoff M, Diefenbach A (2000) Reactive oxygen and reactive nitrogen intermediates in innate and specific immunity. Curr Opin Immunol 12:64–76

Bokhari AR, Murrell GAC (2012) The role of nitric oxide in tendon healing. J Shoulder Elbow Surg 21:238–244

Bradford MM (1976) A rapid and sensitive method for the quantitation of microgram quantities of protein utilizing the principle of protein-dye binding. Anal Biochem 72:248–254

Bring DKI, Kreicbergs A, Renstrom PAFH, Ackermann PW (2007) Physical activity modulates nerve plasticity and stimulates repair after Achilles tendon rupture. J Orthop Res 25:164–172

Bruns J, Kampen J, Kahrs J, Plitz W (2000) Achilles tendon rupture: experimental results on spontaneous repair in a sheep-model. Knee Surg Sports Traumatol Arthrosc 8:364–369

Cao M, Westerhausen-Larson A, Niyibizi C, Kavalkovich K, Georgescu HI, Rizzo CF, Hebda PA, Stefanovic-Racic M, Evans CH (1997) Nitric oxide inhibits the synthesis of type-II collagen without altering Col2A1 mRNA abundance: prolyl hydroxylase as a possible target. Biochem J 324:305–310

Cho NS, Hwang JH, Lee YT, Chae SW (2011) Tendinosis-like histologic and molecular changes of the Achilles tendon to repetitive stress. Clin Orthop Relat Res 469:3172–3180

Cook JL, Feller JA, Bonar SF, Khan KM (2004) Abnormal tenocyte morphology is more prevalent than collagen disruption in asymptomatic athletes' patellar tendons. J Orthop Res 22:334–338

Dahlgren LA, Mohammed HO, Nixon AJ (2005) Temporal expression of growth factors and matrix molecules in healing tendon lesions. J Orthop Res 23:84–92

Darmani H, Crossan JC, Curtis A (2004) Single dose of inducible nitric oxide synthase inhibitor induces prolonged inflammatory cell accumulation and fibrosis around injured tendon and synovium. Mediators Inflamm 13:157–164

Dooley A, Gao B, Shi-Wen X, Abraham DJ, Black CM, Jacobs M, Bruckdorfer KR (2007) Effect of nitric oxide and peroxynitrite on type I collagen synthesis in normal and scleroderma dermal fibroblasts. Free Radic Biol Med 43:253–264

Ferrini MG, Vernet D, Magee TR, Shahed A, Qian A, Rajfer J, Gonzalez-Cadavid NF (2002) Antifibrotic role of inducible nitric oxide synthase. Nitric Oxide 6:283–294

Gigante A, Cesari E, Busilacchi A, Manzotti S, Kyriakidou K, Greco F, Primio RD, Mattioli-Belmonte M (2009) Collagen I membranes for tendon repair: effect of collagen fiber orientation on cell behavior. J Orthop Res 27:826–832

Hoell T, Huschak G, Beier A, Hüttmann G, Minkus Y, Holzhausen H, Meisel H (2006) Auto fluorescence of intervertebral disc tissue: a new diagnostic tool. Eur Spine J 15:345–353

Lin J-H, Wang M-X, Wei A, Zhu W, Diwan AD, Murrell GAC (2001a) Temporal expression of nitric oxide synthase isoforms in healing Achilles tendon. J Orthop Res 19:136–142

Lin J, Wang M-X, Wei A, Zhu W, Murrell GAC (2001b) The cell specific temporal expression of nitric oxide synthase isoforms during Achilles tendon healing. Inflamm Res 50:515–522

Longo UG, Ronga M, Maffulli N (2009) Achilles tendinopathy. Sports Med Arthrosc 17:112–126

Maffulli N, Longo U, Franceschi F, Rabitti C, Denaro V (2008) Movin and Bonar scores assess the same characteristics of tendon histology. Clin Orthop Relat Res 466:1605–1611

Molloy TJ, Wang Y, Horner A, Skerry TM, Murrell GAC (2006) Microarray analysis of healing rat Achilles tendon: evidence for glutamate signaling mechanisms and embryonic gene expression in healing tendon tissue. J Orthop Res 24:842–855

Moncada S, Higgs A (1995) Molecular mechanisms and therapeutic strategies related to nitric oxide. FASEB J 9:1319–1330

Moncada S, Palmer RM, Higgs EA (1991) Nitric oxide: physiology, pathophysiology, and pharmacology. Pharmacol Rev 43:109–142

Murrell GAC (2007) Oxygen free radicals and tendon healing. J Shoulder Elbow Surg 16:S208–S214

Murrell GAC, Lilly EG, Davies H, Best TM, Goldner RD, Seaber AV (1992) The Achilles functional index. J Orthop Res 10:398–404

Murrell GAC, Szabo C, Hannafin JA, Jang D, Dolan MM, Deng X-H, Murrell DF, Warren RF (1997) Modulation of tendon healing by nitric oxide. Inflamm Res 46:19–27

Murrell G, Tang G, Appleyard R, del Soldato P, Wang M-X (2008) Addition of nitric oxide through nitric oxide-paracetamol enhances healing rat Achilles tendon. Clin Orthop Relat Res 466:1618–1624

Padanilam TG (2009) Chronic Achilles tendon ruptures. Foot Ankle Clin N Am 14:711–728

Riley G (2008) Tendinopathy - from basic science to treatment. Nat Clin Pract Rheumatol 4:82–89

Schepsis AA, Jones H, Haas AL (2002) Achilles tendon disorders in athletes. Am J Sports Med 30:287–305

Scutt N, Rolf CG, Scutt A (2006) Glucocorticoids inhibit tenocyte proliferation and tendon progenitor cell recruitment. J Orthop Res 24:173–182

Sharma P, Maffulli N (2006) Biology of tendon injury: healing, modeling and remodeling. J Musculoskelet Neuronal Interact 6:181–190

Stamler JS, Meissner G (2001) Physiology of nitric oxide in skeletal muscle. Physiol Rev 81:209–237

Strom AC, Casillas MM (2009) Achilles tendon rehabilitation. Foot Ankle Clin N Am 14:773–782

Szomor ZL, Appleyard RC, Murrel GAC (2006) Overexpression of nitric oxide synthases in tendon overuse. J Orthop Res 24:80–86

Tomiosso T, Nakagaki W, Gomes L, Hyslop S, Pimentel E (2009) Organization of collagen bundles during tendon healing in rats treated with L-NAME. Cell Tissue Res 337:235–242

Twaddle BC, Poon P (2007) Early motion for Achilles tendon ruptures: is surgery important? Am J Sports Med 35:2033–2038

Urtasun R, Cubero FJ, Vera M, Nieto N (2009) Reactive nitrogen species switch on early extracellular matrix remodeling via induction of MMP1 and TNFα. Gastroenterology 136:1410–1422

Vallance P (2003) Nitric oxide: therapeutic opportunities. Fundam Clin Pharmacol 17:1–10

Weber M, Niemann M, Lanz R, Müller T (2003) Nonoperative treatment of acute rupture of the Achilles tendon. Am J Sports Med 31:685–691

Xia W, Wang Y, Appleyard R, Smythe G, Murrell G (2006) Spontaneous recovery of injured Achilles tendon in inducible nitric oxide synthase gene knockout mice. Inflamm Res 55:40–45

Xu Y, Murrell G (2008) The basic science of tendinopathy. Clin Orthop Relat Res 466:1528–1538
About this article
Cite this article
Moraes, S.A.S., Oliveira, K.R.M., Crespo-López, M.E. et al. Local NO synthase inhibition produces histological and functional recovery in Achilles tendon of rats after tenotomy. Cell Tissue Res 353, 457–463 (2013). https://doi.org/10.1007/s00441-013-1662-2
Received:

Accepted:

Published:

Issue Date:
Keywords
Tendon injury

Nitric oxide

Tendon healing

Nitric oxide synthase

Wound healing