Abstract
AMP-activated protein kinase (AMPK) regulates metabolism in skeletal muscle, and myostatin (MSTN) negatively regulates skeletal muscle development and growth. In the present study, AMPK activation and the relationship between AMPK and MSTN during myogenic differentiation were investigated in cultures derived from bovine skeletal muscle. Myoblasts capable of forming myotubes were obtained from bovine skeletal muscle and treated with AICAR to activate AMPK, resulting in suppressed myotube formation. AICAR treatment significantly reduced the expression of MSTN mRNA during myogenic differentiation. Combined treatment with AICAR and MSTN suppressed myotube formation to a greater extent than AICAR alone. SB431542, an inhibitor of MSTN signaling, promoted myotube formation during myogenic differentiation. However, simultaneous treatment with AICAR blocked this effect of SB431542. Therefore, AMPK activation inhibits myogenic differentiation but may suppress MSTN expression to balance muscle development.
This is a preview of subscription content, log in to check access.
Access options
Buy single article
Instant access to the full article PDF.
US$ 39.95
Price includes VAT for USA
Subscribe to journal
Immediate online access to all issues from 2019. Subscription will auto renew annually.
US$ 199
This is the net price. Taxes to be calculated in checkout.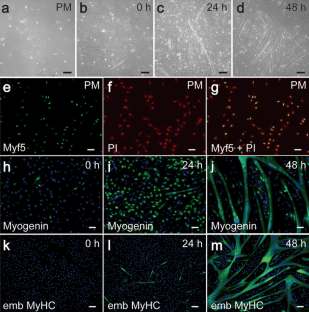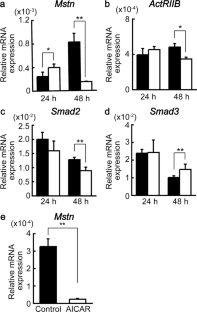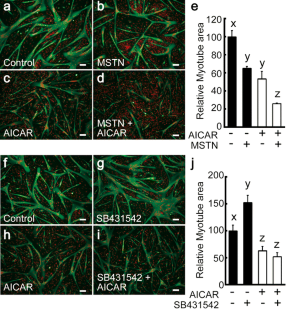 References
Chen Y, Ye J, Cao L, Zhang Y, Xia W, Zhu D (2010) Myostatin regulates glucose metabolism via the AMP-activated protein kinase pathway in skeletal muscle cells. Int J Biochem Cell Biol 42:2072–2081

Conboy IM, Rando TA (2002) The regulation of Notch signaling controls satellite cell activation and cell fate determination in postnatal myogenesis. Dev Cell 3:397–409

Feldman BJ, Streeper RS, Farese RV Jr, Yamamoto KR (2006) Myostatin modulates adipogenesis to generate adipocytes with favorable metabolic effects. Proc Natl Acad Sci USA 103:15675–15680

Fulco M, Cen Y, Zhao P, Hoffman EP, McBurney MW, Sauve AA, Sartorelli V (2008) Glucose restriction inhibits skeletal myoblast differentiation by activating SIRT1 through AMPK-mediated regulation of Nampt. Dev Cell 14:661–673

Grobet L, Martin LJ, Poncelet D, Pirottin D, Brouwers B, Riquet J, Schoeberlein A, Dunner S, Ménissier F, Massabanda J, Fries R, Hanset R, Georges M (1997) A deletion in the bovine myostatin gene causes the double-muscled phenotype in cattle. Nat Genet 17:71–74

Guo T, Jou W, Chanturiya T, Portas J, Gavrilova O, McPherron AC (2009) Myostatin inhibition in muscle, but not adipose tissue, decreases fat mass and improves insulin sensitivity. PLoS One 4:e4937

Hardie DG (2005) New roles for the LKB1– > AMPK pathway. Curr Opin Cell Biol 17:167–173

Heinemeier KM, Olesen JL, Schjerling P, Haddad F, Langberg H, Baldwin KM, Kjaer M (2007) Short-term strength training and the expression of myostatin and IGF-I isoforms in rat muscle and tendon: differential effects of specific contraction types. J Appl Physiol 102:573–581

Hirai S, Matsumoto H, Hino N, Kawachi H, Matsui T, Yano H (2007) Myostatin inhibits differentiation of bovine preadipocyte. Domest Anim Endocrinol 32:1–14

Kambadur R, Sharma M, Smith TP, Bass JJ (1997) Mutations in myostatin (GDF8) in double-muscled Belgian Blue and Piedmontese cattle. Genome Res 7:910–916

Kim JS, Cross JM, Bamman MM (2005) Impact of resistance loading on myostatin expression and cell cycle regulation in young and older men and women. Am J Physiol Endocrinol Metab 288:E1110–E1119

Koh HJ, Brandauer J, Goodyear LJ (2008) LKB1 and AMPK and the regulation of skeletal muscle metabolism. Curr Opin Clin Nutr Metab Care 11:227–232

Langley B, Thomas M, Bishop A, Sharma M, Gilmour S, Kambadur R (2002) Myostatin inhibits myoblast differentiation by down-regulating MyoD expression. J Biol Chem 277:49831–49840

Lee SJ, McPherron AC (2001) Regulation of myostatin activity and muscle growth. Proc Natl Acad Sci USA 98:9306–9311

Matsakas A, Friedel A, Hertrampf T, Diel P (2005) Short-term endurance training results in a muscle-specific decrease of myostatin mRNA content in the rat. Acta Physiol Scand 183:299–307

McFadden JW, Corl BA (2009) Activation of AMP-activated protein kinase (AMPK) inhibits fatty acid synthesis in bovine mammary epithelial cells. Biochem Biophys Res Commun 390:388–393

McPherron AC, Lee SJ (2002) Suppression of body fat accumulation in myostatin-deficient mice. J Clin Invest 109:595–601

McPherron AC, Lawler AM, Lee SJ (1997) Regulation of skeletal muscle mass in mice by a new TGF-beta superfamily member. Nature 387:83–90

Miyake M, Hayashi S, Taketa Y, Iwasaki S, Watanabe K, Ohwada S, Aso H, Yamaguchi T (2010) Myostatin down-regulates the IGF-2 expression via ALK-Smad signaling during myogenesis in cattle. Anim Sci J 81:223–229

Miyake M, Hayashi S, Iwasaki S, Uchida T, Watanabe K, Ohwada S, Aso H, Yamaguchi T (2011) TIEG1 negatively controls the myoblast pool indispensable for fusion during myogenic differentiation of C2C12 cells. J Cell Physiol 226:1128–1136

Mounier R, Lantier L, Leclerc J, Sotiropoulos A, Pende M, Daegelen D, Sakamoto K, Foretz M, Viollet B (2009) Important role for AMPKalpha1 in limiting skeletal muscle cell hypertrophy. FASEB J 23:2264–2273

Rando TA, Blau HM (1994) Primary mouse myoblast purification, characterization, and transplantation for cell-mediated gene therapy. J Cell Biol 125:1275–1287

Rebbapragada A, Benchabane H, Wrana JL, Celeste AJ, Attisano L (2003) Myostatin signals through a transforming growth factor beta-like signaling pathway to block adipogenesis. Mol Cell Biol 23:7230–7242

Sabourin LA, Rudnicki MA (2000) The molecular regulation of myogenesis. Clin Genet 57:16–25

Thomas M, Langley B, Berry C, Sharma M, Kirk S, Bass J, Kambadur R (2000) Myostatin, a negative regulator of muscle growth, functions by inhibiting myoblast proliferation. J Biol Chem 275:40235–40243

Tsuchida K, Nakatani M, Uezumi A, Murakami T, Cui X (2008) Signal transduction pathway through activin receptors as a therapeutic target of musculoskeletal diseases and cancer. Endocr J 55:11–21

Watt KI, Jaspers RT, Atherton P, Smith K, Rennie MJ, Ratkevicius A, Wackerhage H (2010) SB431542 treatment promotes the hypertrophy of skeletal muscle fibers but decreases specific force. Muscle Nerve 41:624–629

Williamson DL, Butler DC, Alway SE (2009) AMPK inhibits myoblast differentiation through a PGC-1alpha-dependent mechanism. Am J Physiol Endocrinol Metab 297:E304–E314

Zhang C, McFarlane C, Lokireddy S, Bonala S, Ge X, Masuda S, Gluckman PD, Sharma M, Kambadur R (2011) Myostatin-deficient mice exhibit reduced insulin resistance through activating the AMP-activated protein kinase signalling pathway. Diabetologia 54:1491–1501
Acknowledgment
This work was supported by a Grant-in-Aid for Scientific Research (22880006) from the Ministry of Education, Culture, Sports, Science and Technology (to M.M), and the Programme for Promotion of Basic and Applied Research for Innovations in Bio-oriented Industry (to T.Y).
About this article
Cite this article
Miyake, M., Takahashi, H., Kitagawa, E. et al. AMPK activation by AICAR inhibits myogenic differentiation and myostatin expression in Cattle. Cell Tissue Res 349, 615–623 (2012). https://doi.org/10.1007/s00441-012-1422-8
Received:

Accepted:

Published:

Issue Date:
Keywords
AMPK

Myostatin

Myoblast

Differentiation

Cattle