Abstract
The purpose of the present study was to determine if the lacrimal gland contains 5-bromo-2′-deoxyuridine (BrdU)-label retaining cells and if they are involved in tissue repair. Animals were pulsed daily with BrdU injections for 7 consecutive days. After a chase period of 2, 4, or 12 weeks, the animals were sacrificed and the lacrimal glands were removed and processed for BrdU immunostaining. In another series of experiments, the lacrimal glands of 12-week chased animals were either left untreated or were injected with interleukin 1 (IL-1) to induce injury. Two and half days post-injection, the lacrimal glands were removed and processed for BrdU immunostaining. After 2 and 4 weeks of chase period, a substantial number of lacrimal gland cells were BrdU+ (11.98 ± 1.84 and 7.95 ± 1.83 BrdU+ cells/mm2, respectively). After 12 weeks of chase, there was a 97% decline in the number of BrdU+ cells (0.38 ± 0.06 BrdU+ cells/mm2), suggesting that these BrdU-label retaining cells may represent slow-cycling adult stem/progenitor cells. In support of this hypothesis, the number of BrdU labeled cells increased over 7-fold during repair of the lacrimal gland (control: 0.41 ± 0.09 BrdU+ cells/mm2; injured: 2.91 ± 0.62 BrdU+ cells/mm2). Furthermore, during repair, among BrdU+ cells 58.2 ± 3.6 % were acinar cells, 26.4 ± 4.1% were myoepithelial cells, 0.4 ± 0.4% were ductal cells and 15.0 ± 3.0% were stromal cells. We conclude that the murine lacrimal gland contains BrdU-label retaining cells that are mobilized following injury to generate acinar, myoepithelial and ductal cells.
This is a preview of subscription content, log in to check access.
Access options
Buy single article
Instant access to the full article PDF.
US$ 39.95
Price includes VAT for USA
Subscribe to journal
Immediate online access to all issues from 2019. Subscription will auto renew annually.
US$ 199
This is the net price. Taxes to be calculated in checkout.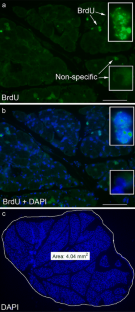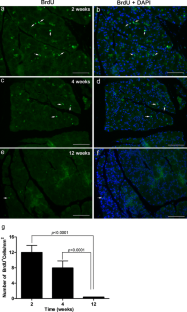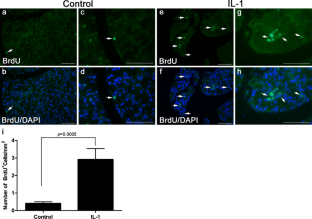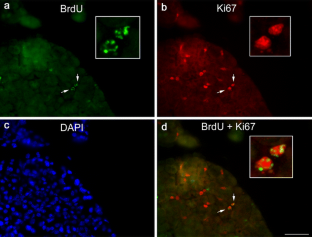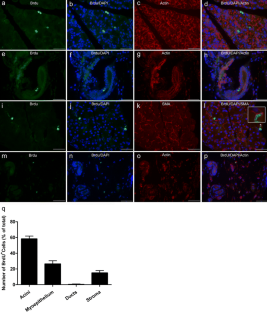 References
Alison MR, Golding M, Sarraf CE (1997) Liver stem cells: when the going gets tough they get going. Int J Exp Pathol 78:365–381

Bjerknes M, Cheng H (2002) Multipotential stem cells in adult mouse gastric epithelium. Am J Physiol Gastrointest Liver Physiol 283:G767–777

Blanpain C, Horsley V, Fuchs E (2007) Epithelial stem cells: turning over new leaves. Cell 128:445–458

Bron AJ, Tiffany JM, Gouveia SM, Yokoi N, Voon LW (2004) Functional aspects of the tear film lipid layer. Exp Eye Res 78:347–360

Calissendorff B, el Azazi M, Lonnqvist B (1989) Dry eye syndrome in long-term follow-up of bone marrow transplanted patients. Bone Marrow Transpl 4:675–678

Chan RW, Gargett CE (2006) Identification of label-retaining cells in mouse endometrium. Stem Cells 24:1529–1538

Cotsarelis G, Cheng SZ, Dong G, Sun TT, Lavker RM (1989) Existence of slow-cycling limbal epithelial basal cells that can be preferentially stimulated to proliferate: implications on epithelial stem cells. Cell 57:201–209

Cotsarelis G, Sun TT, Lavker RM (1990) Label-retaining cells reside in the bulge area of pilosebaceous unit: implications for follicular stem cells, hair cycle, and skin carcinogenesis. Cell 61:1329–1337

Dartt DA (2009) Neural regulation of lacrimal gland secretory processes: relevance in dry eye diseases. Prog Retin Eye Res 28:155–177

De Vita S, Damato R, De Marchi G, Sacco S, Ferraccioli G (2002) True primary Sjögren's syndrome in a subset of patients with hepatitis C infection: a model linking chronic infection to chronic sialadenitis. Isr Med Assoc J 4:1101–1105

DeCarlo DK, Penner SL, Schamerloh RJ, Fullard RJ (1995) Dry eye among males infected with the human immunodeficiency virus. J Am Optom Assoc 66:533–538

Drosos AA, Constantopoulos SH, Psychos D, Stefanou D, Papadimitriou CS, Moutsopoulos HM (1989) The forgotten cause of sicca complex; sarcoidosis. J Rheumatol 16:1548–1551

Duvillie B, Attali M, Aiello V, Quemeneur E, Scharfmann R (2003) Label-retaining cells in the rat pancreas: location and differentiation potential in vitro. Diabetes 52:2035–2042

Forbes SJ, Vig P, Poulsom R, Wright NA, Alison MR (2002) Adult stem cell plasticity: new pathways of tissue regeneration become visible. Clin Sci (Lond) 103:355–369

Gipson IK, Argueso P (2003) Role of mucins in the function of the corneal and conjunctival epithelia. Int Rev Cytol 231:1–49

Gomperts BN, Strieter RM (2007) Stem cells and chronic lung disease. Annu Rev Med 58:285–298

Hisatomi Y, Okumura K, Nakamura K, Matsumoto S, Satoh A, Nagano K, Yamamoto T, Endo F (2004) Flow cytometric isolation of endodermal progenitors from mouse salivary gland differentiate into hepatic and pancreatic lineages. Hepatology 39:667–675

Hodges RR, Dartt DA (2003) Regulatory pathways in lacrimal gland epithelium. Int Rev Cytol 231:129–196

Kim YJ, Kwon HJ, Shinozaki N, Hashimoto S, Shimono M, Cho SW, Jung HS (2008) Comparative analysis of ABCG2-expressing and label-retaining cells in mouse submandibular gland. Cell Tissue Res 334:47–53

Kimoto M, Yura Y, Kishino M, Toyosawa S, Ogawa Y (2008) Label-retaining cells in the rat submandibular gland. J Histochem Cytochem 56:15–24

Kishi T, Takao T, Fujita K, Taniguchi H (2006) Clonal proliferation of multipotent stem/progenitor cells in the neonatal and adult salivary glands. Biochem Biophys Res Commun 340:544–552

Kume S (2005) Stem-cell-based approaches for regenerative medicine. Dev Growth Differ 47:393–402

Lemullois M, Rossignol B, Mauduit P (1996) Immunolocalization of myoepithelial cells in isolated acini of rat exorbital lacrimal gland: cellular distribution of muscarinic receptors. Biol Cell 86:175–181

Maeshima A, Yamashita S, Nojima Y (2003) Identification of renal progenitor-like tubular cells that participate in the regeneration processes of the kidney. J Am Soc Nephrol 14:3138–3146

Meinhardt A, Spicher A, Roehrich ME, Glauche I, Vogt P, Vassalli G (2011) Immunohistochemical and flow cytometric analysis of long-term label-retaining cells in the adult heart. Stem Cells Dev 20:211–222

Ogawa Y, Kuwana M (2003) Dry eye as a major complication associated with chronic graft-versus-host disease after hematopoietic stem cell transplantation. Cornea 22:S19–27

Okumura K, Nakamura K, Hisatomi Y, Nagano K, Tanaka Y, Terada K, Sugiyama T, Umeyama K, Matsumoto K, Yamamoto T, Endo F (2003) Salivary gland progenitor cells induced by duct ligation differentiate into hepatic and pancreatic lineages. Hepatology 38:104–113

Pflugfelder SC (2004) Antiinflammatory therapy for dry eye. Am J Ophthalmol 137:337–342

Potten CS, Hume WJ, Reid P, Cairns J (1978) The segregation of DNA in epithelial stem cells. Cell 15:899–906

Poulsom R, Alison MR, Forbes SJ, Wright NA (2002) Adult stem cell plasticity. J Pathol 197:441–456

Schaumberg DA, Sullivan DA, Buring JE, Dana MR (2003) Prevalence of dry eye syndrome among US women. Am J Ophthalmol 136:318–326

Schaumberg DA, Dana R, Buring JE, Sullivan DA (2009) Prevalence of dry eye disease among US men: estimates from the Physicians' Health Studies. Arch Ophthalmol 127:763–768

Smith GH (2005) Label-retaining epithelial cells in mouse mammary gland divide asymmetrically and retain their template DNA strands. Development 132:681–687

Stern ME, Beuerman RW, Fox RI, Gao J, Mircheff AK, Pflugfelder SC (1998) The pathology of dry eye: the interaction between the ocular surface and lacrimal glands. Cornea 17:584–589

Tiffany JM (2008) The normal tear film. Dev Ophthalmol 41:1–20

Wei Z, Cotsarelis G, Sun T, Lavker R (1995) Label-retaining cells are preferentially located in fornical epithelium: implications on conjunctival epithelial homeostasis. Invest Ophthalmol Vis Sci 36:236–246

You S, Kublin CL, Avidan O, Miyasaki D, Zoukhri D (2011) Isolation and propagation of mesenchymal stem cells from the lacrimal gland. Invest Ophthalmol Vis Sci 52:2087–2094

You S, Avidan O, Tariq A, Ahluwalia, I, Stark, P, Kublin CL, Zoukhri D (2011) Role of epithelial-mesenchymal transition in repair of the lacrimal gland following experimentally induced injury. Invest Ophthalmol Vis Sci (in press)

Zhang YQ, Kritzik M, Sarvetnick N (2005) Identification and expansion of pancreatic stem/progenitor cells. J Cell Mol Med 9:331–344

Zoukhri D (2006) Effect of inflammation on lacrimal gland function. Exp Eye Res 82:885–898

Zoukhri D (2010) Mechanisms involved in injury and repair of the murine lacrimal gland: role of programmed cell death and mesenchymal stem cells. Ocul Surf 8:60–69

Zoukhri D, Macari E, Kublin CL (2007) A single injection of interleukin-1 induces reversible aqueous-tear deficiency, lacrimal gland inflammation, and acinar and ductal cell proliferation. Exp Eye Res 84:894–904

Zoukhri D, Fix A, Alroy J, Kublin CL (2008) Mechanisms of murine lacrimal gland repair after experimentally induced inflammation. Invest Ophthalmol Vis Sci 49:4399–4406
Acknowledgements
The authors gratefully acknowledge the BRB Preclinical Repository of the NCI for the generous gift of recombinant human cytokines, the assistance of Tufts Center for Neuroscience Research P30 NS047243 (Jackson), Ms. Robin Hodges and Dr. Darlene Dartt for their critical reading of the manuscript and Dr. Fara Sourie for her invaluable contribution to this work.
About this article
Cite this article
You, S., Tariq, A., Kublin, C.L. et al. Detection of BrdU-label retaining cells in the lacrimal gland: implications for tissue repair. Cell Tissue Res 346, 317–326 (2011). https://doi.org/10.1007/s00441-011-1271-x
Received:

Accepted:

Published:

Issue Date:
Keywords
Progenitor cells

BrdU-label retaining cells

Tissue repair

Lacrimal gland