Abstract
Biomaterial scaffolds functionalized to stimulate endogenous repair mechanisms via the incorporation of osteogenic cues offer a potential alternative to bone grafting for the treatment of large bone defects. We first quantified the ability of a self-complementary adeno-associated viral vector encoding bone morphogenetic protein 2 (scAAV2.5-BMP2) to enhance human stem cell osteogenic differentiation in vitro. In two-dimensional culture, scAAV2.5-BMP2-transduced human mesenchymal stem cells (hMSCs) displayed significant increases in BMP2 production and alkaline phosphatase activity compared with controls. hMSCs and human amniotic-fluid-derived stem cells (hAFS cells) seeded on scAAV2.5-BMP2-coated three-dimensional porous polymer Poly(ε-caprolactone) (PCL) scaffolds also displayed significant increases in BMP2 production compared with controls during 12 weeks of culture, although only hMSC-seeded scaffolds displayed significantly increased mineral formation. PCL scaffolds coated with scAAV2.5-BMP2 were implanted into critically sized immunocompromised rat femoral defects, both with or without pre-seeding of hMSCs, representing ex vivo and in vivo gene therapy treatments, respectively. After 12 weeks, defects treated with acellular scAAV2.5-BMP2-coated scaffolds displayed increased bony bridging and had significantly higher bone ingrowth and mechanical properties compared with controls, whereas defects treated with scAAV2.5-BMP2 scaffolds pre-seeded with hMSCs failed to display significant differences relative to controls. When pooled, defect treatment with scAAV2.5-BMP2-coated scaffolds, both with or without inclusion of pre-seeded hMSCs, led to significant increases in defect mineral formation at all time points and increased mechanical properties compared with controls. This study thus presents a novel acellular bone-graft-free endogenous repair therapy for orthotopic tissue-engineered bone regeneration.
This is a preview of subscription content, log in to check access.
Access options
Buy single article
Instant access to the full article PDF.
US$ 39.95
Price includes VAT for USA
Subscribe to journal
Immediate online access to all issues from 2019. Subscription will auto renew annually.
US$ 199
This is the net price. Taxes to be calculated in checkout.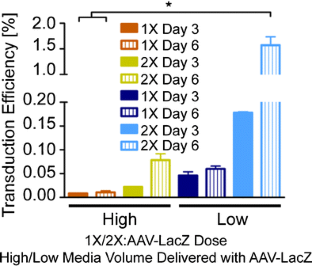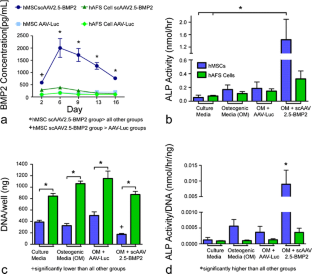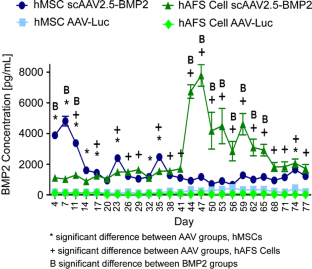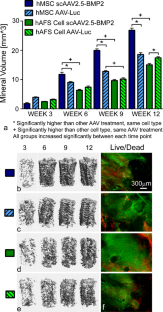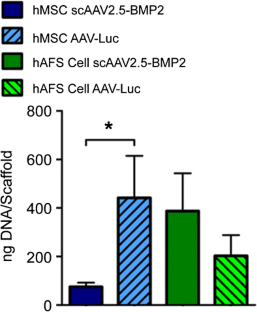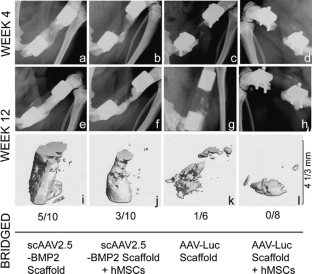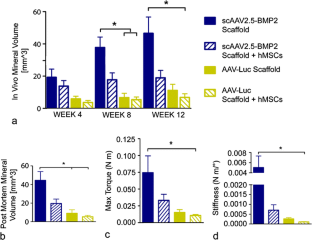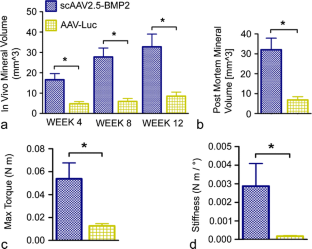 References
Arinzeh TL, Peter SJ, Archambault MP, Bos C van den, Gordon S, Kraus K, Smith A, Kadiyala S (2003) Allogeneic mesenchymal stem cells regenerate bone in a critical-sized canine segmental defect. J Bone Joint Surg Am 85-A:1927–1935

Awad HA, Zhang X, Reynolds DG, Guldberg RE, O'Keefe RJ, Schwarz EM (2007) Recent advances in gene delivery for structural bone allografts. Tissue Eng 13:1973–1985

Berrey BH Jr, Lord CF, Gebhardt MC, Mankin HJ (1990) Fractures of allografts. Frequency, treatment, and end-results. J Bone Joint Surg Am 72:825–833

Betz OB, Betz VM, Nazarian A, Pilapil CG, Vrahas MS, Bouxsein ML, Gerstenfeld LC, Einhorn TA, Evans CH (2006) Direct percutaneous gene delivery to enhance healing of segmental bone defects. J Bone Joint Surg Am 88:355–365

Bucholz RW (2002) Nonallograft osteoconductive bone graft substitutes. Clin Orthop Relat Res 395:44–52

Burastero G, Scarfi S, Ferraris C, Fresia C, Sessarego N, Fruscione F, Monetti F, Scarfo F, Schupbach P, Podesta M, Grappiolo G, Zocchi E (2010) The association of human mesenchymal stem cells with BMP-7 improves bone regeneration of critical-size segmental bone defects in athymic rats. Bone 47:117–126

Cahill KS, Chi JH, Day A, Claus EB (2009) Prevalence, complications, and hospital charges associated with use of bone-morphogenetic proteins in spinal fusion procedures. JAMA 302:58–66

Chen D, Zhao M, Mundy GR (2004) Bone morphogenetic proteins. Growth Factors 22:233–241

De Coppi P, Bartsch G Jr, Siddiqui MM, Xu T, Santos CC, Perin L, Mostoslavsky G, Serre AC, Snyder EY, Yoo JJ, Furth ME, Soker S, Atala A (2007) Isolation of amniotic stem cell lines with potential for therapy. Nat Biotechnol 25:100–106

Delo DM, De Coppi P, Bartsch G Jr, Atala A (2006) Amniotic fluid and placental stem cells. Methods Enzymol 419:426–438

Dupont KM, Sharma K, Stevens HY, Boerckel JD, Garcia AJ, Guldberg RE (2010) Human stem cell delivery for treatment of large segmental bone defects. Proc Natl Acad Sci USA 107:3305–3310

Einhorn TA (2003) Clinical applications of recombinant human BMPs: early experience and future development. J Bone Joint Surg Am 85-A (Suppl 3):82–88

Hutmacher DW (2000) Scaffolds in tissue engineering bone and cartilage. Biomaterials 21:1169–1185

Ito H, Koefoed M, Tiyapatanaputi P, Gromov K, Goater JJ, Carmouche J, Zhang X, Rubery PT, Rabinowitz J, Samulski RJ, Nakamura T, Soballe K, O'Keefe RJ, Boyce BF, Schwarz EM (2005) Remodeling of cortical bone allografts mediated by adherent rAAV-RANKL and VEGF gene therapy. Nat Med 11:291–297

Jager M, Degistirici O, Knipper A, Fischer J, Sager M, Krauspe R (2007) Bone healing and migration of cord blood-derived stem cells into a critical size femoral defect after xenotransplantation. J Bone Miner Res 22:1224–1233

Kalfas IH (2001) Principles of bone healing. Neurosurg Focus 10:E1

Kim SJ, Lee WI, Heo H, Shin O, Kwon YK, Lee H (2007) Stable gene expression by self-complementary adeno-associated viruses in human MSCs. Biochem Biophys Res Commun 360:573–579

Koefoed M, Ito H, Gromov K, Reynolds DG, Awad HA, Rubery PT, Ulrich-Vinther M, Soballe K, Guldberg RE, Lin AS, O'Keefe RJ, Zhang X, Schwarz EM (2005) Biological effects of rAAV-caAlk2 coating on structural allograft healing. Mol Ther 12:212–218

Kolambkar YM, Dupont KM, Boerckel JD, Huebsch N, Mooney DJ, Hutmacher DW, Guldberg RE (2010) An alginate-based hybrid system for growth factor delivery in the functional repair of large bone defects. Biomaterials 32:65–74

Kumar S, Wan C, Ramaswamy G, Clemens TL, Ponnazhagan S (2010) Mesenchymal stem cells expressing osteogenic and angiogenic factors synergistically enhance bone formation in a mouse model of segmental bone defect. Mol Ther 18:1026–1034

Kutner MH, Nachtsheim CJ, Neter J, Li W (2005) Applied linear statistical models (5th ed). McGraw-Hill, New York

Le Blanc K, Ringden O (2006) Mesenchymal stem cells: properties and role in clinical bone marrow transplantation. Curr Opin Immunol 18:586–591

Lee SC, Shea M, Battle MA, Kozitza K, Ron E, Turek T, Schaub RG, Hayes WC (1994) Healing of large segmental defects in rat femurs is aided by RhBMP-2 in PLGA matrix. J Biomed Mater Res 28:1149–1156

McCarty DM, Monahan PE, Samulski RJ (2001) Self-complementary recombinant adeno-associated virus (scAAV) vectors promote efficient transduction independently of DNA synthesis. Gene Ther 8:1248–1254

Meijer GJ, Bruijn JD de, Koole R, Blitterswijk CA van (2007) Cell-based bone tissue engineering. PLoS Med 4:e9

Mroz TE, Joyce MJ, Steinmetz MP, Lieberman IH, Wang JC (2008) Musculoskeletal allograft risks and recalls in the United States. J Am Acad Orthop Surg 16:559–565

Oest ME, Dupont KM, Kong HJ, Mooney DJ, Guldberg RE (2007) Quantitative assessment of scaffold and growth factor-mediated repair of critically sized bone defects. J Orthop Res 25:941–950

Ohura K, Hamanishi C, Tanaka S, Matsuda N (1999) Healing of segmental bone defects in rats induced by a beta-TCP-MCPM cement combined with rhBMP-2. J Biomed Mater Res 44:168–175

Peister A, Porter BD, Kolambkar YM, Hutmacher DW, Guldberg RE (2008) Osteogenic differentiation of amniotic fluid stem cells. Biomed Mater Eng 18:241–246

Peister A, Deutsch ER, Kolambkar Y, Hutmacher DW, Guldberg R (2009) Amniotic fluid stem cells produce robust mineral deposits on biodegradable scaffolds. Tissue Eng Part A 15:3129–3138

Rabinowitz JE, Bowles DE, Faust SM, Ledford JG, Cunningham SE, Samulski RJ (2004) Cross-dressing the virion: the transcapsidation of adeno-associated virus serotypes functionally defines subgroups. J Virol 78:4421–4432

Rai B, Teoh SH, Ho KH, Hutmacher DW, Cao T, Chen F, Yacob K (2004) The effect of rhBMP-2 on canine osteoblasts seeded onto 3D bioactive polycaprolactone scaffolds. Biomaterials 25:5499–5506

Rai B, Oest ME, Dupont KM, Ho KH, Teoh SH, Guldberg RE (2007) Combination of platelet-rich plasma with polycaprolactone-tricalcium phosphate scaffolds for segmental bone defect repair. J Biomed Mater Res A 81:888–899

Reyes CD, Garcia AJ (2003) Engineering integrin-specific surfaces with a triple-helical collagen-mimetic peptide. J Biomed Mater Res A 65:511–523

Reyes CD, Garcia AJ (2004) Alpha2beta1 integrin-specific collagen-mimetic surfaces supporting osteoblastic differentiation. J Biomed Mater Res A 69:591–600

Reyes CD, Petrie TA, Burns KL, Schwartz Z, Garcia AJ (2007) Biomolecular surface coating to enhance orthopaedic tissue healing and integration. Biomaterials 28:3228–3235

Saito N, Murakami N, Takahashi J, Horiuchi H, Ota H, Kato H, Okada T, Nozaki K, Takaoka K (2005) Synthetic biodegradable polymers as drug delivery systems for bone morphogenetic proteins. Adv Drug Deliv Rev 57:1037–1048

Schwarz EM (2000) The adeno-associated virus vector for orthopaedic gene therapy. Clin Orthop Relat Res 379 (Suppl):S31-S39

Sekiya I, Larson BL, Smith JR, Pochampally R, Cui JG, Prockop DJ (2002) Expansion of human adult stem cells from bone marrow stroma: conditions that maximize the yields of early progenitors and evaluate their quality. Stem Cells 20:530–541

Tseng SS, Lee MA, Reddi AH (2008) Nonunions and the potential of stem cells in fracture-healing. J Bone Joint Surg Am 90 (Suppl 1):92–98

Werntz JR, Lane JM, Burstein AH, Justin R, Klein R, Tomin E (1996) Qualitative and quantitative analysis of orthotopic bone regeneration by marrow. J Orthop Res 14:85–93

Wojtowicz AM, Shekaran A, Oest ME, Dupont KM, Templeman KL, Hutmacher DW, Guldberg RE, Garcia AJ (2010) Coating of biomaterial scaffolds with the collagen-mimetic peptide GFOGER for bone defect repair. Biomaterials 31:2574–2582

Wozney JM, Rosen V (1998) Bone morphogenetic protein and bone morphogenetic protein gene family in bone formation and repair. Clin Orthop Relat Res 346:26–37

Xiao X, Li J, Samulski RJ (1998) Production of high-titer recombinant adeno-associated virus vectors in the absence of helper adenovirus. J Virol 72:2224–2232

Yasko AW, Lane JM, Fellinger EJ, Rosen V, Wozney JM, Wang EA (1992) The healing of segmental bone defects, induced by recombinant human bone morphogenetic protein (rhBMP-2). A radiographic, histological, and biomechanical study in rats. J Bone Joint Surg Am 74:659–670

Yazici C, Yanoso L, Xie C, Reynolds DG, Samulski RJ, Samulski J, Yannariello-Brown J, Gertzman AA, Zhang X, Awad HA, Schwarz EM (2008) The effect of surface demineralization of cortical bone allograft on the properties of recombinant adeno-associated virus coating. Biomaterials 29:3882–3887

Yazici C, Takahata M, Reynolds DG, Xie C, Samulski RJ, Samulski J, Beecham EJ, Gertzman AA, Spilker M, Zhang X, O'Keefe RJ, Awad HA, Schwarz EM (2011) Self-complementary AAV2.5-BMP2-coated femoral allografts mediated superior bone healing versus live autografts in mice with equivalent biomechanics to unfractured femur. Mol Ther (in press)

Younger EM, Chapman MW (1989) Morbidity at bone graft donor sites. J Orthop Trauma 3:192–195

Zhang W, Qin C, Zhou ZM (2007) Mesenchymal stem cells modulate immune responses combined with cyclosporine in a rat renal transplantation model. Transplant Proc 39:3404–3408

Zhang C, Wang KZ, Qiang H, Tang YL, Li Q, Li M, Dang XQ (2010) Angiopoiesis and bone regeneration via co-expression of the hVEGF and hBMP genes from an adeno-associated viral vector in vitro and in vivo. Acta Pharmacol Sin 31:821–830
Acknowledgements
The authors thank Angela Lin, Mela Johnson, Chris Dosier, Jessica O'Neal Green, Jason Wang, Laura O'Farrell, Alex Peister, and Brent Uhrig for additional assitance during these studies, and Andres Garcia for providing GFOGER.
Additional information
Funding was provided by National Institutes of Health Grant R01 AR051336 and PHS Awards DE19902/AR54041 and by a Musculoskeletal Transplant Foundation grant.
About this article
Cite this article
Dupont, K.M., Boerckel, J.D., Stevens, H.Y. et al. Synthetic scaffold coating with adeno-associated virus encoding BMP2 to promote endogenous bone repair. Cell Tissue Res 347, 575–588 (2012). https://doi.org/10.1007/s00441-011-1197-3
Received:

Accepted:

Published:

Issue Date:
Keywords
Synthetic scaffold

Large bone defect

Self-complementary adeno-associated virus (scAAV)

Bone morphogenetic protein-2 (BMP2)

Stem cells

Human