Abstract
Perinatal exposure to a synthetic estrogen, diethylstilbestrol (DES), causes cervicovaginal adenosis and permanent hyperplastic cornified vaginal epithelium with keratinization in mice. To investigate the mechanisms of the induction of vaginal abnormalities by DES, we have focused on activin A signaling. We have found that the βA-subunit mRNA is mainly expressed in the neonatal vaginal stroma, whereas activin A receptor type IB is localized in the neonatal vaginal epithelium. SMAD2, the intracellular signaling protein, is phosphorylated in the neonatal vagina. Cell proliferation in the vaginal epithelium grown in vitro is reduced by DES treatment or by activin signaling suppression through inhibin treatment. Thus, activin A (a homodimer of the βA-subunit) in the stroma stimulates epithelial cell proliferation in the neonatal vagina. DES treatment decreases the expression of the βA-subunit and activin receptor IIB but increases the expression of the βB-subunit and inhibin receptor. Neonatal DES treatment inhibits the phosphorylation of SMAD2 in the vaginal epithelium, indicating the inhibition of activin A signaling in the vaginal epithelium by neonatal DES treatment. Treatment with DES or inhibin, a native antagonist of activin, induces adenosis-like structures and keratinization in the vagina grown in vitro. These data suggest that the suppression of activin A signaling by DES is involved in the induction of cervicovaginal adenosis and keratinization in the neonatal mouse vaginal epithelium.
This is a preview of subscription content, log in to check access.
Access options
Buy single article
Instant access to the full article PDF.
US$ 39.95
Price includes VAT for USA
Subscribe to journal
Immediate online access to all issues from 2019. Subscription will auto renew annually.
US$ 199
This is the net price. Taxes to be calculated in checkout.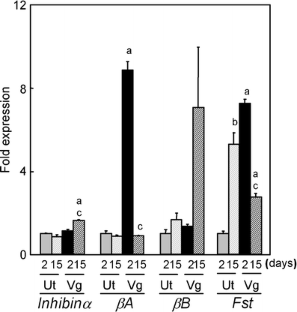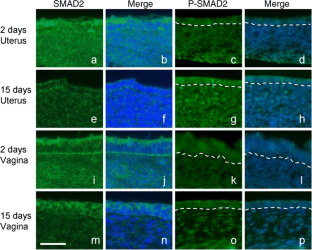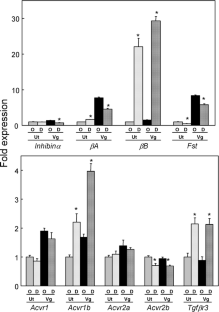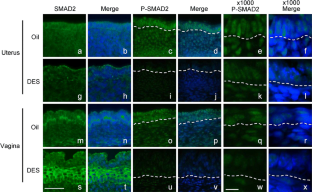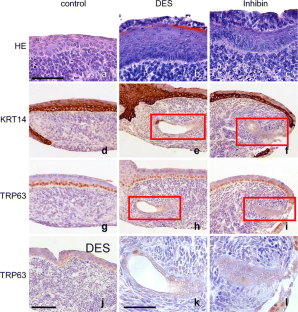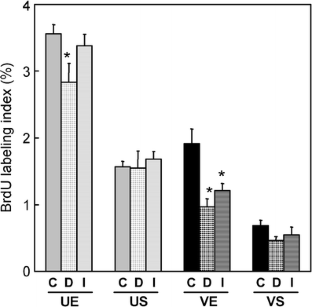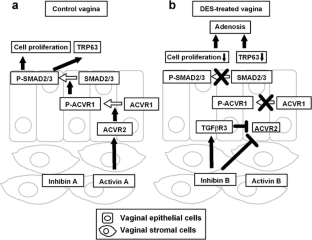 References
Ball EM, Risbridger GP (2001) Activins as regulators of branching morphogenesis. Dev Biol 238:1–12

Bigsby RM, Cooke PS, Cunha GR (1986) A simple efficient method for separating murine uterine epithelial and mesenchymal cells. Am J Physiol 251: E630-E636

Brown CW, Houston-Hawkins DE, Woodruff TK, Matzuk MM (2000) Insertion of Inhbb into the Inhba locus rescues the Inhba-null phenotype and reveals new activin functions. Nat Genet 25:453–457

Chabicovsky M, Herkner K, Rossmanith W (2003) Overexpression of activin β(C) or activin β(E) in the mouse liver inhibits regenerative deoxyribonucleic acid synthesis of hepatic cells. Endocrinology 144:3497–3504

Chang H, Lau AL, Matzuk MM (2001) Studying TGF-β superfamily signaling by knockouts and knockins. Mol Cell Endocrinol 180:39–46

Chang H, Brown CW, Matzuk MM (2002) Genetic analysis of the mammalian transforming growth factor-β superfamily. Endocr Rev 23:787–823

Cook RW, Thompson TB, Jardetzky TS, Woodruff TK (2004) Molecular biology of inhibin action. Semin Reprod Med 22:269–276

Couse JF, Korach KS (2004) Estrogen receptor-α mediates the detrimental effects of neonatal diethylstilbestrol (DES) exposure in the murine reproductive tract. Toxicology 205:55–63

Forsberg JG (1979) Developmental mechanism of estrogen-induced irreversible changes in the mouse cervicovaginal epithelium. Natl Cancer Inst Monogr 51:41–56

Giusti RM, Iwamoto K, Hatch EE (1995) Diethylstilbestrol revisited: a review of the long-term health effects. Ann Intern Med 122:778–788

Herbst AL, Ulfelder H, Poskanzer DC (1971) Adenocarcinoma of the vagina. Association of maternal stilbestrol therapy with tumor appearance in young women. N Engl J Med 284:878–881

Iguchi T (1992) Cellular effects of early exposure to sex hormones and abnormalities of female reproduction. Int Rev Cytol 139:1–57

Iguchi T, Sato T (2000) Endocrine disruption and developmental abnormalities of female reproduction. Am Zool 40:402–411

Iguchi T, Takasugi N (1987) Postnatal development of uterine abnormalities in mice exposed to DES in utero. Biol Neonate 52:97–103

Iguchi T, Takase M, Takasugi N (1986) Development of vaginal adenosis-like lesions and uterine epithelial stratification in mice exposed perinatally to diethylstilbestrol. Proc Soc Exp Biol Med 181:59–65

Jones RL, Stoikos C, Findlay JK, Salamonsen LA (2006) TGF-β superfamily expression and actions in the endometrium and placenta. Reproduction 132:217–232

Kim H, Nakajima T, Hayashi S, Chambon P, Watanabe H, Iguchi T, Sato T (2009) Effects of diethylstilbestrol on programmed oocyte death and induction of polyovular follicles in neonatal mouse ovaries. Biol Reprod 81:1002–1009

Kipp JL, Kilen SM, Bristol-Gould S, Woodruff TK, Mayo KE (2007) Neonatal exposure to estrogens suppresses activin expression and signaling in the mouse ovary. Endocrinology 148:1968–1976

Knight PG, Glister C (2001) Potential local regulatory functions of inhibins, activins and follistatin in the ovary. Reproduction 121:503–512

Kurita T, Mills AA, Cunha GR (2004) Roles of p63 in the diethylstilbestrol-induced cervicovaginal adenosis. Development 131:1639–1649

Miyagawa S, Buchanan DL, Sato T, Ohta Y, Nishina Y, Iguchi T (2002) Characterization of diethylstilbestrol-induced hypospadias in female mice. Anat Rec 266:43–50

Miyagawa S, Katsu Y, Watanabe H, Iguchi T (2004a) Estrogen-independent activation of erbBs signaling and estrogen receptor alpha in the mouse vagina exposed neonatally to diethylstilbestrol. Oncogene 23:340–349

Miyagawa S, Suzuki A, Katsu Y, Kobayashi M, Goto M, Handa H, Watanabe H, Iguchi T (2004b) Persistent gene expression in mouse vagina exposed neonatally to diethylstilbestrol. J Mol Endocrinol 32:663–677

Mori T, Iguchi T (1988) Long-term effects of perinatal treatment with sex steroids and related substances on reproductive organs of female mice. In: Mori T, Nagasawa H (eds) Toxicity of hormones in perinatal life. CRC Press, Boca Raton, pp 63–79

Murata K, Ota S, Niki T, Goto A, Li CP, Ruriko UM, Ishikawa S, Aburatani H, Kuriyama T, Fukayama M (2007) p63—Key molecule in the early phase of epithelial abnormality in idiopathic pulmonary fibrosis. Exp Mol Pathol 83:367–376

Niimi S, Hyuga M, Kazama H, Inagawa M, Seki T, Ariga T, Kobayashi T, Hayakawa T (2002a) Activins A, AB, and B inhibit hepatocyte growth factor synthesis by MRC-5 human lung fibroblasts. Biol Pharm Bull 25:1405–1408

Niimi S, Horikawa M, Seki T, Ariga T, Kobayashi T, Hayakawa T (2002b) Effect of activins AB and B on DNA synthesis stimulated by epidermal growth factor in primary cultured rat hepatocytes. Biol Pharm Bull 25:437–440

Ozawa S, Iguchi T, Sawada K, Ohta Y, Takasugi N, Bern HA (1991) Postnatal vaginal nodules induced by prenatal diethylstilbestrol treatment correlate with later development of ovary-independent vaginal and uterine changes in mice. Cancer Lett 58:167–175

Pangas SA, Woodruff TK (2000) Activin signal transduction pathways. Trends Endocrinol Metab 11:309–314

Perttu MC, Martikainen PM, Huhtala HS, Bläuer M, Tammela TL, Tuohimaa PJ, Syvälä H (2006) Altered levels of Smad2 and Smad4 are associated with human prostate carcinogenesis. Prostate Cancer Prostatic Dis 9:185–189

Risbridger GP, Schmitt JF, Robertson DM (2001) Activins and inhibins in endocrine and other tumors. Endocr Rev 22:836–858

Robboy SJ, Szyfelbein WM, Goellner JR, Kaufman RH, Taft PD, Richard RM, Gaffey TA, Prat J, Virata R, Hatab PA, McGorray SP, Noller KL, Townsend D, Labarthe D, Barnes AB (1981) Dysplasia and cytologic findings in 4,589 young women enrolled in diethylstilbestrol-adenosis (DESAD) project. Am J Obstet Gynecol 140:579–586

Simon DP, Vadakkadath Meethal S, Wilson AC, Gallego MJ, Weinecke SL, Bruce E, Lyons PF, Haasl RJ, Bowen RL, Atwood CS (2009) Activin receptor signaling regulates prostatic epithelial cell adhesion and viability. Neoplasia 11:365–376

Suzuki A, Sugihara A, Uchida K, Sato T, Ohta Y, Katsu Y, Watanabe H, Iguchi T (2002) Developmental effects of perinatal exposure to bisphenol-A and diethylstilbestrol on reproductive organs in female mice. Reprod Toxicol 16:107–116

Suzuki A, Watanabe H, Mizutani T, Sato T, Ohta Y, Iguchi T (2006) Global gene expression in mouse vaginae exposed to diethylstilbestrol at different ages. Exp Biol Med 231:632–640

Suzuki A, Urushitani H, Sato T, Kobayashi T, Watanabe H, Ohta Y, Iguchi T (2007) Gene expression change in the Müllerian duct of the mouse fetus exposed to diethylstilbestrol in utero. Exp Biol Med 232:503–514

Thompson TB, Cook RW, Chapman SC, Jardetzky TS, Woodruff TK (2004) Beta A versus beta B: is it merely a matter of expression? Mol Cell Endocrinol 225:9–17

Truong AB, Khavari PA (2007) Control of keratinocyte proliferation and differentiation by p63. Cell Cycle 6:295–299

Waltermann A, Kartasheva NN, Dobbelstein M (2003) Differential regulation of p63 and p73 expression. Oncogene 22:5686–5693

Yang J, Wahdan-Alaswad R, Danielpour D (2009) Critical role of Smad2 in tumor suppression and transforming growth factor-beta-induced apoptosis of prostate epithelial cells. Cancer Res 69:2185–2190
Acknowledgements
We thank Dr. Raphael Guzman, Department of Molecular and Cell Biology and the Cancer Research Laboratory, University of California, Berkeley, USA, for his critical reading of the manuscript.
Disclosures
The authors declare no conflicts of interest.
Additional information
This work was partially supported by a Grant-in-Aid for Scientific Research (B) (T.I.) from the Ministry of Education, Culture, Sports, Science, and Technology of Japan, Grants for Strategic Research Projects at Yokohama City University (nos. K19020, K2109, G2201, and W18005 to T.S.), a Health Sciences Research Grant from the Ministry of Health, Labor, and Welfare, Japan (T.I.), and a grant for Support of the Collaborative Study at NIBB (T.S).
Electronic supplementary material
Below is the link to the electronic supplementary material.
About this article
Cite this article
Nakajima, T., Iguchi, T. & Sato, T. Involvement of activin signaling in abnormalities of mouse vagina exposed neonatally to diethylstilbestrol. Cell Tissue Res 344, 527 (2011). https://doi.org/10.1007/s00441-011-1161-2
Received:

Accepted:

Published:
Keywords
Diethylstilbestrol

Activin

Uterus

Vagina

Cervicovaginal adenosis

Mouse