Abstract
The aim of the present study was to assess the effect of a commercial alginic acid source (Ergosan) on tilapia Oreochromis niloticus intestinal microbial balance, intestinal morphology, and growth parameters. Fish were fed a basal control diet or the basal diet plus a source of alginic acid (5 g kg-1 Ergosan; Schering-Plough Aquaculture, UK) for 9 weeks. At the end of the trial, light and electron microscopy demonstrated that the morphology of the intestinal tract at the gross and ultra-structural level was not affected by dietary alginic acid inclusion. Both groups of fish displayed healthy, normal morphology with no signs of disease, cell or tissue damage. Intestinal epithelial leucocyte infiltration was not affected by dietary alginic acid. Molecular bacterial profiles derived from PCR-DGGE illustrated highly similar microbial communities (both within the lumen and associated with the intestinal mucosa) in the respective treatment groups. Microbial ecological parameters (e.g. species diversity and richness) also remained unaffected. Although not significant, trends towards elevated survival and body protein content were observed in the alginic acid-fed fish. These results are suggestive that alginic acid does not adversely impact the indigenous gastrointestinal microbial balance and subsequently does not impact upon the epithelial brush border integrity. Validation of non-detrimental impacts of immunostimulatory products on gastric microbiota and epithelial integrity should be pursued in future studies as maintaining microbial balance and epithelial integrity is essential for proper gut functionality.
This is a preview of subscription content, log in to check access.
Access options
Buy single article
Instant access to the full article PDF.
US$ 39.95
Price includes VAT for USA
Subscribe to journal
Immediate online access to all issues from 2019. Subscription will auto renew annually.
US$ 199
This is the net price. Taxes to be calculated in checkout.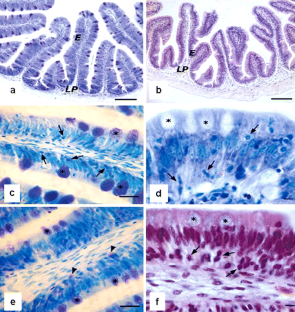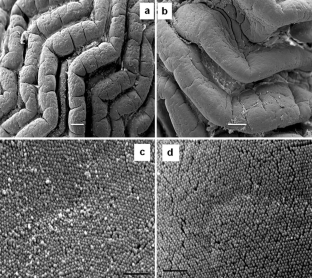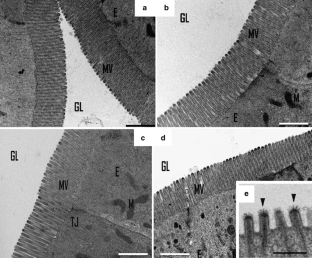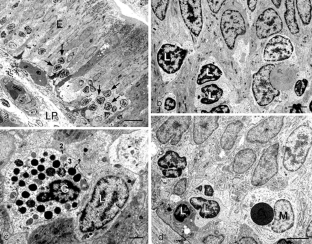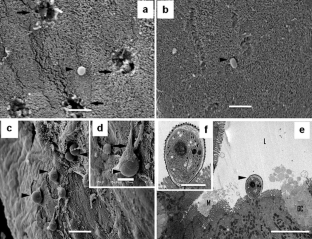 References
AOAC (1995) Official methods of analysis of Association of Official Analytical Chemists (16th edn). Association of Analytical Chemists, Arlington, VA, USA

Austin B, Al-Zahrani AMJ (1988) The effect of antimicrobial compounds on the gastro-intestinal microflora of rainbow trout, Salmo gairdneri Richardson. J Fish Biol 33:1–14

Bagni M, Romano N, Finoia MG, Abelli L, Scapigliati G, Tiscar PG, Sarti M, Marion G (2005) Short- and long-term effects of a dietary yeast b-glucan (Macrogard) and alginic acid (Ergosan) preparation on immune response in sea bass (Dicentrarchus labrax). Fish Shellfish Immunol 18:311–325

Blecha F (2001) Immunology. In: Pond WG, Mersmann HJ (eds) in biology of the domestic pig. Cornell University Press, Ithaca, pp 688–711

Breine J, Nguçnga D, Tcugels GG, Ollevier F (1996) A comparative study on the effect of stocking density and feeding regime on the growth rate of Tilapia camemensis and Oreochromis niloticus (Cichlidae) in fishculture in Cameroon. Aquat Living Resour 9:51–56

Brett JR, Groves TDD (1978) Physiological energetics. In: Hoar WS, Randall DJ, Brett JR (eds) Fish physiology, vol 8. Academic, New York, pp 279–352

Clarke KR, Gorley RN (2006) Primer v6: User Manual/Tutorial. Primer-E, Plymouth

Denev S, Staykov Y, Moutafchieva R, Beev B (2009) Microbial ecology of the gastrointestinal tract of fish and the potential application of probiotics and prebiotics in finfish aquaculture. Int Aquacult Res 1:1–29

Dimitroglou A, Merrifield DL, Moate R, Davies SJ, Spring P, Sweetman J, Bradley G (2009) Dietary mannan oligosaccharide supplementation modulates intestinal microbial ecology and improves gut morphology of rainbow trout, Oncorhynchus mykiss (Walbaum). J Anim Sci 87:3226–34

Dimitroglou A, Merrifield DL, Spring P, Sweetman J, Moate R, Davies SJ (2010a) Effects of mannan oligosaccharide (MOS) supplementation on growth performance, feed utilisation, intestinal histology and gut microbiota of gilthead sea bream (Sparus aurata). Aquaculture 300:182–8

Dimitroglou A, Merrifield DL, Carnevali O, Picchietti S, Avella M, Daniels CL, Güroy D, Davies SJ (2010b) Microbial manipulations to improve fish health and production - a Mediterranean perspective. Fish Shellfish Immunol 30, 1–16

Faghani T, Azari Takami GH, Kousha A, Faghani S (2008) Surveying on alginic acid and anti-streptococcus vaccine effects on the growth performance, survival rate, hematological parameters in rainbow trout (Oncorhynchos mykiss). World J Zool 3:54–58

Ferguson RMW, Merrifield DL, Harper GM, Rawling MD, Mustafa S, Picchietti S, Balcázar JL, Davies SJ (2010) The effect of Pediococcus acidilactici on the gut microbiota and immune status of on-growing red tilapia (Oreochromis niloticus). J Appl Microbiol. 109, 851–862

Fleming A, Jankowski J, Goldsmith P (2010) Significant changes in goblet cell numbers and tumor necrosis factor alpha (TNF-) antibody staining were used to quantify disease severity and rescue. Inflamm Bowel Dis 16:1162–1172

Fujiki K, Matsuyama H, Yano T (1994) Protective effect of sodium alginates against bacterial-infection in common carp, cyprinus-carpio. J Fish Dis 17:349–355

Fujiki K, Yano T (1997) Effects of sodium arginate on th non specific defence system of the common carp (Cyprinus carpio L.). Fish Shellfish Immunol 7:417–127

Gargiulo AM, Eccarellci P, All'Aglio PV (1998) Histology and ultrastructure of the gut of the tilapia (Tilapia spp.), a hybrid teleost. Anat Histol Embryol 27:89–94

Gildberg A, Mikkelsen H (1998) Effects of supplementing the feed to Atlantic cod (Gadus morhua) fry with lactic acid bacteria and immuno-stimulating peptides during a challenge trial with Vibrio anguillarum. Aquaculture 167:103–113

Gioacchini G, Smith P, Carnevali O (2008) Effects of Ergosan on the expression of cytokine genes in the liver of juvenile rainbow trout (Oncorhynchus mykiss) exposed to enteric red mouth vaccine. Vet Immunol Immunopathol 123:215–222

Gioacchini G, Lombardo F, Avella MA, Olivotto I, Carnevali O (2010) Welfare improvement using alginic acid in rainbow trout (Oncorhynchus mykiss) juveniles. Chem Ecol 26:111–121

Gómez GD, Balcázar JL (2008) A review on the interactions between gut microbiota and innate immunity of fish. FEMS Immunol Med Microbiol 52:145–154

Hu CH, Xu Y, Xia MS, Xiong L, Xu ZR (2007) Effects of Cu2+- exchangedmontmorillonite on growth performance, microbial ecology and intestinalmorphology of Nile tilapia (Oreochromis niloticus). Aquaculture 270:200–206

Jalali MA, Ahmadifar E, Sudagar M, Takami GA (2009) Growth efficiency, body composition, survival and haematological changes in great sturgeon (Huso huso Linnaeus, 1758) juveniles fed diets supplemented with different levels of Ergosan. Aquacult Res 40:804–809

Liu Y, Zhou Z, Yao B, Shi P, He S, Benjamisen HL, Ringø E (2008) Effect of intraperitoneal injection of immunostimulatorysubstances on allochthonous gut microbiota of Atlantic salmon (Salmo salar L.) determined using denaturing gradient gelelectrophoresis. Aquacult Res 39:635–646

Merrifield DL, Bradley G, Baker RTM, Dimitroglou A, Davies SJ (2009a) Soybean meal alters autochthonous microbial populations, microvilli morphology and compromises intestinal enterocyte integrity of rainbow trout (Oncorhynchus mykiss Walbaum). J Fish Dis 32:755–766

Merrifield DL, Burnard D, Bradley G, Davies SJ, Baker RTM (2009b) Microbial community diversity associated with the intestinal mucosa of farmed rainbow trout (Oncoryhnchus mykiss Walbaum). Aquacult Res 40:1064–1072

Merrifield DL, Dimitroglou A, Foey A, Davies SJ, Baker RTM, Bøgwald J, Castex M, Ringø E (2010a) The current status and future focus of probiotic and prebiotic applications for salmonids. Aquaculture 302:1–18

Merrifield DL, Davies SJ, Güroy D, Güroy B, Emery MJ, Llewellyn C, Skill S (2010b) Preliminary assessment of Chlorogloeopsis as a dietary supplement for red tilapia (Oreochromis niloticus). Aquaculture 299:128–133

Miles DJC, Polchana J, Lilley JH, Kanchanakhan S, Thompson KD, Adams A (2001) Immunostimulation of striped snakehead Channa striata against epizootic ulcerative syndrome. Aquaculture 195:1–15

Montero-Rocha A, McIntosh D, Sánchez-Merino R, Flores I (2006) Immunostimulation of white shrimp (Litopenaeus vannamei) following dietary administration of Ergosan. J Invertebr Pathol 91:188–194

Nayak SK (2010) Role of gastrointestinal microbiota in fish. Aquacult Res. doi:10.1111/j.1365-2109.2010.02546.x, early view

Noaillac-Depeyre J, Gas N (1976) Electron microscopic study on gut epithelium of the tench (Tinca tinca L.) with respect to its absorptive functions. Tissue Cell 8:511–530

Newaj-Fyzul A, Adesiyunz AA, Mutani A, Ramsudhag A, Brunt J, Austin B (2007) Bacillus subtilis AB1 controls Aeromonas infection in rainbow trout (Oncorhynchus mykiss, Walbaum). J Appl Microbiol 103:1699–1706

Peddie S, Zou J, Secombes CJ (2002) Immunostimulation in the rainbow trout (Oncorhynchus mykiss) following intraperitoneal administration of Ergosan. Vet Immunol Immunopathol 86:101–113

Pérez T, Balcázar JL, Ruiz-Zarzuela I, Halaihel I, Vendrell D, de Blas I, Múzquiz JLM (2010) Host – microbiota interactions within the fish intestinal ecosystem. Mucosal Immunol 3:355–360

Picchietti S, Mazzini M, Taddei AR, Renna R, Fausto AM, Mulero V, Carnevali O, Cresci A, Abelli L (2007) Effects of administration of probiotic strains on GALT of larval gilthead seabream: immunohistochemical and ultrastructural studies. Fish Shellfish Immunol 22:57–67

Picchietti S, Fausto AM, Randelli E, Carnevali O, Taddei AR, Buonocore F, Scapigliati G, Abelli L (2009) Early treatment with Lactobacillus delbrueckii strain induces rise in intestinal T cells and granulocytes and modulates immune related genes of larval Dicentrarchus labrax (L.). Fish Shellfish Immunol 26:368–76

Raida MK, Larsen JL, Nielsen ME, Buchmann K (2003) Enhanced resistance of rainbow trout, Oncorhynchus mykiss (Walbaum), against Yersinia ruckeri challenge following oral administration of Bacillus subtilis and B. licheniformis (BioPlus2B). J Fish Dis 2:6495–498

Ringø E, Olsen RE (1999) The effect of diet on aerobic bacterial flora associated with intestine of Arctic charr (Salvelinus alpinus L.). J Appl Microbiol 86:22–28

Ringø E, Olsen RE, Mayhew TM, Myklebust R (2003) Electron microscopy of the intestinal microflora of fish. Aquaculture 227:395–415

Ringø E, Sperstad S, Myklebust R, Mayhew TM, Mjelde A, Melle W, Olsen RE (2006) The effect of dietary krill supplementation on epithelium-associated bacteria in the hindgut of Atlantic salmon (Salmo salar L): a microbial and electron microscopial study. Aquacult Res 37:1644–1653

Rombout JH, Van den Berg AA, Berg C, Witte P, Egberts E (1989) Immunological importance of the second gut segment of carp III. Systemic and/or mucosal immune responses after immunization with soluble or particulate antigen. J Fish Biol 35:179–86

Raa J, Roestad G, Engstad RE, Robertsen B (1992) The use of immunostimulants to increase resistance of aquatic organism to microbial infections. In: Shariff IM, Subasinghe RP, Arthur JR (eds) Diseases in Asian aquaculture. Health Fish Section, Asian Fisheries Society, Manila, Philippines, pp39–50

Sakai M (1999) Current research status of fish immunostimulants. Aquaculture 172:63–92

Skjermo J, Størseth TR, Hansen K, Handå A, Øie G (2006) Evaluation of β-(1 → 3, 1 → 6)-glucans and High-M alginate used as immunostimulatory dietary supplement during first feeding and weaning of Atlantic cod (Gadus morhua L.). Aquaculture 261:1088–1101

Siwicki AK, Morand M, Terech-Majevska E, Niemczuk W, Kazun K, Glabsky E (1998) Influence of immunostimulant on the effectiveness of vaccines in fish: in vitro and in vivo study. J Appl Ichthyol 14:225–227

Stroband HWJ, Debets FMH (1978) The ultrastructure and renewal of the intestinal epithelium of juvenile grasscarp, Ctenopharyngodon idella (Val.). Cell Tissue Res 187:181–200

Vollostad D, Bøgwald J, Gåserød O, Dalmo RA (2006) Influence of high-M alginate on the growth and survival of Atlantic cod (Gadus morhua L.) and spotted wolffish (Anarhichas minor Olafsen) fry. Fish Shellfish Immunol 20:548–561
About this article
Cite this article
Merrifield, D.L., Harper, G.M., Mustafa, S. et al. Effect of dietary alginic acid on juvenile tilapia (Oreochromis niloticus) intestinal microbial balance, intestinal histology and growth performance. Cell Tissue Res 344, 135–146 (2011). https://doi.org/10.1007/s00441-010-1125-y
Received:

Accepted:

Published:

Issue Date:
Keywords
Gut microbiota

DGGE

Alginic acid

Ultra histology

Intestine