Abstract
Our current understanding of the mechanism underlying seasonal reproduction in birds is reviewed.
This is a preview of subscription content, log in to check access.
Access options
Buy single article
Instant access to the full article PDF.
US$ 39.95
Price includes VAT for USA
Subscribe to journal
Immediate online access to all issues from 2019. Subscription will auto renew annually.
US$ 199
This is the net price. Taxes to be calculated in checkout.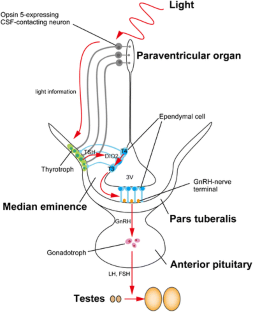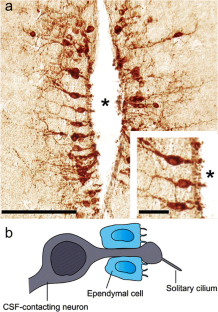 References
Benoit J (1935) Rôle des yeux dans l'action stimulante de la lumière sur le développement testiculaire chez le Canard (avec démonstrations). CR Soc Biol (Paris) 118:669–671

Bockmann J, Bockers TM, Winter C, Wittkowski W, Winterhoff H, Deufel T, Kreutz MR (1997) Thyrotropin expression in hypophyseal pars tuberalis-specific cells is 3,5,3'-triiodothyronine, thyrotropin-releasing hormone, and Pit-1 independent. Endocrinology 138:1019–1028

Chaurasia SS, Rollag MD, Jiang G, Hayes WP, Haque R, Natesan A, Zatz M, Tosini G, Liu C, Korf HW, Iuvone PM, Provencio I (2005) Molecular cloning, localization and circadian expression of chicken melanopsin (Opn4): differential regulation of expression in pineal and retinal cell types. J Neurochem 92:158–170

Follett BK, King VM, Meddle SL (1998) Rhythms and photoperiodism in birds. In: Lumsden PJ, Miller AJ (eds) Biological rhythms and photoperiodism in plants. BIOS Scientific, Oxford, pp 231–242

Foster RG, Follett BK (1985) The involvement of a rhodopsin-like photopigment in the photoperiodic response of the Japanese quail. J Comp Physiol [A] 157:519–528

Fu Y, Liao HW, Do MT, Yau KW (2005) Non-image-forming ocular photoreception in vertebrates. Curr Opin Neurobiol 15:415–422

Halford S, Pires SS, Turton M, Zheng L, Gonzalez-Menendez I, Davies WL, Peirson SN, Garcia-Fernandez JM, Hankins MW, Foster RG (2009) VA opsin-based photoreceptors in the hypothalamus of birds. Curr Biol 19:1396–1402

Homma K, Ohta M, Sakakibara Y (1979) Photoinducible phase of the Japanese quail detected by direct stimulation of the brain. In: Suda M, Hayaishi O, Nakagawa H (eds) Biological rhythms and their central mechanism. Elsevier/North-Holland Biomedical, Amsterdam, pp 85–94

Kang SW, Leclerc B, Kosonsiriluk S, Mauro LJ, Iwasawa A, El Halawani ME (2010) Melanopsin expression in dopamine-melatonin neurons of the premammillary nucleus of the hypothalamus and seasonal reproduction in birds. Neuorscience 170:200–213

Nakane Y, Ikegami K, Ono H, Yamamoto N, Yoshida S, Hirunagi K, Ebihara S, Kubo Y, Yoshimura T (2010) A mammalian neural tissue opsin (Opsin 5) is a deep brain photoreceptor in birds. Proc Natl Acad Sci USA 107:15264–15268

Nakao N, Ono H, Yoshimura T (2008a) Thyroid hormones and seasonal reproductive neuroendocrine interactions. Reproduction 136:1–8

Nakao N, Ono H, Yamamura T, Anraku T, Takagi T, Higashi K, Yasuo S, Katou Y, Kageyama S, Uno Y, Kasukawa T, Iigo M, Sharp P, Iwasawa A, Suzuki Y, Sugano S, Niimi T, Mizutani M, Namikawa T, Ebihara S, Ueda H, Yoshimura T (2008b) Thyrotrophin in the pars tuberalis triggers photoperiodic response. Nature 452:317–311

Ono H, Hoshino Y, Yasuo S, Watanabe M, Nakane Y, Murai A, Ebihara S, Korf H, Yoshimura T (2008) Involvement of thyrotropin in photoperiodic signal transduction in mice. Proc Natl Acad Sci USA 105:18238–18242

Rathinam T, Kuenzel WJ (2005) Attenuation of gonadal response to photostimulation following ablation of neurons in the lateral septal organ of chicks. Brain Res Bull 64:455–461

Sharp PJ, Follett BK (1969) Effect of hypothalamic lesions on gonadotrophin release in Japanese quail Coturnix coturnix japonica. Neuroendocrinology 5:205–218

Silver R, Witkovsky P, Horvath P, Alones V, Barnstable CJ, Lehman MN (1988) Coexpression of opsin- and VIP-like-immunoreactivity in CSF-contacting neurons of the avian brain. Cell Tissue Res 253:189–198

Siopes TD, Wilson WO (1974) Extraocular modification of photoreception in intact and pinealectomized Coturnix. Poult Sci 53:2035–2041

Tarttelin E, Bellingham J, Hankins M, Foster R, Lucas R (2003) Neuropsin (Opn5): a novel opsin identified in mammalian neural tissue. FEBS Lett 554:410–416

Vigh B, Vigh-Teichmann I (1998) Actual problems of the cerebrospinal fluid-contacting neurons. Microsc Res Tech 41:57–83

von Frisch K (1911) Beiträge zur Physiologie der Pigmentzellen in der Fischhaut. Pflüger's Arch Gesamte Physiol Menschen Tiere 138:319–387

Wada Y, Okano T, Adachi A, Ebihara S, Fukada Y (1998) Identification of rhodopsin in the pigeon brain. FEBS Lett 424:53–56

Yamamura T, Hirunagi K, Ebihara S, Yoshimura T (2004) Seasonal morphological changes in the neuro-glial interaction between gonadotropin-releasing hormone nerve terminals and glial endfeet in Japanese quail. Endocrinology 145:4264–4267

Yoshimura T, Yasuo S, Watanabe M, Iigo M, Yamamura T, Hirunagi K, Ebihara S (2003) Light-induced hormone conversion of T4 to T3 regulates photoperiodic response of gonads in birds. Nature 426:178–181
Additional information
This work was supported in part by Grant-in-Aid for Young Scientists (S) 19678002, Grant-in-Aid for Scientific Research on Innovative Areas, "Regulatory Mechanism of Gamete Stem Cells" 21116504, the Japanese Society for the Promotion of Science Research Fellows, the Global COE program "Advanced Systems-Biology" from the Ministry of Education, Culture, Sports, and Science, the Mitsubishi Foundation, and the Toyoaki Scholarship Foundation.
About this article
Cite this article
Nakane, Y., Yoshimura, T. Deep brain photoreceptors and a seasonal signal transduction cascade in birds. Cell Tissue Res 342, 341–344 (2010). https://doi.org/10.1007/s00441-010-1073-6
Received:

Accepted:

Published:

Issue Date:
Keywords
Circadian rhythm

Photoperiodism

Opsin

Thyroid-stimulating hormone

Japanese quail