Abstract
Cholinergic nerves are identified by labelling molecules in the ACh synthesis, release and destruction pathway. Recently, antibodies against another molecule in this pathway have been developed. Choline reuptake at the synapse occurs via the high-affinity choline transporter (CHT1). CHT1 immunoreactivity is present in cholinergic nerve fibres containing vesicular acetylcholine transporter (VAChT) in the human and rat central nervous system and rat enteric nervous system. We have examined whether CHT1 immunoreactivity is present in nerve fibres in human intestine and whether it is colocalised with markers of cholinergic, tachykinergic or nitrergic circuitry. Human ileum and colon were fixed, sectioned and processed for fluorescence immunohistochemistry with antibodies against CHT1, class III beta-tubulin (TUJ1), synaptophysin, common choline acetyl-transferase (cChAT), VAChT, nitric oxide synthase (NOS), substance P (SP) and vasoactive intestinal peptide (VIP). CHT1 immunoreactivity was present in many nerve fibres in the circular and longitudinal muscle, myenteric and submucosal ganglia, submucosa and mucosa in human colon and ileum and colocalised with immunoreactivity for TUJ1 and synaptophysin confirming its presence in nerve fibres. In nerve fibres in myenteric ganglia and muscle, CHT1 immunoreactivity colocalised with immunoreactivity for VAChT and cChAT. Some colocalisation occurred with SP immunoreactivity, but little with immunoreactivity for VIP or NOS. In the mucosa, CHT1 immunoreactivity colocalised with that for VIP and SP in nerve fibres and was also present in vascular nerve fibres in the submucosa and on epithelial cells on the luminal border of crypts. The colocalisation of CHT1 immunoreactivity with VAChT immunoreactivity in cholinergic enteric nerves in the human bowel thus suggests that CHT1 represents another marker of cholinergic nerves.
This is a preview of subscription content, log in to check access.
Access options
Buy single article
Instant access to the full article PDF.
US$ 39.95
Price includes VAT for USA
Subscribe to journal
Immediate online access to all issues from 2019. Subscription will auto renew annually.
US$ 199
This is the net price. Taxes to be calculated in checkout.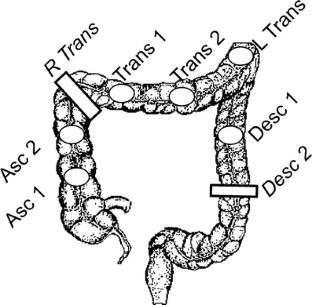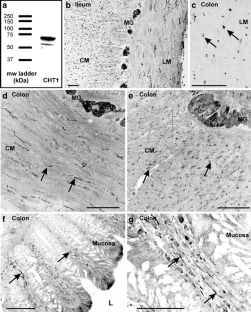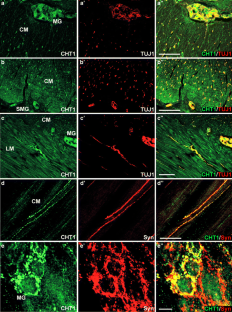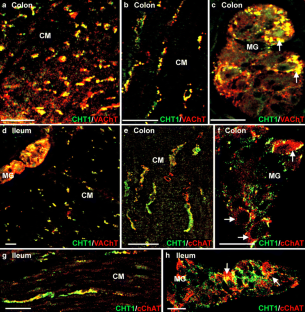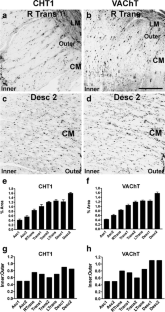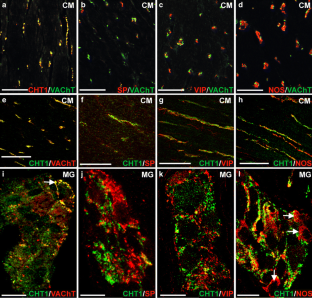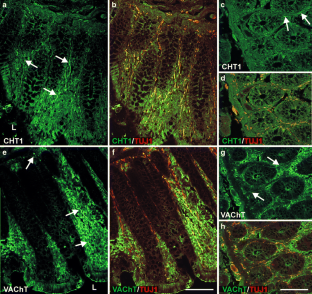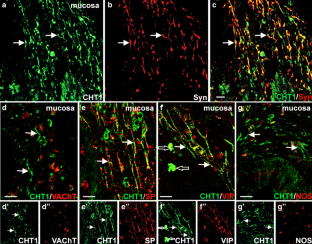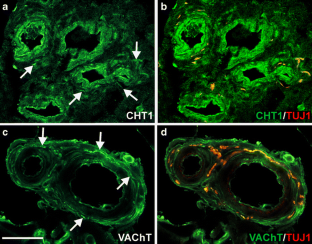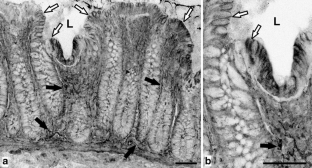 References
Anlauf M, Schafer MK, Eiden L, Weihe E (2003) Chemical coding of the human gastrointestinal nervous system: cholinergic, VIPergic, and catecholaminergic phenotypes. J Comp Neurol 459:90–111

Arvidsson U, Riedl M, Elde R, Meister B (1997) Vesicular acetylcholine transporter (VAChT) protein: a novel and unique marker for cholinergic neurons in the central and peripheral nervous systems. J Comp Neurol 378:454–467

Bazalakova MH, Blakely RD (2006) The high-affinity choline transporter: a critical protein for sustaining cholinergic signaling as revealed in studies of genetically altered mice. Handb Exp Pharmacol 2006 (175):525–544

Brehmer A, Schrodl F, Neuhuber W, Tooyama I, Kimura H (2004) Co-expression pattern of neuronal nitric oxide synthase and two variants of choline acetyltransferase in myenteric neurons of porcine ileum. J Chem Neuroanat 27:33–41

Cooke HJ (2000) Neurotransmitters in neuronal reflexes regulating intestinal secretion. Ann N Y Acad Sci 915:77–80

De Fontgalland D, Wattchow DA, Costa M, Brookes SJ (2008) Immunohistochemical characterization of the innervation of human colonic mesenteric and submucosal blood vessels. Neurogastroenterol Motil 20:1212–1226

Distante S, Nasioulas S, Somers GR, Cameron DJ, Young MA, Forrest SM, Gardner RJ (1996) Familial adenomatous polyposis in a 5 year old child: a clinical, pathological, and molecular genetic study. J Med Genet 33:157–160

Ferguson SM, Savchenko V, Apparsundaram S, Zwick M, Wright J, Heilman CJ, Yi H, Levey AI, Blakely RD (2003) Vesicular localization and activity-dependent trafficking of presynaptic choline transporters. J Neurosci 23:9697–9709

Furness JB (2000) Types of neurons in the enteric nervous system. J Auton Nerv Syst 81:87–96

Furness JB, Costa M, Eckenstein F (1983) Neurones localized with antibodies against choline acetyltransferase in the enteric nervous system. Neurosci Lett 40:105–109

Geisert EE Jr, Frankfurter A (1989) The neuronal response to injury as visualized by immunostaining of class III beta-tubulin in the rat. Neurosci Lett 102:137–141

Gunther K, Braunrieder G, Bittorf BR, Hohenberger W, Matzel KE (2003) Patients with familial adenomatous polyposis experience better bowel function and quality of life after ileorectal anastomosis than after ileoanal pouch. Colorectal Dis 5:38–44

Haberberger RV, Pfeil U, Lips KS, Kummer W (2002) Expression of the high-affinity choline transporter, CHT1, in the neuronal and non-neuronal cholinergic system of human and rat skin. J Invest Dermatol 119:943–948

Haga T, Noda H (1973) Choline uptake systems of rat brain synaptosomes. Biochim Biophys Acta 291:564–575

Harrington AM, Hutson JM, Southwell BR (2007) High affinity choline transporter immunoreactivity in rat ileum myenteric nerves. Cell Tissue Res 327:421–431

Hens J, Vanderwinden JM, De Laet MH, Scheuermann DW, Timmermans JP (2001) Morphological and neurochemical identification of enteric neurones with mucosal projections in the human small intestine. J Neurochem 76:464–471

Hirota CL, McKay DM (2006) Cholinergic regulation of epithelial ion transport in the mammalian intestine. Br J Pharmacol 149:463–479

Hoover DB, Ganote CE, Ferguson SM, Blakely RD, Parsons RL (2004) Localization of cholinergic innervation in guinea pig heart by immunohistochemistry for high-affinity choline transporters. Cardiovasc Res 62:112–121

Hutson JM, Catto-Smith T, Gibb S, Chase J, Shin YM, Stanton M, King S, Sutcliffe J, Ong SY, Djaja S, Farmer P, Southwell B (2004) Chronic constipation: no longer stuck! Characterization of colonic dysmotility as a new disorder in children. J Pediatr Surg 39:795–799

Jonsson M, Norrgard O, Forsgren S (2007) Presence of a marked nonneuronal cholinergic system in human colon: study of normal colon and colon in ulcerative colitis. Inflamm Bowel Dis 13:1347–1356

Kawashima K, Fujii T (2003) The lymphocytic cholinergic system and its contribution to the regulation of immune activity. Life Sci 74:675–696

King SK, Sutcliffe JR, Hutson JM (2005) Laparoscopic seromuscular colonic biopsies: a surgeon's experience. J Pediatr Surg 40:381–384

Kirkpatrick CJ, Bittinger F, Unger RE, Kriegsmann J, Kilbinger H, Wessler I (2001) The non-neuronal cholinergic system in the endothelium: evidence and possible pathobiological significance. Jpn J Pharmacol 85:24–28

Kobayashi Y, Okuda T, Fujioka Y, Matsumura G, Nishimura Y, Haga T (2002) Distribution of the high-affinity choline transporter in the human and macaque monkey spinal cord. Neurosci Lett 317:25–28

Kus L, Borys E, Ping Chu Y, Ferguson SM, Blakely RD, Emborg ME, Kordower JH, Levey AI, Mufson EJ (2003) Distribution of high affinity choline transporter immunoreactivity in the primate central nervous system. J Comp Neurol 463:341–357

Li GL, Farooque M, Isaksson J, Olsson Y (2004) Changes in synapses and axons demonstrated by synaptophysin immunohistochemistry following spinal cord compression trauma in the rat and mouse. Biomed Environ Sci 17:281–290

Li ZS, Furness JB (1998) Immunohistochemical localisation of cholinergic markers in putative intrinsic primary afferent neurons of the guinea-pig small intestine. Cell Tissue Res 294:35–43

Lips KS, Pfeil U, Haberberger RV, Kummer W (2002) Localisation of the high-affinity choline transporter-1 in the rat skeletal motor unit. Cell Tissue Res 307:275–280

Lips KS, Pfeil U, Reiners K, Rimasch C, Kuchelmeister K, Braun-Dullaeus RC, Haberberger RV, Schmidt R, Kummer W (2003) Expression of the high-affinity choline transporter CHT1 in rat and human arteries. J Histochem Cytochem 51:1645–1654

Matsuda H, Hirato J, Kuroiwa M, Nakazato Y (2006) Histopathological and immunohistochemical study of the enteric innervations among various types of aganglionoses including isolated and syndromic Hirschsprung disease. Neuropathology 26:8–23

Misawa H, Nakata K, Matsuura J, Nagao M, Okuda T, Haga T (2001) Distribution of the high-affinity choline transporter in the central nervous system of the rat. Neuroscience 105:87–98

Murphy EM, Defontgalland D, Costa M, Brookes SJ, Wattchow DA (2007) Quantification of subclasses of human colonic myenteric neurons by immunoreactivity to Hu, choline acetyltransferase and nitric oxide synthase. Neurogastroenterol Motil 19:126–134

Neunlist M, Aubert P, Toquet C, Oreshkova T, Barouk J, Lehur PA, Schemann M, Galmiche JP (2003) Changes in chemical coding of myenteric neurones in ulcerative colitis. Gut 52:84–90

Okuda T, Haga T (2000) Functional characterization of the human high-affinity choline transporter. FEBS Lett 484:92–97

Okuda T, Haga T (2003) High-affinity choline transporter. Neurochem Res 28:483–488

Okuda T, Haga T, Kanai Y, Endou H, Ishihara T, Katsura I (2000) Identification and characterization of the high-affinity choline transporter. Nat Neurosci 3:120–125

Okuda T, Okamura M, Kaitsuka C, Haga T, Gurwitz D (2002) Single nucleotide polymorphism of the human high affinity choline transporter alters transport rate. J Biol Chem 277:45315–45322

Olsson C, Costa M, Brookes SJ (2004) Neurochemical characterization of extrinsic innervation of the guinea pig rectum. J Comp Neurol 470:357–371

Peck CJ, Samsuria SD, Harrington AM, King SK, Hutson JM, Southwell BR (2009) Fall in density, but not number of myenteric neurons and circular muscle nerve fibres in guinea-pig colon with ageing. Neurogastroenterol Motil 21:1075

Pfeil U, Lips KS, Eberling L, Grau V, Haberberger RV, Kummer W (2003) Expression of the high-affinity choline transporter, CHT1, in the rat trachea. Am J Respir Cell Mol Biol 28:473–477

Porter AJ, Wattchow DA, Brookes SJ, Schemann M, Costa M (1996) Choline acetyltransferase immunoreactivity in the human small and large intestine. Gastroenterology 111:401–408

Porter AJ, Wattchow DA, Brookes SJ, Costa M (1997) The neurochemical coding and projections of circular muscle motor neurons in the human colon. Gastroenterology 113:1916–1923

Porter AJ, Wattchow DA, Brookes SJ, Costa M (1999) Projections of nitric oxide synthase and vasoactive intestinal polypeptide-reactive submucosal neurons in the human colon. J Gastroenterol Hepatol 14:1180–1187

Porter AJ, Wattchow DA, Brookes SJ, Costa M (2002) Cholinergic and nitrergic interneurones in the myenteric plexus of the human colon. Gut 51:70–75

Ribeiro FM, Alves-Silva J, Volknandt W, Martins-Silva C, Mahmud H, Wilhelm A, Gomez MV, Rylett RJ, Ferguson SS, Prado VF, Prado MA (2003) The hemicholinium-3 sensitive high affinity choline transporter is internalized by clathrin-mediated endocytosis and is present in endosomes and synaptic vesicles. J Neurochem 87:136–146

Sang Q, Young HM (1998) The identification and chemical coding of cholinergic neurons in the small and large intestine of the mouse. Anat Rec 251:185–199

Schafer MK, Weihe E, Erickson JD, Eiden LE (1995) Human and monkey cholinergic neurons visualized in paraffin-embedded tissues by immunoreactivity for VAChT, the vesicular acetylcholine transporter. J Mol Neurosci 6:225–235

Schafer MK, Eiden LE, Weihe E (1998) Cholinergic neurons and terminal fields revealed by immunohistochemistry for the vesicular acetylcholine transporter. II. The peripheral nervous system. Neuroscience 84:361–376

Schemann M, Neunlist M (2004) The human enteric nervous system. Neurogastroenterol Motil 16:55–59

Schemann M, Sann H, Schaaf C, Mader M (1993) Identification of cholinergic neurons in enteric nervous system by antibodies against choline acetyltransferase. Am J Physiol 265:G1005–G1009

Schneider J, Jehle EC, Starlinger MJ, Neunlist M, Michel K, Hoppe S, Schemann M (2001) Neurotransmitter coding of enteric neurones in the submucous plexus is changed in non-inflamed rectum of patients with Crohn's disease. Neurogastroenterol Motil 13:255–264

Southwell BR, Wong S, King SK, Ong SY, Lee M, Koh TL, Farmer PJ, Peck CJ, Sutcliffe JR, Stanton MP, Keck J, Cook DJ, Chow CW, Hutson JM (2010) Age-related decrease in nerve fibre density in human sigmoid colon circular muscle. Neurogastroenterol Motil 22:439–445

Stanton MP, Hengel PT, Southwell BR, Chow CW, Keck J, Hutson JM, Bornstein JC (2003) Cholinergic transmission to colonic circular muscle of children with slow-transit constipation is unimpaired, but transmission via NK2 receptors is lacking. Neurogastroenterol Motil 15:669–678

Tooyama I, Kimura H (2000) A protein encoded by an alternative splice variant of choline acetyltransferase mRNA is localized preferentially in peripheral nerve cells and fibers. J Chem Neuroanat 17:217–226

Vanden Berghe P, Klingauf J (2007) Spatial organization and dynamic properties of neurotransmitter release sites in the enteric nervous system. Neuroscience 145:88–99

Wattchow D, Brookes S, Murphy E, Carbone S, De Fontgalland D, Costa M (2008) Regional variation in the neurochemical coding of the myenteric plexus of the human colon and changes in patients with slow transit constipation. Neurogastroenterol Motil 20:1298–1305

Weihe E, Tao-Cheng JH, Schafer MK, Erickson JD, Eiden LE (1996) Visualization of the vesicular acetylcholine transporter in cholinergic nerve terminals and its targeting to a specific population of small synaptic vesicles. Proc Natl Acad Sci USA 93:3547–3552

Wessler I, Kirkpatrick CJ (2008) Acetylcholine beyond neurons: the non-neuronal cholinergic system in humans. Br J Pharmacol 154:1558–1571

Xie J, Guo Q (2004) Par-4 inhibits choline uptake by interacting with CHT1 and reducing its incorporation on the plasma membrane. J Biol Chem 279:28266–28275
Acknowledgements
Dr. Katerina Lips kindly supplied antibodies and advice for Western blotting. Out thanks are extended to Emma Clifton who assisted with Western blotting. The authors declare no competing interests.
Additional information
This project was supported by NHMRC Senior Research Fellowship (B.R.S.) and Project grants (grant number: 216704, 114215), Murdoch Childrens Research Institute (MCRI) project grants, a Gastroenterology Society of Australia Fellowship and a University of Melbourne Postgraduate Award (A.M.H.).
About this article
Cite this article
Harrington, A.M., Lee, M., Ong, S. et al. Immunoreactivity for high-affinity choline transporter colocalises with VAChT in human enteric nervous system. Cell Tissue Res 341, 33–48 (2010). https://doi.org/10.1007/s00441-010-0981-9
Received:

Accepted:

Published:

Issue Date:
Keywords
Cholinergic nerves

Enteric nervous system

High affinity choline transporter

Immunofluorescence

Vesicular acetylcholine transporter

Intestine

Human