Abstract
To investigate the uptake and transport patterns of variously sized particles in Peyer's patches (PPs) of calves, intestinal loops were created in four newborn and two 2-month-old calves, and the loops were inoculated with various particles, including carbon black, fluorescein isothiocyanate (FITC)-labeled latex, FITC-labeled dextran, bovine serum, and recombinant mouse prion protein (rMPrP). The intestinal loops were recovered at 3, 6, 9, and 24 h in newborn calves and at 24 h in 2-month-old calves after inoculation, and the transport of the particles was examined by histological and immunohistochemical means. The uptake of the particles was quantified by estimation of signal intensities. A greater intensity was found in newborn calves compared with the 2-month-old calves. The peak uptake of carbon black, FITC-labeled latex, and rMPrP in the PPs of the distal ileum occurred at 6 h after inoculation in newborn calves and then progressively decreased with time. Uptake was also dependent on the site within the small intestine and the size of the particle studied. The transport of carbon black, FITC-labeled latex, and FITC-labeled dextran occurred via the bloodstream, the mesenteric lymph nodes, and the liver of newborn calves. rMPrP was found primarily in the interfollicular regions of the submucosa of the distal ileum of newborn calves. Thus, distal ileal PPs are probably more effective at particle absorption than the jejunal PPs, and the peak uptake of the PPs within the newborn calf occurs at 6 h after inoculation.
This is a preview of subscription content, log in to check access.
Access options
Buy single article
Instant access to the full article PDF.
US$ 39.95
Price includes VAT for USA
Subscribe to journal
Immediate online access to all issues from 2019. Subscription will auto renew annually.
US$ 199
This is the net price. Taxes to be calculated in checkout.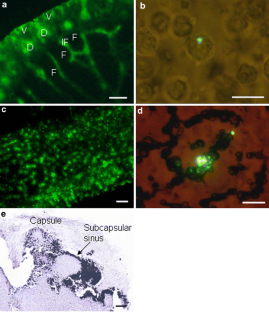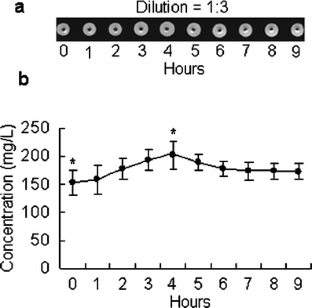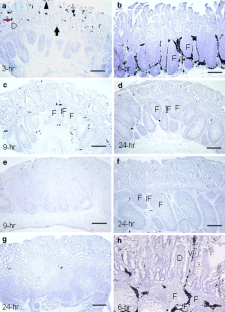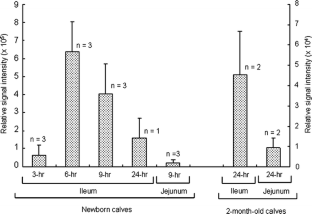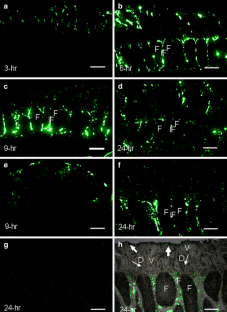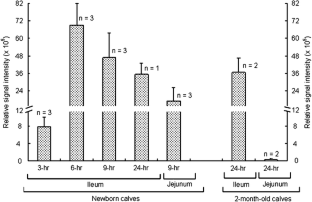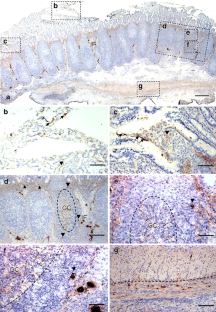 References
Arnold ME, Wilesmith JW (2004) Estimation of the age-dependent risk of infection to BSE of dairy cattle in Great Britain. Prev Vet Med 66:35–47

Arthington JD, Cattell MB, Quigley JD 3rd (2000) Effect of dietary IgG source (colostrum, serum, or milk-derived supplement) on the efficiency of Ig absorption in newborn Holstein calves. J Dairy Sci 83:1463–1467

Boyd JW, Boyd AJ (1987) Computer model of the absorption and distribution of colostral immunoglobulins in the newborn calf. Res Vet Sci 43:291–296

Carr KE, Hazzard RA, Reid S, Hodges GM (1996) The effect of size on uptake of orally administered latex microparticles in the small intestine and transport to mesenteric lymph nodes. Pharm Res 13:1205–1209

Desai MP, Labhasetwar V, Amidon GL, Levy RJ (1996) Gastrointestinal uptake of biodegradable microparticles: effect of particle size. Pharm Res 13:1838–1845

Doyle-McCullough M, Smyth SH, Moyes SM, Carr KE (2007) Factors influencing intestinal microparticle uptake in vivo. Int J Pharm 335:79–89

Ebel JP (1990) A method for quantifying particle absorption from the small intestine of the mouse. Pharm Res 7:848–851

Gerdts V, Uwiera RRE, Mutwiri GK, Wilson DJ, Bowersock T, Kidane A, Babiuk LA, Griebel PJ (2001) Multiple intestinal "loops" provide an in vivo model to analyse multiple mucosal immune responses. J Immunol Methods 256:19–33

Hazzard RA, Hodges GM, Scott JD, McGuinness CB, Carr KE (1996) Early intestinal microparticle uptake in the rat. J Anat 189:265–271

Hillyer JF, Albrecht RM (2001) Gastrointestinal persorption and tissue distribution of differently sized colloidal gold nanoparticles. J Pharm Sci 90:1927–1936

Hodges GM, Carr EA, Hazzard RA, Carr KE (1995) Uptake and translocation of microparticles in small intestine. Morphology and quantification of particle distribution. Dig Dis Sci 40:967–975

Hoffmann C, Ziegler U, Buschmann A, Weber A, Kupfer L, Oelschlegel A, Hammerschmidt B, Groschup MH (2007) Prions spread via the autonomic nervous system from the gut to the central nervous system in cattle incubating bovine spongiform encephalopathy. J Gen Virol 88:1048–1055

Hussain N, Jaitley V, Florence AT (2001) Recent advances in the understanding of uptake of microparticulates across the gastrointestinal lymphatics. Adv Drug Deliv Rev 50:107–142

Jeffrey M, Gonzalez L, Espenes A, Press CM, Martin S, Chaplin M, Davis L, Landsverk T, MacAldowie C, Eaton S, McGovern G (2006) Transportation of prion protein across the intestinal mucosa of scrapie-susceptible and scrapie-resistant sheep. J Pathol 209:4–14

Kim CL, Umetani A, Matsui T, Ishiguro N, Shinagawa M, Horiuchi M (2004) Antigenic characterization of an abnormal isoform of prion protein using a new diverse panel of monoclonal antibodies. Virology 320:40–51

Konold T, Moore SJ, Bellworthy SJ, Simmons HA (2008) Evidence of scrapie transmission via milk. BMC Vet Res 4:14

Lacroux C, Simon S, Benestad SL, Maillet S, Mathey J, Lugan S, Corbiere F, Cassard H, Costes P, Bergonier D, Weisbecker JL, Moldal T, Simmons H, Lantier F, Feraudet-Tarisse C, Morel N, Schelcher F, Grassi J, Andreoletti O (2008) Prions in milk from ewes incubating natural scrapie. PLoS Pathog 4:e1000238

Landsverk T (1987) The follicle-associated epithelium of the ileal Peyer's patch in ruminants is distinguished by its shedding of 50 nm particles. Immunol Cell Biol 65:251–261

Landsverk T (1988) Phagocytosis and transcytosis by the follicle-associated epithelium of the ileal Peyer's patch in calves. Immunol Cell Biol 66:261–268

Maignien T, Shakweh M, Calvo P, Marce D, Sales N, Fattal E, Deslys JP, Couvreur P, Lasmezas CI (2005) Role of gut macrophages in mice orally contaminated with scrapie or BSE. Int J Pharm 298:293–304

Momotani E, Whipple DL, Thiermann AB, Cheville NF (1988) Role of M cells and macrophages in the entrance of Mycobacterium paratuberculosis into domes of ileal Peyer's patches in calves. Vet Pathol 25:131–137

Paar M, Liebler EM, Pohlenz JF (1992) Uptake of ferritin by follicle-associated epithelium in the colon of calves. Vet Pathol 29:120–128

Rybner-Barnier C, Jacquemot C, Cuche C, Dore G, Majlessi L, Gabellec MM, Moris A, Schwartz O, Di Santo J, Cumano A, Leclerc C, Lazarini F (2006) Processing of the bovine spongiform encephalopathy-specific prion protein by dendritic cells. J Virol 80:4656–4663

Sigur-Dardottir OG, Press CM, Evensen O (2001) Uptake of Mycobacterium avium subsp. paratuberculosis through the distal small intestinal mucosa in goats: an ultrastructural study. Vet Pathol 38:184–189

Smyth SH, Feldhaus S, Schumacher U, Carr KE (2008) Uptake of inert microparticles in normal and immune deficient mice. Int J Pharm 346:109–118

Terry LA, Marsh S, Ryder SJ, Hawkins SAC, Wells GAH, Spencer YI (2003) Detection of disease-specific PrP in the distal ileum of cattle exposed orally to the agent of bovine spongiform encephalopathy. Vet Rec 152:387–392

Wilesmith JW, Wells GAH, Cranwell MP, Ryan JBM (1988) Bovine spongiform encephalopathy: epidemiological studies. Vet Rec 123:638–644
Additional information
This study was partly supported by a grant for BSE research from the Ministry of Health, Labour, and Welfare, Japan (17270701) and Grant-in-Aid (no. 17380180) from the Ministry of Education, Culture, Sports, Science, and Technology, Japan.
About this article
Cite this article
Sein Lwin, Inoshima, Y., Ueno, H. et al. Uptake and transport of foreign particles in Peyer's patches of both distal ileum and jejunum of calves. Cell Tissue Res 337, 125–135 (2009). https://doi.org/10.1007/s00441-009-0793-y
Received:

Accepted:

Published:

Issue Date:
Keywords
Peyer's patches

Distal ileum

Carbon black

FITC-labeled latex

rMPrP

BSE

Bovine (calf)