Abstract
Trafficking of peripheral blood mononuclear cells (PBMCs) into the brain is a critical step in the initiation of human immunodeficiency virus (HIV)-associated central nervous system disease. To examine potential factors that control trafficking during the earliest stages of infection, PBMC transmigration across a cultured feline brain endothelial cell (BECs) monolayer was measured after selective exposure of various cell types to feline immunodeficiency virus (FIV). Infection of the PBMCs with FIV increased the trafficking of monocytes and CD4 and CD8 T cells. Additional exposure of the BECs to FIV suppressed mean monocyte, CD4 T cell, and CD8 T cell trafficking. B cell trafficking was unaltered by these changing conditions. Subsequent exposure of astrocytes or microglia to FIV altered transmigration of different PBMC subsets in different ways. Treated microglia compared with treated astrocytes decreased monocyte transmigration, whereas B cell transmigration was increased significantly. When both astrocytes and microglia were exposed to FIV, an increase in CD8 T cell transmigration relative to BECs alone, to BECs plus astrocytes, or to BECs plus microglia was demonstrated. Thus, initial exposure of PBMCs to FIV is sufficient to induce a general increase in trafficking, whereas initial exposure of endothelial cells to FIV tends to down-regulate this effect. Selectivity of trafficking of specific PBMC subsets is apparent only after exposure of cells of the central nervous system to FIV in co-culture with the endothelium.
This is a preview of subscription content, log in to check access.
Access options
Buy single article
Instant access to the full article PDF.
US$ 39.95
Price includes VAT for USA
Subscribe to journal
Immediate online access to all issues from 2019. Subscription will auto renew annually.
US$ 199
This is the net price. Taxes to be calculated in checkout.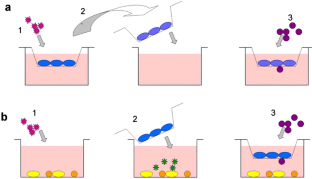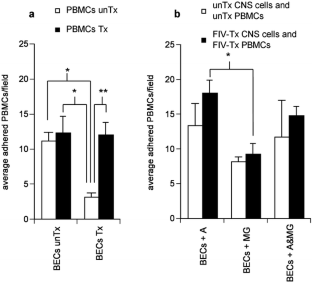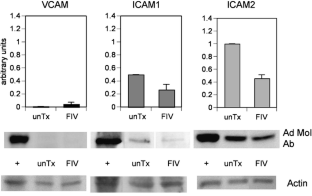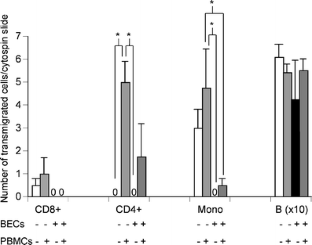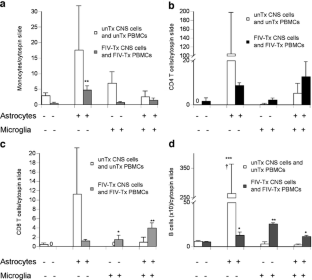 References
Annunziata P (2003) Blood-brain barrier changes during invasion of the central nervous system by HIV-1. Old and new insights into the mechanism. J Neurol 250:901–906

Beebe A, Gluckstern T, George J, Pedersen N, Dandekar S (1992) Detection of feline immunodeficiency virus infection in bone marrow of cats. Vet Immunol Immunopathol 35:37–49

Bissel SJ, Wang G, Trichel AM, Murphey-Corb M, Wiley CA (2006) Longitudinal analysis of activation markers on monocyte subsets during the development of simian immunodeficiency virus encephalitis. J Neuroimmunol 177:85–98

Boven LA, Middel J, Verhoef J, De Groot CJ, Nottet HS (2000) Monocyte infiltration is highly associated with loss of the tight junction protein zonula occludens in HIV-1-associated dementia. Neuropathol Appl Neurobiol 26:356–360

Clements JE, Li M, Gama L, Bullock B, Carruth LM, Mankowski JL, Zink MC (2005) The central nervous system is a viral reservoir in simian immunodeficiency virus-infected macaques on combined antiretroviral therapy: a model for human immunodeficiency virus patients on highly active antiretroviral therapy. J Neurovirol 11:180–189

Dallasta LM, Pisarov LA, Esplen JE, Werley JV, Moses AV, Nelson JA, Achim CL (1999) Blood-brain barrier tight junction disruption in human immunodeficiency virus-1 encephalitis. Am J Pathol 155:1915–1927

Davis LE, Helle BL, Miller VE, Palmer DL, Llewellyn AL, Merlin TL, Young SA, Mills RG, Wachsman W, Wiley CA (1992) Early viral brain invasion in iatrogenic human immunodeficiency virus infection. Neurology 42:1736–1739

Dean G, Reubel G, Moore P, Pedersen N (1996) Proviral burden and infection kinetics of feline immunodeficiency virus in lymphocyte subsets of blood and lymph node. J Virol 70:5165–5169

Dianzani F, Antonelli G, Riva E, Uccini S, Visco G (1996) Plasma HIV viremia and viral load in lymph nodes. Nat Med 2:832–833

Dow SW, Dreitz KJ, Hoover EA (1992) Feline immunodeficiency virus neurotropism: evidence that astrocytes and microglia are the primary target cells. Vet Immunol Immunopathol 35:23–35

English RV, Johnson CM, Gebhard DH, Tompkins MB (1993) In vivo lymphocyte tropism of feline immunodeficiency virus. J Virol 67:5175–5186

Gray F, Lescs M-C, Keohane C, Paraire F, Marc B, Durigon M, Gherardi R (1992) Early brain changes in HIV infection: neuropathological study of 11 HIV seropositive, non-AIDS cases. J Neuropathol Exp Neurol 51:177–185

Gunn-Moore D, Pearson G, Harbour D, Whiting C (1996) Encephalitis associated with giant cells in a cat with naturally occurring feline immunodeficiency virus infection demonstrated by in situ hybridization. Vet Pathol 33:699–703

Harper ME, Marselle LM, Gallo RC, Wong-Staal F (1986) Detection of lymphocytes expressing human T-lymphotropic virus type II in lymph nodes and peripheral blood from infected individuals by in situ hybridization. Proc Natl Acad Sci USA 83:772–776

Hudson LC, Bragg DC, Tompkins MB, Meeker RB (2005) Astrocytes and microglia differentially regulate trafficking of lymphocyte subsets across brain endothelial cells. Brain Res 1058:148–160

Janeway C, Travers P, Walport M, Shlomchik M (2005) Immunobiology. Garland, New York

Kim WK, Corey S, Chesney G, Knight H, Klumpp S, Wuthrich C, Letvin N, Koralnik I, Lackner A, Veasey R, Williams K (2004) Identification of T lymphocytes in simian immunodeficiency virus encephalitis: distribution of CD8+ T cells in association with central nervous system vessels and virus. J Neurovirol 10:315–325

Klevens RM, Fleming PL, Neal JJ, Li J (1999) Is there really a heterosexual AIDS epidemic in the United States? Findings from a multisite validation study, 1992–1995. Mode of transmission validation study group. Am J Epidemiol 149:75–84

Koenig S, Gendelman HE, Orenstein JM, Dal Canto MC, Pezeshkpour GH, Yungbluth M, Janotta F, Aksamit A, Martin MA, Fauci AS (1986) Detection of AIDS virus in macrophages in brain tissue from AIDS patients with encephalopathy. Science 233:1089–1093

Liu P, Hudson LC, Tompkins MB, Vahlenkamp TW, Colby B, Rundle C, Meeker RB (2006a) Cerebrospinal fluid is an efficient route for establishing brain infection with feline immunodeficiency virus and transferring infectious virus to the periphery. J Neurovirology 12:294–306

Liu P, Hudson LC, Tompkins MB, Vahlenkamp TW, Meeker RB (2006b) Compartmentalization and evolution of feline immunodeficiency virus between the central nervous system and periphery following intracerebroventricular or systemic inoculation. J Neurovirology 12:307–321

McGee B, Smith N, Aweeka F (2006) HIV pharmacology: barriers to the eradication of HIV from the CNS. HIV Clin Trials 7:142–153

Meeker R, Azuma Y, Bragg D, English R, Tompkins M (1999) Microglial proliferation in cortical neural cultures exposed to feline immunodeficiency virus. J Neuroimmunol 101:15–26

Nottet HS, Persidsky Y, Sasseville VG, Nukuna AN, Bock P, Zhai Q-H, Sharer LR, McComb RD, Swindells S, Soderland C, Gendelman HE (1996) Mechanisms for the transendothelial migration of HIV-1-infection monocytes into brain. J Immunol 156:1284–1295

Novotney C, English RV, Housman J, Davidson MG, Nasisse MP, Jeng C, Davis WC, Tompkins MB (1990) Lymphocyte population changes in cats naturally infected with feline immunodeficiency virus. AIDS 4:1213–1218

Pantaleo G, Graziosi C, Butini L, Pizzo PA, Schnittman SM, Kotler DP, Fauci AS (1991) Lymphoid organs function as major reservoirs for human immunodeficiency virus. Proc Natl Acad Sci USA 88:9838–9842

Pedersen N, Barlough J (1991) Clinical overview of feline immunodeficiency virus. J Am Vet Med Assoc 199:445–448

Persidsky Y (1999) Model systems for studies of leukocyte migration across the blood-brain barrier. J Neurovirol 5:579–590

Persidsky Y, Stins M, Way D, Witte MH, Weinland M, Kim KS, Bock P, Gendelman HE, Fiala M (1997) A model for monocyte migration through the blood-brain barrier during HIV-1 encephalitis. J Immunol 158:3499–3510

Persidsky Y, Ghorade A, Rasmussen J, Limoges J, Liu X, Stins M, Fiala M, Way D, Kim K, Witte M, Weinland M, Carhart L, Gendelman H (1999) Microglial and astrocyte chemokines regulate monocyte migration through the blood-brain barrier in human immunodeficiency virus-1 encephalitis. Am J Pathol 155:1599–1611

Petito CK, Adkins B, McCarthy M, Roberts B, Khamis I (2003) CD4+ and CD8+ cells accumulate in the brains of acquired immunodeficiency syndrome patients with human immunodeficiency virus encephalitis. J Neurovirol 9:36–44

Quinn TC (1995) The epidemiology of the acquired immunodeficiency syndrome in the 1990s. Emerg Med Clin North Am 13:1–25

Roberts ES, Masliah E, Fox HS (2004) CD163 identifies a unique population of ramified microglia in HIV encephalitis (HIVE). J Neuropathol Exp Neurol 63:1255–1264

Ryan G, Klein D, Knapp E, Hosie MJ, Grimes T, Mabruk MJ, Jarrett O, Callanan JJ (2003) Dynamics of viral and proviral loads of feline immunodeficiency virus within the feline central nervous system during the acute phase following intravenous infection. J Virol 77:7477-7485

Sapatino BV, Welsh CJ, Smith CA, Bebo BF, Linthicum DS (1993) Cloned mouse cerebrovascular endothelial cells that maintain their differentiation markers for factor VIII, low density lipoprotein and angiotensin-converting enzyme. In Vitro Cell Dev Biol 29A:923–928

Steffan A-M, Lafon M-E, Genrault J-L, Koehrin F, DeMonte M, Royer C, Kirn A, Gut J-P (1994) Feline immunodeficiency virus can productively infect cultured endothelial cells from cat brain microvessels. J Gen Virol 75:3647–3653

Strand OA (1982) Acquired immunodeficiency syndrome (AIDS) in homosexual men—a new public health concern. NIPH Ann 5:41–9

Wiley C, Schrier R, Nelson J, Lampert P, Oldstone M (1986) Cellular localization of human immunodeficiency virus infection within the brain of acquired immune deficiency syndrome patients. Proc Natl Acad Sci USA 83:7089–7093

Williams KC, Hickey WF (2002) Central nervous system damage, monocytes and macrophages, and neurological disorders in AIDS. Annu Rev Neurosci 25:537–562

Zheng J, Gendelman HE (1997) The HIV-1 associated dementia complex: a metabolic encephalopathy fueled by viral replication in mononuclear phagocytes. Curr Opin Neurol 10:319–325

Zink MC, Amedee AM, Mankowski JL, Craig L, Didier P, Carter DL, Munoz A, Murphey-Corb M, Clements JE (1997) Pathogenesis of SIV encephalitis. Selection and replication of neurovirulent SIV. Am J Pathol 151:793–803
Additional information
This investigation was supported by funds from NIH (MH63646 and AI47749) and by the state of North Carolina.
About this article
Cite this article
Hudson, L.C., Tompkins, M.B. & Meeker, R.B. Endothelial cell suppression of peripheral blood mononuclear cell trafficking in vitro during acute exposure to feline immunodeficiency virus. Cell Tissue Res 334, 55–65 (2008). https://doi.org/10.1007/s00441-008-0623-7
Received:

Accepted:

Published:

Issue Date:
Keywords
HIV

Astrocytes

Microglia

Monocyte

T cell

Feline