Abstract
Androgen deprivation causes the rat ventral prostate to reduce to 10% of its original size by 21 days after castration. The regressive changes result from the loss of epithelial cells by apoptosis and marked reorganization of the stroma. We have investigated whether these changes are accompanied by variations in heparanase expression. The ventral prostate of castrated rats was collected and processed for the quantification of heparan sulfate (HS), for the measurement of heparanase expression and its localization by reverse transcription/polymerase chain reaction, Western blotting, and immunohistochemistry, and for transmission electron microscopy (TEM). Absolute HS content decreased significantly as early as day 7 after surgery. Heparanase mRNA peaked 7 days after castration. The heparanase proenzyme (65 kDa) and the active form (50 kDa) were identified and peaked on day 7 after castration; this coincided with maximum HS-degrading activity. Heparanase was located to the basolateral surface of epithelial cells and in the adjacent stroma. After castration, staining for heparanase was reduced in the epithelium and increased in the stroma. TEM revealed that the peak of heparanase expression at day 7 after castration was associated with extensive changes in the basement membrane of the epithelium, endothelium and smooth muscle cells involving cell shrinkage and/or deletion by apoptosis. These results suggest that heparanase expression increases after castration and correlates with a decreased amount of HS. This variation in heparanase expression is involved in tissue remodeling and in the control of the regressive pattern after 1 week of androgen deprivation.
This is a preview of subscription content, log in to check access.
Access options
Buy single article
Instant access to the full article PDF.
US$ 39.95
Price includes VAT for USA
Subscribe to journal
Immediate online access to all issues from 2019. Subscription will auto renew annually.
US$ 199
This is the net price. Taxes to be calculated in checkout.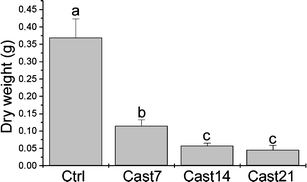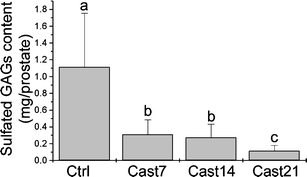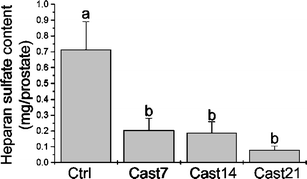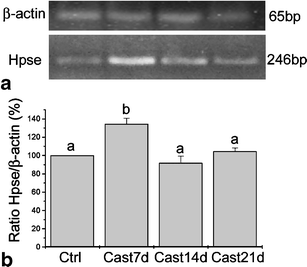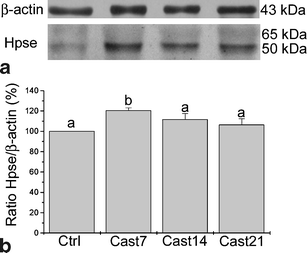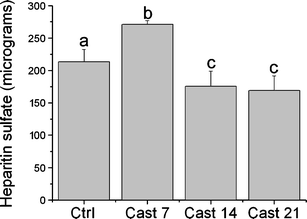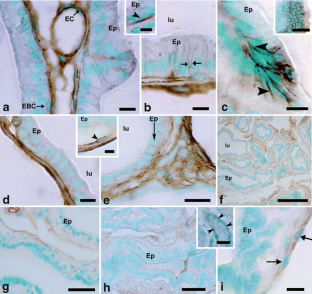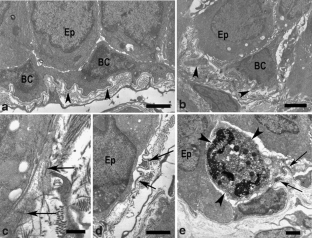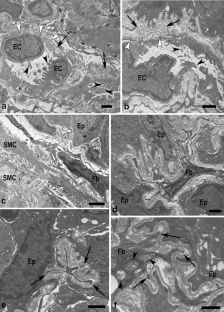 References
Antonioli E, Della-Colleta HH, Carvalho HF (2004) Smooth muscle cell behavior in the ventral prostate of castrated rats. J Androl 25:50–56

Antonioli E, Cardoso AB, Carvalho HF (2007) Effects of long-term castration on the smooth muscle cell phenotype of the rat ventral prostate. J Androl 28:777–783

Barbosa I, Garcia S, Barbier-Chassefière V, Caruelle JP, Martelly I, Papy-García D (2003) Improved and simple micro assay for sulfated glycosaminoglycans quantification in biological extracts and its use in skin and muscle tissue studies. Glycobiology 13:647–653

Bartlett MR, Underwood PA, Parish CR (1995) Comparative analysis of the ability of leucocytes, endothelial cells and platelets to degrade the subendothelial basement membrane: evidence for cytokine dependence and detection of a novel sulfatase. Immunol Cell Biol 73:113–124

Bernard D, Mehul B, Delattre C, Simonetti L, Thomas-Collignon A, Schmidt R (2001) Purification and characterization of the endoglycosidase heparanase 1 from human plantar stratum corneum: a key enzyme in epidermal physiology? J Invest Dermatol 117:1266–1273

Carvalho HF, Line SRP (1996) Basement membrane associated changes in the rat ventral prostate following castration. Cell Biol Int 20:809–819

Dempsey LA, Brunn GT, Platt JL (2000) Heparanase, a potential regulator of cell-matrix interactions. Trends Biol Sci 25:349–351

Dey P, Saphos CA, McDonnell J, Moore VL (1992) Studies on the quantification of proteoglycans by the dimethylmethylene blue dye-binding method. Specificity, quantitation in synovial lavage fluid, and automation. Connect Tissue Res 28:317–324

Dietrich CP, Dietrich SMC (1976) Electrophoretic behavior of acidic mucopolysaccharides in diamine buffers. Anal Biochem 70:645–647

Elkin M, Ilan N, Ishai-Michaeli R, Friedman Y, Papo O, Pecker I, Vlodavsky I (2001) Heparanase as mediator of angiogenesis: mode of action. FASEB J 15:1661–1663

Elkin M, Zcharia E, Orgel A, Cohen I, Guatta-Rangini Z, Peretz T, Vlodavsky I, Kleinman HK (2003) Regulation of heparanase gene expression by estrogen in breast cancer. Cancer Res 63:8821–8826

Farndale RW, Buttle DJ, Barret AJ (1986) Improved quantitation and discrimination of sulfated glycosaminoglycans by use of dimethylmethylene blue. Biochim Biophys Acta 883:173–177

Garcia-Floréz M, Oliveira CA, Carvalho HF (2005) Early effects of estrogen on the rat ventral prostate. Braz J Med Biol Res 38:487–497

Gingis-Velitski S, Zetser A, Flugelman MY, Vlodavsky I, Ilan N (2004) Heparanase uptake is mediated by cell membrane heparan sulfate proteoglycans. J Biol Chem 279:23536–23541

Gospodarowicz D, Delgado D, Vlodavsky I (1980) Permissive effect of the extracellular matrix on cell proliferation in vitro. Proc Natl Acad Sci USA 77:4094–4098

Katz A, Van Dijk DJ, Aingorn H, Erman A, Davies M, Darmon D, Hurvitz H, Vlodavsky I (2002) Involvement of human heparanase in the pathogenesis of diabetic nephropathy. Isr Med Assoc J 4:996–1002

Levidiotis V, Kanellis J, Ierino FL, Power DA (2001) Increased expression of heparanase in puromycin aminonucleoside nephrosis. Kidney Int 60:1287–1296

Lund LR, Romer J, Thomasset N, Solberg H, Pyke C, Bissel MJ, Dano K, Werb Z (1996) Two distinct phases of apoptosis in mammary gland involution: proteinase-independent and -dependent pathways. Development 122:181–193

Matzner Y, Bar-Ner M, Yahalom J, Ishai-Michaeli R, Fuks Z, Vlodavsky I (1985) Degradation of heparan sulfate in the subendothelial extracellular matrix by a readily released heparanase from human neutrophils. Possible role in invasion through basement membranes. J Clin Invest 76:1306–1316

Mollinedo F, Nakajima M, Llorens A, Barbosa E, Callejo S, Gajate C, Fabra A (1997) Major co-localization of the extracellular-matrix degradative enzymes heparanase and gelatinase in tertiary granules of human neutrophils. Biochem J 327:917–923

Mott JD, Werb Z (2004) Regulation of matrix biology by matrix metalloproteinases. Curr Opin Cell Biol 16:558–564

Parish CR, Hindmarsh EJ, Bartlett M, Staykova MA, Cowden WB, Willenborg DO (1998) Treatment of nervous system inflammation with inhibitors of basement membrane degradation. Immunol Cell Biol 76:104–113

Parish CR, Freeman C, Hullet MD (2001) Heparanase: a key enzyme involved in cell invasion. Biochim Biophys Acta 1471:M99–M108

Vaday GG, Lider O (2000) Extracellular matrix moieties, cytokines, and enzymes: dynamic effects on immune cell behavior and inflammation. J Leukocyte Biol 67:149–159

Vlodavsky I, Friedmann Y (2001) Molecular properties and involvement of heparanase in cancer metastasis and angiogenesis. J Clin Invest 108:341–347

Vlodavsky I, Eldor A, Haimovitz-Friedman A, Matzner Y, Ishai-Michaeli R, Lider O, Naparstek Y, Cohen I, Fuks Z (1992) Expression of heparanase by platelets and circulating cells of the immune system: possible involvement in diapedesis and extravasation. Inv Metast 12:112–127

Vlodavsky I, Maio H, Medalion B, Danagher P, Ron D (1996) Involvement of heparan sulfate and related molecules in sequestration and growth promoting activity of fibroblast growth factor. Cancer Met Rev 15:177–186

Xiao Y, Kleeff J, Shi X, Buchler MW, Friess H (2003) Heparanase expression in hepatocellular carcinoma and the cirrhotic liver. Hepatol Res 26:192–198
Acknowledgements
The authors thank Dr. Helena Nader and Dr. Maria Aparecida Pinhal, who kindly provided the enzymes (DNase/RNase and maxatase) and continuous support throughout this study, and Manuel Garcia-Floréz for help with the animal surgery. Thanks are also due to Maria Helena Moreno, for processing the material for TEM.
Additional information
Financial support from FAPESP (grant 05/04004–4) and CNPq is gratefully acknowledged. T.M.A. was the recipient of a CNPq fellowship.
About this article
Cite this article
Augusto, T.M., Felisbino, S.L. & Carvalho, H.F. Remodeling of rat ventral prostate after castration involves heparanase-1. Cell Tissue Res 332, 307–315 (2008). https://doi.org/10.1007/s00441-008-0577-9
Received:

Accepted:

Published:

Issue Date:
Keywords
Basement membrane

Castration

Heparanase

Heparan sulfate

Prostate

Rat (Wistar)