Abstract
Enterochromaffin (EC) cells regulate gut motility and secretion in response to luminal stimuli, via the release of serotonin (5-HT). Inflammatory bowel disease and other gastrointestinal disorders are associated with increased numbers of EC cells and 5-HT availability. Our aim was to determine whether proliferation of EC cells contributed to the hyperplasia associated with intestinal inflammation. Ileitis was induced in guinea-pigs by intraluminal injection of 2,4,6-trinitrobenzene sulphonic acid (TNBS). A single pulse of 5-bromo-2′-deoxyuridine (BrdU) was injected 1 or 24 h before the collection of tissue, 6 or 7 days after TNBS treatment. In the controls, the labelling index (percentage of BrdU-labelled EC cells) was less than 1%. Despite a significant increase in EC cells in the inflamed ileum, the labelling index was similar in the TNBS-treated animals to that of controls. An increased occurrence of EC cells in the BrdU-labelled zone accounted for the increase in EC cells in the inflamed ileum. Goblet cell numbers were also significantly increased in the inflamed ileum, indicating that cell hyperplasia was not limited to the enteroendocrine cell lineage. This study demonstrates that a small portion of EC cells retain some proliferative capacity; however, hyperplasia associated with ileitis is not attributable to the increased proliferation of EC cells and is not limited to one cell lineage. Therefore, EC cell hyperplasia most probably occurs at the level of the stem cell or recruitment from the progenitor pool.
This is a preview of subscription content, log in to check access.
Access options
Buy single article
Instant access to the full article PDF.
US$ 39.95
Price includes VAT for USA
Subscribe to journal
Immediate online access to all issues from 2019. Subscription will auto renew annually.
US$ 199
This is the net price. Taxes to be calculated in checkout.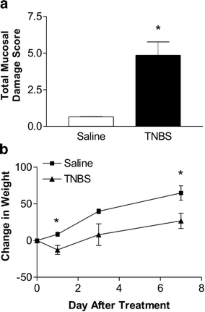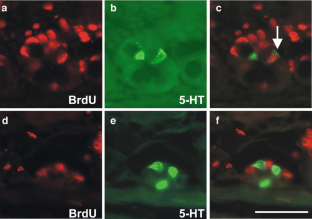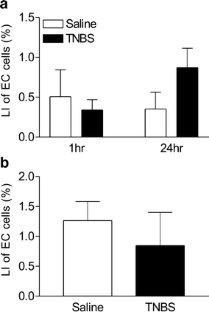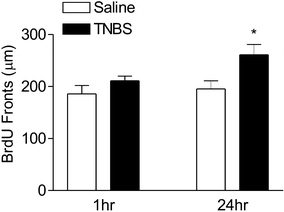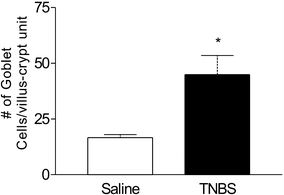 References
Asfaha S, MacNaughton WK, Appleyard CB, Chadee K, Wallace JL (2001) Persistent epithelial dysfunction and bacterial translocation after resolution of intestinal inflammation. Am J Physiol Gastrointest Liver Physiol 281:G635–G644

Barrett P, Hobbs RC, Coates PJ, Risdon RA, Wright NA, Hall PA (1995) Endocrine cells of the human gastrointestinal tract have no proliferative capacity. Histochem J 27:482–486

Bishop AE, Pietroletti R, Taat CW, Brummelkamp WH, Polak JM (1987) Increased populations of endocrine cells in Crohn's ileitis. Virchows Arch A Pathol Anat Histopathol 410:391–396

Booth C, Potten CS (2000) Gut instincts: thoughts on intestinal epithelial stem cells. J Clin Invest 105:1493–1499

Bouma G, Strober W (2003) The immunological and genetic basis of inflammatory bowel disease. Nat Rev Immunol 3:521–533

Brink GR van den, Santa BP de, Roberts DJ (2001) Development. Epithelial cell differentiation—a matter of choice. Science 294:2115–2116

Bruine AP de, Dinjens WN, Zijlema JH, Lenders MH, Bosman FT (1992) Renewal of enterochromaffin cells in the rat caecum. Anat Rec 233:75–82

Coates MD, Mahoney CR, Linden DR, Sampson JE, Chen J, Blaszyk H, Crowell MD, Sharkey KA, Gershon MD, Mawe GM, Moses PL (2004) Molecular defects in mucosal serotonin content and decreased serotonin reuptake transporter in ulcerative colitis and irritable bowel syndrome. Gastroenterology 126:1657–1664

Dignass AU (2001) Mechanisms and modulation of intestinal epithelial repair. Inflamm Bowel Dis 7:68–77

Dunlop SP, Jenkins D, Neal KR, Spiller RC (2003) Relative importance of enterochromaffin cell hyperplasia, anxiety, and depression in postinfectious IBS. Gastroenterology 125:1651–1659

El Salhy M, Danielsson A, Stenling R, Grimelius L (1997) Colonic endocrine cells in inflammatory bowel disease1. J Intern Med 242:413–419

Ferreira MN, Leblond CP (1971) Argentaffin and other "endocrine" cells of the small intestine in the adult mouse. II. Renewal. Am J Anat 131:331–339

Gershon MD (1999) Review article: roles played by 5-hydroxytryptamine in the physiology of the bowel. Aliment Pharmacol Ther 13 (Suppl 2):15–30

Gratzner HG (1982) Monoclonal antibody to 5-bromo- and 5-iododeoxyuridine: a new reagent for detection of DNA replication. Science 218:474–475

Karam SM (1999) Lineage commitment and maturation of epithelial cells in the gut. Front Biosci 4:D286–D298

Kidd M, Miu K, Tang LH, Perez-Perez GI, Blaser MJ, Sandor A, Modlin IM (1997) Helicobacter pylori lipopolysaccharide stimulates histamine release and DNA synthesis in rat enterochromaffin-like cells. Gastroenterology 113:1110–1117

Linden DR, Chen JX, Gershon MD, Sharkey KA, Mawe GM (2003) Serotonin availability is increased in mucosa of guinea pigs with TNBS-induced colitis. Am J Physiol Gastrointest Liver Physiol 285:G207–G216

Miceli P, Morris GP, MacNaughton WK, Vanner S (2002) Alterations in capsaicin-evoked electrolyte transport during the evolution of guinea pig TNBS ileitis. Am J Physiol Gastrointest Liver Physiol 282:G972–G980

Miller MJ, Sadowska-Krowicka H, Chotinaruemol S, Kakkis JL, Clark DA (1993) Amelioration of chronic ileitis by nitric oxide synthase inhibition. J Pharmacol Exp Ther 264:11–16

Morris GP, Beck PL, Herridge MS, Depew WT, Szewczuk MR, Wallace JL (1989) Hapten-induced model of chronic inflammation and ulceration in the rat colon. Gastroenterology 96:795–803

Ni J, Chen SF, Hollander D (1996) Effects of dextran sulphate sodium on intestinal epithelial cells and intestinal lymphocytes. Gut 39:234–241

Noffsinger AE, Miller MA, Cusi MV, Fenoglio-Preiser CM (1996) The pattern of cell proliferation in neoplastic and nonneoplastic lesions of ulcerative colitis. Cancer 78:2307–2312

O'Hara JR, Ho W, Linden DR, Mawe GM, Sharkey KA (2004) Enteroendocrine cells and 5-HT availability are altered in mucosa of guinea pigs with TNBS ileitis. Am J Physiol Gastrointest Liver Physiol 287:G998–G1007

Raybould HE, Cooke HJ, Christofi FL (2004) Sensory mechanisms: transmitters, modulators and reflexes. Neurogastroenterol Motil 16 (Suppl 1):60–63

Renes IB, Boshuizen JA, Van Nispen DJ, Bulsing NP, Buller HA, Dekker J, Einerhand AW (2002a) Alterations in Muc2 biosynthesis and secretion during dextran sulfate sodium-induced colitis. Am J Physiol Gastrointest Liver Physiol 282:G382–G389

Renes IB, Verburg M, Van Nispen DJ, Taminiau JA, Buller HA, Dekker J, Einerhand AW (2002b) Epithelial proliferation, cell death, and gene expression in experimental colitis: alterations in carbonic anhydrase I, mucin MUC2, and trefoil factor 3 expression. Int J Colorectal Dis 17:317–326

Rindi G, Leiter AB, Kopin AS, Bordi C, Solcia E (2004) The "normal" endocrine cell of the gut: changing concepts and new evidences. Ann N Y Acad Sci 1014:1–12

Ryberg B, Tielemans Y, Axelson J, Carlsson E, Håkanson R, Mattson H, Sundler F, Willems G (1990) Gastrin stimulates the self-replication rate of enterochromaffin-like cells in the rat stomach. Effects of omeprazole, ranitidine, and gastrin-17 in intact and antrectomized rats. Gastroenterology 99:935–942

Sartor RB (1997) Pathogenesis and immune mechanisms of chronic inflammatory bowel diseases. Am J Gastroenterol 92:5S–11S

Schonhoff SE, Giel-Moloney M, Leiter AB (2004) Minireview: development and differentiation of gut endocrine cells. Endocrinology 145:2639–2644

Seidelin JB (2004) Colonic epithelial cell turnover: possible implications for ulcerative colitis and cancer initiation. Scand J Gastroenterol 39:201–211

Serafini EP, Kirk AP, Chambers TJ (1981) Rate and pattern of epithelial cell proliferation in ulcerative colitis. Gut 22:648–652

Shroyer NF, Wallis D, Venken KJ, Bellen HJ, Zoghbi HY (2005) Gfi1 functions downstream of Math1 to control intestinal secretory cell subtype allocation and differentiation. Genes Dev 19:2412–2417

Solcia E, Capella C, Buffa R, Usellini L, Fiocca R, Frigerio B, Tenti P, Sessa F (1981) The diffuse endocrine-paracrine system of the gut in health and disease: ultrastructural features. Scand J Gastroenterol Suppl 70:25–36

Spiller RC, Jenkins D, Thornley JP, Hebden JM, Wright T, Skinner M, Neal KR (2000) Increased rectal mucosal enteroendocrine cells, T lymphocytes, and increased gut permeability following acute Campylobacter enteritis and in post-dysenteric irritable bowel syndrome. Gut 47:804–811

Tielemans Y, Hakanson R, Sundler F, Willems G (1989) Proliferation of enterochromaffinlike cells in omeprazole-treated hypergastrinemic rats. Gastroenterology 96:723–729

Tielemans Y, Willems G, Sundler F, Hakanson R (1990) Self-replication of enterochromaffin-like cells in the mouse stomach. Digestion 45:138–146

Van der Sluis M, De Koning BA, De Bruijn AC, Velcich A, Meijerink JP, Van Goudoever JB, Buller HA, Dekker J, Van Seuningen I, Renes IB, Einerhand AW (2006) Muc2-deficient mice spontaneously develop colitis, indicating that MUC2 is critical for colonic protection. Gastroenterology 131:117–129

Yang Q, Bermingham NA, Finegold MJ, Zoghbi HY (2001) Requirement of Math1 for secretory cell lineage commitment in the mouse intestine. Science 294:2155–2158

Zecchini V, Domaschenz R, Winton D, Jones P (2005) Notch signaling regulates the differentiation of post-mitotic intestinal epithelial cells. Genes Dev 19:1686–1691

Zhang R, Ma A, Urbanski SJ, McCafferty DM (2006) Induction of inducible nitric oxide synthase: a protective mechanism in colitis-induced adenocarcinoma. Carcinogenesis 28:1122–1130
Acknowledgements
We thank Winnie Ho for assistance with these studies.
Additional information
This work was supported by an operating grant from the Crohn's and Colitis Foundation of Canada (CCFC; to Keith Sharkey and Dr. Gary Mawe, University of Vermont, USA). Keith Sharkey is an Alberta Heritage Foundation for Medical Research (AHFMR) Medical Scientist and the CCFC Chair in Inflammatory Bowel Disease Research. Jennifer O'Hara is an AHFMR graduate student.
About this article
Cite this article
O'Hara, J.R., Sharkey, K.A. Proliferative capacity of enterochromaffin cells in guinea-pigs with experimental ileitis. Cell Tissue Res 329, 433–441 (2007). https://doi.org/10.1007/s00441-007-0430-6
Received:

Accepted:

Published:

Issue Date:
Keywords
Enterochromaffin cells

Goblet cells

Intestinal inflammation

Proliferation

Guinea-pig (male, albino)