Abstract
Lipopolysaccharide (LPS) induces matrix degradation and markedly stimulates the production of several cytokines, i.e., interleukin-1β, −6, and −10, by disc cells and chondrocytes. We performed a series of experiments to compare cellular responses of cells from the bovine intervertebral disc (nucleus pulposus and annulus fibrosus) and from bovine articular cartilage to LPS. Alginate beads containing cells isolated from bovine intervertebral discs and articular cartilage were cultured with or without LPS in the presence of 10% fetal bovine serum. The DNA content and the rate of proteoglycan synthesis and degradation were determined. In articular chondrocytes, LPS strongly suppressed cell proliferation and proteoglycan synthesis in a dose-dependent manner and stimulated proteoglycan degradation. Compared with articular chondrocytes, nucleus pulposus cells responded in a similar, although less pronounced manner. However, treatment of annulus fibrosus cells with LPS showed no significant effects on proteoglycan synthesis or degradation. A slight, but statistically significant, inhibition of cell proliferation was observed at high concentrations of LPS in annulus fibrosus cells. Thus, LPS suppressed proteoglycan synthesis and stimulated proteoglycan degradation by articular chondrocytes and nucleus pulposus cells. The effects of LPS on annulus fibrosus cells were minor compared with those on the other two cell types. The dissimilar effects of LPS on the various cell types suggest metabolic differences between these cells and may further indicate a divergence in pathways of LPS signaling and a differential sensitivity to exogenous stimuli such as LPS.
This is a preview of subscription content, log in to check access.
Access options
Buy single article
Instant access to the full article PDF.
US$ 39.95
Price includes VAT for USA
Subscribe to journal
Immediate online access to all issues from 2019. Subscription will auto renew annually.
US$ 199
This is the net price. Taxes to be calculated in checkout.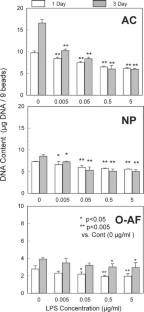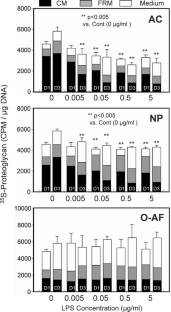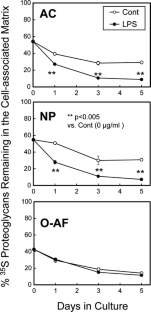 References
Akira S (2003) Toll-like receptor signaling. J Biol Chem 278:38105–38108

Aota Y, An HS, Homandberg G, Thonar EJ, Andersson GB, Pichika R, Masuda K (2005) Differential effects of fibronectin fragment on proteoglycan metabolism by intervertebral disc cells: a comparison with articular chondrocytes. Spine 30:722–728

Arend WP, Joslin FG, Massoni RJ (1985) Characteristics of chondrocyte responses to a human interleukin 1-like factor. Clin Immunol Immunopathol 36:358–370

Aydelotte MB, Kuettner KE (1988) Differences between sub-populations of cultured bovine articular chondrocytes. I. Morphology and cartilage matrix production. Connect Tissue Res 18:205–222

Burke JG, Watson RWG, Conhyea D, McCormack D, Dowling FE, Walsh MG, Fitzpatrick JM (2003) Human nucleus pulposus can respond to a pro-inflammatory stimulus. Spine 28:2685–2693

Chiba K, Andersson GB, Masuda K, Thonar EJ (1997) Metabolism of the extracellular matrix formed by intervertebral disc cells cultured in alginate. Spine 22:2885–2893

de Mattei M, Pellati A, Pasello M, de Terlizzi F, Massari L, Gemmati D, Caruso A (2002) High doses of glucosamine-HCl have detrimental effects on bovine articular cartilage explants cultured in vitro. Osteoarthritis Cartilage 10:816–825

Doita M, Kanatani T, Harada T, Mizuno K (1996) Immunohistologic study of the ruptured intervertebral disc of the lumbar spine. Spine 21:235–241

Henrotin YE, Zheng SX, Deby GP, Labasse AH, Crielaard JM, Reginster JY (1998) Nitric oxide downregulates interleukin 1beta (IL-1beta) stimulated IL-6, IL-8, and prostaglandin E2 production by human chondrocytes. J Rheumatol 25:1595–1601

Jasin HE (1983) Bacterial lipopolysaccharides induce in vitro degradation of cartilage matrix through chondrocyte activation. J Clin Invest 72:2014–2019

Jimbo K, Park JS, Yokosuka K, Sato K, Nagata K (2005) Positive feedback loop of interleukin-1beta upregulating production of inflammatory mediators in human intervertebral disc cells in vitro. J Neurosurg Spine 2:589–595

Kang JD, Georgescu HI, McIntyre-Larkin L, Stefanovic-Racic M, Evans CH (1995) Herniated cervical intervertebral discs spontaneously produce matrix metalloproteinases, nitric oxide, interleukin-6, and prostaglandin E2. Spine 20:2373–2378

Kang JD, Georgescu HI, McIntyre-Larkin L, Stefanovic-Racic M, Donaldson WF 3rd, Evans CH (1996) Herniated lumbar intervertebral discs spontaneously produce matrix metalloproteinases, nitric oxide, interleukin-6, and prostaglandin E2. Spine 21:271–277

Kang JD, Stefanovic-Racic M, McIntyre LA, Georgescu HI, Evans CH (1997) Toward a biochemical understanding of human intervertebral disc degeneration and herniation. Contributions of nitric oxide, interleukins, prostaglandin E2, and matrix metalloproteinases. Spine 22:1065–1073

Kim YJ, Sah RL, Doong JY, Grodzinsky AJ (1988) Fluorometric assay of DNA in cartilage explants using Hoechst 33258. Anal Biochem 174:168–176

Le Maitre CL, Freemont AJ, Hoyland JA (2005) The role of interleukin-1 in the pathogenesis of human intervertebral disc degeneration. Arthritis Res Ther 7:R732–R745

Masuda K, Shirota H, Thonar EJ (1994) Quantification of 35S-labeled proteoglycans complexed to Alcian blue by rapid filtration in multiwell plates. Anal Biochem 217:167–175

Masuda K, Takegami K, An H, Kumano F, Chiba K, Andersson GB, Schmid T, Thonar E (2003) Recombinant osteogenic protein-1 upregulates extracellular matrix metabolism by rabbit annulus fibrosus and nucleus pulposus cells cultured in alginate beads. J Orthop Res 21:922–930

Mathy-Hartert M, Deby-Dupont GP, Reginster JY, Ayache N, Pujol JP, Henrotin YE (2002) Regulation by reactive oxygen species of interleukin-1beta, nitric oxide and prostaglandin E(2) production by human chondrocytes. Osteoarthritis Cartilage 10:547–555

Mok SS, Masuda K, Hauselmann HJ, Aydelotte MB, Thonar EJ (1994) Aggrecan synthesized by mature bovine chondrocytes suspended in alginate. Identification of two distinct metabolic matrix pools. J Biol Chem 269:33021–33027

Morales TI, Wahl LM, Hascall VC (1984) The effect of bacterial lipopolysaccharides on the biosynthesis and release of proteoglycans from calf articular cartilage cultures. J Biol Chem 259:6720–6729

Oshima H, Ishihara H, Urban JP, Tsuji H (1993) The use of coccygeal discs to study intervertebral disc metabolism. J Orthop Res 11:332–338

Palsson-McDermott EM, O'Neill LA (2004) Signal transduction by the lipopolysaccharide receptor, Toll-like receptor-4. Immunology 113:153–162

Petrov R, MacDonald MH, Tesch AM, Benton HP (2005) Inhibition of adenosine kinase attenuates interleukin-1- and lipopolysaccharide-induced alterations in articular cartilage metabolism. Osteoarthritis Cartilage 13:250–257

Rand N, Reichert F, Floman Y, Rotshenker S (1997) Murine nucleus pulposus-derived cells secrete interleukins-1-beta, −6, and −10 and granulocyte-macrophage colony-stimulating factor in cell culture. Spine 22:2598–2601

Shirota H, Hauselmann HJ, Kuettner KE, Thonar EJ-MA (1993) The chondrocyte response to bacterial lipopolysaccharides is not mediated by chondrocyte-derived interleukin-1 but involves the CD14 receptor. Ortho Trans 17:878

Specchia N, Pagnotta A, Toesca A, Greco F (2002) Cytokines and growth factors in the protruded intervertebral disc of the lumbar spine. Eur Spine J 11:145–151

Steinberg JJ, Hubbard JR, Sledge CB (1987) Chondrocyte-mediated breakdown of cartilage. J Rheumatol 14 (Special Number):55–58

Sun JS, Wu CX, Tsuang YH, Chen LT, Sheu SY (2006) The in vitro effects of dehydroepiandrosterone on chondrocyte metabolism. Osteoarthritis Cartilage 14:238–249

Tiku K, Thakker-Varia S, Ramachandrula A, Tiku ML (1992) Articular chondrocytes secrete IL-1, express membrane IL-1, and have IL-1 inhibitory activity. Cell Immunol 140:1–20

Urban JP, Roberts S (2003) Degeneration of the intervertebral disc. Arthritis Res Ther 5:120–130

Vuolteenaho K, Moilanen T, Al-Saffar N, Knowles RG, Moilanen E (2001) Regulation of the nitric oxide production resulting from the glucocorticoid-insensitive expression of iNOS in human osteoarthritic cartilage. Osteoarthritis Cartilage 9:597–605

Weber M, Gubler J, Fahrer H, Crippa M, Kissling R, Boos N, Gerber H (1999) Spondylodiscitis caused by viridans streptococci: three cases and a review of the literature. Clin Rheumatol 18:417–421

Weiler C, Nerlich AG, Bachmeier BE, Boos N (2005) Expression and distribution of tumor necrosis factor alpha in human lumbar intervertebral discs: a study in surgical specimen and autopsy controls. Spine 30:44–54
Acknowledgement
The authors thank Ms. Mary Ellen Lenz for her assistance in the preparation of the manuscript.
Additional information
This work was supported in part by NIH grants 2-P50-AR39239 and 1-P01-AR48152.
About this article
Cite this article
Aota, Y., An, H.S., Imai, Y. et al. Comparison of cellular response in bovine intervertebral disc cells and articular chondrocytes: effects .of lipopolysaccharide on proteoglycan metabolism. Cell Tissue Res 326, 787–793 (2006). https://doi.org/10.1007/s00441-006-0225-1
Received:

Accepted:

Published:

Issue Date:
Keywords
Intervertebral disc

Nucleus pulposus

Annulus fibrosus

Chondrocyte

Lipopolysaccharide

Proteoglycan

Alginate bead

Bovine