Abstract
Experimentally, temporomandibular joint (TMJ) nerve units respond to capsaicin, which is used clinically to treat TMJ pain. However, the existence of capsaicin receptors in the TMJ has not previously been clearly demonstrated. Immunohistochemical analysis has revealed the presence of transient receptor potential vanilloid subtype 1 (TRPV1) expression in the nerves and synovial lining cells of the TMJ. TRPV1-immunoreactive nerves are distributed in the synovial membrane of the joint capsule and provide branches to the joint compartment. The disc periphery is supplied by TRPV1 nerves that are mostly associated with small arterioles, and occasional nerves penetrate to the synovial lining layer. Double immunofluorescence has shown that many TRPV1-immunoreactive nerves are labeled with neuropeptide calcitonin gene-related peptide, whereas few are labeled with IB4-lectin. The results provide evidence for the presence of TRPV1 in both nerves and synovial lining cells, which might thus be involved in the mechanism of nociception and inflammation in the TMJ.
This is a preview of subscription content, log in to check access.
Access options
Buy single article
Instant access to the full article PDF.
US$ 39.95
Price includes VAT for USA
Subscribe to journal
Immediate online access to all issues from 2019. Subscription will auto renew annually.
US$ 199
This is the net price. Taxes to be calculated in checkout.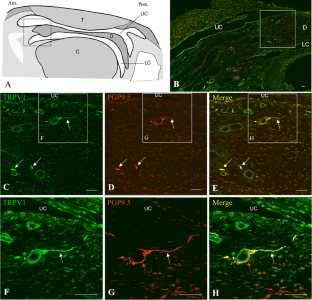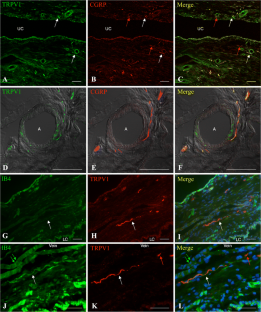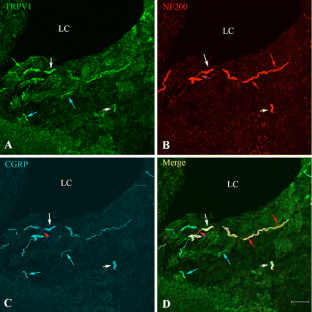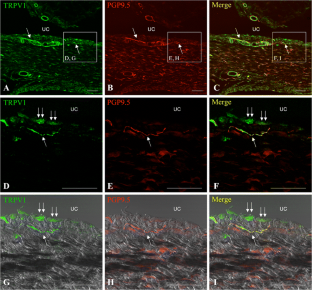 References
Birder AL, Kanai AJ, Groat WC, Kiss S, Nealen ML, Burke NE, Dineley KE, Watkins S, Reynolds IJ, Caterina MJ (2001) Vanilloid receptor expression suggests a sensory role for urinary bladder epithelial cells. Proc Nat Acad Sci USA 98:13396–13401

Birder LA, Nakamura Y, Kiss S, Nealen ML, Barrick S, Kanai AJ, Wang E, Ruiz G, De Groat WC, Apodaca G, Watkins S, Caterina MJ (2002) Altered urinary bladder function in mice lacking the vanilloid receptor TRPV1. Nat Neurosci 5:856–860

Caterina, MJ, Schumacher MA, Tominaga M, Rosen TA, Levine JD, Julius D (1997) The capsaicin receptor: a heat-activated ion channel in the pain pathway. Nature 389:816–824

Caterina MJ, Leffler A, Malmberg AB, Martin WJ, Trafton J, Petersen-Zeitz KR, Koltzenburg M, Basbaum AI, Julius D (2000) Impaired nociception and pain sensation in mice lacking the capsaicin receptor. Science 288:306–313

Chen C, Lee ST, Wu WT, Fu W, Ho F, Lin WW (2003) Signal transduction for inhibition of inducible nitric oxide synthase and cyclooxygenase-2 induction by capsaicin and related analogs in macrophages. Br J Pharmacol 140:1077–1087

Denda M, Fuziwara S, Inoue K, Denda S, Akamatsu H, Tomitaka A, Matsunaga K (2001) Immunoreactivity of VR1 on epidermal keratinocyte of human skin. Biochem Biophys Res Commun 285:1250–1252

Ichikawa H, Fukunaga T, Jin HW, Fujita M, Takano-Yamamoto T, Sugimoto T (2004) VR1-, VRL-1- and P2X3 receptor-immunoreactive innervation of the rat TMJ. Brain Res 1008:131–136

Inoue K, Koizumi S, Fuziwara S, Denda S, Inoue K, Denda M (2002) Functional vanilloid receptors in cultured normal human epidermal keratinocytes. Biochem Biophys Res Commun 291:124–129

Kido MA, Kiyoshima T, Kondo T, Ayasaka N, Moroi R, Terada Y, Tanaka T (1993) Distribution of substance P and calcitonin gene-related peptide-like immunoreactive nerve fibers in the rat TMJ. J Dent Res 72:592–598

Kido MA, Kiyoshima T, Ibuki T, Shimizu S, Kondo T, Terada Y, Tanaka T (1995) A topographical and ultrastructural study of sensory trigeminal nerve endings in the rat TMJ as demonstrated by anterograde transport of wheat germ agglutinin-horseradish peroxidase (WGA-HRP). J Dent Res 74:1353–1359

Kido MA, Zhang J, Muroya H, Yamaza T, Terada Y, Tanaka T (2001) Topography and distribution of sympathetic nerve fibers in the rat TMJ: immunocytochemistry and ultrastructure. Anat Embryol 203:357–366

Kido MA, Muroya H, Yamaza T, Terada Y, Tanaka T (2003) Vanilloid receptor expression in the rat tongue and palate. J Dent Res 82:393–397

Kopp S (2001) Neuroendocrine, immune, and local responses related to temporomandibular disorders. J Orofac Pain 15:9–28

Kress M, Zeilhofer HU (1999) Capsaicin, protons and heat: new excitement about nociceptors. Trends Pharmacol Sci 20:112–118

Marchand F, Perretti M, McMahon SB (2005) Role of the immune system in chronic pain. Nat Rev Neurosci 6:521–532

Michael GJ, Averill S, Nitkunan A, Rattray M, Bennett DLH, Yan Q, Priestley JV (1997) Nerve growth factor treatment increases brain-derived neurotrophic factor selectively in TrkA-expressing dorsal root ganglion cells and in their central terminations within the spinal cord. J Neurosci 17:8476–8490

Numazaki M, Tominaga M (2004) Nociception and TRP channels. Curr Drug Targets CNS Neurol Disord 3:479–485 Review

Rice FL (1993) Structure, vascularization, and innervation of the mystacial pad of the pat as revealed by the lectin Griffonia simplicifolia. J Comp Neurol 337:386–399

Singh S, Natarajan K, Aggarwal BB (1996) Capsaicin (8-methyl-N-vanillyl-6-nonenamide) is a potent inhibitor of nuclear transcription factor-κB activation by diverse agents. J Immunol 157:4412–4420

Snider WD, McMahon SB (1998) Tackling pain at the source: new ideas about nociceptors. Neuron 20:629–632

Southall MD, Li T, Gharibova LS, Pei Y, Nicol GD, Travers JB (2003) Activation of epidermal vanilloid receptor-1 induces release of proinflammatory mediators in human keratinocytes. J Pharmacol Exp Ther 304:217–222

Takahashi T, Kondoh T, Kamei K, Seri H, Fukuda M, Nagai H, Takano H, Yamazaki Y (1996) Elevated levels of nitric oxide in synovial fluid from patients with temporomandibular disorders. Oral Surg Oral Med Oral Pathol Oral Radiol Endod 82:505–509

Takeuchi Y, Ishii N, Toda K (2001) An in vitro TMJ-nerve preparation for pain study in rats. J Neurosci Methods 109:123–128

Takeuchi Y, Toda K (2003) Subtypes of nociceptive units in the rat temporomandibular joint. Brain Res Bull 61:603–608

Yamaza T, Masuda KF, Tsukiyama Y, Nishijima K, Murakami R, Kido MA, Koyano K, Tanaka T (2003) NF-κB activation and iNOS expression in the synovial membrane of rat TMJs after induced synovitis. J Dent Res 82:183–188
Acknowledgement
We appreciate the advice and expertise of T. Kondo.
Additional information
This study was supported by a grant-in-aid for Scientific Research (C), no. 15591938, from the Japanese Ministry of Education, Science, Sports, Culture, and Technology (to M.A.K.).
About this article
Cite this article
Ioi, H., Kido, M.A., Zhang, J. et al. Capsaicin receptor expression in the rat temporomandibular joint. Cell Tissue Res 325, 47–54 (2006). https://doi.org/10.1007/s00441-006-0183-7
Received:

Accepted:

Published:

Issue Date:
Keywords
Capsaicin

Transient receptor potential vanilloid subtype 1/vanilloid receptor 1

Temporomandibular joint

Immunohistochemistry

Rat (Sprague Dawley, male)