Abstract
Fetal exposure to elevated levels of glucocorticoids can occur naturally when maternal glucocorticoids are elevated in times of stress or when exogenous glucocorticoids are administered. Epidemiological studies and animal models have shown that, whereas short-term benefits may be associated with fetal glucocorticoid exposure, long-term deleterious effects may arise. This review compares the effects of exposure to natural versus synthetic glucocorticoids and considers the ways in which the timing of the exposure and the sex of the fetus may influence outcomes. Some of the long-term effects of glucocorticoid exposure may be explained by epigenetic mechanisms.
This is a preview of subscription content, log in to check access.
Access options
Buy single article
Instant access to the full article PDF.
US$ 39.95
Price includes VAT for USA
Subscribe to journal
Immediate online access to all issues from 2019. Subscription will auto renew annually.
US$ 199
This is the net price. Taxes to be calculated in checkout.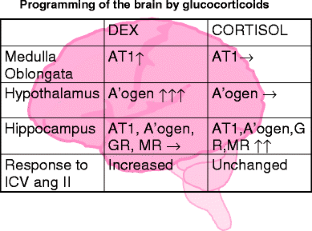 References
Alfaidy N, Gupta S, DeMarco C, Caniggia I, Challis JR (2002) Oxygen regulation of placental 11 beta-hydroxysteroid dehydrogenase 2: physiological and pathological implications. J Clin Endocrinol Metab 87:4797–4805

Andrews MH, Kostaki A, Setiawan E, McCabe L, Matthews SG (2004) Developmental regulation of 5-HT1A receptor mRNA in the fetal limbic system: response to antenatal glucocorticoid. Brain Res Dev Brain Res 149:39–44

Ausio J, Levin DB, De Amorim GV, Bakker S, Macleod PM (2003) Syndromes of disordered chromatin remodeling. Clin Genet 64:83–95

Banjanin S, Kapoor A, Matthews SG (2004) Prenatal glucocorticoid exposure alters hypothalamic–pituitary–adrenal function and blood pressure in mature male guinea pigs. J Physiol (Lond) 558:305–318

Barbazanges A, Piazza PV, Le Moal M, Maccari S (1996) Maternal glucocorticoid secretion mediates long-term effects of prenatal stress. J Neurosci 16:3943–3949

Bauer B, Hartz AM, Fricker G, Miller DS (2004) Pregnane X receptor up-regulation of P–glycoprotein expression and transport function at the blood-brain barrier. Mol Pharmacol 66:413–419

Bispham J, Gopalakrishnan GS, Dandrea J, Wilson V, Budge H, Keisler DH, Broughton Pipkin F, Stephenson T, Symonds ME (2003) Maternal endocrine adaptation throughout pregnancy to nutritional manipulation: consequences for maternal plasma leptin and cortisol and the programming of fetal adipose tissue development. Endocrinology 144:3575–3585

Bloomfield FH, Oliver MH, Hawkins P, Campbell M, Phillips DJ, Gluckman PD, Challis JR, Harding JE (2003) A periconceptional nutritional origin for noninfectious preterm birth. Science 300:606

Bloomfield FH, Oliver MH, Hawkins P, Holloway AC, Campbell M, Gluckman PD, Harding JE, Challis JR (2004) Periconceptional undernutrition in sheep accelerates maturation of the fetal hypothalamic–pituitary–adrenal axis in late gestation. Endocrinology 145:4278–4285

Bourc'his D, Bestor TH (2004) Meiotic catastrophe and retrotransposon reactivation in male germ cells lacking Dnmt3L. Nature 431:96–99

Celsi G, Kistner A, Aizman R, Eklof AC, Ceccatelli S, Santiago A de, Jacobson SH (1998) Prenatal dexamethasone causes oligonephronia, sodium retention, and higher blood pressure in the offspring. Pediatr Res 44:317–322

Clifton VL, Murphy VE (2004) Maternal asthma as a model for examining fetal sex-specific effects on maternal physiology and placental mechanisms that regulate human fetal growth. Placenta 25 (Suppl A):S45–S52

Dodic M, May CN, Wintour EM, Coghlan JP (1998) An early prenatal exposure to excess glucocorticoid leads to hypertensive offspring in sheep. Clin Sci (Lond) 94:149–155

Dodic M, Peers A, Coghlan JP, May CN, Lumbers E, Yu Z, Wintour EM (1999) Altered cardiovascular haemodynamics and baroreceptor-heart rate reflex in adult sheep after prenatal exposure to dexamethasone. Clin Sci (Lond) 97:103–109

Dodic M, Abouantoun T, O'Connor A, Wintour EM, Moritz KM (2002a) Programming effects of short prenatal exposure to dexamethasone in sheep. Hypertension 40:729–734

Dodic M, Hantzis V, Duncan J, Rees S, Koukoulas I, Johnson K, Wintour EM, Moritz K (2002b) Programming effects of short prenatal exposure to cortisol. FASEB J 16:1017–1026

Dodic M, Moritz K, Wintour EM (2003) Prenatal exposure to glucocorticoids and adult disease.Arch Physiol Biochem 111:61-69

Drake AJ, Walker BR, Seckl JR (2004) Intergenerational consequences of fetal programming by in utero exposure to glucocorticoids in rats. Am J Physiol 288:R34-R38

Egger G, Liang G, Aparicio A, Jones PA (2004) Epigenetics in human disease and prospects for epigenetic therapy. Nature 429:457–463

Figueroa JP, Acuna G, Rose JC, Massmann GA (2004) Maternal antenatal steroid administration at 0.55 gestation increases arterial blood pressure in young adult sheep offspring. J Soc Gynecol Invest (Suppl) 11:358A

Fowden AL, Forhead AJ (2004) Endocrine mechanisms of intrauterine programming. Reproduction 127:515–526

Fujisawa Y, Nakagawa Y, Ren-Shan L, Ohzeki T (2004) Streptozotocin-induced diabetes in the pregnant rat reduces 11 beta-hydroxysteroid dehydrogenase type 2 expression in placenta and fetal kidney. Life Sci 75:2797–2805

Goldstone AP (2004) Prader–Willi syndrome: advances in genetics, pathophysiology and treatment. Trends Endocrinol Metab 15:12–20

Gomez Sanchez EP (1991) What is the role of the central nervous system in mineralocorticoid hypertension? Am J Hypertens 4:374–381

Hantzis V, Albiston A, Matsacos D, Wintour EM, Peers A, Koukoulas I, Myles K, Moritz K, Dodic M (2002) Effect of early glucocorticoid treatment on MR and GR in late gestation ovine kidney. Kidney Int 61:405–413

Hassig CA, Schreiber SL (1997) Nuclear histone acetylases and deacetylases and transcriptional regulation: HATs off to HDACs. Curr Opin Chem Biol 1:300–308

Henikoff S, Furuyama T, Ahmad K (2004) Histone variants, nucleosome assembly and epigenetic inheritance. Trends Genet 20:320–326

Huang BS, Wang H, Leenen FH (2005) Chronic central infusion of aldosterone leads to sympathetic hyperreactivity and hypertension in Dahl S but not Dahl R rats.Am J Physiol 288:H517-H524

Jobe AH, Newnham JP, Moss TJ, Ikegami M (2003) Differential effects of maternal betamethasone and cortisol on lung maturation and growth in fetal sheep. Am J Obstet Gynecol 188:22–28

Jobe AH, Soll RF (2004) Choice and dose of corticosteroid for antenatal treatments. Am J Obstet Gynecol 190:878–881

John RM, Surani MA (2000) Genomic imprinting, mammalian evolution, and the mystery of egg-laying mammals. Cell 101:585–588

Kajantie E, Dunkel L, Turpeinen U, Stenman UH, Wood PJ, Nuutila M, Andersson S (2003) Placental 11 beta-hydroxysteroid dehydrogenase-2 and fetal cortisol/cortisone shuttle in small preterm infants. J Clin Endocrinol Metab 88:493–500

Kane MF, Loda M, Gaida GM, Lipman J, Mishra R, Goldman H, Jessup JM, Kolodner R (1997) Methylation of the hMLH1 promoter correlates with lack of expression of hMLH1 in sporadic colon tumors and mismatch repair-defective human tumor cell lines. Cancer Res 57:808–811

Kanitz E, Otten W, Tuchscherer M, Manteuffel G (2003) Effects of prenatal stress on corticosteroid receptors and monoamine concentrations in limbic areas of suckling piglets (Sus scrofa) at different ages. J Vet Med A Physiol Pathol Clin Med 50:132–139

Kliewer SA, Goodwin B, Willson TM (2002) The nuclear pregnane X receptor: a key regulator of xenobiotic metabolism. Endocr Rev 23:687–702

Langley-Evans SC (1997) Hypertension induced by foetal exposure to a maternal low-protein diet, in the rat, is prevented by pharmacological blockade of maternal glucocorticoid synthesis. J Hypertens 15:537–544

Lanz B, Kadereit B, Ernst S, Shojaati K, Causevic M, Frey BM, Frey FJ, Mohaupt MG (2003) Angiotensin II regulates 11beta-hydroxysteroid dehydrogenase type 2 via AT2 receptors. Kidney Int 64:970–977

Laplante DP, Barr RG, Brunet A, Galbaud du Fort G, Meaney ML, Saucier JF, Zelazo PR, King S (2004) Stress during pregnancy affects general intellectual and language functioning in human toddlers. Pediatr Res 56:400–410

Lesage J, Hahn D, Leonhardt M, Blondeau B, Breant B, Dupouy JP (2002) Maternal undernutrition during late gestation-induced intrauterine growth restriction in the rat is associated with impaired placental GLUT3 expression, but does not correlate with endogenous corticosterone levels. J Endocrinol 174:37–43

Lesage J, Del-Favero F, Leonhardt M, Louvart H, Maccari S, Vieau D, Darnaudery M (2004) Prenatal stress induces intrauterine growth restriction and programmes glucose intolerance and feeding behaviour disturbances in the aged rat. J Endocrinol 181:291–296

Levitt NS, Lindsay RS, Holmes MC, Seckl JR (1996) Dexamethasone in the last week of pregnancy attenuates hippocampal glucocorticoid receptor gene expression and elevates blood pressure in the adult offspring in the rat. Neuroendocrinology 64:412–418

Liu L, Li A, Matthews SG (2001) Maternal glucocorticoid treatment programs HPA regulation in adult offspring: sex-specific effects. Am J Physiol 280:E729-E739

Lu NZ, Cidlowski JA (2004) The origin and functions of multiple human glucocorticoid receptor isoforms. Ann N Y Acad Sci 1024:102–123

MacLennan NK, James SJ, Melnyk S, Piroozi A, Jernigan S, Hsu JL, Janke SM, Pham TD, Lane RH (2004) Uteroplacental insufficiency alters DNA methylation, one-carbon metabolism, and histone acetylation in IUGR rats. Physiol Genomics 18:43–50

McAlinden A, Moritz KM, Jefferies A, Cock M, Wintour EM, May CN, Dodic M (2004) Elevated sympathetic activity may play a role in adult hypertension induced by prenatal exposure to cortisol. 31st Annual Meeting of the Fetal and Neonatal Physiological Society, Tuscany, Italy, September 11–14, abstract 39

McDonald TJ, Franko KL, Brown JM, Jenkins SL, Nathanielsz PW, Nijland MJ (2003) Betamethasone in the last week of pregnancy causes fetal growth retardation but not adult hypertension in rats. J Soc Gynecol Investig 10:469–473

McMullen S, Langley-Evans SC (2005) Maternal low-protein diet in rat pregnancy programs blood pressure through sex-specific mechanisms.Am J Physiol 288:R85-R90.

Mei Q, Richards K, Strong-Basalyga K, Fauty SE, Taylor A, Yamazaki M, Prueksaritanont T, Lin JH, Hochman J (2004) Using real-time quantitative TaqMan RT-PCR to evaluate the role of dexamethasone in gene regulation of rat P-glycoproteins mdr1a/1b and cytochrome P450 3A1/2. J Pharm Sci 93:2488–2496

Millar CB, Guy J, Sansom OJ, Selfridge J, MacDougall E, Hendrich B, Keightley PD, Bishop SM, Clarke AR, Bird A (2002) Enhanced CpG mutability and tumorigenesis in MBD4-deficient mice. Science 297:403–405

Molnar J, Howe DC, Nijland MJ, Nathanielsz PW (2003) Prenatal dexamethasone leads to both endothelial dysfunction and vasodilatory compensation in sheep. J Physiol (Lond) 547:61–66

Montaron MF, Piazza PV, Aurousseau C, Urani A, Le Moal M, Abrous DN (2003) Implication of corticosteroid receptors in the regulation of hippocampal structural plasticity. Eur J Neurosci 18:3105–111

Moritz KM, Johnson K, Douglas-Denton R, Wintour EM, Dodic M (2002) Maternal glucocorticoid treatment programs alterations in the renin–angiotensin system of the ovine fetal kidney. Endocrinology 143:4455–4463

Moritz KM, Bertram JF, Douglas-Denton R, Wintour EM, Dodic M (2004) Reduced nephron number in the late gestation fetus after early maternal glucocorticoid treatment. 9th International Workshop on Developmental Nephrology, Barossa Valley, Australia, September, 2004

Moritz KM, Jefferies AJ, Wintour EM, Dodic M (2005) Fetal renal and blood pressure responses to steroid infusion after early prenatal treatment with dexamethasone. Am J Physiol 288:R62-R66

Moss TJ, Sloboda DM, Gurrin LC, Harding R, Challis JR, Newnham JP (2001) Programming effects in sheep of prenatal growth restriction and glucocorticoid exposure. Am J Physiol 281:R960-R970

Murphy VE, Zakar T, Smith R, Giles WB, Gibson PG, Clifton VL (2002) Reduced 11beta-hydroxysteroid dehydrogenase type 2 activity is associated with decreased birth weight centile in pregnancies complicated by asthma. J Clin Endocrinol Metab 87:1660–1668

Nicholls RD, Saitoh S, Horsthemke B (1998) Imprinting in Prader–Willi and Angelman syndromes. Trends Genet 14:194–200

Oostra BA, Willemsen R (2002) The X chromosome and fragile X mental retardation. Cytogenet Genome Res 99:257–264

Ortiz LA, Quan A, Weinberg A, Baum M (2001) Effect of prenatal dexamethasone on rat renal development. Kidney Int 59:1663–1669

Ortiz LA, Quan A, Zarzar F, Weinberg A, Baum M (2003) Prenatal dexamethasone programs hypertension and renal injury in the rat. Hypertension 41:328–334

Prokhortchouk A, Hendrich B, Jorgensen H, Ruzov A, Wilm M, Georgiev G, Bird A, Prokhortchouk E (2001) The p120 catenin partner Kaiso is a DNA methylation-dependent transcriptional repressor. Genes Dev 15:1613–1618

Ravelli AC, Meulen JH van der, Michels RP, Osmond C, Barker DJ, Hales CN, Bleker OP (1998) Glucose tolerance in adults after prenatal exposure to famine. Lancet 351:173–177

Rebuffat AG, Tam S, Nawrocki AR, Baker ME, Frey BM, Frey FJ, Odermatt A (2004) The 11-ketosteroid 11-ketodexamethasone is a glucocorticoid receptor agonist. Mol Cell Endocrinol 214:27–37

Reik W, Walter J (1998) Imprinting mechanisms in mammals. Curr Opin Genet Dev 8:154–164

Reik W, Dean W, Walter J (2001) Epigenetic reprogramming in mammalian development. Science 293:1089–1093

Reznikov AG, Nosenko ND, Tarasenko LV (2004) Early postnatal effects of prenatal exposure to glucocorticoids on testosterone metabolism and biogenic monoamines in discrete neuroendocrine regions of the rat brain. Comp Biochem Physiol C Toxicol Pharmacol 138:169–175

Richards EM, Hua Y, Keller-Wood M (2003) Pharmacology and physiology of ovine corticosteroid receptors. Neuroendocrinology 77:2–14

Risinger JI, Maxwell GL, Berchuck A, Barrett JC (2003) Promoter hypermethylation as an epigenetic component in type I and type II endometrial cancers. Ann N Y Acad Sci 983:208–212

Rogerson FM, Yao YZ, Smith BJ, Dimopoulos N, Fuller PJ (2003) Determinants of spironolactone binding specificity in the mineralocorticoid receptor. J Mol Endocrinol 31:573–582

Roghair RD, Lamb FS, Miller Jr FJ, Scholz TD, Segar JL (2005) Early gestation dexamethasone programs enhanced postnatal ovine coronary artery vascular reactivity.Am J Physiol 288:R46-R53.

Ruijter AJ de, Gennip AH van, Caron HN, Kemp S, Kuilenburg AB van (2003) Histone deacetylases (HDACs): characterization of the classical HDAC family. Biochem J 370:737–749

Rush LJ, Raval A, Funchain P, Johnson AJ, Smith L, Lucas DM, Bembea M, Liu TH, Heerema NA, Rassenti L, Liyanarachchi S, Davuluri R, Byrd JC, Plass C (2004) Epigenetic profiling in chronic lymphocytic leukemia reveals novel methylation targets. Cancer Res 64:2424–2433

Seckl JR (1997) Glucocorticoids, feto-placental 11 beta-hydroxysteroid dehydrogenase type 2, and the early life origins of adult disease. Steroids 62:89–94

Tokumaru Y, Yamashita K, Osada M, Nomoto S, Sun DI, Xiao Y, Hoque MO, Westra WH, Califano JA, Sidransky D (2004) Inverse correlation between cyclin A1 hypermethylation and p53 mutation in head and neck cancer identified by reversal of epigenetic silencing. Cancer Res 64:5982–5987

Tresham JJ, Coghlan JP, Whitworth JA, Scoggins BA (1990) Lack of pressor response to intracerebroventricular infusion of aldosterone in sheep. Clin Exp Pharmacol Physiol 17:377–380

Wade PA (2001) Methyl CpG-binding proteins and transcriptional repression. BioEssays 23:1131–1137

Weaver IC, Cervoni N, Champagne FA, D'Alessio AC, Sharma S, Seckl JR, Dymov S, Szyf M, Meaney MJ (2004a) Epigenetic programming by maternal behavior. Nat Neurosci 7:847–854

Weaver IC, Diorio J, Seckl JR, Szyf M, Meaney MJ (2004b) Early environmental regulation of hippocampal glucocorticoid receptor gene expression: characterization of intracellular mediators and potential genomic target sites. Ann N Y Acad Sci 1024:182–212

Weinstock M (1997) Does prenatal stress impair coping and regulation of hypothalamic–pituitary–adrenal axis? Neurosci Biobehav Rev 21:1–10

Wilcoxon JS, Schwartz J, Aird F, Redei EE (2003) Sexually dimorphic effects of maternal alcohol intake and adrenalectomy on left ventricular hypertrophy in rat offspring. Am J Physiol 285:E31–E39

Wintour EM, Alcorn D, Butkus A, Congiu M, Earnest L, Pompolo S, Potocnik SJ (1996) Ontogeny of hormonal and excretory function of the meso- and metanephros in the ovine fetus. Kidney Int 50:1624–1633

Wintour EM, Johnson K, Koukoulas I, Moritz K, Tersteeg M, Dodic M (2003a) Programming the cardiovascular system, kidney and the brain—a review. Placenta 24 (Suppl A):S65–S71

Wintour EM, Moritz KM, Johnson K, Ricardo S, Samuel CS, Dodic M (2003b) Reduced nephron number in adult sheep, hypertensive as a result of prenatal glucocorticoid treatment. J Physiol (Lond) 549:929–935

Wintour EM, Liu H, Dodic M, Moritz KM (2004) Differential renal and cardiac gene expression in ovine fetuses programmed to become hypertensive adults by early glucocorticoid treatment. 12th International Congress of Endocrinology, Lisbon

Woods LL, Weeks DA, Rasch R (2004) Programming of adult blood pressure by maternal protein restriction: role of nephrogenesis.Kidney Int 65:1339-1348
About this article
Cite this article
Moritz, K.M., Boon, W.M. & Wintour, E.M. Glucocorticoid programming of adult disease. Cell Tissue Res 322, 81–88 (2005). https://doi.org/10.1007/s00441-005-1096-6
Received:

Accepted:

Published:

Issue Date:
Keywords
Glucocorticoids (synthetic/natural)

Fetal exposure

Fetal sex

Short-term benefits

Long-term problems

Epigenetic mechanisms

Disease