Abstract
An immunogold-labelling electron-microscopic study of the frontal ganglion of two noctuids, Lacanobia oleracea and Helicoverpa armigera, has been carried out with antisera directed against three neuropeptides; allatostatins of the Y/FXFGL-NH2 type, Manduca sexta allatostatin (Mas-AS) and M. sexta allatotropin. The ganglion of both noctuids has two pairs of large peptidergic neurones with many clusters of electron-dense granules, one pair being situated anteriorly and the other posteriorly. By means of a double-labelling ("flip-flop") technique, with different sizes of gold particles, all possible paired combinations of the three different types of peptide have been visualised within granules of the anterior neurones, leading to the conclusion that the three peptides are co-packaged and co-stored in these cells. Within the posterior neurones of L. oleracea, gold labelling of granules is only linked to the Y/FXFGL-NH2 allatostatin antisera and, in contrast to the anterior cells of this species in which double gold labelling results in a sparse accumulation of gold particles for any one peptide type, single labelling gives a more intense, uniform pattern of gold particles. In contrast to L. oleracea, the gold-labelling pattern seen in the posterior neurones of H. armigera reflects the co-localisation of allatostatins of the Y/FXFGL-NH2 type with Mas-AS in this species. Allatotropin is absent in the posterior neurones of both species.
This is a preview of subscription content, log in to check access.
Access options
Buy single article
Instant access to the full article PDF.
US$ 39.95
Price includes VAT for USA
Subscribe to journal
Immediate online access to all issues from 2019. Subscription will auto renew annually.
US$ 199
This is the net price. Taxes to be calculated in checkout.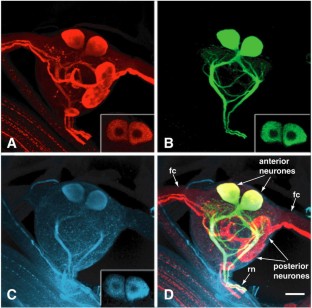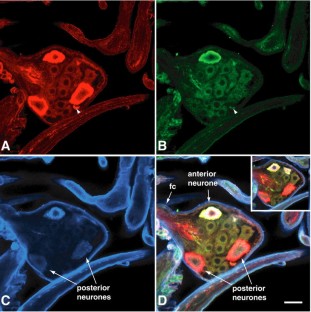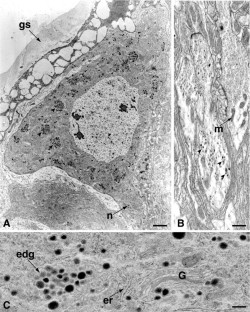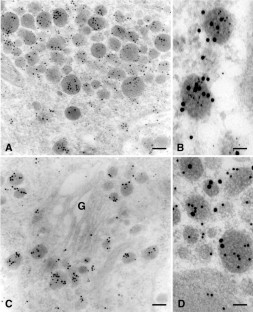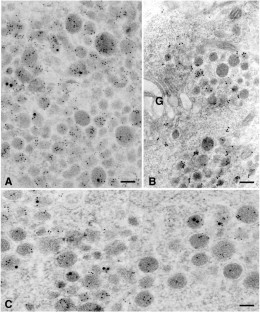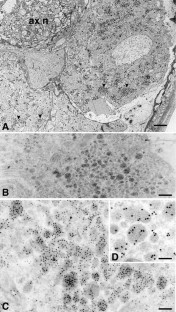 References
Ayali A, Zilberstein Y, Cohen N (2002) The locust frontal ganglion: a central generator network controlling foregut rhythmic motor patterns. J Exp Biol 205:2825–2832

Bendayan M (1982) Double immunocytochemical labelling applying the protein A-gold technique. J Histochem Cytochem 30:81–85

Bushman DW, Nelson JO (1990) The role of the frontal ganglion and corpora cardiaca/corpora allata complex in post-feeding weight loss in adult Heliothis zea. Physiol Entomol 15:269–274

Davey M, Duve H, Thorpe A, East P (1999) Characterisation of the helicostatin peptide precursor gene from Helicoverpa armigera (Lepidoptera: Noctuidae). Insect Biochem Mol Biol 29:1119–1127

Davis NT, Velleman SG, Kingan TG, Keshishian H (1989) Identification and distribution of a proctolin-like neuropeptide in the nervous system of the gypsy moth, Lymantria dispar, and in other Lepidoptera. J Comp Neurol 283:71–85

Duve H, Thorpe A (2003) Neuropeptide co-localisation in the lepidopteran frontal ganglion studied by confocal laser scanning microscopy. Cell Tissue Res 311:79–89

Duve H, Johnsen AH, Maestro J-L, Scott AG, Winstanley D, Davey M, East P, Thorpe A (1997a) Lepidopteran peptides of the allatostatin superfamily. Peptides 18:1031–1039

Duve H, Johnsen AH, Maestro J-L, Scott AG, Crook N, Winstanley D, Thorpe A (1997b) Identification, tissue localisation and physiological effect in vitro of a neuroendocrine peptide identical to a dipteran Leu-callatostatin in the codling moth Cydia pomonella (Tortricidae: Lepidoptera). Cell Tissue Res 289:73–83

Duve H, East P, Thorpe A (1999) Regulation of lepidopteran foregut movement by allatostatins and allatotropin from the frontal ganglion. J Comp Neurol 413:405–416

Duve H, Audsley N, Weaver RJ, Thorpe A (2000) Triple co-localisation of two types of allatostatin and an allatotropin in the frontal ganglion of the lepidopteran Lacanobia oleracea (Noctuidae): innervation and action on the foregut. Cell Tissue Res 300:153–163

Duve H, Audsley N, Weaver R, Thorpe A (2003) Allatostatins and allatotropin in the corpus cardiacum/corpus allatum complex of larval and adult lepidopterans studied by confocal laser scanning microscopy: correlation to juvenile hormone biosynthesis. Cell Tissue Res 314:281–295

Jansons IS, Cusson M, McNeil JN, Tobe SS, Bendena WG (1996) Molecular characterisation of a cDNA from Pseudaletia unipuncta encoding the Manduca sexta allatostatin peptide Mas-AST. Insect Biochem Mol Biol 26:767–773

Kataoka H, Toschi A, Li JP, Carney RL, Schooley DA, Kramer SJ (1989) Identification of an allatotropin from adult Manduca sexta. Science 243:1481–1483

Kramer SJ, Toschi A, Miller CA, Kataoka H, Quistad GB, Li JP, Carney RL, Schooley DA (1991) Identification of an allatostatin from the tobacco hornworm Manduca sexta. Proc Natl Acad Sci USA 88:9458–9462

Larsson L-I (1996) Immunogold labelling of neuroendocrine peptides with special reference to antibody specificity and multiple staining techniques. Histochem Cell Biol 106:93–103

Miles CI, Booker R (1994) The role of the frontal ganglion in foregut movements of the moth Manduca sexta. J Comp Physiol 174:755–767

Rourke IJ (1993) The neuroendocrine regulation of juvenile hormone production in adult female Helicoverpa armigera (Lepidoptera: Noctuidae). PhD Thesis, Australian National University

Timmins WA, Reynolds SE (1992) Physiological mechanisms underlying the control of meal size in Manduca sexta larvae. Physiol Entomol 17:81–91

Vilim FS, Price DA, Lesser W, Kupfermann I, Weiss KR (1996a) Costorage and corelease of modulatory peptide cotransmitters with partially antagonistic actions on the accessory radula closer muscle of Aplysia californica. J Neurosci 16:8092–8104

Vilim FS, Cropper EC, Price DA, Kupfermann I, Weiss KR (1996b) Release of peptide cotransmitters in Aplysia: regulation and functional implications. J Neurosci 16:8105–8114

Vilim FS, Cropper EC, Price DA, Kupfermann I, Weiss KR (2000) Peptide cotransmitter release from motorneuron B16 in Aplysia californica: costorage, corelease and functional implications. J. Neurosci 20:2036–2042
Acknowledgements
We thank Dr. N. Audsley of the Central Science Laboratory, Sand Hutton, York for the supply of L. oleracea used in the study. We also thank Sally Stowe from the EM unit of the Australian National University, Canberra, Australia for the use of facilities and helpful advice.
Additional information
Grant funding was from the Wellcome Trust: grant no. 068105 (A.T.)
About this article
Cite this article
Duve, H., Pell, K., Hines, E. et al. Neuropeptide co-localisation in the lepidopteran frontal ganglion studied by electron-microscopic gold-labelling immunocytochemistry. Cell Tissue Res 320, 187–199 (2005). https://doi.org/10.1007/s00441-004-1056-6
Received:

Accepted:

Published:

Issue Date:
Keywords
Neuropeptide co-localisation

Immunocytochemistry

Electron microscopy

Gold labelling

Lacanobia oleracea
Helicoverpa armigera (Insecta)