Abstract
To determine the effects of vitamin supplementation on the lipid-peroxidation-mediated toxicity of iron-ions on corneal endothelial cells (CECs) leading to apoptosis, murine CECs were maintained in tissue culture medium supplemented with increasing concentrations of free iron-ions, a treatment known to lead to increased lipid-peroxidation. The concentration of anti-oxidative vitamins (ascorbic acid, tocopherol and retinoic acid) in the cell supernatant and in the cells was determined by high-pressure liquid chromatography. Apoptosis was assessed by quantification of caspase-3-like activity and by using annexin-V/propidium iodide stains for flow cytometry. Lipid-peroxidation was measured by the malondialdehyde method. Supplementation with anti-oxidative vitamins was tested for the ability to counteract the induction of apoptosis. The production of nitric oxide was assessed spectrophotometrically and the expression levels of inducible and endothelial nitric oxide synthase were determined by Western blot. Increasing levels of free iron led to a rapid loss of anti-oxidative vitamins in the supernatant and in the CECs. This was correlated with rising levels of malondialdehyde and increased apoptosis. Supplementation with ascorbic acid or α-tocopherol alone did not prevent lipid-peroxidation in the cells. A combination of vitamins C and E (ascorbic acid, tocopherol) or solitary supplementation with vitamin A (retinoic acid) prevented lipid-peroxidation. We thus present a novel in vitro model for testing the direct influence of pro-oxidative species on CECs. We also show that supplementation with anti-oxidative vitamins to CECs significantly prevents the generation of free-radical-induced oxidative injury and apoptosis. These findings may have important implications for the storage of human corneae prior to transplantation and for the prolongation of corneal graft survival.
This is a preview of subscription content, log in to check access.
Access options
Buy single article
Instant access to the full article PDF.
US$ 39.95
Price includes VAT for USA
Subscribe to journal
Immediate online access to all issues from 2019. Subscription will auto renew annually.
US$ 199
This is the net price. Taxes to be calculated in checkout.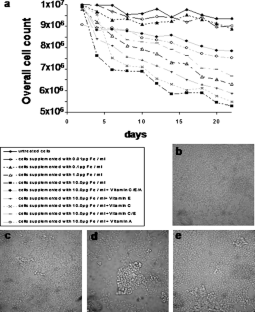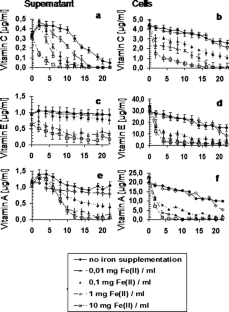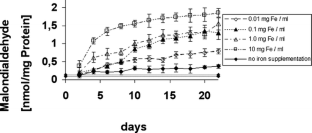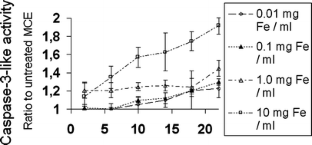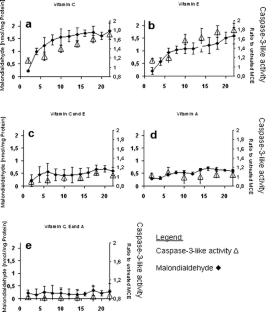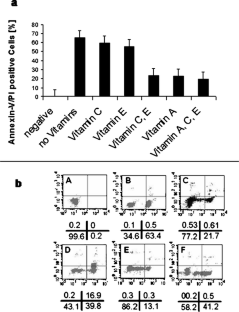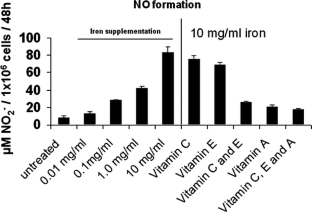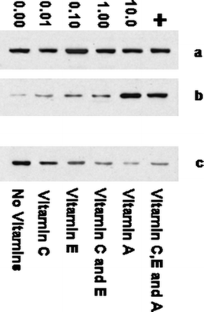 Abbreviations
CECs:

Corneal endothelial cells

eNOS:

Endothelial nitric oxide synthase

HPLC:

High performance lipid chromatography

iNOS:

Inducible nitric oxide synthase

MDA:

Malondialdehyde

NO:

Nitric oxide

ROS:

Reactive oxygen species
References
CCTS (1992) The Collaborative Corneal Transplantation Studies (CCTS): effectiveness of histocompatibility matching in high-risk corneal transplantation. The Collaborative Corneal Transplantation Studies Research Group. Arch Ophthalmol 110:1392–1403

Ahn B, Han BS, Kim DJ, Ohshima H (1999) Immunohistochemical localization of inducible nitric oxide synthase and 3-nitrotyrosine in rat liver tumors induced by N-nitrosodiethylamine. Carcinogenesis 20:1337–1344

Beckman JS, Koppenol WH (1996) Nitric oxide, superoxide, and peroxynitrite: the good, the bad, and ugly. Am J Physiol 271:C1424–C1437

Becquet F, Courtois Y, Goureau O (1997) Nitric oxide in the eye: multifaceted roles and diverse outcomes. Surv Ophthalmol 42:71–82

Beutelspacher SC, Serbecic N, Tan PH, Mehrabi M, Nielsen P, Yamane Y (2004) Low-dose ethanol modulates toxic effect of iron-overloading in the liver. J Nutr Sci Vitaminol 50:78–86

Bhuyan DK, Master RW, Bhuyan KC (1996) Crosslinking of aminophospholipids in cellular membranes of lens by oxidative stress in vitro. Biochim Biophys Acta 1285:21–28

Bohringer D, Reinhard T, Spelsberg H, Sundmacher R (2002) Influencing factors on chronic endothelial cell loss characterised in a homogeneous group of patients. Br J Ophthalmol 86:35–38

Bourne WM (2001) Cellular changes in transplanted human corneas. Cornea 20:560–569

Bourne WM, Nelson LR, Hodge DO (1997) Central corneal endothelial cell changes over a ten-year period. Invest Ophthalmol Vis Sci 38:779–782

Buddi R, Lin B, Atilano SR, Zorapapel NC, Kenney MC, Brown DJ (2002) Evidence of oxidative stress in human corneal diseases. J Histochem Cytochem 50:341–351

Campo GM, D'Ascola A, Avenoso A, Campo S, Ferlazzo AM, Micali C, Zanghi L, Calatroni A (2003) Glycosaminoglycans reduce oxidative damage induced by copper (Cu+2), iron (Fe+2) and hydrogen peroxide (H2O2) in human fibroblast cultures. Glycoconj J 20:133–141

Cejkova J, Stipek S, Crkovska J, Ardan T and Midelfart A (2001) Reactive oxygen species (ROS)-generating oxidases in the normal rabbit cornea and their involvement in the corneal damage evoked by UVB rays. Histol Histopathol 16:523–533

Cross AH, Manning PT, Stern MK, Misko TP (1997) Evidence for the production of peroxynitrite in inflammatory CNS demyelination. J Neuroimmunol 80:121–130

Dong QG, Bernasconi S, Lostaglio S, De Calmanovici RW, Martin-Padura I, Breviario F, Garlanda C, Ramponi S, Mantovani A, Vecchi A (1997) A general strategy for isolation of endothelial cells from murine tissues: characterization of two endothelial cell lines from the murine lung and subcutaneous sponge implants. Arterioscler Thromb Vasc Biol 17:1599–1604

Esterbauer H, Dieber-Rotheneder M, Striegl G, Waeg G (1991a) Role of vitamin E in preventing the oxidation of low-density lipoprotein. Am J Clin Nutr 53:314S–321S

Esterbauer H, Puhl H, Dieber-Rotheneder M, Waeg G, Rabl H (1991b) Effect of antioxidants on oxidative modification of LDL. Ann Med 23:573–581

Estrada C, Gomez C, Martin-Nieto J, De Frutos T, Jimenez A, Villalobo A (1997) Nitric oxide reversibly inhibits the epidermal growth factor receptor tyrosine kinase. Biochem J 326:369–376

Ganea E, Harding JJ (2000) Alpha-crystallin protects glucose 6-phosphate dehydrogenase against inactivation by malondialdehyde. Biochim Biophys Acta 1500:49–58

George AJ, Larkin DF (2004) Corneal transplantation: the forgotten graft. Am J Transplant 4:678–685

Go YM, Patel RP, Maland MC, Park H, Beckman JS, Darley-Usmar VM, Jo H (1999) Evidence for peroxynitrite as a signaling molecule in flow-dependent activation of c-Jun NH2-terminal kinase. Am J Physiol 277:H1647–H1653

Green LC, Wagner DA, Glogowski J, Skipper PL, Wishnok J S, Tannenbaum SR (1982) Analysis of nitrate, nitrite, and [15N]nitrate in biological fluids. Anal Biochem 126:131–138

Halliwell B, Gutteridge JM (1990) Role of free radicals and catalytic metal ions in human disease: an overview. Methods Enzymol 186:1–85

Ing JJ, Ing HH, Nelson LR, Hodge DO, Bourne WM (1998) Ten-year postoperative results of penetrating keratoplasty. Ophthalmology 105:1855–1865

Jeng BH, Meisler DM, Hollyfield JG, Connor JT, Aulak KS, Stuehr DJ (2002) Nitric oxide generated by corneas in corneal storage media. Cornea 21:410–414

Jope RS, Zhang L, Song L (2000) Peroxynitrite modulates the activation of p38 and extracellular regulated kinases in PC12 cells. Arch Biochem Biophys 376:365–370

Kaldawy RM, Wagner J, Ching S, Seigel GM (2002) Evidence of apoptotic cell death in keratoconus. Cornea 21:206–209

Kim JC, Cheong TB, Park GS, Park MH, Kwon NS, Yoon HY (2002) The role of nitric oxide in ocular surface diseases. Adv Exp Med Biol 506:687–695

Kiroycheva M, Ahmed F, Anthony GM, Szabo C, Southan GJ, Bank N (2000) Mitogen-activated protein kinase phosphorylation in kidneys of beta(s) sickle cell mice. J Am Soc Nephrol 11:1026–1032

Kooy NW, Royall JA, Ischiropoulos H (1997) Oxidation of 2′, 7′ -dichlorofluorescin by peroxynitrite. Free Radic Res 27:245–254

Kooy NW, Royall JA, Ye YZ, Kelly DR, Beckman JS (1995) Evidence for in vivo peroxynitrite production in human acute lung injury. Am J Respir Crit Care Med 151:1250–1254

Krajcovicova-Kudlackova M, Paukova V, Bacekova M, Dusinska M (2004) Lipid peroxidation in relation to vitamin C and vitamin E levels. Cent Eur J Public Health 12:46–48

Larkin DF (1994) Corneal allograft rejection. Br J Ophthalmol 78:649–652

Luykx LM, Berger HM, Geerdink J, Kanhai HH, Egberts J (2004) Non-protein-bound iron and free radical damage in fetuses with rhesus haemolytic disease: influence of intrauterine transfusions. Br J Obstet Gynaecol 111:303–310

Meyer E, Lambert WE, De Leenheer AP (1994) Simultaneous determination of endogenous retinoic acid isomers and retinol in human plasma by isocratic normal-phase HPLC with ultraviolet detection. Clin Chem 40:48–57

Murphy MP, Packer MA, Scarlett JL, Martin SW (1998) Peroxynitrite: a biologically significant oxidant. Gen Pharmacol 31:179–186

Niederkorn JY, Chiang EY, Ungchusri T, Stroynowski I (1999) Expression of a nonclassical MHC class Ib molecule in the eye. Transplantation 68:1790–1799

Ohta K, Kikuchi T, Arai S, Yoshida N, Sato A, Yoshimura N (2003) Protective role of heme oxygenase-1 against endotoxin-induced uveitis in rats. Exp Eye Res 77:665–673

Oishi M, Matsuda T, Nojiri S, Saito K (2002) Simultaneous determination of five antioxidants in food by HPLC with fluorescence detection. Shokuhin Eiseigaku Zasshi 43:104–109

Pappa-Louisi A, Pascalidou S (1998) Optimal conditions for the simultaneous ion-pairing HPLC determination of L-ascorbic, dehydro-L-ascorbic, D-ascorbic, and uric acids with on-line ultraviolet absorbance and electrochemical detection. Anal Biochem 263:176–182

Plskova J, Kuffova L, Holan V, Filipec M, Forrester JV (2002) Evaluation of corneal graft rejection in a mouse model. Br J Ophthalmol 86:108–113

Roy S, Venojarvi M, Khanna S, Sen CK (2002) Simultaneous detection of tocopherols and tocotrienols in biological samples using HPLC-coulometric electrode array. Methods Enzymol 352:326–332

Saleh D, Barnes PJ, Giaid A (1997) Increased production of the potent oxidant peroxynitrite in the lungs of patients with idiopathic pulmonary fibrosis. Am J Respir Crit Care Med 155:1763–1769

Sambrook J, Fritsch EF, Maniatis T (1989) Molecular cloning: a laboratory manual, 2nd edn. Cold Spring Harbor Laboratory, Cold Spring Harbor, NY

Shetty V, Hussaini S, Alvi S, Joshi L, Shaher A, Dangerfield B, Nascimben F, Mundle S, Allampallam K, Reddy P, Galili N, Raza A (2002) Excessive apoptosis, increased phagocytosis, nuclear inclusion bodies and cylindrical confronting cisternae in bone marrow biopsies of myelodysplastic syndrome patients. Br J Haematol 116:817–825

Szabo C, Ohshima H (1997) DNA damage induced by peroxynitrite: subsequent biological effects. Nitric Oxide 1:373–385

Takahashi A, Masuda A, Sun M, Centonze VE, Herman B (2004) Oxidative stress-induced apoptosis is associated with alterations in mitochondrial caspase activity and Bcl-2-dependent alterations in mitochondrial pH (pHm). Brain Res Bull 62:497–504

Walczyk T, Davidsson L, Rossander-Hulthen L, Hallberg L, Hurrell RF (2003) No enhancing effect of vitamin A on iron absorption in humans. Am J Clin Nutr 77:144–149

Wang XD, Russell RM, Marini RP, Tang G, Dolnikowski GG, Fox JG, Krinsky NI (1993) Intestinal perfusion of beta-carotene in the ferret raises retinoic acid level in portal blood. Biochim Biophys Acta 2:159–164

Wilson SE (1998) Everett Kinsey lecture: keratocyte apoptosis in refractive surgery. Clao J 24:181–185

Yilmaz G, Sizmaz S, Yilmaz ED, Duman S, Aydin P (2002) Aqueous humor nitric oxide levels in patients with Behcet disease. Retina 22:330–335

Zhou XJ, Laszik Z, Wang XQ, Silva FG, Vaziri ND (2000) Association of renal injury with increased oxygen free radical activity and altered nitric oxide metabolism in chronic experimental hemosiderosis. Lab Invest 80:1905–1914
Acknowledgements
We thank Dr. Stephen Morris and Dr. Peng Hong Tan, Imperial College London, for comments on this manuscript.
Additional information
S.C.B. was supported by an award from the Gertrud-Kusen-Stiftung, Hamburg, Germany.
N.S. and S.C.B. contributed equally to this manuscript.
About this article
Cite this article
Serbecic, N., Beutelspacher, S.C. Anti-oxidative vitamins prevent lipid-peroxidation and apoptosis in corneal endothelial cells. Cell Tissue Res 320, 465–475 (2005). https://doi.org/10.1007/s00441-004-1030-3
Received:

Accepted:

Published:

Issue Date:
Keywords
Anti-oxidative vitamins

Apoptosis

Caspase-3

Corneal endothelium

Lipid-peroxidation

Oxidative stress

Murine corneal endothelial cell line (C57BL/6)