Abstract
Endonuclease-induced DNA fragmentation is a hallmark of apoptosis. DNase gamma (DNase γ) was recently identified as one of the endonucleases responsible for apoptotic DNA fragmentation. In this study, immunohistochemistry for DNase γ was performed on paraffin sections of rodent liver in well-defined models of hepatocyte apoptosis induced by Fas antibody (Fas) or cycloheximide (CHX), and necrosis induced by lipopolysaccharide (LPS) or carbon tetrachloride (CCl4). DNase γ immunoreactivity was compared with TdT-mediated dUTP nick-end labeling (TUNEL) reactivity. Our results showed TUNEL reactivity in both apoptotic and necrotic hepatocytes. DNase γ immunoreactivity was not detected during LPS-induced or CCl4-induced hepatocyte necrosis. In contrast, it was evident during CHX-induced, but not Fas-induced, apoptotic DNA fragmentation. These findings suggest that DNase γ plays an important role in Fas-independent apoptotic DNA fragmentation in hepatocytes.
This is a preview of subscription content, log in to check access.
Access options
Buy single article
Instant access to the full article PDF.
US$ 39.95
Price includes VAT for USA
Subscribe to journal
Immediate online access to all issues from 2019. Subscription will auto renew annually.
US$ 199
This is the net price. Taxes to be calculated in checkout.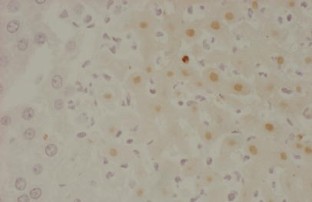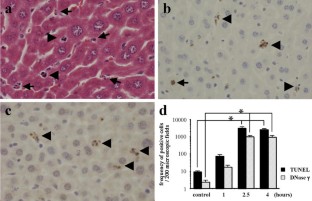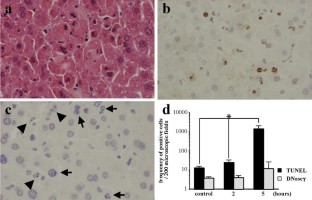 References
Blom WM, Bont HJ de, Meijerman I, Mulder GJ, Nagelkerke JF (1999) Prevention of cycloheximide-induced apoptosis in hepatocytes by adenosine and by caspase inhibitors. Biochem Pharmacol 58:1891–1898

Bohlinger I, Leist M, Gantner F, Angermuller S, Tiegs G, Wendel A (1996) DNA fragmentation in mouse organs during endotoxic shock. Am J Pathol 149:1381–1393

Dong Z, Saikumar P, Weinberg JM, Venkatachalam MA (1997) Internucleosomal DNA cleavage triggered by plasma membrane damage during necrotic cell death. Involvement of serine but not cysteine proteases. Am J Pathol 151:1205–1213

Enari M, Sakahira H, Yokoyama H, Okawa K, Iwamatsu A, Nagata S (1998) A caspase-activated DNase that degrades DNA during apoptosis, and its inhibitor ICAD. Nature 391:43–50

Gavrieli Y, Sherman Y, Ben-Sasson SA (1992) Identification of programmed cell death in situ via specific labeling of nuclear DNA fragmentation. J Cell Biol 119:493–501

Grasl-Kraupp B, Ruttkay-Nedecky B, Koudelka H, Bukowska K, Bursch W, Schulte-Hermann R (1995) In situ detection of fragmented DNA (TUNEL assay) fails to discriminate among apoptosis, necrosis, and autolytic cell death: a cautionary note. Hepatology 21:1465–1468

Higami Y, Tanaka K, Tsuchiya T, Shimokawa I (2000) Intravenous injection of cycloheximide induces apoptosis and up-regulates p53 and Fas receptor expression in the rat liver in vivo. Mutat Res 457:105–111

Higami Y, To K, Ohtani H, Masui K, Iwasaki K, Shiokawa D, Tanuma SI, Shimokawa I (2003) Involvement of DNase gamma in apoptotic DNA fragmentation in histiocytic necrotizing lymphadenitis. Virchows Arch 443:170–174

Ledda-Columbano GM, Coni P, Faa G, Manenti G, Columbano A (1992) Rapid induction of apoptosis in rat liver by cycloheximide. Am J Pathol 140:545–549

Mukae N, Enari M, Sakahira H, Fukuda Y, Inazawa J, Toh H, Nagata S (1998) Molecular cloning and characterization of human caspase-activated DNase. Proc Natl Acad Sci USA 95:9123–9128

Ogasawara J, Watanabe-Fukunaga R, Adachi M, Matsuzawa A, Kasugai T, Kitamura Y, Itoh N, Suda T, Nagata S (1993) Lethal effect of the anti-Fas antibody in mice. Nature 364:806–809

Orrego H, Carmichael FJ, Phillips MJ, Kalant H, Khanna J, Israel Y (1976) Protection by propylthiouracil against carbon tetrachloride-induced liver damage. Gastroenterology 71:821–826

Shiokawa D, Tanuma S (1998) Molecular cloning and expression of a cDNA encoding an apoptotic endonuclease DNase gamma. Biochem J 332:713–720

Shiokawa D, Ohyama H, Yamada T, Takahashi K, Tanuma S (1994) Identification of an endonuclease responsible for apoptosis in rat thymocytes. Eur J Biochem 226:23–30

Shiokawa D, Iwamatsu A, Tanuma S (1997) Purification, characterization, and amino acid sequencing of DNase gamma from rat spleen. Arch Biochem Biophys 346:15–20

Shiokawa D, Tanaka M, Kimura T, Hashizume K, Takasawa R, Ohyama H, Fujita K, Yamada T, Tanuma S (2000) Characterization of two DNase gamma-specific monoclonal antibodies and the in situ detection of DNase gamma in the nuclei of apoptotic rat thymocytes. Biochem Biophys Res Commun 275:343–349

Srinivasan A, Roth KA, Sayers RO, Shindler KS, Wong AM, Fritz LC, Tomaselli KJ (1998) In situ immunodetection of activated caspase-3 in apoptotic neurons in the developing nervous system. Cell Death Differ 5:1004–1016

Tanaka K, Higami Y, Tsuchiya T, Shiokawa D, Tanuma S, Ayabe H, Shimokawa I (2004) Aging increases DNase γ, an apoptosis-related endonuclease, in rat liver nuclei: effect of dietary restriction. Exp Gerontol 39:195–202

Ueda N, Walker PD, Hsu SM, Shah SV (1995) Activation of a 15-kDa endonuclease in hypoxia/reoxygenation injury without morphologic features of apoptosis. Proc Natl Acad Sci USA 92:7202–7206

Yang F, Sun X, Beech W, Teter B, Wu S, Sigel J, Vinters HV, Frautschy SA, Cole GM (1998) Antibody to caspase-cleaved actin detects apoptosis in differentiated neuroblastoma and plaque-associated neurons and microglia in Alzheimer's disease. Am J Pathol 152:379–389

Zhao QL, Kondo T, Noda A, Fujiwara Y (1999) Mitochondrial and intracellular free-calcium regulation of radiation-induced apoptosis in human leukemic cells. Int J Radiat Biol 75:493–504
About this article
Cite this article
Higami, Y., Tsuchiya, T., To, K. et al. Expression of DNase gamma during Fas-independent apoptotic DNA fragmentation in rodent hepatocytes. Cell Tissue Res 316, 403–407 (2004). https://doi.org/10.1007/s00441-004-0890-x
Received:

Accepted:

Published:

Issue Date:
Keywords
DNase gamma

Hepatocytes

Apoptosis

Fas

Cycloheximide

Rat (F344)

Mouse (BALB/c)